Fracking and Colorado Flooding Don't Mix
Phillip Doe
A lot is being written in the state and national press about the terrible human devastation week-long rain storms have created in Colorado. The impact has been greatest along what is known locally as the Front Range, the flat land directly east of the Rocky Mountains. The city of Boulder and smaller towns such as Lyons and Jamestown have been particularly hard hit, but no city along the front range from the Wyoming state line through Denver to Colorado Springs has been spared. In Colorado, we've experienced massive drought, wildfires and flooding all in the same year. Welcome to the brave new world of climate change.
In time, the corporate press may turn to measuring the environmental damage these floods have caused wildlife and land, both public and private. But it's doubtful, given the ruling elite's bias toward oil and gas development everywhere in the state, that the reporting will look at the extent of the pollution to our waterways and land resources flooded by oil and gas wells. I don't suspect, given the industry's run of the place, that there will be a call for the industry to clean up its mess. After all, Gov. Hickenlooper has been known to say that Colorado has the strongest oil and gas regulations in the country.
The following photos, a mere snapshot of the true extent of the damage, call into doubt, once again, the happy talk of our political class, and the oil and gas industry:
Displaced condensate tanks near Greeley and Kersey, CO, from flooding. These tanks are used to store waste liquid from drilling operations. Oil and other hydrocarbons not captured in earlier separation processes rise to the top of these tanks and are recovered as marketable. The toxicity of the liquids stored in these tanks is largely unknown because they have been exempted from federal environmental laws. In Colorado, these liquids are collected and reinjected into deep wells that are theoretically below usable groundwater. The industry claims this liquid, of unknown toxicity, will never migrate upwards into shallower groundwater. This is a highly contested assertion since many academic geologists and engineers think contamination of groundwater is inevitable over the long term. These tanks vary in size. When full, they contain between 12,000 and 20,000 gallons of liquid. The state of Colorado does not require these tanks be secured to the ground, though the industry says some operators do use chains for tethering.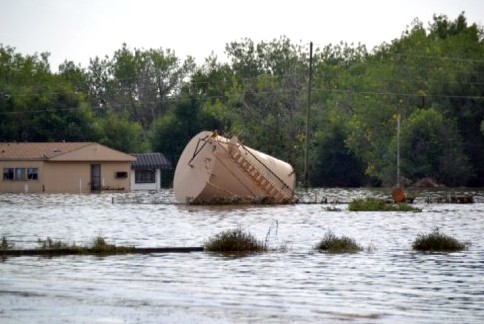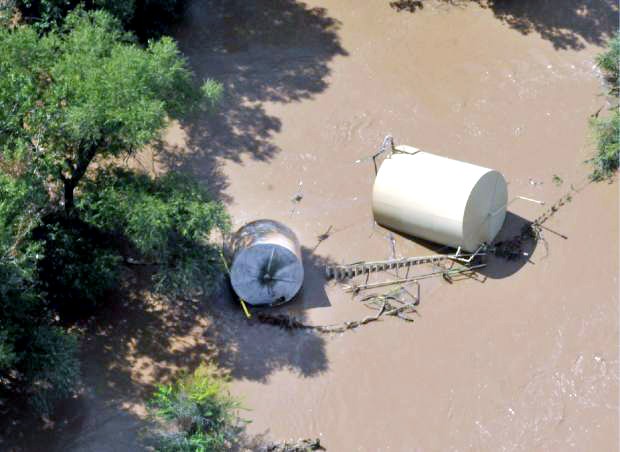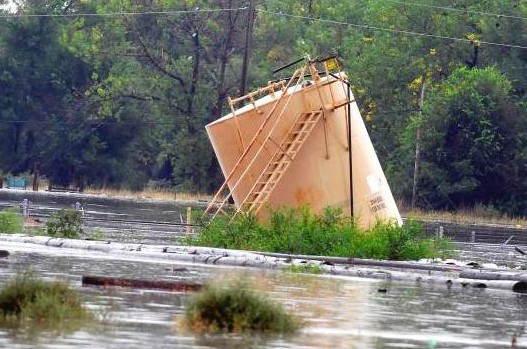 Flooded oil and gas wells, and pipeline, near Greeley, Kersey and Erie, CO, and along the Platte River. Preliminary press reports indicate that perhaps as many as 13,000 of the more than 20,000 wells in Weld County may have some degree of flood damage. This county has more wells than any other county in the country. The flooding and devastation have spread east along the Platte River drainage, out to the Nebraska line to be eventually recaptured in Lake Mcconaughy, the largest man-made impoundment in the state. The cresting on the Platte is estimated to be 17 to 20 feet above normal. Though wells are not as numerous on the eastern plains as in Weld County, oil development is plentiful. Many of the wells in this part of the state are believed to store drilling waste liquids in open pits rather in tanks as required in Weld County. Ozone created by leaking methane makes enclosed storage mandatory in Weld County. Not so, out east. Open pits may be widely flooded and disgorging their toxics into waterways.
Colorado regulations contain no setback requirements from water courses or impoundments, though a gentlemanly 50 foot setback has sometimes been suggested. Neither was flooding of well sites, whether in a flood plain or not, given even a glimmer of consideration in the COGCC's 2009 statement of purpose and new rulemaking. This sort of blindness to reality is hard to understand since local flooding is common in Colorado, albeit not on the past week's pervasive scale.  The mantra of drill baby drill probably helped create this blind spot.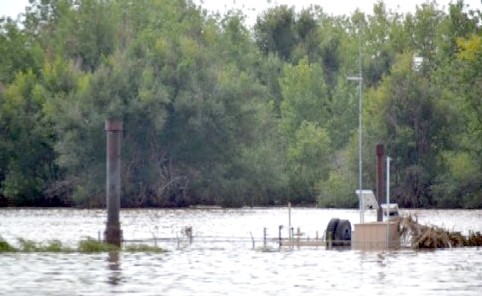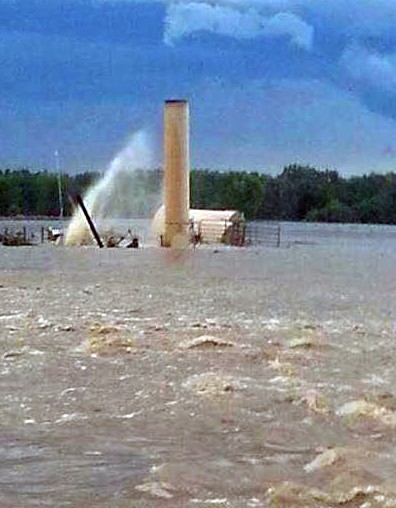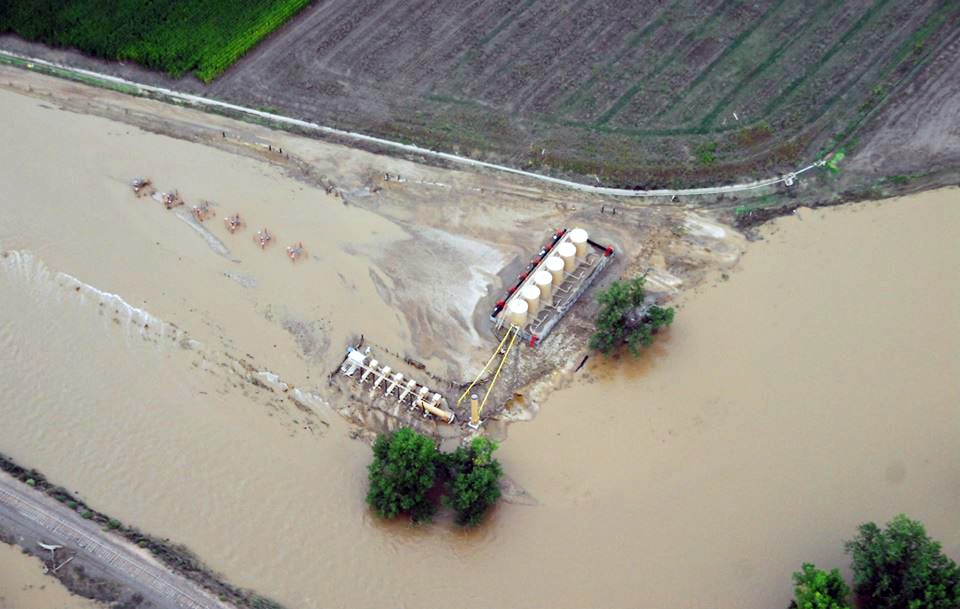 ArcGIS Weld County 2013 Flood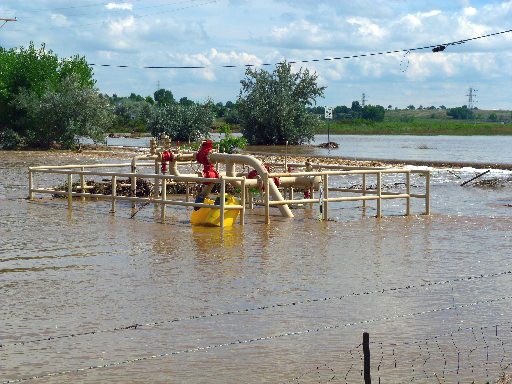 Flooded wells and tanks near Greeley. At a recent public hearing in Greeley on March 12, before the city's planning commission, Rachael Wilbur a senior at the Colorado School of Mines and former resdident of Greeley suggested the city do a risk assessment of more drilling in Greeley, especially under a 100 year flood scenario. There has been no reply. At present, more than 460 wells exist in Greeley, with more than 200 new ones in the permitting process. Some say ultimately the city could see more than 1,600 wells. The invasion of the industry into cities and towns has caused numerous cities along the front range to consider bans or moratoria using the initiative process. The right of the people to protect home and hearth is being hotly contested by the industry and Gov. Hickenlooper.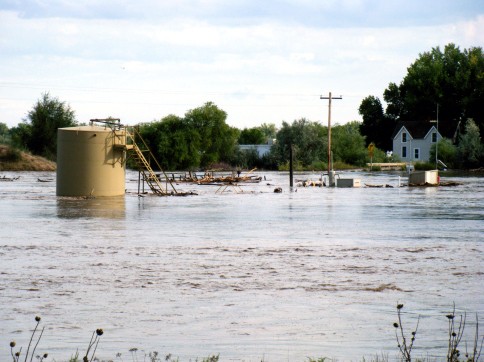 More photos are available at the following websites: Frack City, USA, East Boulder County United and Weld Air and Water.
Phil Doe, environemtal director of Be the Change, wrote this article with the assistance of many grassroots activists, not least of which were Cliff Wilmeng, Conny Jensen, Bob Winkler, Therese  Gilbert and Wes Wilson.
Visit EcoWatch's FRACKING page for more related news on this topic.
——–
As the Trump administration moves full speed ahead on boosting the oil and fossil fuel industry, opposition to increased pipeline construction is cropping up in different communities around the country.
Keep reading...
Show less
Minke whale stranding near Havergate Island in Suffolk. MCGA.
By Simon Evans
Last Saturday, two dead whales washed up on the coast of Suffolk, in eastern England, and a third was spotted floating at sea.
What happened next illustrates how news can spread and evolve into misinformation, when reported by journalists rushing to publish before confirming basic facts or sourcing their own quotes.
Keep reading...
Show less
By Monica Amarelo and Paul Pestano
Sun safety is a crucial part of any outdoor activity for kids, and sunscreen can help protect children's skin from harmful ultraviolet rays. Kids often get sunburned when they're outside unprotected for longer than expected. Parents need to plan ahead and keep sun protection handy in their cars or bags.
Keep reading...
Show less
By Joe McCarthy
A lot of people take part in community clean-up efforts—spending a Saturday morning picking up litter in a park, mowing an overgrown field or painting a fence.
Keep reading...
Show less
Rink Glacier in western Greenland, with a meltwater lake visible center. NASA/OIB
Scientists have had their eyes on Greenland as its iconic glaciers have begun disappearing due to a warming climate. But, what they didn't expect to see was a whole new type of melting.
Keep reading...
Show less
A coalition of conservation groups and others announced Thursday that a historic number of comments and petitions of support have been submitted to the U.S. Department of the Interior in support of Bears Ears National Monument. Despite the entirely inadequate 15-day comment period ending on May 26, more than 685,000 comments in support of Bears Ears National Monument have been collected.
Keep reading...
Show less
Mountain View Fire
By Lena Moffitt
An oil tanker in Mead, Colorado exploded, killing one and injuring three on Thursday. Authorities are continuing to investigate the cause of the explosion.
Keep reading...
Show less
May. 26, 2017 01:27PM EST
Banner created by Alliance for Climate Education
Keep reading...
Show less