FrackGate Comes to Illinois? Media Blackout on Fracking Vote

As the national media puts the spotlight on the "FrackGate" public relations scandal in Ohio, where state officials worked to "marginalize opponents of fracking by teaming up with corporations—including Halliburton—business groups and media outlets," Illinois residents behind a ballot initiative to ban fracking in rural Johnson County are facing a similar campaign of misinformation and local news blackout.
It's bad enough that Illinois' flawed state fracking regulations have spiraled into a widely denounced phase of disarray and confusion.
Until last Friday, the Vienna Times/Goreville Gazette newspaper company, the only local newspapers in Johnson County's treasured Shawnee National Forest heartland, had provided fairly balanced coverage of the fracking debate, including the county commissioners' decision last May to support a one-year moratorium on the controversial fracking process, as out-of-state corporations like Kansas-based Woolsey Energy swept up land leases.
Two of the three Johnson County commissioners, in fact, had encouraged residents last fall to draw up their own "simple" ballot initiative to gauge the "will of the people."
Sounds reasonable and democratic, no?
But now, with the same local citizens group's non-binding ballot initiative gaining widespread support across the county from residents especially concerned about the threat of involuntary "forced pooling" from neighboring leases, the Vienna Times/Goreville Gazette has suddenly announced—according to local residents—a new policy to refuse all anti-fracking ads, letters to the editor or news releases, even as it accepts ads and press releases from an Orwellian campaign set up to dismiss the community rights-driven campaign against absentee fracking corporations as a "radical agenda of out-of-state interests."
Since when are local farmers called "out-of-state" and absentee fracking corporations considered homeboys?
And since when has this ad become too dangerous for the Vienna Times?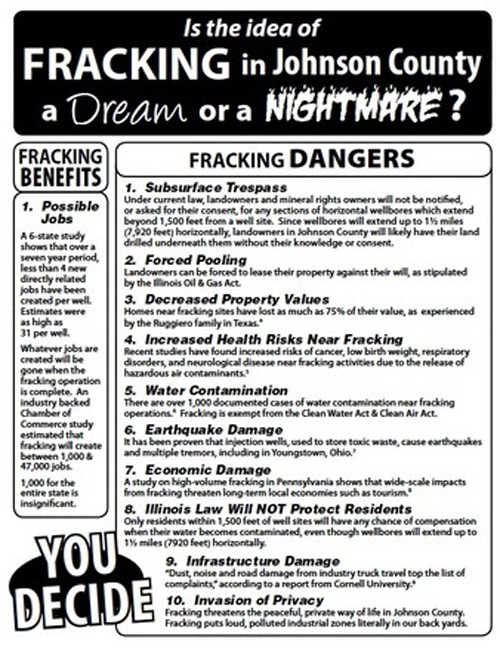 Instead, featuring Shawnee Professional Services president Mitch Garrett and Johnson County Commissioner Ernie Henshaw—who had originally voted for the one-year moratorium and asked for public input—the Vienna Times/Goreville Gazette celebrated the kick-off of an opposition group to the county citizens initiative on its front page this week, and included an ad with a direct link to opposition's Facebook page: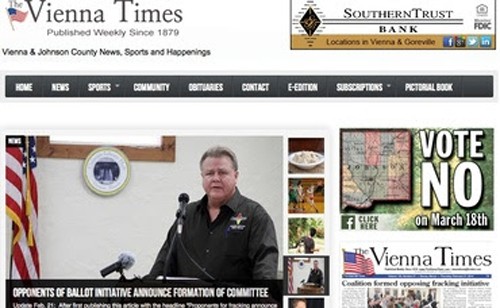 Two years ago, Vienna Times publisher Lonnie Hinton and Shawnee Professional
Service owner Mitch Garrett worked together on another hot issue: Ridding the town of stray cats.
And now, what about what the fracking cats about about to drag in? As in debunked and clearly exaggerated job promises, and the onslaught of the well-documented fracking reality of industrial traffic, workplace accidents and injuries, massive amounts of pollution and toxic discharges risking public health and potential earthquakes?
"I've never quite grasped how much power the oil and gas industry has until now. What they are doing to manipulate the vote makes me angry and sad. And, what industry has not begun to understand is that there are plenty of us, and more all the time who will never, never give up," said Annette McMichael, communications director for the Southern Illinoisans Against Fracturing Our Environment citizens groups, and a resident and landowner in Johnson County.
"The best way to have discussion is in open dialogue, solved in an equal and democratic fashion," said Johnson County vegetable farmer Kris Pirmann, who is active in the community rights ballot initiative. "Open discourse is the only legitimate and democratic way, and shutting down one side is not open discourse."
Not so, says the local media. The Vienna Times/Goreville Gazette failed to answer multiple queries about its new policies. But local residents noted a new sign at the newspaper office, with a warning signed by Vienna Times publisher Hinton: "We reserve the right to accept or reject material submitted for publication, including letters to the editor, news releases and advertising."
Here's the ballot initiative, drawn up by local Johnson County residents and southern Illinois native and resident Natalie Long, a community organizer with theCommunity Environmental Legal Defense Fund: 
"Shall the people's right to local self-government be asserted by Johnson County to ban corporate fracking as a violation of their rights to health, safety, and a clean environment?"
"This ballot initiative is led by a local group of people of common concerns, Johnson County resident, many who are third or fourth generation farmers," said Pirmann, the Johnson County vegetable farmer, who noted that more than 1,000 county residents signed a petition for the ballot. "The argument that this initiative is hijacked from the outside doesn't hold any water."
Long adds: "A Community Bill of Rights is a community-tailored document. It's made up of two main parts: 1) a section that asserts the rights of the community, including the right to local self-governance, the right to clean air, and the right to clean water; and 2) an enumeration of activities that violate those rights, and therefore are prohibited in the community. Because a Community Bill of Rights is drafted with each particular community, that means that no two documents are the same. Instead, they reflect the priorities of the community. In this case, Johnson County citizens are hard at working crafting language that focuses specifically on prohibiting hydraulic fracturing—nothing else. Any claim otherwise is both misguided and false."
Only days away from the March 18th ballot vote, Johnson County residents are not giving up on the local news media black out, or the political games from out-of-state industry sycophants. Redoubling their efforts, Johnson County residents are stepping up grassroots efforts and seeking funds to place the ads in regional newspapers.
"It appears we don't have avenue to voice our concerns," Pirmann said. "They just want us to be quiet and go away. But we're Johnson County residents and we're going to talk to Johnson County residents face-to-face, in a democratic fashion, and voice our opinions to protect our land and farms."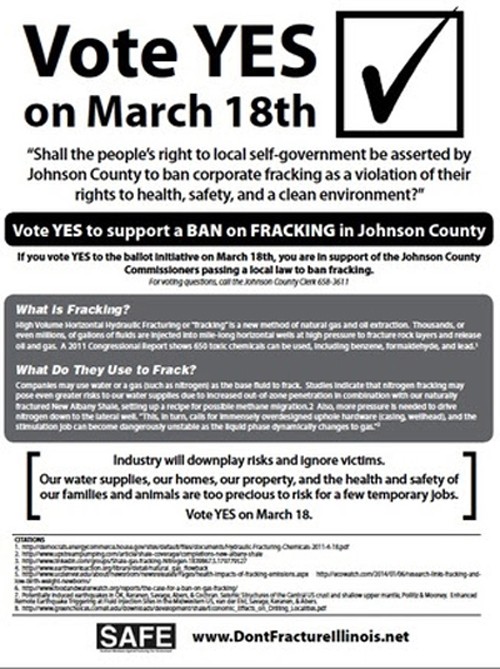 Visit EcoWatch's FRACKING page for more related news on this topic.

Monsanto, the maker of the glyphosate-based herbicide Roundup, filed a motion June 16 in U.S. District Court, Northern District of California to reconsider the chemical's addition to California's Proposition 65 list of agents known to cause cancer.
The agrochemical giant made this move based on a June 14 Reuters investigation of Dr. Aaron Blair, a lead researcher on the World Health Organization's International Agency for Research on Cancer (IARC) committee, that classified glyphosate as a "2A probable human carcinogen" in March 2015.
Keep reading...
Show less
By Avery Friedman
Algae is often considered a nuisance, but for Sweden, the rapidly growing sea plant is now an asset.
As the Scandinavian country works to cut all of its greenhouse gas emissions by 2045, it's using algae to sop up the carbon emissions from cement.
Keep reading...
Show less
Jun. 24, 2017 01:35PM EST
By Itai Vardi
A recent intensification in protests against Williams Partners' planned Atlantic Sunrise pipeline in Pennsylvania prompted a state senator to propose legislation aimed at limiting demonstrations.
Last month, Pennsylvania Sen. Scott Martin (R-Norman) announced his intention to introduce legislation that would pass the costs of law enforcement responding to protests onto the demonstrators. Martin also helped introduce a different bill that would criminalize protests at natural gas facilities.
Keep reading...
Show less
Jun. 24, 2017 01:29PM EST
Black Shogun / iStock
The Federal Energy Regulatory Commission (FERC) released its Final Environmental Impact Statement Friday for the Mountain Valley Pipeline, a controversial 303-mile pipeline that would carry two billion cubic feet of fracked gas per day from West Virginia through Virginia.
Keep reading...
Show less
Jun. 24, 2017 01:46PM EST
Falcon PEV
The so-called "first and last mile" problem is one of the biggest hurdles with public transportation. How do you encourage more people to take Earth-friendlier commutes when their homes are miles away from the train or bus station?
One solution, as this Estonian electric scooter company proposes, is to simply take your commute with you—literally. Tallinn-based Stigo has developed a compact e-scooter that folds to the size of a rolling suitcase in about two seconds.
Keep reading...
Show less
Jun. 24, 2017 05:12PM EST
Connect4Climate
[Editor's note: I'm still in shock after hearing the news that Lucia Grenna passed away in her sleep last week. When we first met in April of 2014 at a Copenhagen hotel, I was immediately taken by here powerful presence. We spent the next couple days participating in a Sustainia climate change event where Lucia presented her audacious plans to connect people to the climate issue. I had the chance to partner with Lucia on several other projects throughout the years and work with her incredible Connect4Climate team. I was always in awe of her ability to "make the impossible possible." Her spirit will live on forever. — Stefanie Spear]
It is with a heavy heart that Connect4Climate announces the passing of its founder and leading light, Lucia Grenna. Lucia passed peacefully in her sleep on June 15, well before her time. We remember her for her leadership and extraordinary ability to motivate people to take on some of the greatest challenges of our time, not least climate change.
Keep reading...
Show less
Jun. 23, 2017 07:29PM EST
Wikimedia Commons
By Stacy Malkan
Neil deGrasse Tyson has inspired millions of people to care about science and imagine themselves as participants in the scientific process. What a hopeful sign it is to see young girls wearing t-shirts emblazoned with the words, "Forget princess, I want to be an astrophysicist."
Keep reading...
Show less
Jun. 23, 2017 01:57PM EST
www.youtube.com
By Andy Rowell
Any day now we will truly witness climate change in action. Within days at worst, maybe weeks at best, scientists predict that a huge section of the Larsen C ice shelf in Antarctica will break off into the ocean, in what is called a major "carving" event.
Keep reading...
Show less
Jun. 23, 2017 02:27PM EST
www.youtube.com
President Trump visited Cedar Rapids, Iowa on June 21 to speak to a large crowd in the U.S. Cellular Center at a political rally organized by his campaign.
As Trevor Noah noted during The Daily Show episode last night (starts at 2:25), the real reason Trump has these rallies is to "get back in front of his loyal crowds and feed of their energy." Noah believes that "Trump supporters are so on board with their dude he can say anything and they'll come along for the ride."
Keep reading...
Show less