Energy
Feb. 26, 2014 09:14PM EST
FrackGate Comes to Illinois? Media Blackout on Fracking Vote

As the national media puts the spotlight on the "FrackGate" public relations scandal in Ohio, where state officials worked to "marginalize opponents of fracking by teaming up with corporations—including Halliburton—business groups and media outlets," Illinois residents behind a ballot initiative to ban fracking in rural Johnson County are facing a similar campaign of misinformation and local news blackout.
It's bad enough that Illinois' flawed state fracking regulations have spiraled into a widely denounced phase of disarray and confusion.
Until last Friday, the Vienna Times/Goreville Gazette newspaper company, the only local newspapers in Johnson County's treasured Shawnee National Forest heartland, had provided fairly balanced coverage of the fracking debate, including the county commissioners' decision last May to support a one-year moratorium on the controversial fracking process, as out-of-state corporations like Kansas-based Woolsey Energy swept up land leases.
Two of the three Johnson County commissioners, in fact, had encouraged residents last fall to draw up their own "simple" ballot initiative to gauge the "will of the people."
Sounds reasonable and democratic, no?
But now, with the same local citizens group's non-binding ballot initiative gaining widespread support across the county from residents especially concerned about the threat of involuntary "forced pooling" from neighboring leases, the Vienna Times/Goreville Gazette has suddenly announced—according to local residents—a new policy to refuse all anti-fracking ads, letters to the editor or news releases, even as it accepts ads and press releases from an Orwellian campaign set up to dismiss the community rights-driven campaign against absentee fracking corporations as a "radical agenda of out-of-state interests."
Since when are local farmers called "out-of-state" and absentee fracking corporations considered homeboys?
And since when has this ad become too dangerous for the Vienna Times?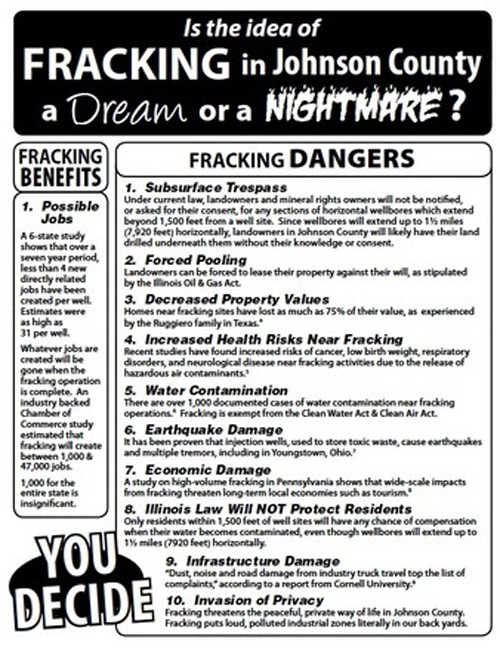 Instead, featuring Shawnee Professional Services president Mitch Garrett and Johnson County Commissioner Ernie Henshaw—who had originally voted for the one-year moratorium and asked for public input—the Vienna Times/Goreville Gazette celebrated the kick-off of an opposition group to the county citizens initiative on its front page this week, and included an ad with a direct link to opposition's Facebook page: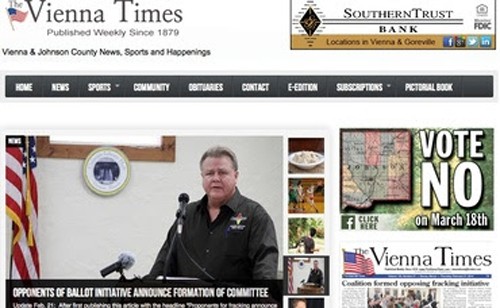 Two years ago, Vienna Times publisher Lonnie Hinton and Shawnee Professional
Service owner Mitch Garrett worked together on another hot issue: Ridding the town of stray cats.
And now, what about what the fracking cats about about to drag in? As in debunked and clearly exaggerated job promises, and the onslaught of the well-documented fracking reality of industrial traffic, workplace accidents and injuries, massive amounts of pollution and toxic discharges risking public health and potential earthquakes?
"I've never quite grasped how much power the oil and gas industry has until now. What they are doing to manipulate the vote makes me angry and sad. And, what industry has not begun to understand is that there are plenty of us, and more all the time who will never, never give up," said Annette McMichael, communications director for the Southern Illinoisans Against Fracturing Our Environment citizens groups, and a resident and landowner in Johnson County.
"The best way to have discussion is in open dialogue, solved in an equal and democratic fashion," said Johnson County vegetable farmer Kris Pirmann, who is active in the community rights ballot initiative. "Open discourse is the only legitimate and democratic way, and shutting down one side is not open discourse."
Not so, says the local media. The Vienna Times/Goreville Gazette failed to answer multiple queries about its new policies. But local residents noted a new sign at the newspaper office, with a warning signed by Vienna Times publisher Hinton: "We reserve the right to accept or reject material submitted for publication, including letters to the editor, news releases and advertising."
Here's the ballot initiative, drawn up by local Johnson County residents and southern Illinois native and resident Natalie Long, a community organizer with theCommunity Environmental Legal Defense Fund: 
"Shall the people's right to local self-government be asserted by Johnson County to ban corporate fracking as a violation of their rights to health, safety, and a clean environment?"
"This ballot initiative is led by a local group of people of common concerns, Johnson County resident, many who are third or fourth generation farmers," said Pirmann, the Johnson County vegetable farmer, who noted that more than 1,000 county residents signed a petition for the ballot. "The argument that this initiative is hijacked from the outside doesn't hold any water."
Long adds: "A Community Bill of Rights is a community-tailored document. It's made up of two main parts: 1) a section that asserts the rights of the community, including the right to local self-governance, the right to clean air, and the right to clean water; and 2) an enumeration of activities that violate those rights, and therefore are prohibited in the community. Because a Community Bill of Rights is drafted with each particular community, that means that no two documents are the same. Instead, they reflect the priorities of the community. In this case, Johnson County citizens are hard at working crafting language that focuses specifically on prohibiting hydraulic fracturing—nothing else. Any claim otherwise is both misguided and false."
Only days away from the March 18th ballot vote, Johnson County residents are not giving up on the local news media black out, or the political games from out-of-state industry sycophants. Redoubling their efforts, Johnson County residents are stepping up grassroots efforts and seeking funds to place the ads in regional newspapers.
"It appears we don't have avenue to voice our concerns," Pirmann said. "They just want us to be quiet and go away. But we're Johnson County residents and we're going to talk to Johnson County residents face-to-face, in a democratic fashion, and voice our opinions to protect our land and farms."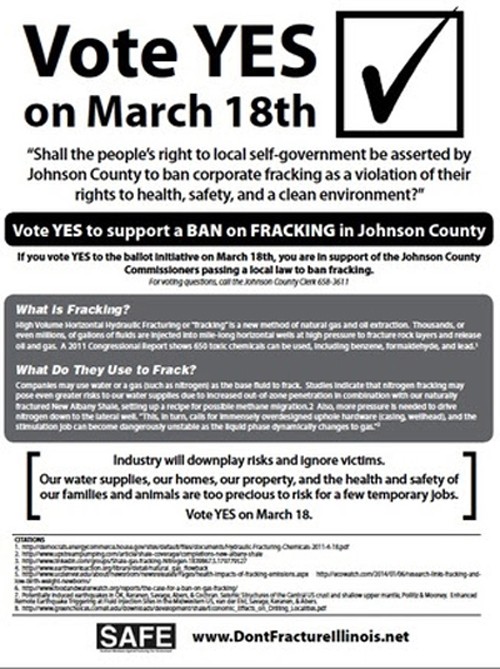 Visit EcoWatch's FRACKING page for more related news on this topic.

Ryan Zinke with Rick Perry at the Boy Scouts Jamboree. Twitter
In less than one week, Interior Sec. Ryan Zinke will submit his final recommendations to President Trump on whether 27 national monuments around the country should be downsized, eliminated, transferred to state control or left alone.
But as Aaron Weiss, the media director of the conservation group Center for Western Priorities, pointed out: "Rather than spending his final week hearing from local communities who have worked tirelessly to protect their natural and cultural heritage as national monuments, Secretary Zinke is on vacation in the Mediterranean. His wife, Lola Zinke, tweeted a picture early this morning of herself and Secretary Zinke enjoying a sunrise on the Bosphorus Strait."
Keep reading...
Show less
Richland County Wetland destroyed by spilled drilling fluids during construction of Rover Pipeline, April 14. Sierra Club

Energy Transfer Partners' controversial $4.3 billion Rover pipeline has more negative inspection reports than any other major interstate natural gas pipeline built in the last two years, according to a new Bloomberg analysis.
The 713-mile pipeline, which will carry fracked gas across Pennsylvania, West Virginia, Ohio and Michigan and Canada, has been stalled from numerous environmental violations, including a 2 million gallon drilling fluid spill into an Ohio wetland in April.
Keep reading...
Show less
Pipes for the Constitution Pipeline are stacked at a pipe yard in Altamont, New York.
The U.S. Court of Appeals for the Second Circuit upheld New York State's denial of a water quality certification for the Constitution Pipeline Friday, a critical win for the Attorney General's office and the state's authority to take necessary action to protect its waters and natural resources. The appeals court noted that the state is entitled to "conduct its own review of the Constitution Project's likely effects on New York waterbodies and whether those effects would comply with the state's water quality standards."
New York must be able to do what's necessary to protect our environment—and we're glad that the court agreed.

Keep reading...
Show less
iStock
By Anne Bolen
On Aug. 21, for the first time since 1918, a total solar eclipse will cross the U.S. from coast to coast. Along the path of totality, the moon will completely block out the sun, turning day to twilight for nearly three minutes. While a partial eclipse will be visible throughout the U.S., millions will be flocking to spots along the path of totality, which begins in Salem on Oregon's coast about 10:15 a.m. Pacific Daylight Time and exits the nation at Charleston, South Carolina, where maximum coverage will occur about 2:47 p.m. Eastern Daylight Time. Perhaps no other natural event will inspire so many people to go outdoors.
Keep reading...
Show less
The Trump administration released an environmental review Thursday of Hilcorp Alaska's Arctic offshore drilling development. Hilcorp plans to build a 9-acre artificial island and 5.6-mile pipeline in the Beaufort Sea for its offshore drilling project. The Trump administration's draft environmental impact statement proposes to greenlight the dangerous drilling plan, which would be a first for federal waters in the Arctic.
Keep reading...
Show less
Equinac
Not again! A baby dolphin died last Friday in southern Spain after beachgoers took the mammal out of the water and passed it around for photos, according to media reports.
The incident was detailed in several Facebook posts from Equinac, a Spanish marine wildlife conservation group.
Keep reading...
Show less
President Trump has made sweeping efforts to scrap Obama-era environmental protections, but the current administration's latest moves are oddly specific.
The National Park Service (NPS) announced Wednesday that it has rescinded the 2011 "Water Bottle Ban" that allowed parks to prohibit the sale of disposable plastic water bottles. That same day, news emerged that the Trump administration removed a nine-slot Capital Bikeshare station at the White House that was requested and installed during the Obama years and used by staffers.
Keep reading...
Show less
Energy
Aug. 17, 2017 11:46AM EST
In March 2013, ExxonMobil's Pegasus Pipeline sprung a leak,
spilling
210,000 gallons of tar sands crude into a neighborhood of Mayflower, Arkansas.
By Catherine Collentine
In March of 2013, ExxonMobil's Pegasus Pipeline sprung a leak, spilling an estimated 210,000 gallons of toxic tar sands crude into a residential neighborhood of Mayflower, Arkansas.
This week, a federal court ruled that the Obama administration over-penalized Exxon for dumping hundreds of thousands of gallons of a pollutant onto the streets of Mayflower and threw out a number of safety violations levied against Exxon on the basis that the company met its legal obligations to consider the risks associated with the pipeline.
Keep reading...
Show less