This website uses cookies to ensure you get the best experience while browsing it. By clicking 'Got It' you're accepting these terms.
FrackGate Comes to Illinois? Media Blackout on Fracking Vote
Feb. 26, 2014 09:14PM EST
Energy

As the national media puts the spotlight on the "FrackGate" public relations scandal in Ohio, where state officials worked to "marginalize opponents of fracking by teaming up with corporations—including Halliburton—business groups and media outlets," Illinois residents behind a ballot initiative to ban fracking in rural Johnson County are facing a similar campaign of misinformation and local news blackout.
It's bad enough that Illinois' flawed state fracking regulations have spiraled into a widely denounced phase of disarray and confusion.
Until last Friday, the Vienna Times/Goreville Gazette newspaper company, the only local newspapers in Johnson County's treasured Shawnee National Forest heartland, had provided fairly balanced coverage of the fracking debate, including the county commissioners' decision last May to support a one-year moratorium on the controversial fracking process, as out-of-state corporations like Kansas-based Woolsey Energy swept up land leases.
Two of the three Johnson County commissioners, in fact, had encouraged residents last fall to draw up their own "simple" ballot initiative to gauge the "will of the people."
Sounds reasonable and democratic, no?
But now, with the same local citizens group's non-binding ballot initiative gaining widespread support across the county from residents especially concerned about the threat of involuntary "forced pooling" from neighboring leases, the Vienna Times/Goreville Gazette has suddenly announced—according to local residents—a new policy to refuse all anti-fracking ads, letters to the editor or news releases, even as it accepts ads and press releases from an Orwellian campaign set up to dismiss the community rights-driven campaign against absentee fracking corporations as a "radical agenda of out-of-state interests."
Since when are local farmers called "out-of-state" and absentee fracking corporations considered homeboys?
And since when has this ad become too dangerous for the Vienna Times?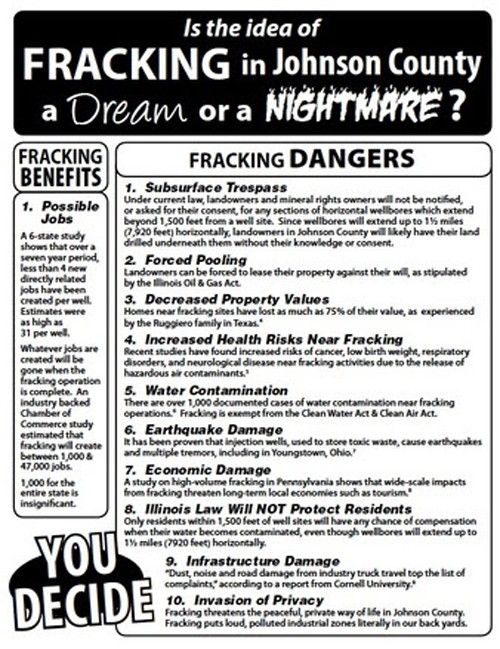 Instead, featuring Shawnee Professional Services president Mitch Garrett and Johnson County Commissioner Ernie Henshaw—who had originally voted for the one-year moratorium and asked for public input—the Vienna Times/Goreville Gazette celebrated the kick-off of an opposition group to the county citizens initiative on its front page this week, and included an ad with a direct link to opposition's Facebook page: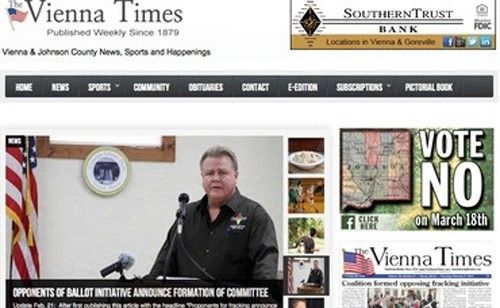 Two years ago, Vienna Times publisher Lonnie Hinton and Shawnee Professional
Service owner Mitch Garrett worked together on another hot issue: Ridding the town of stray cats.
And now, what about what the fracking cats about about to drag in? As in debunked and clearly exaggerated job promises, and the onslaught of the well-documented fracking reality of industrial traffic, workplace accidents and injuries, massive amounts of pollution and toxic discharges risking public health and potential earthquakes?
"I've never quite grasped how much power the oil and gas industry has until now. What they are doing to manipulate the vote makes me angry and sad. And, what industry has not begun to understand is that there are plenty of us, and more all the time who will never, never give up," said Annette McMichael, communications director for the Southern Illinoisans Against Fracturing Our Environment citizens groups, and a resident and landowner in Johnson County.
"The best way to have discussion is in open dialogue, solved in an equal and democratic fashion," said Johnson County vegetable farmer Kris Pirmann, who is active in the community rights ballot initiative. "Open discourse is the only legitimate and democratic way, and shutting down one side is not open discourse."
Not so, says the local media. The Vienna Times/Goreville Gazette failed to answer multiple queries about its new policies. But local residents noted a new sign at the newspaper office, with a warning signed by Vienna Times publisher Hinton: "We reserve the right to accept or reject material submitted for publication, including letters to the editor, news releases and advertising."
Here's the ballot initiative, drawn up by local Johnson County residents and southern Illinois native and resident Natalie Long, a community organizer with theCommunity Environmental Legal Defense Fund: 
"Shall the people's right to local self-government be asserted by Johnson County to ban corporate fracking as a violation of their rights to health, safety, and a clean environment?"
"This ballot initiative is led by a local group of people of common concerns, Johnson County resident, many who are third or fourth generation farmers," said Pirmann, the Johnson County vegetable farmer, who noted that more than 1,000 county residents signed a petition for the ballot. "The argument that this initiative is hijacked from the outside doesn't hold any water."
Long adds: "A Community Bill of Rights is a community-tailored document. It's made up of two main parts: 1) a section that asserts the rights of the community, including the right to local self-governance, the right to clean air, and the right to clean water; and 2) an enumeration of activities that violate those rights, and therefore are prohibited in the community. Because a Community Bill of Rights is drafted with each particular community, that means that no two documents are the same. Instead, they reflect the priorities of the community. In this case, Johnson County citizens are hard at working crafting language that focuses specifically on prohibiting hydraulic fracturing—nothing else. Any claim otherwise is both misguided and false."
Only days away from the March 18th ballot vote, Johnson County residents are not giving up on the local news media black out, or the political games from out-of-state industry sycophants. Redoubling their efforts, Johnson County residents are stepping up grassroots efforts and seeking funds to place the ads in regional newspapers.
"It appears we don't have avenue to voice our concerns," Pirmann said. "They just want us to be quiet and go away. But we're Johnson County residents and we're going to talk to Johnson County residents face-to-face, in a democratic fashion, and voice our opinions to protect our land and farms."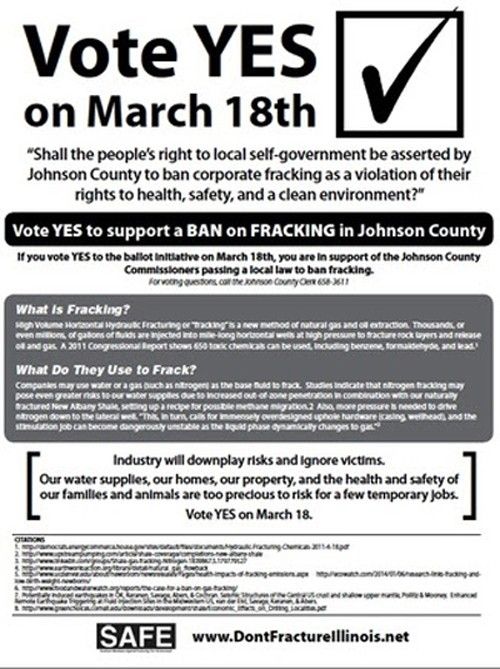 Visit EcoWatch's FRACKING page for more related news on this topic.

EcoWatch Daily Newsletter
Artist's conception of solar islands in the open ocean. PNAS
Millions of solar panels clustered together to form an island could convert carbon dioxide in seawater into methanol, which can fuel airplanes and trucks, according to new research from Norway and Switzerland and published in the Proceedings of the National Academy of Sciences journal, PNAS, as NBC News reported. The floating islands could drastically reduce greenhouse gas emissions and dependence on fossil fuels.
Marcos Alves / Moment Open / Getty Images
More than 40 percent of insects could go extinct globally in the next few decades. So why did the U.S. Environmental Protection Agency (EPA) last week OK the 'emergency' use of the bee-killing pesticide sulfoxaflor on 13.9 million acres?
EcoWatch teamed up with Center for Biological Diversity via EcoWatch Live on Facebook to find out why. Environmental Health Director and Senior Attorney Lori Ann Burd explained how there is a loophole in the The Federal Insecticide, Fungicide, and Rodenticide Act under section 18, "that allows for entities and states to request emergency exemptions to spraying pesticides where they otherwise wouldn't be allowed to spray."
Simple swaps that cut down on kitchen trash.
Sponsored
By Kayla Robbins
Along with the bathroom, the kitchen is one of the most daunting areas to try and make zero waste.
View of downtown Miami, Florida from Hobie Island on Feb. 2, 2019.
Michael Muraz / Flickr
The Democratic candidates for president descended upon Miami for a two-night debate on Wednesday and Thursday. Any candidate hoping to carry the state will have to make the climate crisis central to their campaign, as The New York Times reported.
By Sharon Kelly
On Monday, the Wall Street Journal featured a profile of Scott Sheffield, CEO of Pioneer Natural Resources, whose company is known among investors for its emphasis on drawing oil and gas from the Permian basin in Texas using horizontal drilling and hydraulic fracturing, or fracking.
Pexels
By Craig K. Chandler
The federal government has available to it, should it choose to use them, a wide range of potential climate change management tools, going well beyond the traditional pollution control regulatory options. And, in some cases (not all), without new legislative authorization.
Denis Poroy / Getty Images
By Dan Gray
Processed foods, in their many delicious forms, are an American favorite.
But new research shows that despite increasing evidence on just how unhealthy processed foods are, Americans have continued to eat the products at the same rate.
By Sarah Steffen
With a profound understanding of their environmental surroundings, indigenous communities around the world are often cited as being pivotal to tackling climate change.