Fracked Oil Bomb Trains at Center of Federal Rules Debate
Oct. 02, 2014 08:57AM EST
Energy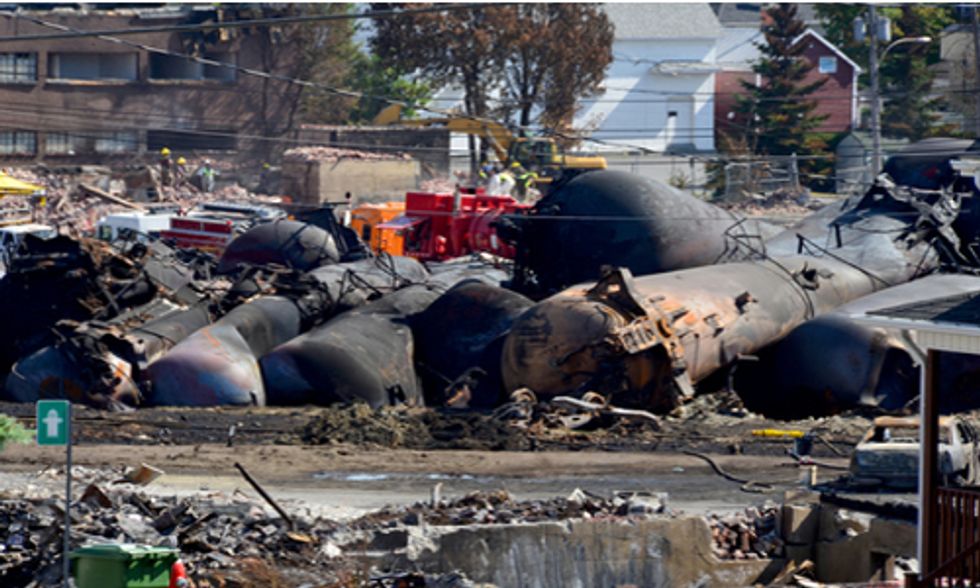 The U.S. Department of Transportation (DOT) has just closed comments on its proposed new rules for tanker cars carrying explosive fracked oil. And while environmental and citizen groups say they don't go far enough in protecting communities from potential disaster, the oil industry wants many more years to comply.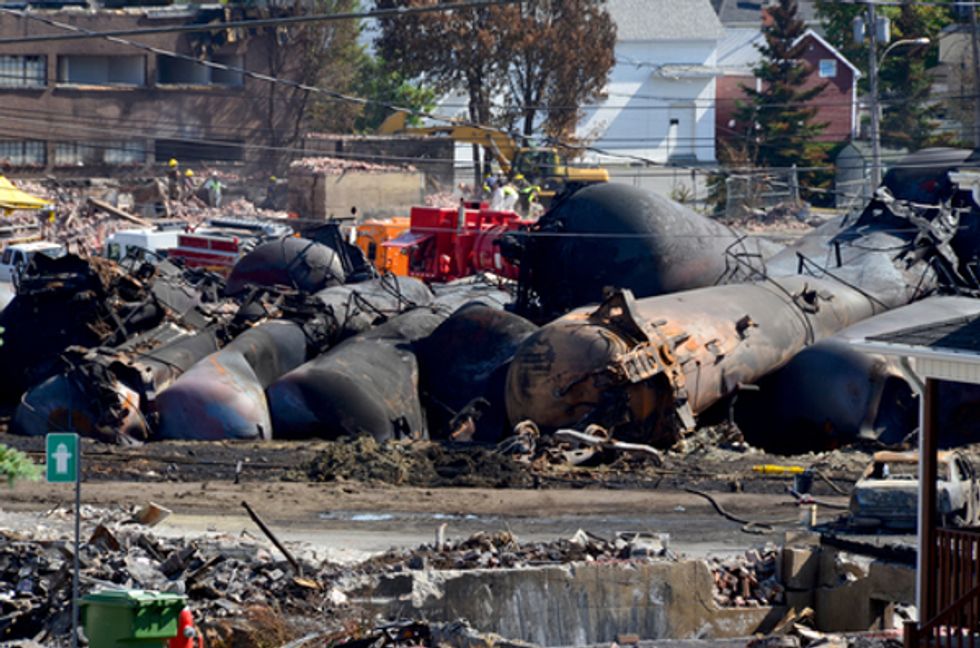 Photo credit: Shutterstock
The need for new rules was driven home by the July 2013 disaster in Lac-Megantic, Quebec, when a failed braking system sent a train carrying fracked oil from North Dakota's Bakken shale formation roaring into the heart of town where it derailed, exploded and killed 47 people.
But it's not the only recent accident involving railroad cars loaded with flammable oil or natural gas, and their numbers have increased as the amount shipped by rail has increased exponentially. In 2013, railroads carried more than 400,000 carloads of crude oil, up from 9,500 in 2008, when the fracking boom began. As shipments have increased, so have derailments and fires. Five occurred in 2013 and five have already occurred this year. In early May, a train derailment in Colorado spilled thousands of gallons of crude oil into groundwater, less than two weeks after a derailment in Lynchburg, Virginia spewed flames and thick black smoke into the air, poured oil into the James River and forced evacuations.
Riverkeeper and Scenic Hudson were among the groups submitting comments to DOT's Pipeline and Hazardous Materials Safety Administration (PHMSA) about the proposed safety upgrades in a 76-page document headlined "New draft regulations allow dangerous DOT-111 cars to remain on the rails for shipment of heavy tar sands crude and do not go far enough, fast enough, to protect the Hudson River and local communities."
"Put simply, these rules won't stop the next bomb train disaster," said Riverkeeper president Paul Gallay. "We deserve real protection for communities and the environment—not a rule that defers to the rail and oil industries at every turn." 
The groups noted the exceptional volatility of the type of oil being shipped, with potential for explosions and fireballs, and  the vulnerability to rollover, puncture and fire of the DOT-111 cars now used to ship the oil. It criticizes the proposed regulations for the slow phase-out of the cars, failure to require braking improvements and speed restrictions (though both were keys to the Lac-Megantic disaster) , no restrictions on the length of trains, and lack of requirements for spill response plans for 120-unit trains or full disclosure of rail traffic information to first responders. 
They asked that the DOT-111 cars be barred immediately from carrying hazardous materials instead of within two years as the new regulations propose. And last month, the Sierra Club, Earthjustice and ForestEthics filed a lawsuit against the Department of Transportation for failing to respond to a legal petition filed in July asking for an emergency order to ban the cars immediately.
The Chicago Tribune reported that at an August hearing in Washington D.C., Karen Darch, the village president of upscale Chicago suburb Barrington, called the DOT-111s "the Ford Pintos of railroad cars," a reference to the notorious '70s subcompact's tendency to go up in flames when rear-ended.
The American Petroleum Institute, the lobby for the oil industry, responded to the proposed rules by saying that the timeline would hamper production and incur steep costs, potentially putting a damper on the fracking boom. It's asking for a phase-out period of up to four years for the older DOT-111s and longer for the newer ones.
"Ever increasing quantities of oil transported by rail puts communities and waterways across the country at unnecessary risk, and we call upon Pipeline and Hazardous Materials Safety Administrator Cynthia Quarterman to issue an emergency order to remedy a literally explosive situation," said Waterkeeper Alliance executive director Marc Yaggi. "Oil transported by rail causes leaks, spills and dozens of accidents just this year that put human health and the environment at unnecessary risk."
YOU MIGHT ALSO LIKE
How Climate Change Could Lead to More Oil Train Derailments
Obama Administration Proposes Stricter Rules for Crude Oil Trains to Halt Derailments
Oil Train Disaster Anniversary Kicks Off Week of Action and 'Blast Zone' Mapping Tool
EcoWatch Daily Newsletter