Frack Waste Investigation Launched by Pennsylvania Congressman
Oct. 30, 2014 05:40PM EST
Energy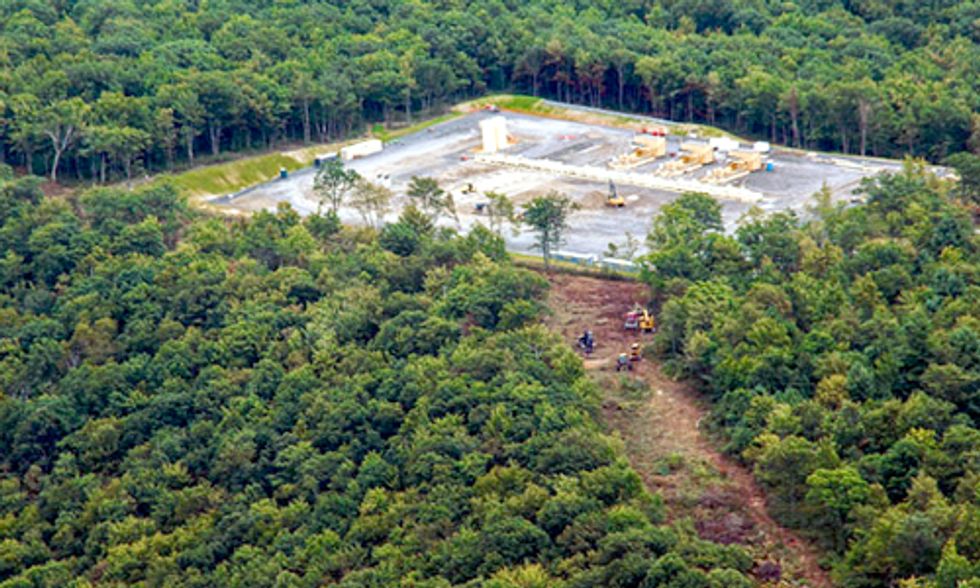 In light of an increasing number of studies showing that fracking produces toxic emissions that have serious human health impacts throughout the entire process, Pennsylvania Congressman Matt Cartwright, a first-term Democrat, has opened an investigation into how toxic wastes from fracking are regulated.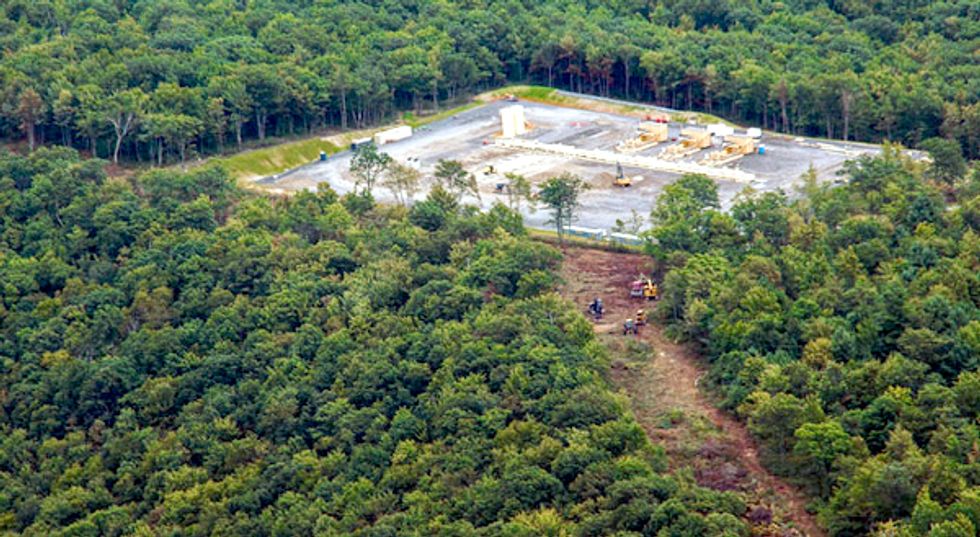 Photo credit: EcoFlight
"Preliminary reports indicate there are big gaps in protections and oversight that the federal government might have to fill," Cartwright told Inside Climate News.
Fracking is big business in Pennsylvania. As a result of its exponential growth in the last decade, the state is now the third largest producer of natural gas in the U.S. after Texas and Louisiana. But among the many questions surrounding such operations is how the wastewater—the mix of water, chemicals and sand used to blast open the shale—is disposed of. The waste has become something of a hot potato, with many states banning its disposal within their borders. Pennsylvania was among the states which tightened up its regulations so much of its waste is trucked to Ohio.
"Waste is like the forgotten stepchild of the fracking boom," said Nadia Steinzor, eastern program coordinator for environmental nonprofit Earthworks. "It's great that Congressman Cartwright is calling out the state of Pennsylvania on this issue."
While Cartwright wants to find out whether Pennsylvania is complying with the Clean Air Act and has written to Pennsylvania's Department of Environmental Protection (DEP), requesting information on whether state policies and monitoring are adequate to do so, the problem is much larger than Pennsylvania. And Cartwright said his investigation is a "first step in a comprehensive nationwide investigation."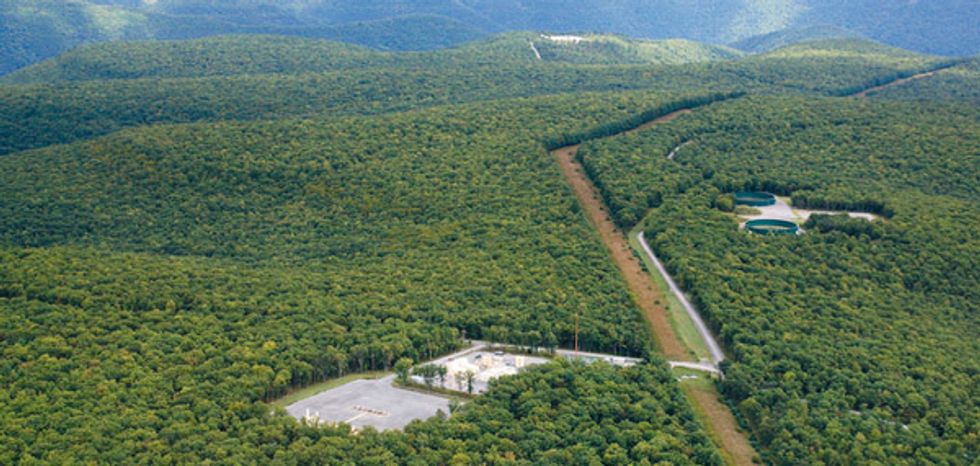 Photo credit: EcoFlight
"We don't know very much about what happens to these wastes and what impacts they may have, and it's important for Congress to take a look at this issue that does not get the attention it deserves," Cartwright told InsideClimate News.
That news won't make the gas and oil industry very happy, which doesn't feel it deserves any attention.
Inside Climate News published an investigation earlier this month that found air emissions from oil and gas fracking waste, often dumped in open pits because it's the cheapest way to dispose of it, are under-monitored, under-regulated and under-researched. The roots of that lack of oversight go back to 1988 when the oil and gas industries successfully lobbied to exempt their waste from federal hazardous waste regulations. The exemption was granted despite a U.S. Environmental Protection Agency study that found that 23 percent of the waste samples collected contained one or more toxic compounds at levels 100 times greater than those considered safe for humans and acknowledged that regulation was uneven, saying there were "valid reasons" for that. In the end, it decided that existing state and federal regulations were adequate, and that delays caused by additional regulation "would be particularly disruptive to the exploration phase of oil and gas development. 
In other words, business over human heath impacts.
Cartwright, who made a campaign promise to ensure that fracking didn't cause pollution harmful to human health, has already introduced legislation to repeal the 1988 exemption. He cited a 2011 minority staff report of the House Energy and Commerce Committee that found 29 potentially carcinogenic chemicals in fracking waste that are regulated under both the Clean Air Act and the Safe Drinking Water Act. And he pointed to a report from earlier this year by the Pennsylvania auditor general saying the state's oversight of fracking waste "is not an effective monitoring tool" and "is not proactive in discouraging improper, even illegal, disposal of waste."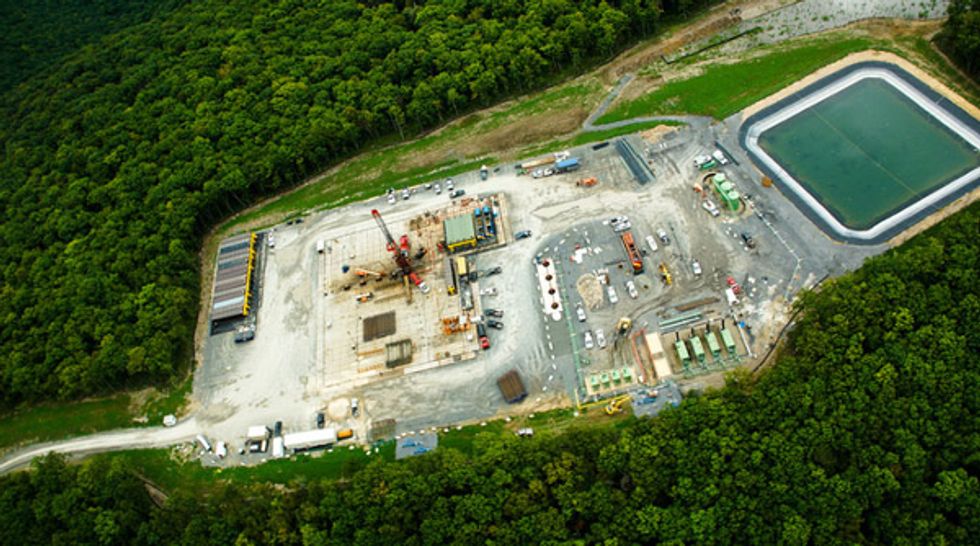 Photo credit: EcoFlight
Cartwright's bill, Closing Loopholes and Ending Arbitrary and Needless Evasion of Regulations Act (CLEANER), would regulate numerous drilling wastes including used fracking fluid. His committee has set a Nov. 12 deadline for answers to more than a dozen questions about how Pennsylvania oversees the handling and disposal of fracking waste.
"If the investigation demonstrates a serious lack of accountability and regulations at the state level, it will only reinforce the necessity of passing the CLEANER Act," he told Inside Climate News.
YOU MIGHT ALSO LIKE
Future of Fracking Not Nearly as Bright as Forecasted
Fracking Threatens Millions of Californians
Air France airplanes parked at the Charles de Gaulle/Roissy airport on March 24, 2020. SAMSON / AFP via Getty Images
France moved one step closer this weekend to banning short-haul flights in an attempt to fight the climate crisis.
A bill prohibiting regional flights that could be replaced with an existing train journey of less than two and a half hours passed the country's National Assembly late on Saturday, as Reuters reported.
"We know that aviation is a contributor of carbon dioxide and that because of climate change we must reduce emissions," Industry Minister Agnes Pannier-Runacher told Europe 1 radio, according to Reuters.
The measure now has to pass the French Senate, then return to the lower house for a final vote. It would end regional flights between Paris's Orly airport and cities like Nantes and Bordeaux, The Guardian explained. It would not, however, impact connecting flights through Paris's Charles de Gaulle/Roissy airport.
The bill is part of a legislative package which aims to reduce France's emissions by 40 percent of 1990 levels by 2030, Reuters reported. It is a watered-down version of a proposal suggested by France's Citizens' Convention on Climate, BBC News explained. This group, which was formed by President Emmanuel Macron in 2019 and included 150 ordinary citizens, had put forward a ban on flights that could be replaced with an existing train journey of under four hours.
However, the journey length was lowered after protests from KLM-Air France, which had suffered heavy losses due to the coronavirus pandemic, and regions who were concerned about being left out of national transit networks, as The Guardian explained.
"We have chosen two and a half hours because four hours risks isolating landlocked territories including the greater Massif Central, which would be iniquitous," transport minister Jean-Baptiste Djebbari said, as The Guardian reported.
However, some environmental and consumer groups objected to the changes. The organization UFC-Que Choisir compared plane routes with equivalent train journeys of under four hours and found that the plane trips emitted an average of 77 times more carbon dioxide per passenger than the train journeys. At the same time, the train alternatives were cheaper and only as much as 40 minutes longer.
"[T]he government's choice actually aims to empty the measure of its substance," the group said, according to The Guardian.
The new measure also opens the French government to charges of hypocrisy. It bailed out Air France-KLM to the tune of a seven-billion euro loan last year, though it did require the airline to drop some domestic routes as a condition. Then, days before the measure passed, it more than doubled its stake in the airline, BBC News reported. However, Pannier-Runacher insisted to Europe 1 radio that it was possible to balance fighting climate change and supporting struggling businesses.
"Equally, we must support our companies and not let them fall by the wayside," she said, as Reuters reported.
This is not the first time that climate measures and aviation bailouts have coincided in the wake of the coronavirus pandemic. Austrian Airlines replaced its Vienna-Salzburg flight with additional train service after it received government money dependent on cutting greenhouse gas emissions, BBC News reported.
The number of flights worldwide declined almost 42 percent in 2020 when compared with 2019. It is expected that global aviation may not fully recover until 2024, according to Reuters.
EcoWatch Daily Newsletter
A woman looks at a dead gray whale on the beach in the SF Bay area on May 23, 2019; a new spate of gray whales have been turning up dead near San Francisco. Justin Sullivan / Getty Images
Four gray whales have washed up dead near San Francisco within nine days, and at least one cause of death has been attributed to a ship strike.
A small tourist town has borne the brunt of a cyclone which swept across the West Australian coast.
ABC News (Australia) / YouTube
A general view shows the remains of a dam along a river in Tapovan, India, on February 10, 2021, following a flash flood caused by a glacier break on February 7. Sajjad Hussain / AFP / Getty Images
By Rishika Pardikar
Search operations are still underway to find those declared missing following the Uttarakhand disaster on 7 February 2021.
This story originally appeared in Eos and is republished here as part of Covering Climate Now, a global journalism collaboration strengthening coverage of the climate story.
Indigenous youth, organizers with the Dakota Access and Line 3 pipeline fights and climate activists march to the White House to protest against pipeline projects on April 1, 2021. Bill Clark / CQ-Roll Call, Inc via Getty Images
By Jessica Corbett
Indigenous leaders and climate campaigners on Friday blasted President Joe Biden's refusal to shut down the Dakota Access Pipeline during a court-ordered environmental review, which critics framed as a betrayal of his campaign promises to improve tribal relations and transition the country to clean energy.