This website uses cookies to ensure you get the best experience while browsing it. By clicking 'Got It' you're accepting these terms.
Frack-Happy Texas Forced to Face the Reality of Fracking-Related Earthquakes
Apr. 29, 2015 08:13AM EST
Energy
Texas is not known for using caution when it comes to oil and gas development. Fracking has swept the state like a hurricane, despite attempts by some environmental and community activists. The city of Denton passed a ban on new fracking operations in last November's elections, and the Texas legislature is currently considering legislation that would overturn that vote and take away the ability of cities and towns to regulate virtually any aspect of drilling within their borders.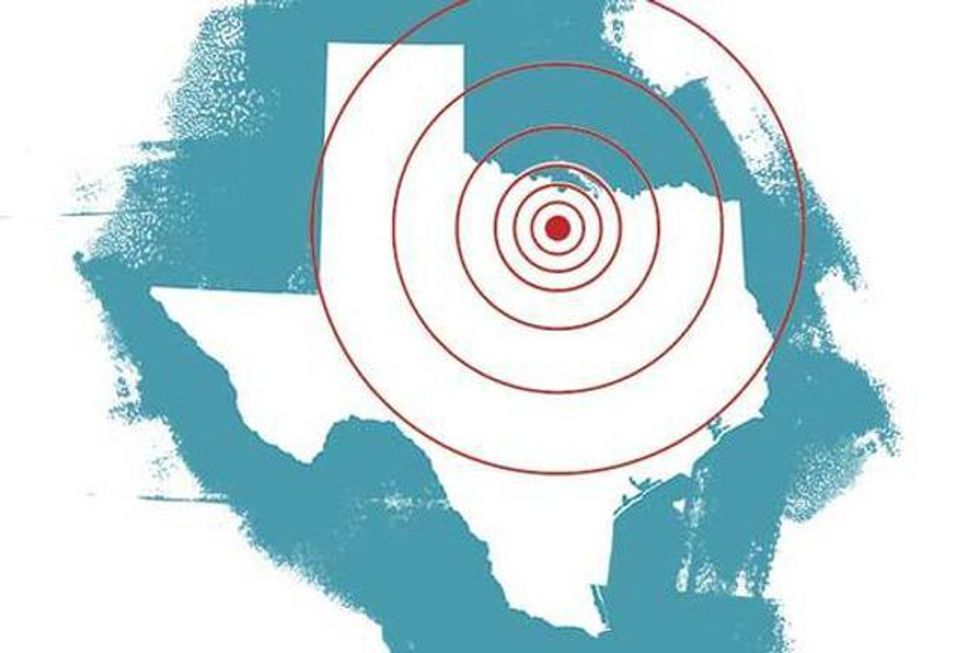 So it's kind of startling to hear that the conservative Texas Railroad Commission, which oversees oil and gas operations and has generally been very cordial toward them, has ordered companies operating two wastewater injection wells in Azle, just northwest of Fort Worth, to justify keeping their wells open. The commission has ordered four "show cause" hearings in June, where well operators must show why their permits should not be canceled.
It follows a report last week by a team of researchers from Southern Methodist University (SMU) saying that a swarm of earthquakes in the area in November and December 2013, including two magnitude 3.6 quakes, was likely caused by the injection wells activating fault lines millions of years old. The area had previously experienced no earthquakes.
"Pore-pressure models demonstrate that a combination of brine production and wastewater injection near the fault generated subsurface pressures sufficient to induce earthquakes on near-critically stressed faults," said the study. "On the basis of modeling results and the absence of historical earthquakes near Azle, brine production combined with wastewater disposal represent the most likely cause of recent seismicity near Azle."
According to the Dallas Morning News, "The Azle study is one of the most in-depth investigations of a Texas earthquake swarm. While earlier reports have linked quakes with wastewater wells based largely on timing and proximity, [study lead author Matthew] Hornbach and his colleagues sought to gain a clearer understanding of what was happening along the faults."
The study also called for more sharing of geological information gathered by oil and gas companies in order to improve monitoring of potential seismic activity.
Texas Railroad Commissioner Christi Craddock said in a statement, "The Railroad Commission has in place strong rules addressing the issue of seismicity and disposal well activity, and it is incumbent upon us to apply these rules where and when appropriate for the protection of public safety and our natural environment. In light of SMU's study linking disposal well activity to earthquakes in 2013, it is important to assess this new information in relation to the continued operational safety of the wells."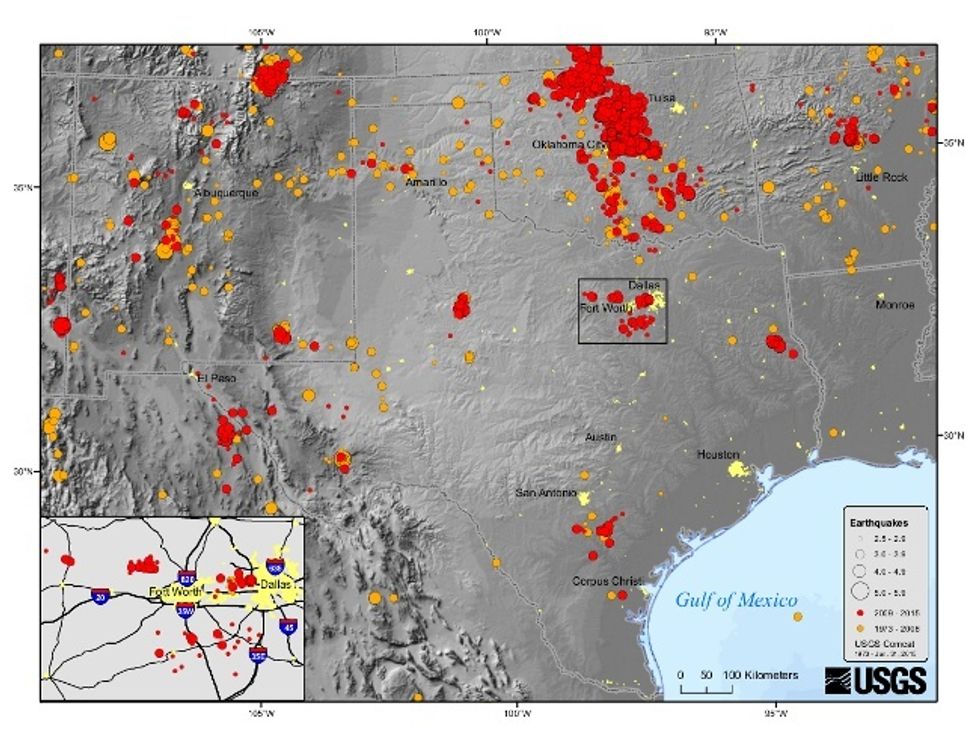 The Railroad Commission's in-house seismologist Craig Pearson has not commented on the SMU study, except to question its methodology, says the Dallas Observer which noted that Pearson has "consistently resisted linking recent Texas quakes to drilling activity."
Also expressing doubts about the study was EnerVest, one of the two companies involved in the Alze wells.
"We have serious questions about some of the assumptions made in that study, and we look forward to sharing those with the Railroad Commission when we come in June," said EnerVest spokesman Ron Whitmire.
But the evidence is piling up. The U.S. Geological Survey also released a report last week suggesting suggesting a potential link between the Texas quakes in areas that had never experienced any and the increased number of injection wells, saying that the risk of damaging earthquakes has tripled since 2008 when fracking became widespread.
"All indications are that earthquake rates have increased significantly as a result of man-made activity," said Mark Petersen, head of the USGS National Seismic Hazard Project.
But it wouldn't be Texas if elected officials didn't stick up for the oil and gas industry. Two weeks ago the Texas House passed a bill that would overturn Denton's fracking ban, clarifying that only the state can regulate oil and gas drilling operations. House Democrats proposed an amendment allowing cities to regulate injection wells, but it was rejected. The bill now goes to the state Senate where a committee had approved a similar bill.
YOU MIGHT ALSO LIKE
11 Earthquakes Rock Texas Fracking Heartland in 24 Hours
Scientists Say Small Fracking Earthquakes Could Lead to Major Ones
Oil and Gas Billionaire Pressured Oklahoma Scientist to Ignore Fracking-Earthquake Link
EcoWatch Daily Newsletter
Aerial view of Ruropolis, Para state, northen Brazil, on Sept. 6, 2019. Tthe world's biggest rainforest is under threat from wildfires and rampant deforestation. JOHANNES MYBURGH / AFP via Getty Images
By Kate Martyr
Deforestation in Brazil's Amazon rainforest last month jumped to the highest level since records began in 2015, according to government data.
A total of 563 square kilometers (217.38 square miles) of the world's largest rainforest was destroyed in November, 103% more than in the same month last year, according to Brazil's space research agency.
From January to November this year an area almost the size of the Caribbean island of Puerto Rico was destroyed — an 83% overall increase in destruction when compared with the same period last year.
The figures were released on Friday by the National Institute for Space Research (INPE), and collected through the DETER database, which uses satellite images to monitor forest fires, forest destruction and other developments affecting the rainforest.
What's Behind the Rise?
Overall, deforestation in 2019 has jumped 30% compared to last year — 9,762 square kilometers (approximately 3769 square miles) have been destroyed, despite deforestation usually slowing during November and December.
Environmental groups, researchers and activists blamed the policies of Brazil's president Jair Bolsonaro for the increase.
They say that Bolosonaro's calls for the Amazon to be developed and his weakening support for Ibama, the government's environmental agency, have led to loggers and ranchers feeling safer and braver in destroying the expansive rainforest.
His government hit back at these claims, pointing out that previous governments also cut budgets to environment agencies such as Ibama.
The report comes as Brazil came to loggerheads with the Association of Small Island States (AOSIS) over climate goals during the UN climate conference in Madrid.
AOSIS blasted Brazil, among other nations, for "a lack of ambition that also undermines ours."
Last month, a group of Brazilian lawyers called for Bolsonaro to be investigated by the International Criminal Court over his environmental policies.
Reposted with permission from DW.
The Carolina parakeet went extinct in 1918. James St. John /
CC BY 2.0
The Carolina parakeet, the only parrot species native to the U.S., went extinct in 1918 when the last bird died at the Cincinnati Zoo. Now, a little more than 100 years later, researchers have determined that humans were entirely to blame.
Pexels
Vitamin C is a very important nutrient that's abundant in many fruits and vegetables.
BLM drill seeders work to restore native grasses after wildfire on the Bowden Hills Wilderness Study Area in southeast Oregon, Dec. 14, 2018. Marcus Johnson / BLM / CC BY 2.0
By Tara Lohan
In 2017 the Thomas fire raged through 281,893 acres in Ventura and Santa Barbara counties, California, leaving in its wake a blackened expanse of land, burned vegetation, and more than 1,000 destroyed buildings.