This website uses cookies to ensure you get the best experience while browsing it. By clicking 'Got It' you're accepting these terms.
Frack Free Colorado—Choose Your Future Oct. 23
Oct. 20, 2012 08:03AM EST
Energy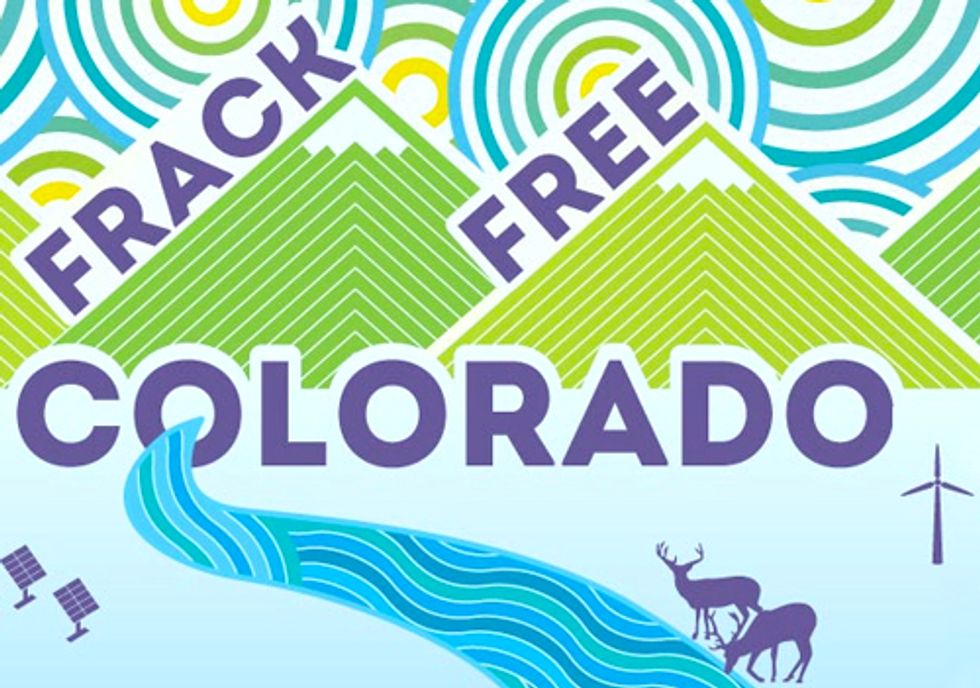 A rapidly growing list of business and environmental leaders, non-profits and entertainers are joining forces to fight against hydraulic fracturing or "fracking" in Colorado. On Oct. 23, at Civic Park on Capitol Hill in Denver, a coalition called Frack Free Colorado will draw attention to the dangers of fracking and call for a concrete plan to move the state of Colorado away from natural gas and other dirty extractive industries and toward a renewable energy economy.
"As Coloradans, we feel that it's imperative to assess the environmental and health impacts of the fracking process," says Allison Wolff, CEO of Vibrant Planet and co-organizer of Frack Free Colorado. "The collective goal of everyone involved in Frack Free Colorado is to open up a dialogue regarding the effects of fracking on our communities, families and environment. We want to educate the public on the dangers of this process and discuss clean energy alternatives."
Fracking is a technique used to extract gas and oil from rocks that are 2,000 to 10,000 feet below the earth's surface. Deep wells are drilled through the aquifer to reach shale rock formations and then millions of gallons of chemicals, sand and water are injected at high pressure into the soft, sedimentary rock, breaking it apart and releasing stores of methane and oil. The natural gas industry enjoys special exemption from the Safe Drinking Water Act, Clean Water Act, Clean Air Act and the National Environmental Policy Act for this dangerous fracking process. A single fracked well requires an access road, 2-8 million gallons of fresh water, between 10,000 and 40,000 gallons of chemicals—many of them known carcinogens and endocrine disrupters—and at least 1,000 diesel truck trips. There are more than 45,000 fracked wells in Colorado, with plans to triple that number in the next decade. The enduring effects of fracking are unknown.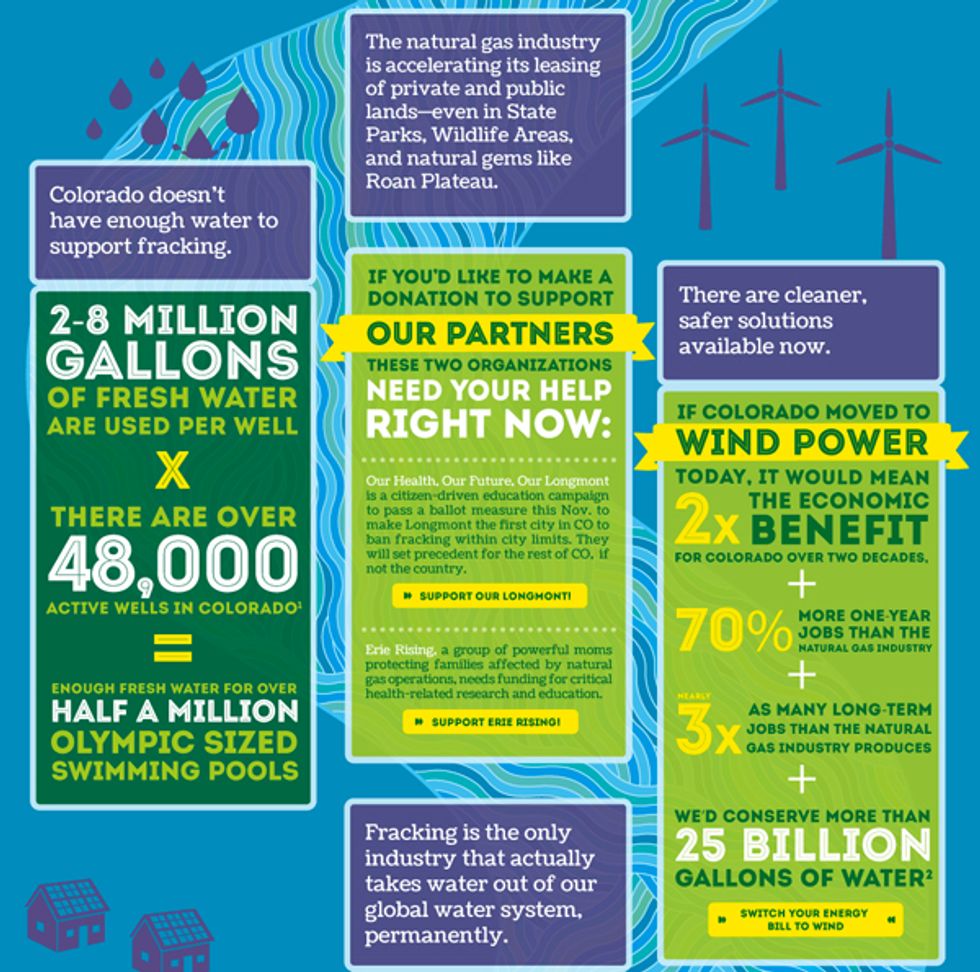 The Frack Free Colorado event on Oct. 23, is modeled after the successful New York event Songs Against Drilling earlier this year blending education with entertainment as celebrities and experts take the stage to voice their concerns about fracking and celebrate our opportunity to move to renewable energy today. Celebrities in attendance will include Daryl Hannah, Mariel Hemmingway and Leilani Munter (car racing's Carbon Free Girl). Jakob Dylan and Rami Jaffee of The Wallflowers and Colorado band, Elephant Revival will perform along with other to be announced musicians. Fracking experts like acclaimed ecologist and author Sandra Steingraber and Sam Schabacker from Food & Water Watch will help educate the public about fracking.
"The natural gas industry, which has been mistakenly touted as a clean energy provider, is polluting our rivers, aquifers, wildlife and citizens," explains Tara Sheahan, founder of Conscious Global Leadership. "In addtion, oil and gas companies estimate that they will use approximately 6.5 billion gallons of water in Colorado this year. Our state does not have enough water to support this growing industry. Frack Free Colorado's goal is to help people take action to lessen their dependence on natural gas and move everything from their consumer spending to investments to businesses that support a sustainable future—we need to start living like First Nation people who view the earth as a relative versus a resource to exploit. Post event, we are organizing a number of meetings with leaders across government, business and nonprofit sectors to design a plan for speeding Colorado's economy toward one based on renewable energy and sustainable food systems."
Yvon Chouinard, the founder of Patagonia, explains, "clean water is the most important element on the planet. According to environmental futurists such as Lester Brown, we will run out of water well before we run out of oil or topsoil. Hydraulic fracturing is a process that further accelerates the decline of our clean water supplies."
Visit EcoWatch's FRACKING page for more related news on this topic.
--------
Frack Free Colorado is sponsored by Patagonia, Prana, Black Diamond, New Belgium Brewing Company, Backpacker's Pantry, Vibrant Planet, Conscious Global Leadership, The Invisible Spark, 1% for the Planet and Backbone Media. The event's co-organizers include actor Mark Ruffalo's Water Defense, Food & Water Watch, Clean Water Action, CREDO, Sierra Club, etown, Fractivist, Rock the Earth, East Boulder County United, Wilderness Workshop, Erie Rising, The Mothers Project, Adams County Unite Now, Boulder County Citizens for Community Rights, Our Health Our Future Our Longmont  What the Frack?! Arapahoe and Earth Guardians.
EcoWatch Daily Newsletter
Heavy industry on the lower Mississippi helps to create dead zones.
AJ Wallace on Unsplash.
Cutting out coal-burning and other sources of nitrogen oxides (NOx) from heavy industry, electricity production and traffic will reduce the size of the world's dead zones along coasts where all fish life is vanishing because of a lack of oxygen.
Despite the ongoing coronavirus pandemic, which has restricted the ability to gather in peaceful assembly, a Canadian company has moved forward with construction of the controversial Keystone XL pipeline, according to the AP.
A gas flare from the Shell Chemical LP petroleum refinery illuminates the sky on August 21, 2019 in Norco, Louisiana. Drew Angerer / Getty Images.
Methane levels in the atmosphere experienced a dramatic rise in 2019, preliminary data released Sunday shows.
A retired West Virginia miner suffering from black lung visits a doctor for tests. Andrew Lichtenstein / Corbis via Getty Images
In some states like West Virginia, coal mines have been classified as essential services and are staying open during the COVID-19 pandemic, even though the close quarters miners work in and the known risks to respiratory health put miners in harm's way during the spread of the coronavirus.
Solar panel installations and a wind turbine at the Phu Lac wind farm in southern Vietnam's Binh Thuan province on April 23, 2019. MANAN VATSYAYANA / AFP via Getty Images