Fox News Asks Sen. Graham: How Can Republicans 'Trust' You After Working on Climate Bill?
Aug. 07, 2015 10:12AM EST
Climate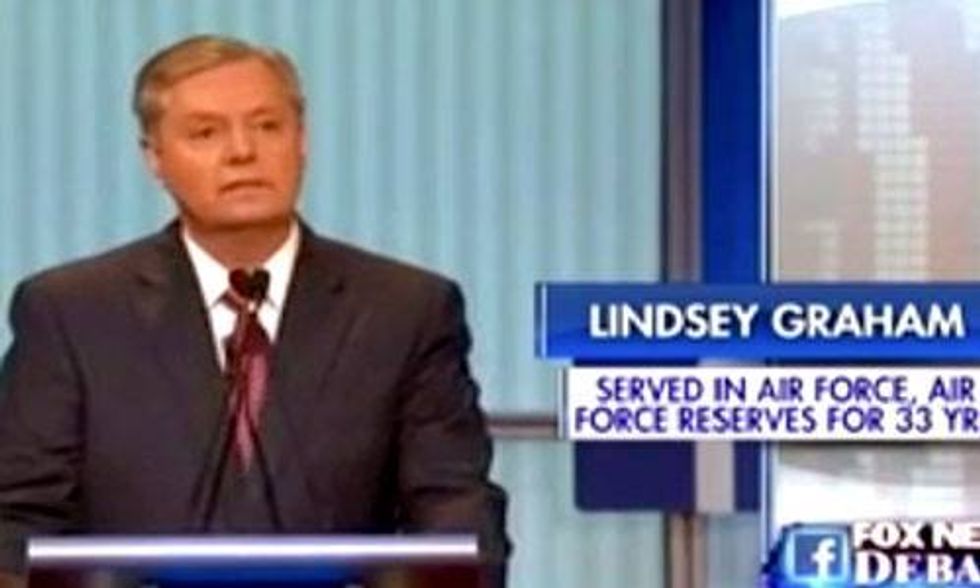 During yesterday's 5 p.m. ET Fox News Republican presidential debate, moderator Bill Hemmer asked Sen. Lindsey Graham (R-SC) how Republicans could "trust" him after his "extremely unpopular" collaboration with Democrats on a cap-and-trade bill to address climate change. Graham reportedly warned Democrats at the time that they needed to accelerate negotiations on the bill as quickly as possible, "before Fox News got wind of the fact that this was a serious process." The network would go on to make a deliberate effort to undermine efforts to pass climate legislation.
During the debate, Hemmer asked Graham, "you worked with Democrats and President Obama when it came to climate change, something you know is extremely unpopular with conservative Republicans. How can they trust you based on that record?"
Ryan Lizza reported in The New Yorker that during 2010 negotiations on that climate bill, Graham urged fellow senators to move quickly on legislation before Fox found out about it (emphasis added):
At a climate change conference in South Carolina on January 5, 2010, Graham started to sound a little like Al Gore. "I have come to conclude that greenhouse gases and carbon pollution" are "not a good thing," Graham said. He insisted that nobody could convince him that "all the cars and trucks and plants that have been in existence since the Industrial Revolution, spewing out carbon day in and day out," could be "a good thing for your children and the future of the planet." Environmentalists swooned. "Graham was the most inspirational part of that triumvirate throughout the fall and winter," Michael Brune, the executive director of the Sierra Club, said. "He was advocating for strong action on climate change from an ethical and a moral perspective."
But, back in Washington, Graham warned Lieberman and Kerry that they needed to get as far as they could in negotiating the bill "before Fox News got wind of the fact that this was a serious process," one of the people involved in the negotiations said. "He would say, 'The second they focus on us, it's gonna be all cap-and-tax all the time and it's gonna become just a disaster for me on the airwaves. We have to move this along as quickly as possible.'"
Fox News hosts and guests would go on to viciously attack the bill, which never came to a vote in the Senate. Graham ultimately withdrew from the bipartisan climate efforts, subsequently claiming that he didn't believe human-caused emissions "are contributing overwhelmingly to global climate change."
Media Matters later obtained an email from Fox News Washington managing editor Bill Sammon to Fox journalists instructing them in the midst of the 2010 climate bill debate on Capitol Hill to "refrain from asserting that the planet has warmed (or cooled) in any given period without immediately pointing out that such theories are based upon data that critics have called into question." Sammon has since been identified as the "secret weapon" helping Fox journalists "craft the questions" for the evening debate.
YOU MIGHT ALSO LIKE
The Film Donald Trump Does Not Want You to See
Gov. Brown Asks GOP Presidential Candidates: What Are You Going to Do About Climate Change?
EcoWatch Daily Newsletter