This website uses cookies to ensure you get the best experience while browsing it. By clicking 'Got It' you're accepting these terms.
Fourth Graders Ask Universal Pictures to Let Lorax Movie Speak for the Trees
Jan. 26, 2012 11:00AM EST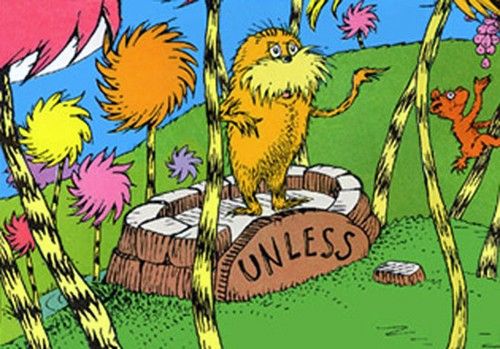 A class of fourth graders, worried that Universal Pictures is missing an educational opportunity with its upcoming Lorax movie, has launched the "Lorax Petition Project," a campaign on Change.org that has gained 50,000 signatures.
Their petition, entitled Universal Pictures: Let the Lorax Speak for the Trees, asks the studio to improve promotions for The Lorax to include the environmental message of Dr. Seuss' classic children's book. According to the students, the film's trailer, website, and other promotions hardly touch on the environmental theme.
"Each year my students are inspired to do more for the planet after reading the book," said Ted Wells, who teaches at The Park School in Brookline, Massachusetts. "They saw the Lorax trailer, and to them, the movie looked more like an adventure and romance, like it had totally lost its message about helping the planet."
In December, the students drafted the petition as a class project and proposed specific ways Universal Pictures could include environmental messages in Lorax's promotional materials, such as adding a Truffula Tree overflowing with "going green" tips along with a discussion forum to the movie website. In less than a month, tens of thousands of people have signed the campaign, and the class has received supportive messages from all over the world, including a music video offer.
"It's impressive to watch this classroom recognize a concern and mobilize to do something about it," said Corinne Ball, director of organizing at Change.org. "Momentum like this is sure to catch Universal's attention before the Lorax hits theaters in March."
Comments from Mr. Wells' fourth grade students:
"The website is more about making money than helping the planet, and that's exactly what the book says not to do."—Georgia
"There's zero about the environment in the trailer!"—Vikrum
"We want to help trees, so why don't you help us, too."—Lanie
"Unless someone like you cares a whole awful lot, nothings is going to get better. It's not."—Jeffery quoting the Once-ler
To sign the petition, click here.
—————
Change.org is the world's fastest-growing platform for social change—growing by more than 500,000 new members a month, and empowering millions of people to start, join, and win campaigns for social change in their community, city and country.
EcoWatch Daily Newsletter
Smog over Los Angeles. Westend61 / Getty Images
After four decades of improving air quality, the U.S. has started to take a step backwards, as the number of polluted days has ticked upwards over the last two years, the Associated Press reported.
Photobos / iStock / Getty Images
Governors in Vermont and Maine signed bills on Monday that will ban plastic bags in their states next year, The Hill reported.
The Maine ban will go into effect next Earth Day, April 22, 2020. The Vermont ban, which extends beyond plastic bags and is the most comprehensive plastics ban so far, will go into effect in July 2020. The wait time is designed to give businesses time to adjust to the ban.
picture-alliance / AP Images / D. Goldman
By Daniel Moattar
Eastern Kentucky's hills are interrupted by jarring flats of bare rock: the aftermath of mountaintop removal mining, which uses explosives to destroy and harvest coal-rich peaks.
By Molly Taft
Lisa Marshall isn't your typical activist. For one thing, she's not into crowds. "I don't really like rallies," Marshall, a mom of three from upstate New York, said. "They're a little stressful — not my favorite thing."

An oil drilling site in a residential area of Los Angeles, California on July 16, 2014.
Faces of Fracking / Flickr
By Jake Johnson
A comprehensive analysis of nearly 1,500 scientific studies, government reports, and media stories on the consequences of fracking released Wednesday found that the evidence overwhelmingly shows the drilling method poses a profound threat to public health and the climate.

sonsam / iStock / Getty Images
By Grace Francese
A new Environmental Working Group (EWG) study published in Environmental Research found that nitrate, one of the most common contaminants of drinking water, may cause up to 12,594 cases of cancer per year, but that's not its only danger: It can pose unique health risks to children.
Melt water from Everest's Khumbu glacier. Ed Giles / Getty Images
EPA Administrator Andrew Wheeler signs his replacement for the Clean Power Plan. Win McNamee / Getty Images