This website uses cookies to ensure you get the best experience while browsing it. By clicking 'Got It' you're accepting these terms.
Fossil Fuel Subsidies Run Rampant at the State Level
Dec. 17, 2012 01:02PM EST
Energy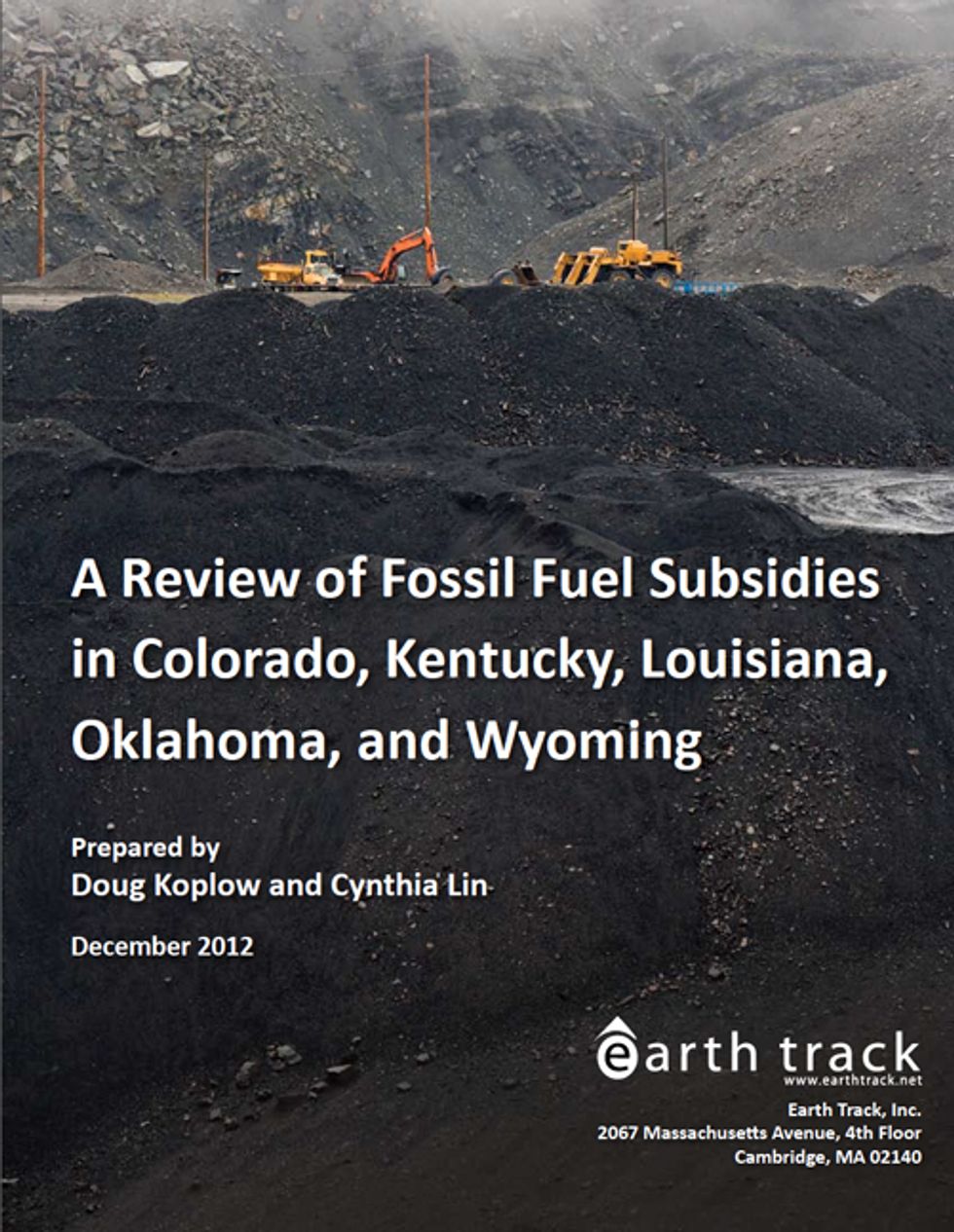 Earth Track released last week A Review of Fossil Fuel Subsidies in Colorado, Kentucky, Louisiana, Oklahoma and Wyoming. The report documents hundreds of subsidies to established fossil fuel industries and fossil fuel consumers in five U.S. states. Many of these policies have contributed to environmental damage, energy market distortions and fiscal shortfalls.
Political power drives state subsidies to fossil fuels
The U.S. news cycle as of late has been focused on the pending "fiscal cliff," a combination of automatic spending cuts and tax increases that put at risk the country's emergence from recession. In an effort to flag ways to safely cut the U.S.' burgeoning deficit, an unwieldy array of special tax breaks, often the result of political deals over many decades, have finally gotten some attention.
Yet the very same political drivers that have led to subsidizing powerful industries at the federal level have flourished at the state level as well. And in many states, among the most powerful industries are those involved with coal, oil and natural gas.
These subsidies have come through the operation of the state tax code to be sure, but also through every other available mechanism of government market intervention—a list that includes subsidized credit and insurance, infrastructure provision, unfunded oversight, direct grants and below-market resource sales. And, just as these other types of support have received insufficient attention in federal fiscal cliff discussions, they are too often ignored at the state level as well.
This report is a first pass at inventorying the subsidies on the state level. We have no illusion that we have captured everything, but we hope that others will continue to build on this inventory so that the full scale of state-level support for the fossil fuel sector will gradually become visible.
Even based on the subset of policies we have captured, it is clear that these programs have contributed to the fiscal turmoil in which so many state governments now find themselves, and to significant environmental degradation as well.

Filling in subsidy data gaps at the sub-national level
Although data on fossil fuel subsidies around the world have been growing, most of this information focuses on national level policies. The thousands of subsidies at the state, provincial or local levels are largely untracked—with little systematic documentation either in the U.S. or in most other countries of the world. 
These gaps are unfortunate:  in the aggregate, sub-national subsidies transfer billions of dollars per year to fossil fuel industries just like their federal counter-parts. They are additive to federal supports, further distorting the economics of specific projects and investment incentives across energy options. This review also illustrates that not only are subsidies purposefully targeted to oil, gas or coal large, but that the fossil energy sector captures a significant share of more general state incentive programs as well.    
There is a great deal of money at play. The Tax Exemption Budget for the U.S. state of Louisiana, for example, contains a dizzying array of exemptions, exclusions and reductions that, all told, manage to forego three quarters of the state's corporate income tax revenue, more than half of its sales tax revenue, and nearly one-third of its severance tax revenue. Severance tax breaks in Louisiana were worth more than $350 million in 2010, nearly all benefiting the fossil fuel sector. Colorado has so many exemptions and offsets to severance taxes that only five of the more than 30 oil-producing counties in the state paid any net severance taxes on oil and natural gas, according to past reviews. 
In Kentucky, public spending on coal haul roads comprised one of the state's largest subsidies to the coal sector in years past. Yet, the spending is poorly documented, a common situation with spending on energy-related infrastructure across the states evaluated. 
Fossil fuel exemptions from state sales and motor fuel taxes are also frequent, and result in significant revenue losses to state treasuries. Yet, in many of these situations, blanket exemptions don't make sense and should be narrowed or eliminated.
Reducing market distortions:  high value targets for state fossil fuel subsidy reform
The patterns in fossil fuel subsidies across states offered a number of high value areas for reform.  Some of these are highlighted below:
1. There is no excuse for not tracking your subsidies.  There are only a handful of states in the entire country that have no formal tax expenditure budget at all, but two of them (Colorado and Wyoming) were in our sample. None of the states evaluated had centralized public reporting of the many different programs to provide credit subsidies to private activities and businesses. Further, clear and consistent reporting on energy-related oversight and maintenance by governmental agencies and how it is funded was also largely missing. In all of these areas, small improvements in reporting would pay large dividends to taxpayers.
2. Don't ignore "general" subsidies when looking at subsidies to fossil fuels. Subsidies flow to power. Not always, not completely. But often and mostly. Fossil fuel industries are powerful, and they tap into any source of subsidy they can. The review of subsidies to oil and gas in Louisiana illustrates this quite point well, with substantial portions of some of the "general" subsidies flowing to fossil fuel beneficiaries.
3. Energy is a product, and should not be exempt from general state and local sales and use taxes. This common exemption costs state Treasuries hundreds of millions of dollars per year, but is difficult to justify for most recipients.  Concerns about energy poverty are real, since energy is a life-sustaining good. However, ensuring the poor have reasonable access to energy services is already a central part of utility regulation across the country and thus can be separated from the issue of energy taxation. Lifeline rates, energy assistance programs, or other similar tools are well established to ensure the poor stay warm in cold climes and cool in warm ones. Particularly given the negative externalities associated with most fuel use, there is no justification for blanket tax exemptions for fuel.
4. Paying for the roads. Resource-intensive states do a poor job tracking extra construction and maintenance costs triggered by the heavier vehicles and more frequent traffic that routinely accompanies fossil fuel extractive activities. This data needs to improve, with costs pushed back onto the industries that trigger the costs rather than buried in state or local government road budgets. 
Similarly, most states use motor fuel excise taxes to pay for transport-infrastructure (primarily roads). Yet, exemptions for many user classes that do use the roads (e.g., government vehicles) are common. In other cases, the states exempt forms of transport such as rail, boats, or aviation from fuel taxes entirely because they do not use roads. But where governments are also spending money on rail, water, or air infrastructure or oversight, different earmarking might be prudent, but full tax exclusion is not. These types of cross-subsidies are fiscally and environmentally damaging.
5. Subsidizing favored extraction activities needs a rethink. States routinely subsidize forms of energy they produce domestically or that come from lower productivity mines or wells. Some of these subsidies provide incentives to boost production or consumption of higher polluting fuels such as lignite or high sulpher coal. The policies are focused on protecting employment and extraction levels. They implicitly downplay the impact of the subsidies on environmental quality or on the ability of other fuels or energy services to compete. Tax exemptions for fossil fuels consumed or lost during the extraction process are also common. 
In all of these situations, a rethink is needed. Fossil fuels in lower productivity wells are one type of marginal energy resource, but they are not the only one. Subsidies should not put higher cost fossil fuels at a competitive advantage to other, often cleaner, substitutes.  
Conventional wisdom on propping up extractive industries as productivity declines is equally problematic. Old wells are sometimes reopened as prices rise or technology improves, regardless of the state subsidies for doing so. Further, the declining returns on old wells as costs rise and volumes drop really isn't that different structurally from what happens in many other businesses as technology and equipment ages, and new alternatives come to the fore. Yet we don't see the tax code littered with subsidies to keep other declining productivity businesses going in the face of new competitors. Government policy should be neutral with respect to aging industries rather than favoring polluting fossil fuels.
Summary
State subsidies to fossil fuels have been neglected for too long. They are wide ranging, large and often exacerbate environmental harm while also acting as a competitive impediment to emerging energy resources and improved energy efficiency to compete on an equal footing. By inventorying these subsidies in five states, we hope to start a conversation on how to get rid of many of them, and to provide a foundation on which others can continue to expand the subsidy knowledge base.
Visit EcoWatch's ENERGY page for more related news on this topic.
--------
Further reading
Readers interested in sub-national subsidies may also find the following three resources of value:
1. OECD's inventory of fossil fuel subsidies. OECD partially funded our work, and a some elements of this review will be included in their updated installment of fossil fuel subsidies within OECD countries. Their most recent subsidy data can be accessed here. The updated printed report is slated for publication in January 2013. 
2. Good Jobs First Subsidy Tracker database. This is the most extensive database I'm aware of covering a wide variety of state-level subsidies. The coverage on grants and tax breaks is strong and growing. But weaknesses in state reporting on other subsidy instruments reduce the ability of Good Jobs First to comprehensively track some of the other types of support. Thus, coverage of credit and insurance subsidies, below-market sales of publicly-owned minerals, or state-provided goods or services in the energy sector is more spotty. The values in the database can be viewed as a lower-bound estimate for total subsidies in a state.
3.  United States of Subsidies database from the New York Times. Supplements information from the Good Jobs First database with additional sources, and provides a nice interface to facilitate tabulations of state-level subsidies to specific companies. Not fossil-fuel specific.
EcoWatch Daily Newsletter
Pexels
By Zak Smith
It is pretty amazing that in this moment when the COVID-19 outbreak has much of the country holed up in their homes binging Netflix, the most watched show in America over the last few weeks has been focused on wildlife trade — which scientists believe is the source of the COVID-19 pandemic. Make no mistake: Tiger King: Murder, Mayhem and Madness is about wildlife trade and other aspects of wildlife exploitation, just as surely as the appearance of Ebola, SARS, MERS, avian flu and probably COVID-19 in humans is a result of wildlife exploitation. As a conservationist, this is one of the things I've been thinking about while watching Tiger King. Here are five more:
Pexels
By Hector Chapa
With the coronavirus pandemic quickly spreading, U.S. health officials have changed their advice on face masks and now recommend people wear cloth masks in public areas where social distancing can be difficult, such as grocery stores.
But can these masks be effective?
Jörg Carstensen / picture alliance via Getty Images
By Carey Gillam
Bayer AG is reneging on negotiated settlements with several U.S. law firms representing thousands of plaintiffs who claim exposure to Monsanto's Roundup herbicides caused them to develop non-Hodgkin lymphoma, sources involved in the litigation said on Friday.
Tom Werner / DigitalVision / Getty Images
With many schools now closed due to the current COVID-19 outbreak, you may be looking for activities to keep your children active, engaged, and entertained.
Although numerous activities can keep kids busy, cooking is one of the best choices, as it's both fun and educational.
In Germany's Hunsrück village of Schorbach, numerous photovoltaic systems are installed on house roofs, on Sept. 19, 2019. Thomas Frey / Picture Alliance via Getty Images
Germany's target for renewable energy sources to deliver 65% of its consumed electricity by 2030 seemed on track Wednesday, with 52% of electricity coming from renewables in 2020's first quarter. Renewable energy advocates, however, warned the trend is imperiled by slowdowns in building new wind and solar plants.