Fossil Fuel Industry Set to Argue for Dismissal of Landmark Climate Change Lawsuit Brought by 21 Youth
By Curtis Morrison
U.S. Magistrate Judge Thomas M. Coffin is scheduled to hear oral arguments Wednesday from the U.S. government and the fossil fuel industry on their motions to dismiss a landmark constitutional climate change lawsuit.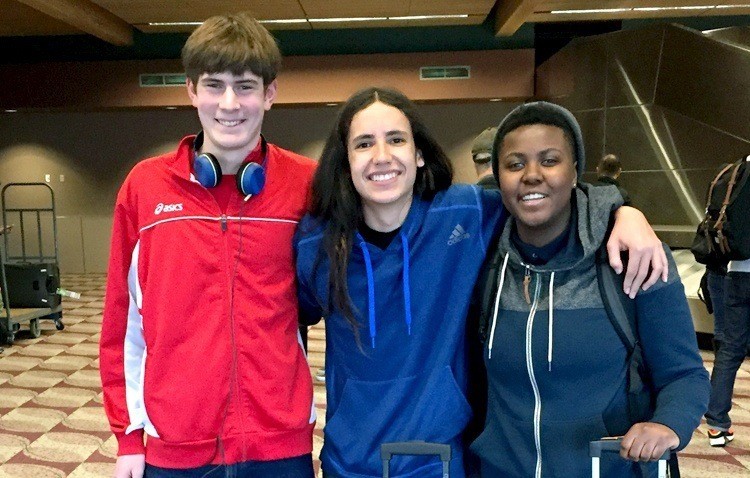 The case has been brought before the court by 21 youth plaintiffs as well as climate scientist Dr. James Hansen, as guardian for future generations as well as his granddaughter and youth plaintiff Sophie. The youth's complaint itself is 95 pages, but boils down to a simple demand that the federal government cease conduct that promotes fossil fuel extraction and consumption, and instead develop and implement an actual science-based climate recovery plan. The complaint argues the youth have a fundamental constitutional right to be free from the government's destruction of their Earth's atmosphere.
The Department of Justice represents the U.S. government (using taxpayer dollars), while Sidley Austin LLP, a law firm with 1,900 lawyers, represents the fossil fuel industry. The latter's motion to intervene was granted by Judge Coffin in January.
In true David and Goliath form, the youth and Dr. Hansen will be represented by legal counsel coordinated and led by the small Oregon non-profit Our Children's Trust. The youth have received additional legal support through an amicus brief on behalf of the Global Catholic Climate Movement, representing 250 Catholic organizations and thousands of individuals, and the Leadership Council of Women Religious, representing more than 40,000 women religious. Additional amicus briefs supporting the youth have been filed by constitutional scholar John E. Davidson, former senior scientist and executive director of the defendant's Office of the U.S. Global Change Research Program Dr. Michael MacCracken, and Hansen himself, in his capacity as an climate expert.
But the legal support behind the youth is only the tip of the iceberg. They are also expecting moral support from hundreds of supporters, mostly students, traveling to Eugene, Oregon, for the hearing Wednesday. One group that has been instrumental in organizing the community support has been 350 Eugene, a group founded by environmentalist, author and journalist Bill McKibben.
"Students are both scared about the climate crisis and inspired by seeing other kids—especially plaintiffs they know from school or local clubs—take an action as bold as suing the government," Mary DeMocker, 350 Eugene's co-founder and creative director, said. "They are fascinated and want to march with them at our rallies and hear them speak in court, because they know plaintiffs amplify their own love—for animals, for the earth, for fairness—and their fear that their world is being destroyed by the adult recklessness."
The court's shorthand for the case, Juliana v. United States, refers to the now 19-year-old youth plaintiff listed first in the complaint, Kelsey Juliana. Here's a statement Juliana released on her Facebook wall:
"Our arguments are simple: We demand that the government we elected to represent its people act on the interests of the land and citizens instead of the interests of corporate industry. We, as youth, demand that our constitutional rights to life, liberty and property are upheld by the government and that they act to advert climate catastrophe by reducing carbon emissions and fazing out support of fossil fuels. We are youth fighting for our futures in court, securing fundamental rights for present and future generations. JOIN US! FOSTER THE MOVEMENT! 3/9/2016, 10am, Federal District Courthouse in Eugene, OR!"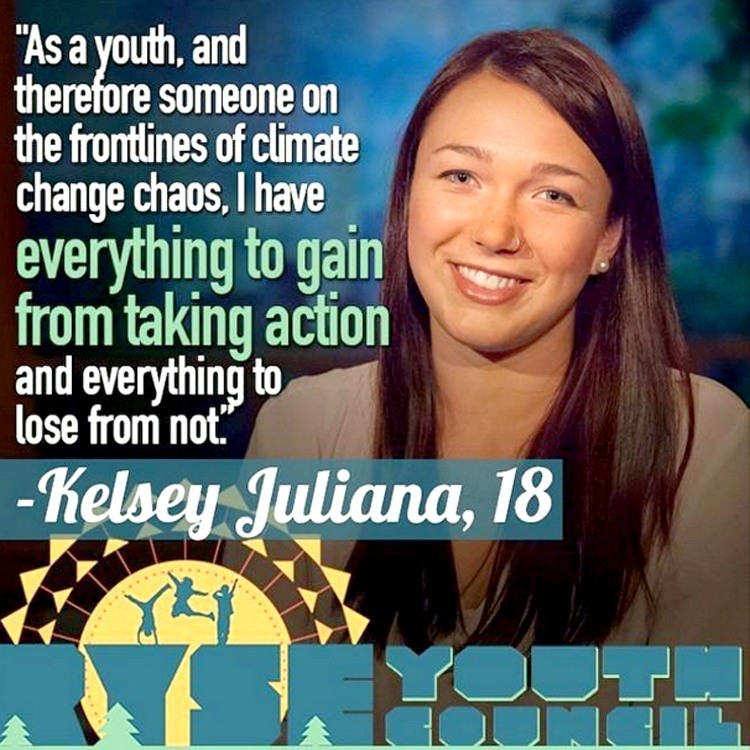 In preparation for the expected attendance and interest in the case, the District Court plans to livestream the oral arguments into three overflow courtrooms in the same courthouse, as well as Courtroom 12A in Portland's Mark O. Hatfield United States Courthouse.
Curtis Morrison is a volunteer law clerk with Our Children's Trust, freelance journalist and Whittier Law School J.D. candidate with environmental law concentration.
YOU MIGHT ALSO LIKE
Dear President Obama, The Clean Energy Revolution Is Now
Teen Girls See Big Drop in Chemical Exposure With Switch in Cosmetics
Democratic Debate Brings Anti-Fracking Movement to Center Stage
Jul. 21, 2017 01:50PM EST
Will Rose / Greenpeace
Eleven peaceful activists from the Greenpeace ship Arctic Sunrise have taken to the water in inflatable boats with handheld banners to oppose the Statoil Songa Enabler oil rig, 275 km North off the Norwegian coast, in the Arctic Barents sea.
The banners say: "People Vs. Arctic Oil" and are directed at Statoil and the Norwegian government, which has opened a new, aggressive search for oil in the waters of the Barents Sea.
Keep reading...
Show less
Jul. 21, 2017 10:34AM EST
Dominion Pipeline Monitoring Coalition
The Federal Energy Regulatory Commission (FERC) paved the way Friday for the 600-mile, 42-inch fracked gas Atlantic Coast Pipeline to proceed when it issued the final environmental impact statement (FEIS). A joint project of utility giants Duke Energy and Dominion Energy, the Atlantic Coast Pipeline would move fracked gas from West Virginia into Virginia and North Carolina.
In April, the Sierra Club submitted more than 500 pages of legal and technical comments on FERC's draft EIS, which were joined by more than 18,000 individual comments detailing opposition to the project. The pipeline has been met with widespread opposition, with more than 1,000 people participating in public hearings across the three affected states. The Sierra Club recently requested that FERC issue a new environmental review document analyzing information that came in after or late in, the public comment process.
Keep reading...
Show less
Jul. 21, 2017 08:25AM EST
Greenpeace / PolluterWatch
By Jessica Corbett
"It's time Rex Tillerson step down or be removed," said Gigi Kellett of Corporate Accountability International, following an announcement on Thursday that ExxonMobil will pay $2 million for violating U.S. sanctions against Russian officials while the now-secretary of state was the company's CEO.
"ExxonMobil demonstrated reckless disregard for U.S. sanction requirements," according to enforcement filing released by the Treasury Department's Office of Foreign Assets Control (OFAC), which issued the penalty. Though the fine is reportedly the maximum penalty allowed, it's pittance to one of the world's most profitable and powerful corporations, which last year reported a profit of $7.8 billion.
Keep reading...
Show less
Jul. 21, 2017 11:15AM EST
New analysis from Amory B. Lovins debunks the notion that highly unprofitable, economically distressed nuclear plants should be further subsi­dized to meet financial, security, reliability and climate goals. The analysis, which will appear shortly in The Electricity Journal, shows that closing costly-to-run nuclear plants and reinvesting their saved operating costs in energy efficiency provides cheaper elec­tricity, increases grid reliability and security, reduces more carbon, and preserves (not distorts) market integrity—all without subsidies.

Keep reading...
Show less
Jul. 21, 2017 08:44AM EST
Oil Change International / Twitter
By Christian Detisch and Seth Gladstone
In the wake of Senate Republicans' ever-deepening debacle over their flailing attempts to strip health insurance from 22 million people, Majority Leader Mitch McConnell is desperate to do something—anything—to show that he can get legislation passed. To this end, he's bypassing the standard committee review process to push a complex 850+ page energy bill straight to the full Senate floor. Perhaps not surprisingly, this legislation, the Energy and Natural Resources Act of 2017, would be a disaster for public health and our climate.
Keep reading...
Show less
Jul. 21, 2017 08:11AM EST
Rooftop solar panels on a beach house in southern Florida. TAI VIINIKKA / CC BY-NC-ND 2.0
A new law passed this week in South Miami will require all new homes built in the city to install solar panels. The measure, which was inspired by a proposal from a teenage climate activist, will go into effect in September.
The text of the ordinance details the climate impacts facing South Miami.
Keep reading...
Show less
Jul. 21, 2017 10:27AM EST
www.youtube.com
Keep reading...
Show less
Jul. 21, 2017 08:49AM EST
iStock
By Katherine Paul and Ronnie Cummins
A recent series of articles by a Washington Post reporter could have some consumers questioning the value of the U.S. Department of Agriculture's (USDA) organic seal. But are a few bad eggs representative of an entire industry?
Consumers are all for cracking down on the fraudulent few who, with the help of Big Food, big retail chains and questionable certifiers give organics a bad name. But they also want stronger standards, and better enforcement—not a plan to weaken standards to accommodate "Factory Farm Organic."
Keep reading...
Show less


Get EcoWatch in your inbox