This website uses cookies to ensure you get the best experience while browsing it. By clicking 'Got It' you're accepting these terms.
Fossil Fuel Industry Is Quietly Building Pipeline Network That 'Dwarfs Keystone' XL
Mar. 23, 2015 08:20AM EST
Energy
Despite public opposition that has so far blocked the building of the Keystone XL pipeline, the fossil fuels industry has successfully—and quietly—expanded the nation's domestic oil network by installing thousands of miles of pipeline across the country, according to new reporting by the Associated Press.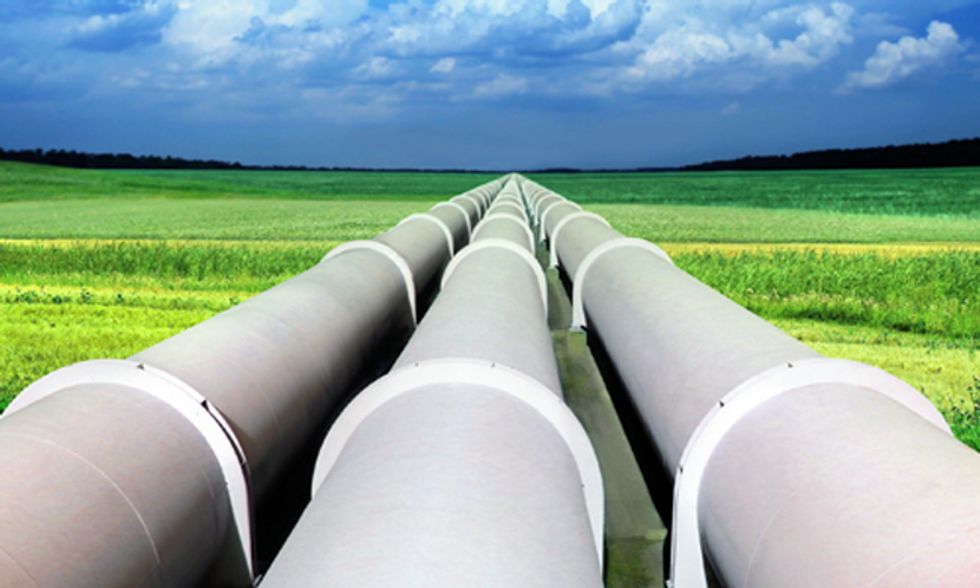 "Overall, the network has increased by almost a quarter in the last decade," the AP reports. "And the work dwarfs Keystone. About 3.3 million barrels per day of capacity have been added since 2012 alone—five times more oil than the Canada-to-Texas Keystone line could carry if it's ever built."
While the Keystone project is still in limbo, the petroleum industry has "pushed relentlessly everywhere else to get oil to market more efficiently, and its adversaries have been unable to stop other major pipelines," writes AP journalist Henry Jackson.
That's not to say they haven't tried.
In Minnesota, for example, local opponents succeeded last year in getting state regulators to consider rerouting a 616-mile pipeline proposed by Toronto-based Enbridge around lakes and forests, delaying it for at least a year.
"More typical, though, was an Enbridge project to double the capacity of a 285-mile stretch of pipeline in Michigan," Jackson writes. "Groups like the Michigan Coalition Against Tar Sands fought the proposal, citing a spill in 2010 that caused serious environmental damage. But the Michigan Public Service Commission ruled the project acceptable, and the expansion went ahead."
Opposition to local pipeline projects is ongoing. In Iowa, the Meskwaki Indian tribe is objecting to a Texas company's plans to construct a 343-mile crude oil pipeline across 18 Iowa counties, the Des Moines Register reported Monday.
"As a people that have lived in North America for thousands of years, we have environmental concerns about the land and drinking water," tribal chairwoman Judith Bender wrote in a letter filed last month with state officials. "As long as our environment was good we could live, regardless of who our neighbors were."
She continued: "Our main concern is Iowa's aquifers might be significantly damaged. And it will only take one mistake and life in Iowa will change for the next thousands of years. We think that should be protected, because it is the water that gives Iowa the best way of life."
An analysis released in November by the Center for Biological Diversity found that there have been more than 8,700 significant incidents with U.S. pipelines involving death, injury, and economic and environmental damage since 1986—more than 300 per year.
In fact, a new proposal from the Department of Transportation's Pipeline and Hazardous Materials Safety Administration "is an implicit acknowledgment that some of the oil industry's testing technology isn't sophisticated enough to detect cracks or corrosion in time to prevent a pipeline's failure," according to Energy & Environment Publishing's EnergyWire, which reported exclusively on the plan on Monday.
According to EnergyWire:
Almost two years after an Exxon Mobil Corp. pipeline split open and sent Canadian crude flowing through a neighborhood in Mayflower, Ark., federal regulators have quietly proposed a sweeping rewrite of oil pipeline safety rules.

If the proposal is finalized in its current form, as much as 95 percent of the U.S. pipelines that carry crude, gasoline and other liquids—182,000 miles—would be subject to the new rules and about half the system may have to undergo extensive tests to prove it can operate safely, according to information from the Department of Transportation's Pipeline and Hazardous Materials Safety Administration.

The plan, known as the Hazardous Liquids Integrity Verification Process, is an implicit acknowledgment that some of the oil industry's testing technology isn't sophisticated enough to detect cracks or corrosion in time to prevent a pipeline's failure. And for the first time since PHMSA was created, it may wind up telling companies they have to replace certain aging pipelines.
The oil and pipeline industries are already lobbying against the idea, EnergyWire reports, though few details about the plan are publicly available.
According to EnergyWire journalist Mike Lee: "PHMSA declined to make any of its officials available for interviews over a five-day period and wouldn't answer written questions on the record—even though the agency has already briefed two oil industry trade associations about the proposal."
YOU MIGHT ALSO LIKE
Community Rights vs. Corporate Rights: Citizens Fight for Home Rule Against Fracking and Pipelines
It's Official … the Winner of the Worst Climate Denier in Congress Is …
EcoWatch Daily Newsletter
Pro-environment demonstrators on the streets of Washington, DC during the Jan. 20, 2017 Trump inauguration.
Mobilus In Mobili
/ Flickr /
CC BY-SA 2.0
By Dr. Brian R. Shmaefsky
One year after the Flint Water Crisis I was invited to participate in a water rights session at a conference hosted by the US Human Rights Network in Austin, Texas in 2015. The reason I was at the conference was to promote efforts by the American Association for the Advancement of Science (AAAS) to encourage scientists to shine a light on how science intersects with human rights, in the U.S. as well as in the context of international development. My plan was to sit at an information booth and share my stories about water quality projects I spearheaded in communities in Bangladesh, Colombia, and the Philippines. I did not expect to be thrown into conversations that made me reexamine how scientists use their knowledge as a public good.
Mt. Rainier and Reflection Lake on Sept. 10, 2015. Crystal Geyser planned to open a bottling plant near Mt. Rainier, emails show.
louelke - on and off / Flickr
Bottled water manufacturers looking to capture cool, mountain water from Washington's Cascade Mountains may have to look elsewhere after the state senate passed a bill banning new water permits, as The Guardian reported.
Large storage tank of Ammonia at a fertilizer plant in Cubatão, Sao Paulo State, Brazil. Luis Veiga / The Image Bank / Getty Images
The shipping industry is coming to grips with its egregious carbon footprint, as it has an outsized contribution to greenhouse gas emissions and to the dumping of chemicals into open seas. Already, the global shipping industry contributes about 2 percent of global carbon emissions, about the same as Germany, as the BBC reported.
At high tide, people are forced off parts of the pathway surrounding DC's Tidal Basin. Andrew Bossi /
Wikimedia
The Jefferson Memorial in Washington, DC overlooks the Tidal Basin, a man-made body of water surrounded by cherry trees. Visitors can stroll along the water's edge, gazing up at the stately monument.
But at high tide, people are forced off parts of the path. Twice a day, the Tidal Basin floods and water spills onto the walkway.
Lioness displays teeth during light rainstorm in Kruger National Park, South Africa. johan63 / iStock / Getty Images
Ahead of government negotiations scheduled for next week on a global plan to address the biodiversity crisis, 23 former foreign ministers from various countries released a statement on Tuesday urging world leaders to act "boldly" to protect nature.