Fossil Fuel Fights That Could Rock U.S.-Canada Relations
For five years, the struggle over the Keystone XL tar sands pipeline dominated U.S. and Canadian energy politics. When President Obama finally rejected the project last fall, he was able to start a new chapter with recently elected Prime Minister Trudeau, who seemed eager to move past the toxic politics of his predecessor, Stephen Harper.
But as Trudeau and Obama meet in Washington this week to discuss a joint approach on climate change, new fossil fuel fights, including several Keystone XL-like pipelines, pose challenges for both leaders and threaten to exacerbate tensions between neighbors.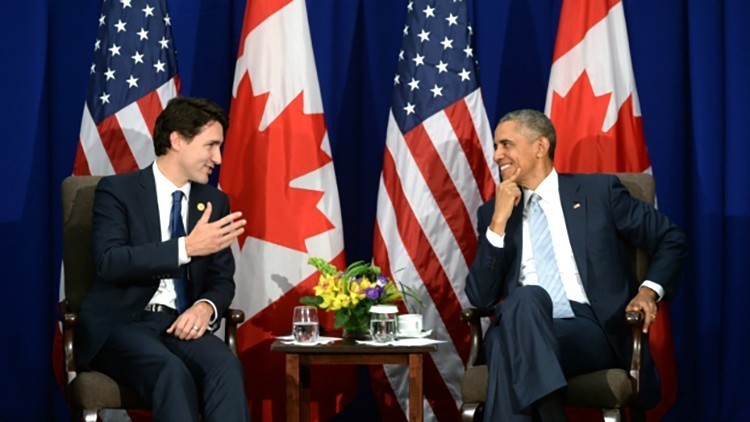 "Keystone XL was just the beginning," said May Boeve, executive director of 350.org. "This movement is now engaged in major fossil fuel fights on both sides of the border and is ready to oppose any new project that is proposed. Keeping fossil fuels in the ground is the new test for climate leadership and both Trudeau and Obama have more work to do."
Organizing under the "keep it in the ground" banner, 350.org and other climate groups are engaging in a continental wide fight against the fossil fuel industry, challenging new projects and going after existing production.
High up on the list are a group of other tar sands pipelines that resemble Keystone XL. In Canada, both the Kinder Morgan and Energy East projects are facing tough opposition. In the U.S., local and national groups have targeted a system of Enbridge pipelines proposed across the Midwest.
"If Trudeau is serious about the climate pledges he made in Paris, he needs to freeze tar sands expansion as soon as possible," said Cam Fenton, Canadian tar sands campaign manager with 350.org. "You can play with the numbers all you want and there's still no way to match further tar sands production with keeping global warming below 2 degrees, let alone 1.5 degrees. New pipelines fail the climate test, plain and simple."
Activists are also pushing both leaders to go beyond the Arctic and protect all coastal areas from offshore drilling. President Obama came under fire last year for allowing Shell to explore for oil off the coast of Alaska. He's now coming under increasing pressure to ban all new drilling in federal waters, including in the Pacific, Atlantic and Gulf of Mexico.
"The Arctic is a spectacular treasure and so are the people, cultures and ecosystems in the Gulf," said Boeve. "No community should have to live with the risk of a massive oil spill and constant pollution from fossil fuel development, especially low income and communities of color who are on the front lines of climate change. These communities got hit with Katrina, got hit with the BP Oil Spill, but they're fighting to recover each and every day. Our government shouldn't keep putting them directly in harm's way. We say protect the polar bears, but protect the people too."
A broad coalition of groups in the Gulf are planning a major protest at an auction for offshore drilling permits at the Superdome in New Orleans this March 23. The demonstration will highlight the irony of selling more fossil fuels at a national landmark for climate impacts.
In Canada, Indigenous communities and First Nations have an Aboriginal rights legal regime comprised of inherent and treaty rights embedded in section 35 of the Canadian constitution. This is a considerable power that Prime Minister Trudeau must consider and deal with, according to Clayton Thomas-Muller, Stop It At The Source campaigner with 350.org.
"The Trudeau government ran on the election promise to respect the rights of Indigenous Peoples to say 'No' to pipeline projects on their lands, while also committing to implement the UN declaration on the rights of Indigenous Peoples across the board" said Thomas-Muller. "Using Transcanada's Energy East or Kinder Morgan's Transmountain tar sands pipelines as the trade off to deliver on these promises shows yet another campaign promise being broken and shows that the influence of oil lobbyist money to Ottawa continues to flow."
Over the coming months, 350.org and its allies will continue to intensify the fight against the fossil fuel industry on both sides of the border, protesting fossil fuel extraction on public lands in the U.S. and pressuring the Canadian government to stop tar sands at the source.
In May, groups will be coming together under the "Break Free" platform, a worldwide week of action targeting major fossil fuel projects around the world. In the U.S., activists will target new tar sands pipelines in the Midwest, fracking in the Mountain West, "bomb trains" carrying fracked oil and gas in New York, refinery pollution north of Seattle, offshore drilling in an action in Washington, DC and dangerous oil and gas drilling in Los Angeles. In Canada, activists are preparing to protest tar sands development while calling for clean energy solutions for communities who were on the front lines of pollution and climate change.
"In Paris, world leaders made a promise to move the world beyond fossil fuels," said Boeve. "We intend to hold them to it and do everything we can to accelerate that transition. This problem is ultimately a race against the clock. Luckily, this movement is beginning to really hit its stride."
YOU MIGHT ALSO LIKE
21 Kids Take on the Feds and Big Oil in Historic Climate Lawsuit
Robert F. Kennedy, Jr.: Syria, Another Pipeline War
California Widow Sues Monsanto Alleging Roundup Caused Her Husband's Cancer
Wikimedia Commons
By Stacy Malkan
Neil deGrasse Tyson has inspired millions of people to care about science and imagine themselves as participants in the scientific process. What a hopeful sign it is to see young girls wearing t-shirts emblazoned with the words, "Forget princess, I want to be an astrophysicist."
Keep reading...
Show less
www.youtube.com
By Andy Rowell
Any day now we will truly witness climate change in action. Within days at worst, maybe weeks at best, scientists predict that a huge section of the Larsen C ice shelf in Antarctica will break off into the ocean, in what is called a major "carving" event.
Keep reading...
Show less
www.youtube.com
President Trump visited Cedar Rapids, Iowa on June 21 to speak to a large crowd in the U.S. Cellular Center at a political rally organized by his campaign.
As Trevor Noah noted during The Daily Show episode last night (starts at 2:25), the real reason Trump has these rallies is to "get back in front of his loyal crowds and feed of their energy." Noah believes that "Trump supporters are so on board with their dude he can say anything and they'll come along for the ride."
Keep reading...
Show less
The Kamuthi solar plant in the southern Indian state of Tamil Nadu.
The rapid growth in renewable energy continues to put a dent in the demand for coal.
Coal India, the world's biggest coal mining company and producer of 82 percent of the country's coal, announced the closure of 37 mines that are financially "unviable."
Keep reading...
Show less
www.youtube.com
By Katie O'Reilly
Two years ago—long before coal became one of the most dominant and controversial symbols of the 2016 presidential election—Bloomberg Philanthropies approached production company RadicalMedia with the idea of creating a documentary exploring the U.S. coal mining industry. Last spring, they brought on Emmy-nominated director Michael Bonfiglio, tasked with forging a compelling story out of the multitudes of facts, statistics and narratives underlying the declining industry.
Keep reading...
Show less
Mayors for 100% Clean Energy
Keep reading...
Show less
www.youtube.com
Thanks to Newsy for their coverage on Thursday's news that the U.S. Fish and Wildlife Service removed grizzly bears in the Greater Yellowstone region from the Endangered Species List.
Watch above as Newsy explains that the decision comes despite serious concerns from the environmental and scientific community, and Tribal Nations about a declining, isolated grizzly bear population with diminishing food resources and record-high mortalities.
Keep reading...
Show less
www.facebook.com
By Francine Kershaw
Seismic airguns exploding in the ocean in search for oil and gas have devastating impacts on zooplankton, which are critical food sources for marine mammals, according to a new study in Nature. The blasting decimates one of the ocean's most vital groups of organisms over huge areas and may disrupt entire ecosystems.
And this devastating news comes on the heels of the National Marine Fisheries Service's proposal to authorize more than 90,000 miles of active seismic blasting. Based on the results of this study, the affected area would be approximately 135,000 square miles.
Keep reading...
Show less
By Jill Richardson
Is coconut oil:
good for you
bad for you
neither good nor bad
scientists don't know
The subject of this question is the source of a disagreement. Initially, the question was thought to be settled decades ago, when scientist Ancel Keys declared all saturated fats unhealthy. Coconut oil, which is solid at room temperature, is a saturated fat.
Keep reading...
Show less


Get EcoWatch in your inbox