This website uses cookies to ensure you get the best experience while browsing it. By clicking 'Got It' you're accepting these terms.
Fossil Fuel Advocates Continue Attacking Ohio's Renewable Energy Future
Feb. 21, 2014 12:10PM EST
Business
By Sam Gomberg
The latest good news about clean energy in Ohio is that the state ranks No. 8 in the nation for solar jobs. But despite this, 2014 has not ushered in a new era of civility or honest debate about the merits of Ohio's clean energy standards that require a percentage of Ohio's electricity demand be met with renewable energy and energy efficiency.
Instead, Bill Seitz, chair of the Ohio Senate Public Utilities Committee, started off the 2014 legislative session right where he left of last year: With misguided efforts to roll back Ohio's successful clean energy policies.
Senator Seitz spent much of January and February holding hearings on Senate Bill 34 that would repeal Ohio's renewable energy standard. Similar legislation inspired by the American Legislative Exchange Council has failed in Ohio and several other states in the past. And while this bill isn't expected to make it out of committee, it does allow Senator Seitz to provide a venue for more attacks by fossil fuel-funded groups that make a living denying the reality of climate change and spreading misinformation about clean energy.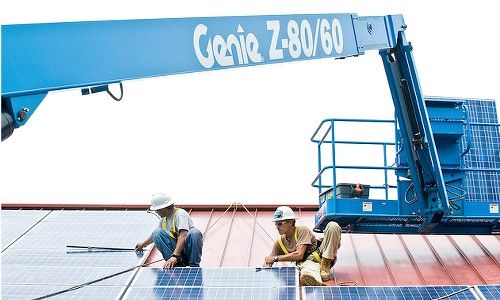 A who's who of anti-clean-energy lobbyists
Last week's hearing saw testimony from a veritable who's who of climate change deniers and anti-clean-energy groups.
The Heartland Institute was there, best known for comparing those who believe the science around climate change to Unabomber Ted Kacynski. We fact checked the Heartland Institute's false claims about Ohio's renewable energy standard last year. We've also exposed their efforts nationally to mislead the public on the reality of climate change and the potential for renewable energy to cost-effectively produce electricity.
Also testifying was the Competitive Enterprise Institute (CEI), a group that found itself in hot water after one of its "scholars" compared  a prominent climate scientist to convicted child molester Jerry Sandusky. The Institute for Energy Research (IER) and Buckeye Institute were also there. All of these groups are funded by the Koch Brothers—kings of the fossil fuel special interest lobby.
And what are they using to make their case? Flawed, and in some cases outright biased reports that have been debunked by us and others. IER continues to recite misleading information from a 2009 report that has been discredited by everyone from the National Renewable Energy Laboratory to The Wall Street Journal. The Buckeye Institute provided testimony based in large part on another widely discredited analysis authored by the embattled Beacon Hill Institute, another group on the list of global warming skeptic organizations.
Now that Senator Seitz has given his fossil fuel interest buddies a chance to testify, Senate Bill 34 has been taken off the committee's agenda. There was no opportunity for the majority of Ohioans, who believe the science behind climate change and support the state's clean energy standards, to testify and set the record straight about how energy efficiency and renewable energy are benefiting the Buckeye State.
From one bad piece of legislation to the next
So what's replacing Senate Bill 34 on the Public Utilities Committee agenda for this week? A new version of Senate Bill 58—the same bill that Senator Seitz tried to ram through the legislature last year and that was rejected by his own caucus because it was harmful to consumers and a huge give-away to Ohio's largest utilities. We haven't seen the new version yet, but given Senator Seitz's repeated comparison of Ohio's clean energy standards to Stalinist Russia, it's a good bet that it isn't friendly toward Ohio's growing clean energy industries.
Senator Seitz is promising "devastating testimony" this week, most likely based on a recent report by Jonathan Lesser – a New Mexico-based consultant that has shown up in states across the country to provide his flawed brand of clean energy economics. His report attacks Ohio's energy efficiency standard, claiming that because Ohio participates in a regional electricity market, the majority of the benefits of Ohio's energy efficiency programs flow to other states that also participate in this market.
What he fails to address is how Ohio benefits from the energy efficiency standards enacted in Illinois, Pennsylvania, Delaware, Maryland, Indiana, Michigan, and Virginia that also reduce electricity demand and put downward pressure on electricity prices in this regional market. The American Council for an Energy Efficient Economy (ACEEE) did a great job of explaining the multiple ways that energy efficiency provides economic benefits to Ohio's consumers when they testified before Senator Seitz's committee nearly a year ago.
Ironically, Ohio Senate President Keith Faber was recently quoted calling for a discussion about Ohio's clean energy standards based on "science and economics."  We agree that the time is right for an honest and informed discussion about the role of renewable energy and energy efficiency in Ohio.
But the one-sided, special interest-driven attacks now under way in Senator Seitz's committee clearly is not that discussion.
Visit EcoWatch's RENEWABLES page for more related news on this topic.

EcoWatch Daily Newsletter
A vegan diet can improve your health, but experts say it's important to keep track of nutrients and protein. Getty Images
By Dan Gray
Research shows that 16 weeks of a vegan diet can boost the gut microbiome, helping with weight loss and overall health.
A healthy microbiome is a diverse microbiome. A plant-based diet is the best way to achieve this.
It isn't necessary to opt for a strictly vegan diet, but it's beneficial to limit meat intake.
New research shows that following a vegan diet for about 4 months can boost your gut microbiome. In turn, that can lead to improvements in body weight and blood sugar management.
Students gathered at the National Mall in Washington DC, Sept. 20. NRDC
By Jeff Turrentine
Nearly 20 years have passed since the journalist Malcolm Gladwell popularized the term tipping point, in his best-selling book of the same name. The phrase denotes the moment that a certain idea, behavior, or practice catches on exponentially and gains widespread currency throughout a culture. Having transcended its roots in sociological theory, the tipping point is now part of our everyday vernacular. We use it in scientific contexts to describe, for instance, the climatological point of no return that we'll hit if we allow average global temperatures to rise more than 2 degrees Celsius above preindustrial levels. But we also use it to describe everything from resistance movements to the disenchantment of hockey fans when their team is on a losing streak.
samael334 / iStock / Getty Images
Berries are small, soft, round fruit of various colors — mainly blue, red, or purple.
A glacier is seen in the Kenai Mountains on Sept. 6, near Primrose, Alaska. Scientists from the U.S. Geological Survey have been studying the glaciers in the area since 1966 and their studies show that the warming climate has resulted in sustained glacial mass loss as melting outpaced the accumulation of new snow and ice. Joe Raedle / Getty Images
By Mark Mancini
On Aug. 18, Iceland held a funeral for the first glacier lost to climate change. The deceased party was Okjökull, a historic body of ice that covered 14.6 square miles (38 square kilometers) in the Icelandic Highlands at the turn of the 20th century. But its glory days are long gone. In 2014, having dwindled to less than 1/15 its former size, Okjökull lost its status as an official glacier.
Members of Chicago Democratic Socialists of America table at the Logan Square Farmers Market on Aug. 18. Alex Schwartz
By Alex Schwartz
Among the many vendors at the Logan Square Farmers Market on Aug. 18 sat three young people peddling neither organic vegetables, gourmet cheese nor handmade crafts. Instead, they offered liberation from capitalism.
Hackney primary school students went to the Town Hall on May 24 in London after school to protest about the climate emergency. Jenny Matthews / In Pictures / Getty Images
Bird watching in the U.S. may be a lot harder than it once was, since bird populations are dropping off in droves, according to a new study.