Former U.S. Treasury Secretaries Assess Catastrophic Cost of Climate Inaction With CNN's Fareed Zakaria
Jun. 30, 2014 08:51AM EST
Climate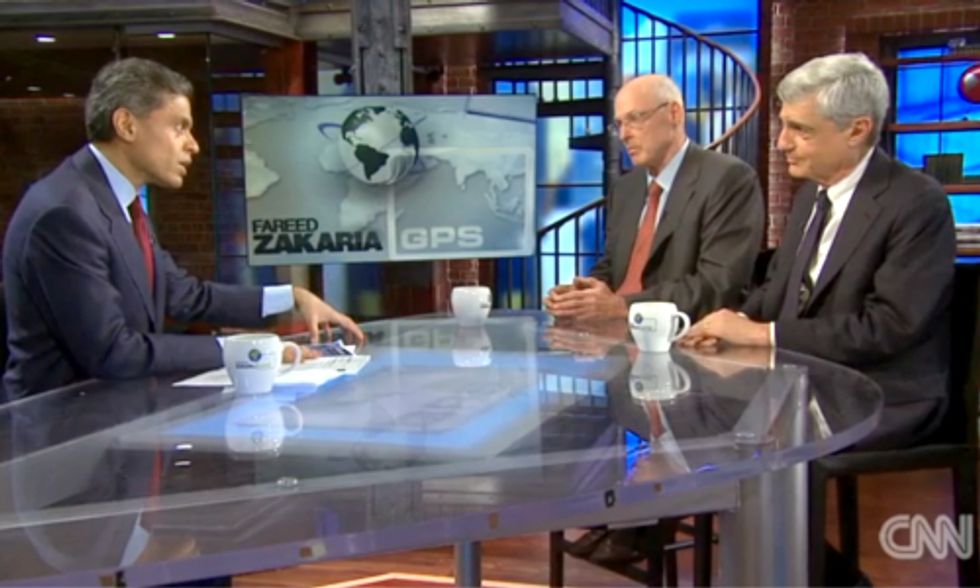 Just a few days after Michael Bloomberg and a group of economists and former politicians spelled out the economic risks of ignoring climate change in the Risky Business report, two committee members hit CNN's airwaves for further discussion.
Former U.S. Treasury secretaries Robert Rubin and Hank Paulson, Risky Business Risk Committee member and organization co-chair, respectively, appeared on CNN's FAREED ZAKARIA GPS for a couple segments to discuss the costs of climate inaction and denial from some Republicans.
"I think the cost of inaction is quite high—it's actual radical risk taking," Paulson said. "There's a tendency for people to say, 'let's wait until we have more information, but the longer you wait, you get to a dangerous point—a dangerous position, where the only things you can do then is to adapt to these adverse consequences as opposed to being able to prevent them. Because one of the things that I think is pretty clear is that if we act soon, we can avoid the most adverse consequences."
Next, the duo talk solutions with Zakaria, including why we should settle for nothing less than a "full-court press," Rubin said.
"What I've said about a carbon tax is some people that oppose it are opposing it because they don't like the government playing a big role. And, you know, the perverse aspect of that is, frankly, those that are resisting taking action now are guaranteeing that the government will be playing a bigger role, because we're seeing now and we're going to see an increasing number of natural disasters, Mother Nature acts," Paulson said. "We have forest fires, we have floods, we have big storms and storm surges, we have killer tornadoes. And what happens? When those events occur, one part of society gets hit particularly hard, and government comes in.
"And that's the role of government. Government should come in, but we all pay.​"
EcoWatch Daily Newsletter