This website uses cookies to ensure you get the best experience while browsing it. By clicking 'Got It' you're accepting these terms.
Former Secretary of Energy Speaks Out Against Fracking
Dec. 08, 2014 09:19AM EST
Climate

Dear Former Secretary of Energy Federico Peña,
Thank you for speaking out against fracking, fossil fuels and climate change! I read your lengthy interview on the topic posted on the Boulder, Colorado, Daily Camera news site here. As a former U.S. Secretary of Energy, you are in a unique position to speak out and make a difference on this extremely important issue.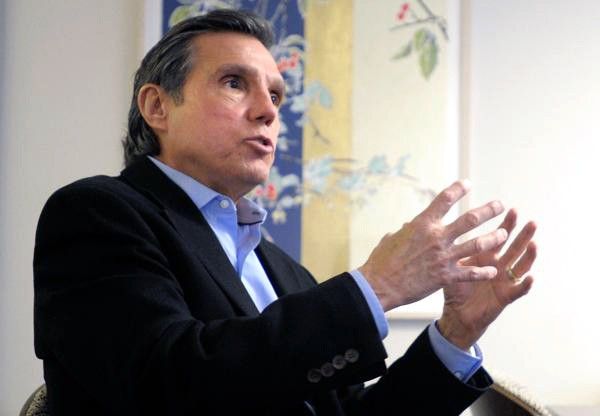 Former Secretary of Energy Federico Peña was interviewed by Boulder, Colorado's Daily Camera and spoke out against fracking, fossil fuels and climate change. Photo credit: Daily Camera
However, I am compelled to point out what I believe are problems with your approach to the topic. You make two important statements in the interview that are at the center of my critique. First, you state:
"There are some who would say we shouldn't allow fracking altogether, we shouldn't allow any more drilling altogether, because it pollutes the air, it's a fossil fuel, we ought to get out of it. Well, that would be terrific if we could do it in about 40 or 50 years, if we plan for it, if it's done in a strategic and methodical fashion."
And then about climate change, you state:
"I think as a nation and as a planet, we're going to figure this out. And it may take a crisis, it may take some real soil erosion, it may take some coasts being wiped out around the world. It might take some parts of our country. We've got islands off the Florida coast that are worried about this kind of thing. But at some point I think most people will finally come to their senses and begin to take action. Now, the longer we wait, the more dramatic the action's going to be. No question about that."
As a climate change activist and a person who wants to protect human and non-human life on our planet, I am unwilling to accept that we have to wait to act aggressively on climate change until "coasts are being wiped out around the world." Further, my understanding of the best available science is that we have to transition off of fossil fuels much faster than "40 or 50 years."
I appreciate that you support Obama's efforts so far, and the efforts of the United Nations so far, but the scientific consensus is that neither of those efforts will happen fast enough to keep coasts from being wiped out. Further, in the interview you state that the transition needs to happen more slowly:
"But if we do it in a very methodical way, so that you don't disrupt the economy, you don't disrupt the investments that people have made, that companies have made, there is a way for us to begin to invest in cleaner, alternative fuels over a period of years and then gradually phase out our over-dependence on fossil fuels."
You certainly realize that "wiping out coasts" will disrupt the economy and disrupt investments? Take a look at this infographic about the social and economic costs of Hurricanes Katrina and Sandy. As one example, Katrina cost the economy $123 billion and Sandy cost $60 billion. Other hurricanes and typhoons around the planet have been even more costly in terms of human lives. Also, take a look at this document put out by the White House that indicates that a 20-year delay of action on climate change could cost the world economy between $1 trillion and $4.7 trillion.
I strongly encourage you to continue speaking out against fracking, fossil fuels and climate change. We need leaders like you who were in very powerful positions in previous administrations to be the "outside game" to push the American people and the U.S. government in the right direction. We also need leaders like you to drill down on the facts and point out actual costs to the economy and human life of inaction.
Respectfully,
Gary Wockner, PhD, environmental activist, Democrat and fellow Coloradan.
YOU MIGHT ALSO LIKE
Eating Less Meat and Dairy Essential to Curb Climate Change
Scientists Warn Leaders at Lima Climate Talks: Ocean Warming Drives Record Temperatures
Barbra Streisand: 'God Help Us!' Sen. Inhofe to Head Committee on Environment
EcoWatch Daily Newsletter
Bird watching in the U.S. may be a lot harder than it once was, since bird populations are dropping off in droves, according to a new study.
Amazon CEO Jeff Bezos announces the co-founding of The Climate Pledge at the National Press Club on Sept. 19 in Washington, DC. Paul Morigi / Getty Images for Amazon
The day before over 1,500 Amazon.com employees planned a walkout to participate in today's global climate strike, CEO Jeff Bezos unveiled a sweeping plan for the retail and media giant to be carbon neutral by 2040, 10 years ahead of the Paris agreement schedule.
For the past seven years, the Anishinaabe people have been facing the largest tar sands pipeline project in North America. We still are. In these dying moments of the fossil fuel industry, Water Protectors stand, prepared for yet another battle for the water, wild rice and future of all. We face Enbridge, the largest pipeline company in North America, and the third largest corporation in Canada. We face it unafraid and eyes wide open, for indeed we see the future.
The climate crisis often intensifies systems of oppression. Rieko Honma / Stone / Getty Images Plus
By Mara Dolan
We see the effects of the climate crisis all around us in hurricanes, droughts, wildfires, and rising sea levels, but our proximity to these things, and how deeply our lives are changed by them, are not the same for everyone. Frontline groups have been leading the fight for environmental and climate justice for centuries and understand the critical connections between the climate crisis and racial justice, economic justice, migrant justice, and gender justice. Our personal experiences with climate change are shaped by our experiences with race, gender, and class, as the climate crisis often intensifies these systems of oppression.

Lana Del Rey: "call her Doris Doomsday." Darren Gerrish / BFC / Getty Images Entertainment
By Emer McHugh
Popular music has, and always will be, informed by the political and social contexts from which it emerges.
It was early in the morning last Thursday, and Jonathan Butler was standing on the Fred Hartman Bridge, helping 11 fellow Greenpeace activists rappel down and suspend themselves over the Houston Ship Channel. The protesters dangled in the air most of the day, shutting down a part of one of the country's largest ports for oil.
By C.J. Polychroniou
Climate change is by far the most serious crisis facing the world today. At stake is the future of civilization as we know it. Yet, both public awareness and government action lag way behind what's needed to avert a climate change catastrophe. In the interview below, Noam Chomsky and Robert Pollin discuss the challenges ahead and what needs to be done.
Food manufacturer General Mills issued a voluntary recall of more than 600,000 pounds, or about 120,000 bags, of Gold Medal Unbleached All Purpose Flour this week after a sample tested positive for a bacteria strain known to cause illness.