This website uses cookies to ensure you get the best experience while browsing it. By clicking 'Got It' you're accepting these terms.
Former Pennsylvania Health Employees Say Bosses Enforced Silence on Shale Drilling
Jun. 19, 2014 12:26PM EST
Energy
A shocking investigative report revealed Thursday that Pennsylvania state health employees may have compounded the danger of Marcellus Shale drilling by systematically refusing to respond to residents' concerns about it.
A former Department of Health employee said she was told not to return phone calls from residents who expressed concerns about natural gas drilling, NPR reported in its State Impact series.
"We were absolutely not allowed to talk to them," said Tammi Stuck, who worked as a Fayette County community health nurse for nearly four decades.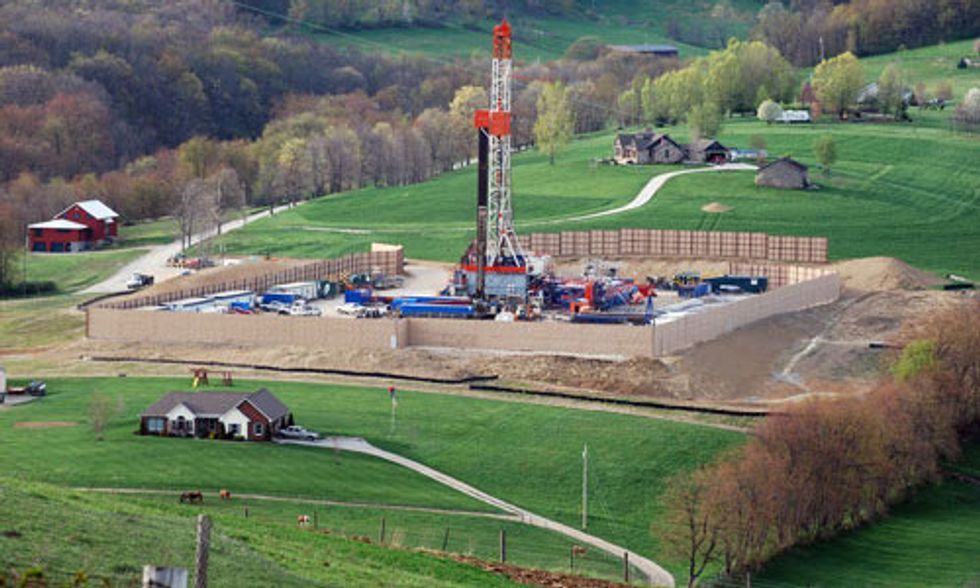 Another department retiree, Marshall P. Deasy III, confirmed Stuck's accusation. He said that drilling was the only public health issue he remembers officials enforcing silence on during his 20 years with the department.
Stuck said she was given a list three years ago of words that, if uttered by residents, should be grounds for ending a conversation or handing it off to a supervisor.
"There was a list of buzzwords we had gotten," Stuck said. "There were some obvious ones like fracking, gas, soil contamination. There were probably 15 to 20 words and short phrases that were on this list.
"If anybody from the public called in and that was part of the conversation, we were not allowed to talk to them."
Deasy added that natural gas development was considered "taboo" in his Harrisburg office and that employees did not openly talk about it.
The two employees also recalled a public meeting in which a department consultant responded to a resident's question about drilling. Soon thereafter, the department instituted a policy requiring employees and consultants to get permission from from the office of the director of the Bureau of Community Health in Harrisburg.
Former health secretary Eli Avila said he was unaware of a list of buzzwords, but conceded that deputy secretaries in the department or the governor's office could have created and distributed such a list to employees without his knowledge.
EcoWatch Daily Newsletter
A harbour seal on an ice floe in Glacier Bay, Alaska. A new study shows that the climate crisis has warmed waters, changing ecosystems and crippling sea ice growth. Janette Hill / robertharding / Getty Images Plus
Doctors report that only 1 in 4 children are getting the recommended 60 minutes of physical activity per day. Ronnie Kaufman / DigitalVision / Getty Images
By Dan Gray
Pediatricians are being urged to start writing "exercise prescriptions" for the children they see in their office.
A First Nations protester walks in front of a train blockade in Tyendinaga, near Belleville, Ontario, Canada on Feb. 21, 2020. LARS HAGBERG / AFP via Getty Images
An indigenous rail blockade that snarled train travel in Canada for more than two weeks came to an end Monday when police moved in to clear protesters acting in solidarity with another indigenous community in British Columbia (B.C.), which is fighting to keep a natural gas pipeline off its land.
A rainbow snake, a rare reptile spotted in a Florida county for the first time in more than 50 years, seen here on July 5, 2013.
Kevin Enge / FWC Fish and Wildlife Research Institute / Flickr
A Florida hiker recently stumbled across a slithering surprise — a rare snake that hadn't been spotted in the area for more than 50 years.
We need our government to do everything it can to stop PFAS contamination and exposure from wreaking havoc in communities across the country. LuAnn Hun /
Unsplash
By Genna Reed
The EPA announced last week that it is issuing a preliminary regulatory determination for public comment to set an enforceable drinking water standard to two of the most common and well-studied PFAS, PFOA and PFOS.
This decision is based on three criteria:
PFOA and PFOS have an adverse effect on public health
PFOA and PFOS occur in drinking water often enough and at levels of public health concern;
regulation of PFOA and PFOS is a meaningful opportunity for reducing the health risk to those served by public water systems.