This website uses cookies to ensure you get the best experience while browsing it. By clicking 'Got It' you're accepting these terms.
Former Massey Energy CEO Don Blankenship Indicted for Deaths of 29 Coal Miners
Nov. 14, 2014 10:57AM EST
Energy
For decades, big coal companies have violated mine safety regulations with at most a slap on the wrist, while spending millions to lobby and electioneer for weakening those regulations. Now the chickens have come home to roost for one former coal company CEO as a federal grand jury in Charleston, West Virginia indicted former longtime Massey Energy CEO Don Blankenship yesterday on charges that he deliberately flouted safety standards leading to the death of 29 miners in an April 2010 explosion at its Upper Big Branch Mine (UBB), reports the Charleston Gazette.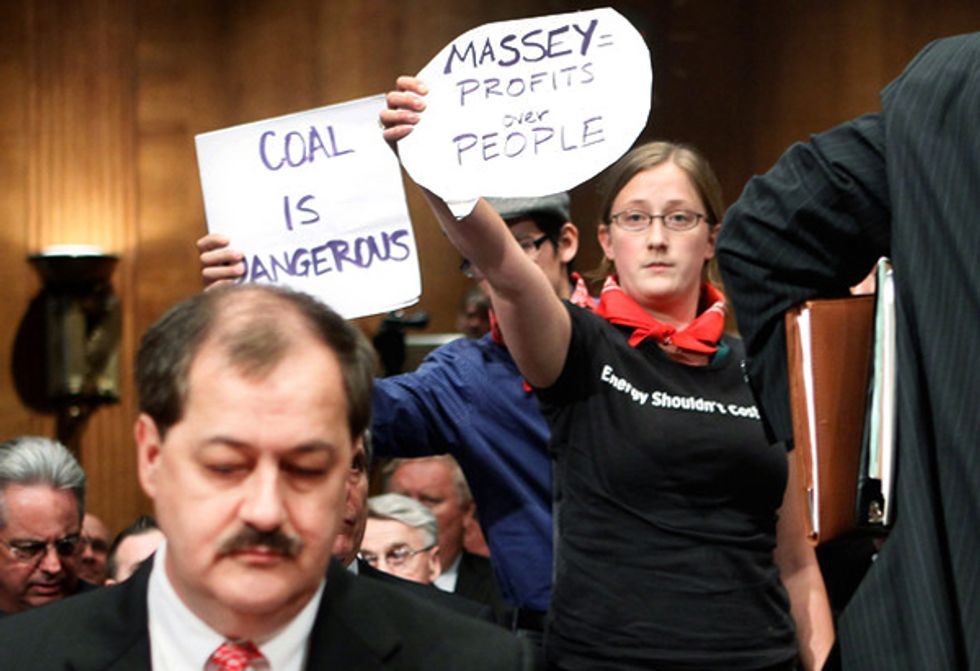 "Blankenship knew that UBB was committing hundreds of safety-law violations every year and that he had the ability to prevent most of the violations that UBB was committing," the indictment said. "Yet he fostered and participated in an understanding that perpetuated UBB's practice of routine safety violations, in order to produce more coal, avoid the costs of following safety laws and make more money."
"Throughout the indictment period, Blankenship also conspired to defraud the United States by impeding the federal Mine Safety and Health Administration in carrying out its duties at UBB," it continued. Following a major, fatal explosion at UBB on April 5, 2010, Blankenship made, and caused to be made, materially false and misleading statements and representations, and omitted and caused to be omitted statements of material facts, regarding his and Massey's practice of willful violations of safety laws at that mine. These included materially false statements and representations made to the United States Securities and Exchange Commission and materially false statements and representations, and materially misleading omissions, made in connection with the purchase and sale of Massey stock."
The grand jury found that failure to provide adequate airflow, coal dust accumulation and an inadequate number of mine safety workers were among the factors contributing to the explosion that were routinely ignored by the company. The accident was the worst mining disaster in the U.S. since 1940 and followed a long record of health and safety violations at the mine. The U.S. Mine Safety and Health Administration (MSHA) later issued 369 citations for safety violations and assessed a $10.8 million fine. The indictment charges Massey with three felonies and one misdemeanor with a potential of 31 years in prison for the former CEO who led the company for almost two decades.
"It's an important day for many, many families in the Central Appalachian coal fields," Bruce Stanley, a Pittsburgh attorney who has fought Blankenship on behalf of miners' widows and a rival coal operator who alleged Massey drove him out of business, told the Charleston Gazette. "For the first time in my memory, the CEO of a major coal producer is being held criminally accountable for the atrocious conduct that occurred on his watch."
The indictment details threat after threat made to mine management to ignore safety in order to maximize profit.
One such charge says, "On or around April 29, 2008, Blankenship sent the known UBB Executive another handwritten message chastising him for not producing coal as quickly as Blankenship wanted at one of the mines in the UBB mining group. This message instructed the Known UBB Executive, 'Run coal. Don't bolt for the year 2525.' This message was an instruction to increase coal production by devoting less time to the installation of roof bolts, which were a form of roof support." He charged another with "'insufficient attention to cost-cutting," and told him "You have a kid to feed. Do your job."
The investigation of the explosion has already led to the convictions of four former officials at UBB which was sold in late 2010 to Alpha Natural Resources. But Blankenship, who retired following the sale, is the really big fish. He was a major power broker in West Virginia politics who among other things helped engineer the election of a friendly supreme court justice prior to a case involving the company coming before the court.
Blankenship was typically arrogant and unrepentant. His attorney issued a statement saying, "Don Blankenship has been a tireless advocate for mine safety. His outspoken criticism of powerful bureaucrats has earned this indictment. He will not yield to their effort to silence him. He will not be intimidated."
The response on the Facebook page of nonprofit community advocacy group Appalachian Voices was exultant but skeptical. Posters called him "a murderous, callous lowlife" and said "It's a multi-headed snake, but at least one just got lopped off," while also saying "The party that wants to get rid of OSHA was just given a lot of power to do just that by the same people that these companies are killing."
Robert F. Kennedy, Jr., president of Waterkeeper Alliance, recalled Blankenship's proud attitude of putting profits before people and planet:
"Don Blankenship once boasted to me that it was impossible to conduct mountaintop removal mining without violating the law. He prided himself on his cold-blooded capacity for turning America's purple mountains majesty into coal company cash. His criminal mind allowed him to view the human beings of Appalachia as disposable production units. He is a sociopath and gangster who's gift was felonious greed and a stone-cold heart that allowed him to put his yearning for money and power ahead of human lives. Those qualities had great value to his friends and investors: the Wall Street robber barons. But they were poison and destruction to the noble communities of coal country.  We can't bring back the towns he destroyed, the lives he took, the mountains he flattened, the rivers he poisoned, but there is some consolation in knowing that he's getting what he deserves: three hots and a cot and long days in the company of fellow criminals of lesser appetites and lesser distinction."
YOU MIGHT ALSO LIKE
Big Coal Tries to Control Global Energy Debate
Lab Official Pleads Guilty for Faking Water Quality Tests for Coal Companies
Even Coal Baron Robert Murray Knows the Future of Coal is Dead
EcoWatch Daily Newsletter
The Ernest N. Morial Convention Center in New Orleans, Louisiana has been converted to a 1,000-bed field hospital for coronavirus patients to alleviate stress on local hospitals. Chris Graythen / Getty Images
An area in Louisiana whose predominantly black and brown residents are hard-hit by health problems from industry overdevelopment is experiencing one of the highest death rates from coronavirus of any county in the United States.
A woman lies in bed with the flu. marka/Universal Images Group via Getty Images
A central player in the fight against the novel coronavirus is our immune system. It protects us against the invader and can even be helpful for its therapy. But sometimes it can turn against us.
Several flower species, including the orchid, can recover quickly from severe injury, scientists have found. cunfek / iStock / Getty Images Plus
Calling someone a delicate flower may not sting like it used to, according to new research. Scientists have found that many delicate flowers are actually remarkably hearty and able to bounce back from severe injury.
A Boeing 727 flies over approach lights with a trail of black-smoke from the engines on April 9, 2018. aviation-images.com / Universal Images Group via Getty Images
With global air travel at a near standstill, the airline industry is looking to rewrite the rules it agreed to tackle global emissions. The Guardian reports that the airline is billing it as a matter of survival, while environmental activists are accusing the industry of trying to dodge their obligations.
A National Guard member works on election day at a polling location on April 7, 2020 in Madison, Wisconsin. Andy Manis / Getty Images.
ByJulia Baumel
The outbreak of COVID-19 across the U.S. has touched every facet of our society, and our democracy has been no exception.