This website uses cookies to ensure you get the best experience while browsing it. By clicking 'Got It' you're accepting these terms.
Formaldehyde in Hair Products?
Jan. 31, 2012 11:40AM EST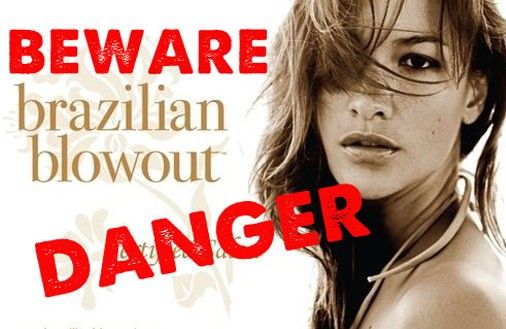 Health advocates are ramping up pressure on the U.S. Food and Drug Administration (FDA) to remove the keratin hair-straightening product Brazilian Blowout from the marketplace in light of a legal settlement announced Jan. 30 in a California court against the company that makes the product.
The manufacturers of Brazilian Blowout and Acai Professional Smoothing Solution must cease deceptive advertising practices and put caution stickers on their products advising users that the product releases formaldehyde gas, according to the settlement agreement with California Attorney General Kamala Harris's office. The settlement is the first comprehensive and enforceable action by U.S. government authorities to address formaldehyde exposures associated with use of these products.
Formaldehyde is a known human carcinogen, according to the U.S. National Toxicology Program, and it can cause both acute and long-term health effects in sensitive persons, including breathing difficulties, bloody noses and nausea.
"Every day, salon workers across the U.S. are being exposed to dangerous levels of formaldehyde from hair smoothing products that have been banned for over a year in Canada and other countries," said Alexandra Scranton of the National Healthy Nail and Beauty Salon Alliance. "It's time for the FDA to take a stand against this company that has a history of deception and consumer disregard."
Stylists who regularly perform Brazilian Blowout treatments are exposed to formaldehyde gas at levels well in excess of the state's Proposition 65 warning threshold, according to the California Attorney General's lawsuit. The lawsuit accused Brazilian Blowout of violating several state laws by falsely marketing the products as "salon safe" and "formaldehyde free," failing to provide accurate Material Safety Data Sheets, and selling products with volatile organic compounds in excess of allowable limits under state regulations.
Despite all of these violations, the warning requirements are the maximum penalty that could be achieved under state law.
"We commend the California Attorney General's office for accomplishing what no other government agency in the U.S. has been able to do: force Brazilian Blowout to be honest with salons about the risk of their products. We are also proud that this lawsuit was the first legal action taken by the state under the authority of the California Safe Cosmetics Act of 2005, which forces companies to publicly disclose the presence of cancer-causing chemicals in cosmetics sold in the state," said Stacy Malkan, co-founder of the Campaign for Safe Cosmetics.
"But the legal settlement, while helpful, is not enough to protect the public. The FDA must now follow through on its threat to seize these dangerous hair-straightening products."
In a letter dated August 11, 2011, the FDA accused Brazilian Blowout of selling products that are misbranded and contain deleterious substances, in violation of the federal Food, Drug and Cosmetics Act of 1938. Failure to correct the violations "may result in enforcement action without further notice, including, but not limited to, seizure and/or injunction," states the FDA letter, that can be read by clicking here.
"Obviously, these violations have not been addressed sufficiently," said Anuja Mendiratta of the National Healthy Nail and Beauty Salon Alliance. "The California Attorney General's settlement makes it clear that Brazilian Blowout has been selling products containing hazardous substances and marketing them as safe. The FDA must take action today to protect salon workers who are being exposed to dangerous levels of formaldehyde every day."
The federal Safe Cosmetics Act, introduced into the U.S. House of Representatives in July 2011 by Reps. Jan Schakowsky (D-IL), Ed Markey (D-MA) and Tammy Baldwin (D-WI) would ban chemicals known to cause cancer from cosmetics, as many other countries have already done.
"The Brazilian Blowout scandal is the perfect case study to showcase our broken regulatory system," said Jennifer Goeres-Arce, a hair stylist in the San Diego area who contributed evidence for the state's lawsuit against the company. "A year after other countries banned Brazilian Blowout, countless salon workers in the U.S. have been unnecessarily exposed to formaldehyde, and we are just now getting around to requiring the company to be honest about the risks of their products. It's time to give the FDA the power and resources to protect the American public from toxic chemicals in cosmetics."
The National Healthy Nail and Beauty Salon Alliance is encouraging people who have experienced health symptoms after being exposed to Brazilian Blowout-style hair straighteners to write letters to the FDA by clicking here.
The Alliance and the Campaign for Safe Cosmetics are asking FDA to remove Brazilian Blowout products from the marketplace and to ban formaldehyde from all hair products. To learn more, click here.
For more information, click here.
—————
The Campaign for Safe Cosmetics is a coalition of more than 150 nonprofit organizations working to protect the health of consumers and workers by eliminating dangerous chemicals from cosmetics. Core members include: Clean Water Action, the Breast Cancer Fund, Commonweal, Environmental Working Group, Friends of the Earth, Massachusetts Breast Cancer Coalition and Women's Voices for the Earth.
EcoWatch Daily Newsletter
Bird watching in the U.S. may be a lot harder than it once was, since bird populations are dropping off in droves, according to a new study.
Amazon CEO Jeff Bezos announces the co-founding of The Climate Pledge at the National Press Club on Sept. 19 in Washington, DC. Paul Morigi / Getty Images for Amazon
The day before over 1,500 Amazon.com employees planned a walkout to participate in today's global climate strike, CEO Jeff Bezos unveiled a sweeping plan for the retail and media giant to be carbon neutral by 2040, 10 years ahead of the Paris agreement schedule.
For the past seven years, the Anishinaabe people have been facing the largest tar sands pipeline project in North America. We still are. In these dying moments of the fossil fuel industry, Water Protectors stand, prepared for yet another battle for the water, wild rice and future of all. We face Enbridge, the largest pipeline company in North America, and the third largest corporation in Canada. We face it unafraid and eyes wide open, for indeed we see the future.
The climate crisis often intensifies systems of oppression. Rieko Honma / Stone / Getty Images Plus
By Mara Dolan
We see the effects of the climate crisis all around us in hurricanes, droughts, wildfires, and rising sea levels, but our proximity to these things, and how deeply our lives are changed by them, are not the same for everyone. Frontline groups have been leading the fight for environmental and climate justice for centuries and understand the critical connections between the climate crisis and racial justice, economic justice, migrant justice, and gender justice. Our personal experiences with climate change are shaped by our experiences with race, gender, and class, as the climate crisis often intensifies these systems of oppression.

Lana Del Rey: "call her Doris Doomsday." Darren Gerrish / BFC / Getty Images Entertainment
By Emer McHugh
Popular music has, and always will be, informed by the political and social contexts from which it emerges.
It was early in the morning last Thursday, and Jonathan Butler was standing on the Fred Hartman Bridge, helping 11 fellow Greenpeace activists rappel down and suspend themselves over the Houston Ship Channel. The protesters dangled in the air most of the day, shutting down a part of one of the country's largest ports for oil.
By C.J. Polychroniou
Climate change is by far the most serious crisis facing the world today. At stake is the future of civilization as we know it. Yet, both public awareness and government action lag way behind what's needed to avert a climate change catastrophe. In the interview below, Noam Chomsky and Robert Pollin discuss the challenges ahead and what needs to be done.
Food manufacturer General Mills issued a voluntary recall of more than 600,000 pounds, or about 120,000 bags, of Gold Medal Unbleached All Purpose Flour this week after a sample tested positive for a bacteria strain known to cause illness.