This website uses cookies to ensure you get the best experience while browsing it. By clicking 'Got It' you're accepting these terms.


The best of EcoWatch, right in your inbox. Sign up for our email newsletter!
Formaldehyde in Hair Products?
Jan. 31, 2012 11:40AM EST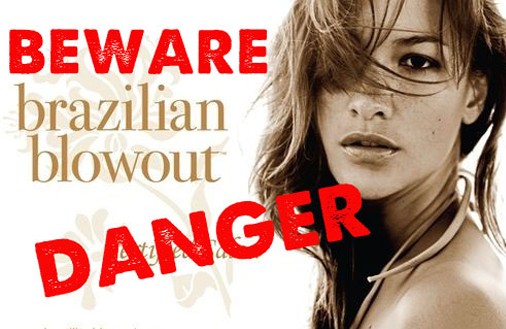 Health advocates are ramping up pressure on the U.S. Food and Drug Administration (FDA) to remove the keratin hair-straightening product Brazilian Blowout from the marketplace in light of a legal settlement announced Jan. 30 in a California court against the company that makes the product.
The manufacturers of Brazilian Blowout and Acai Professional Smoothing Solution must cease deceptive advertising practices and put caution stickers on their products advising users that the product releases formaldehyde gas, according to the settlement agreement with California Attorney General Kamala Harris's office. The settlement is the first comprehensive and enforceable action by U.S. government authorities to address formaldehyde exposures associated with use of these products.
Formaldehyde is a known human carcinogen, according to the U.S. National Toxicology Program, and it can cause both acute and long-term health effects in sensitive persons, including breathing difficulties, bloody noses and nausea.
"Every day, salon workers across the U.S. are being exposed to dangerous levels of formaldehyde from hair smoothing products that have been banned for over a year in Canada and other countries," said Alexandra Scranton of the National Healthy Nail and Beauty Salon Alliance. "It's time for the FDA to take a stand against this company that has a history of deception and consumer disregard."
Stylists who regularly perform Brazilian Blowout treatments are exposed to formaldehyde gas at levels well in excess of the state's Proposition 65 warning threshold, according to the California Attorney General's lawsuit. The lawsuit accused Brazilian Blowout of violating several state laws by falsely marketing the products as "salon safe" and "formaldehyde free," failing to provide accurate Material Safety Data Sheets, and selling products with volatile organic compounds in excess of allowable limits under state regulations.
Despite all of these violations, the warning requirements are the maximum penalty that could be achieved under state law.
"We commend the California Attorney General's office for accomplishing what no other government agency in the U.S. has been able to do: force Brazilian Blowout to be honest with salons about the risk of their products. We are also proud that this lawsuit was the first legal action taken by the state under the authority of the California Safe Cosmetics Act of 2005, which forces companies to publicly disclose the presence of cancer-causing chemicals in cosmetics sold in the state," said Stacy Malkan, co-founder of the Campaign for Safe Cosmetics.
"But the legal settlement, while helpful, is not enough to protect the public. The FDA must now follow through on its threat to seize these dangerous hair-straightening products."
In a letter dated August 11, 2011, the FDA accused Brazilian Blowout of selling products that are misbranded and contain deleterious substances, in violation of the federal Food, Drug and Cosmetics Act of 1938. Failure to correct the violations "may result in enforcement action without further notice, including, but not limited to, seizure and/or injunction," states the FDA letter, that can be read by clicking here.
"Obviously, these violations have not been addressed sufficiently," said Anuja Mendiratta of the National Healthy Nail and Beauty Salon Alliance. "The California Attorney General's settlement makes it clear that Brazilian Blowout has been selling products containing hazardous substances and marketing them as safe. The FDA must take action today to protect salon workers who are being exposed to dangerous levels of formaldehyde every day."
The federal Safe Cosmetics Act, introduced into the U.S. House of Representatives in July 2011 by Reps. Jan Schakowsky (D-IL), Ed Markey (D-MA) and Tammy Baldwin (D-WI) would ban chemicals known to cause cancer from cosmetics, as many other countries have already done.
"The Brazilian Blowout scandal is the perfect case study to showcase our broken regulatory system," said Jennifer Goeres-Arce, a hair stylist in the San Diego area who contributed evidence for the state's lawsuit against the company. "A year after other countries banned Brazilian Blowout, countless salon workers in the U.S. have been unnecessarily exposed to formaldehyde, and we are just now getting around to requiring the company to be honest about the risks of their products. It's time to give the FDA the power and resources to protect the American public from toxic chemicals in cosmetics."
The National Healthy Nail and Beauty Salon Alliance is encouraging people who have experienced health symptoms after being exposed to Brazilian Blowout-style hair straighteners to write letters to the FDA by clicking here.
The Alliance and the Campaign for Safe Cosmetics are asking FDA to remove Brazilian Blowout products from the marketplace and to ban formaldehyde from all hair products. To learn more, click here.
For more information, click here.
—————
The Campaign for Safe Cosmetics is a coalition of more than 150 nonprofit organizations working to protect the health of consumers and workers by eliminating dangerous chemicals from cosmetics. Core members include: Clean Water Action, the Breast Cancer Fund, Commonweal, Environmental Working Group, Friends of the Earth, Massachusetts Breast Cancer Coalition and Women's Voices for the Earth.
EcoWatch Daily Newsletter
Aerial view of the explosion site of a chemical factory on March 22 in Yancheng, Jiangsu Province of China. Caixin Media / VCG / Getty Images)
At least 47 people have died in an explosion at a plant in Yancheng, China Thursday run by a chemical company with a history of environmental violations, Sky News reported.
A fishmonger in Elmina, a fishing port in the Central Region of Ghana. Environmental Justice Foundation
By Daisy Brickhill
Each morning, men living in fishing communities along Ghana's coastline push off in search of the day's catch. But when the boats come back to shore, it's the women who take over.
Pexels
By Sam Nickerson
Links between excess sugar in your diet and disease have been well-documented, but new research by Harvard's School of Public Health might make you even more wary of that next soda: it could increase your risk of an early death.
The study, published this week in the American Heart Association's journal Circulation, found that drinking one or two sugar-sweetened beverages (SSBs) each day — like sodas or sports drinks — increases risk of an early death by 14 percent.
Tyson Foods is recalling approximately 69,093 pounds of frozen chicken strips because they may have been contaminated with pieces of metal, the U.S. Department of Agriculture (USDA) Food Safety and Inspection Service (FSIS) announced Thursday.
The affected products were fully-cooked "Buffalo Style" and "Crispy" chicken strips with a "use by" date of Nov. 30, 2019 and an establishment number of "P-7221" on the back of the package.
"FSIS is concerned that some product may be in consumers' freezers," the recall notice said. "Consumers who have purchased these products are urged not to consume them. These products should be thrown away or returned to the place of purchase."
Environmental exposure to pesticides, both before birth and during the first year of life, has been linked to an increased risk of developing autism spectrum disorder, according to the largest epidemiological study to date on the connection.
The study, published Wednesday in BMJ, found that pregnant women who lived within 2,000 meters (approximately 1.2 miles) of a highly-sprayed agricultural area in California had children who were 10 to 16 percent more likely to develop autism and 30 percent more likely to develop severe autism that impacted their intellectual ability. If the children were exposed to pesticides during their first year of life, the risk they would develop autism went up to 50 percent.
The ExxonMobil Torrance Refinery in Torrance, California.
waltarrrr / Flickr
ExxonMobil could be the second company after Monsanto to lose lobbying access to members of European Parliament after it failed to turn up to a hearing Thursday into whether or not the oil giant knowingly spread false information about climate change.
The call to ban the company was submitted by Green Member of European Parliament (MEP) Molly Scott Cato and should be decided in a vote in late April, The Guardian reported.
Bernie Sanders holds his first presidential campaign rally at Brooklyn College on March 02 in Brooklyn, New York. Kena Betancur / VIEWpress / Corbis. Getty Images
Bernie Sanders has become the first contender in the crowded 2020 Democratic presidential primary field to pledge to offset all of the greenhouse gas emissions released by campaign travel, The Huffington Post reported Thursday.