This website uses cookies to ensure you get the best experience while browsing it. By clicking 'Got It' you're accepting these terms.
Food & Water Watch Launches Fair Farm Bill Campaign in Ohio
Feb. 02, 2012 10:42AM EST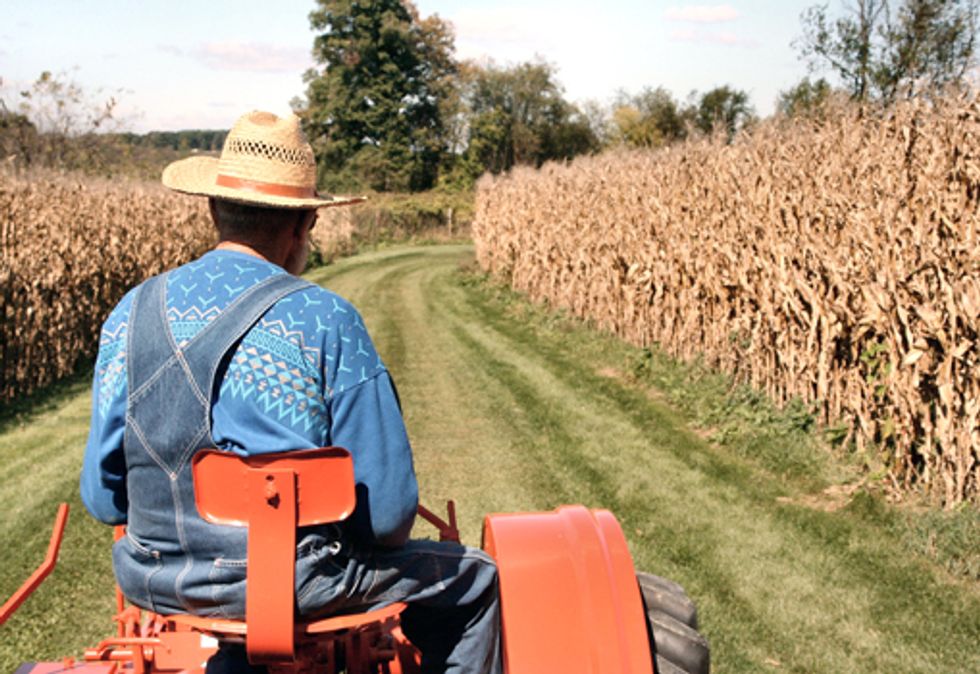 by Tia Lebherz
Contact Senator Sherrod Brown (D-OH) or call 202-224-2315 and ask him to stand up for a fair food system that includes protections that ensure fair markets for small and mid-sized independent farmers, and rules that prevent ever-increasing mega-mergers by big agribusiness.
About every four years, the federal Farm Bill comes up for reauthorization by Congress. Many people—especially those living in urban areas—have never heard of the farm bill or think it has nothing to do with their lives. However, this policy is one major piece of federal legislation that everyone should be keeping an eye on.
The farm bill determines how the food we eat reaches our plate. It includes everything from nutrition programs for low income families to land conservation, and has more than 1,000 pages of in betweens.
Currently, the farm bill does not include protections that ensure fair markets for our small and mid-sized independent farmers, and rules that prevent ever-increasing mega-mergers by big agribusiness, like Monsanto and Cargill. It is for those reasons that Food & Water Watch has launched its Fair Farm Bill campaign.
Our current food system is broken, and it didn't happen by accident. Decades of bad food policy designed to benefit agribusinesses and mega-farms, combined with unchecked corporate mergers, have wreaked havoc on family farmers, public health and rural communities.
Our food system is no longer working for most Americans. Most supermarket aisles do not offer good, nutritious foods as feasible shopping options. What you find instead is an abundance of cheap, processed foods that are generally unhealthy, or meat from factory farms produced with antibiotics and artificial hormones, and vegetables raised with pesticides that are often produced halfway around the world.
At the same time, small and medium-sized family farmers across the U.S. have been driven out of business or are barely making ends meet. Our country is losing its farming backbone because big companies set unfair prices for livestock and crops, cheating small and medium-sized farmers out of money they need to cover their costs. The companies get away with it because farmers often don't have anywhere else to sell their products. A few large companies dominate the meat and poultry industries. Their control over these markets allows them to use oppressive contracts to squeeze both small producers and consumers. For example, nearly all producers of broiler chickens (chickens raised for eating versus laying eggs) operate under abusive, take-it-or-leave-it contracts and often pay growers less for the chickens than what they cost to raise. Companies have retaliated against growers that have demanded fairer contracts, and growers put up with it because, in many parts of the country, there is only one processing company for them to sell their chickens to.
This corporate consolidation of our food system is pushing our small and mid-sized farmers out of business, while companies like Monsanto are making record profits.
We can't shop our way out of this problem. We have to start to fix the broken food policies at the federal level by taking control away from large agribusinesses and rebuilding a more secure and sustainable system that protects farmers and consumers.
This is where the farm bill comes in. The farm bill is a crucial opportunity to create a fairer, safer and more sustainable food system. U.S. Senator Sherrod Brown (D-OH) is on the Agriculture Committee, so he's making decisions right now about what protections the bill will include for small farmers, consumers and the environment. The good news for Ohioans is that he has historically been a champion on these issues.
Senator Brown has the opportunity to bring more healthful, affordable food and more quality jobs back to Northeast Ohio. He needs to support a farm bill that re-establishes regional food systems and addresses unfair, deceptive and anti-competitive trade practices that are putting small and medium-size farms out of business.
Food & Water Watch is running the Fair Farm Bill campaign in Ohio because we believe that Senator Brown will stand up for small farmers and consumers. With big agribusiness spending millions of dollars lobbying to stop these reforms, he needs to hear from his constituents that we care about the food we feed our families and need his leadership in ensuring that it's safe, healthy and fair.
For more information or to get involved click here or contact your local organizer in Cleveland—Tia Lebherz at tia@greencorps.org, Columbus—Chris Linsmayer chris@greencorps.org or Toledo—Adam Reaves adam@greencorps.org.
EcoWatch Daily Newsletter
Investing in grid infrastructure would enable utilities to incorporate modern technology, making the grid more resilient and flexible. STRATMAN2 / FLICKR
By Elliott Negin
The Royal Swedish Academy of Sciences' recent decision to award the 2019 Nobel Prize in Chemistry to scientists who developed rechargeable lithium-ion batteries reminded the world just how transformative they have been. Without them, we wouldn't have smartphones or electric cars. But it's their potential to store electricity generated by the sun and the wind at their peak that promises to be even more revolutionary, reducing our dependence on fossil fuels and protecting the planet from the worst consequences of climate change.
Two Javan rhinos deep in the forests of Ujung Kulon National Park, the species' last habitat on Earth. Sugeng Hendratno / WWF
The global population of the critically endangered Javan rhinoceros has increased to 72 after four new calves were spotted in the past several months.
A tiger looks out from its cage at a new resort and zoo in the eastern Lao town of Tha Bak on Dec. 5, 2018. Karl Ammann believes the "zoo" is really a front for selling tigers. Terrence McCoy / The Washington Post / Getty Images
Are tigers extinct in Laos?
That's the conclusion of a detailed new study that found no evidence wild tigers still exist in the country.
A group of scientists is warning that livestock production must not expand after 2030 for the world to stave off ecological disaster.
The largest wetland in Africa is in the South Sudan. George Steinmetz / Corbis Documentary / Getty Images Plus
Methane emissions are a far more powerful greenhouse gas than carbon dioxide – about 28 times more powerful. And they have been rising steadily since 2007. Now, a new study has pinpointed the African tropics as a hot spot responsible for one-third of the global methane surge, as Newsweek reported.