This website uses cookies to ensure you get the best experience while browsing it. By clicking 'Got It' you're accepting these terms.
Food Imports from China Under Scrutiny for Fraud and Lack of Inspection
May. 09, 2013 02:07PM EST
Health + Wellness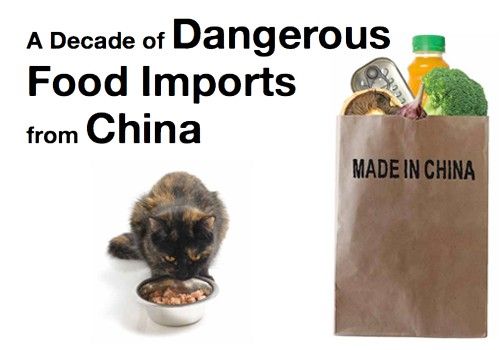 The House Committee on Foreign Affairs Subcommittee on Europe, Eurasia and Emerging Threats gathered information yesterday regarding concerns being raised about imports of food from China that are entering the U.S.
"We don't trust, for good reason, the Chinese to supply ingredients for our dog and cat food," said hearing witness Mark A. Kastel, senior farm policy analyst at The Cornucopia Institute. "Why should we trust Chinese exporters for the food that we are feeding our children and families?"
Kastel added that the U.S. Department of Agriculture (USDA) and the Food and Drug Administration (FDA) are only inspecting one to two percent of all the food that enters U.S. ports. And even with this small sample size, Kastel noted that a "disproportionate number of serious problems" are being found with Chinese exports, including "unapproved chemicals, dyes, pesticides and outright fraud (fake food)."
The Cornucopia Institute, based in Wisconsin, has been acting as an organic food and agriculture industry watchdog for the past decade. The farm policy group has been critical of fraud occurring with imports of organic commodities and finished products entering the U.S.
In February 2011, the USDA's National Organic Program began informing the public of fraudulent organic certificates—the paperwork required for the formal sale of organic foods. Since then, the USDA has announced 22 fraudulent organic certificates, with nine of these from China.
"Because of the restricted nature of doing business in China, U.S. certifiers are unable to independently inspect farms and assure compliance to the USDA organic food and agriculture standards that are required for export to the U.S.," Kastel told the Congressional Subcommitttee.
"These imports should not be allowed to reach our shore until and unless we have a system in place to assure consumers they are getting what they pay for. Just like U.S. grown organic commodities, the safety of these products must be rigorously overseen by independent inspectors," Kastel said.
Patty Lovera, the assistant director of Washington, D.C.-based Food & Water Watch also appeared before the House subcommittee. "The U.S. imports over a billion pounds of [organic and conventional] fruits and vegetables from China every year and over a billion pounds of fish and seafood," Lovera said. "And for some products, like apple juice and garlic, China has replaced domestic production of crops that have traditionally been grown here."
In 2009, Food & Water Watch produced the report, A Decade of Dangerous Food Imports from China, assessing the extent of lax inspections and breadth of scandals surrounding food imports from China that have been linked to human illnesses from eating the unsafe food.
As Lovera noted, food fraud is occurring "despite very public efforts by the Chinese government to crack down on food safety problems." The news from China, she observed, "is a steady stream of controversies ranging from adulteration with counterfeit ingredients like melamine in dairy products, to widespread outbreaks of animal diseases like avian flu and high levels of pesticide residues. Just last week, news reports described a Chinese government campaign to break up a fake meat operation, leading to arrests of more than 900 people accused of passing off more than $1 million of rat meat as mutton."
Subcommittee chair Rep. Dana Rohrabacher (R-CA) also voiced criticisms of Chinese regulatory controls, saying "it is beyond their ability to do a good job ... the record of Chinese food plant facilities is extremely poor."
Rep. Steve Stockman (R-TX), who said he buys organic food himself, expressed his concerns about mislabeling and referred to it as "Orwellian." Rep. Stockman mentioned that "the safety of imported food is something the media should really be spotlighting."
In addition to discussing food, the House Subcommittee also focused on fake, counterfeit drugs coming from China.
After the hearing, Kastel said that The Cornucopia Institute welcomes the increased scrutiny of how the USDA and FDA are assuring U.S. citizens that foreign organic imports are commensurate with U.S.-produced food.
"I hope that Congress will pressure our federal agencies to ensure that they do their job. And if they need additional resources to protect us from fraudulent and unsafe food imports, then I hope Congress will provide the necessary resources to get the job done," said Kastel.
Visit EcoWatch's FOOD page for more related news on this topic.
EcoWatch Daily Newsletter
Protestors and police stand on ether side of railway tracks. dpa / picture-alliance
Police have cleared 250 climate activists who stayed overnight at the Garzweiler brown coal mine in western Germany, officials said Sunday.
Cecilie_Arcurs / E+ / Getty Images
By Megan Jones and Jennifer Solomon
The #MeToo movement has caused profound shake-ups at organizations across the U.S. in the last two years. So far, however, it has left many unresolved questions about how workplaces can be more inclusive and equitable for women and other diverse groups.

Cigarette butts are the most-littered item found at beach clean ups. John R. Platt
By Tara Lohan
By now it's no secret that plastic waste in our oceans is a global epidemic. When some of it washes ashore — plastic bottles, plastic bags, food wrappers — we get a stark reminder. And lately one part of this problem has been most glaring to volunteers who comb beaches picking up trash: cigarette butts.

Andrea Rodgers, second from the right, takes notes during a hearing in the Juliana v. U.S. case before the 9th Circuit Court of Appeals in Portland, Oregon on June 4. Colleague Elizabeth Brown sits to her left, while colleague Julia Olson sits on her right, with co-council Philip Gregory on Julia's right. Robin Loznak / Our Children's Trust
By Fran Korten
On June 4, Andrea Rodgers was in the front row of attorneys sitting before a three-judge panel of the 9th Circuit Court. The court session, held in Portland, Oregon, was to determine whether the climate change lawsuit (Juliana v. United States) brought by 21 young plaintiffs should be dismissed, as requested by the U.S. government, or go on to trial.
Seventy Extinction Rebellion protesters were arrested outside The New York Times building Saturday.
SCOOTERCASTER / YouTube screenshot
Explosions and a blaze at the Philadelphia Energy Solutions Refining Complex on June 21.
VOA News / YouTube screenshot
A fire broke out at a Philadelphia oil refinery Friday morning, starting with an explosion so massive it was felt as far away as South Jersey and Delaware County, Pennsylvania, CNN reported.
Asian elephants in Bandipur National Park, India. Mike Prince / CC BY 2.0
By John R. Platt
Some of the tiniest creatures in Myanmar benefit from living near the largest species in the area.