Food as Medicine: How One Hospital Is Using Organic Produce to Help Heal Patients
In 431 B.C. Hippocrates said, "Let food be thy medicine and medicine be thy food"
More than 2500 years later, we are inundated with advertisements boasting the latest, greatest cure-all super drug. From a young age, we learn that it doesn't matter how or what we eat, there is a quick fix around the corner for whatever ails us—whether we're obese, have high blood pressure or bad cholesterol—just to name a few of the issues plaguing our society.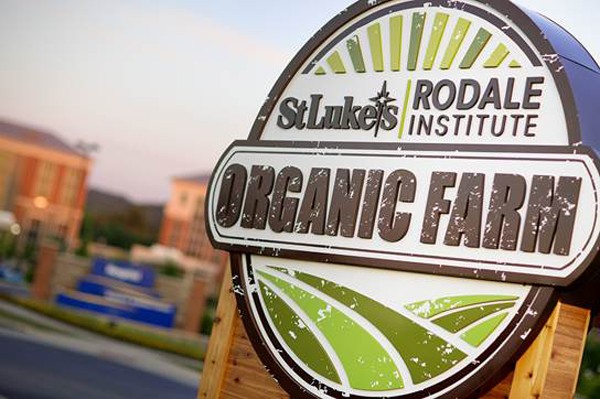 A sign directs visitors and patients to the St. Luke's Rodale Institute Organic Farm, adjacent to the hospital. Photo credit: Bill Noll
It now seems almost revolutionary to think that we can change our health by changing the food we eat.
But, one hospital in Pennsylvania thought just that.
In 2014, Rodale Institute, in partnership with St. Luke's University Health Network, launched a true farm to hospital food program.
The Anderson Campus at St. Luke's has more than 300 acres of farmland, much of which had historically been farmed conventionally with crops like corn and soy. The hospital administration recognized the impact that providing fresh, local organic produce could have on patient health and approached Rodale Institute to transition the land to organic and farm vegetables to be used in patient meals as well as in the cafeteria.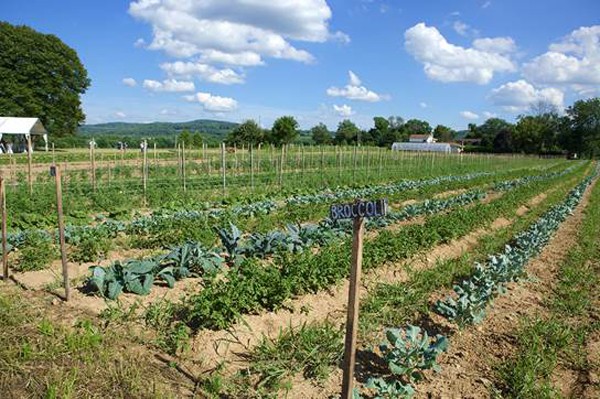 The five acre farm at the St. Luke's Anderson campus in Bethlehem, PA. Photo credit: Bill Noll
Lynn Trizna, or Farmer Lynn, as she's known around St. Luke's, provides food to all six hospitals within the network. This year, she is growing five acres of vegetables with plans to expand to ten acres in 2015. She estimates about 44,000 lbs of produce from her farm will be served in the hospital, just this season. She is paid a salary through Rodale Institute and has employed three staff members, all aspiring farmers.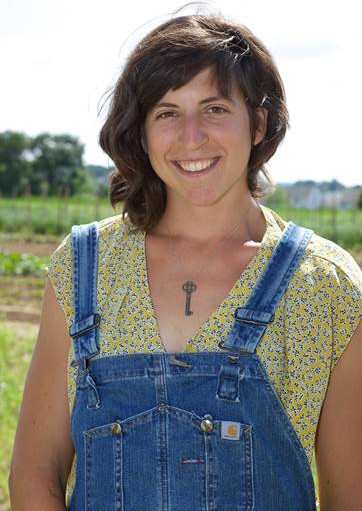 Farmer Lynn Trizna. Photo credit: Bill Noll
With a three-year plan in place, Rodale Institute and St. Luke's see the potential for expansion. We envision growing the program to include fifteen to twenty farmers—supporting new farmers who don't have access to land; greenhouses that allow for year round production of produce; and a small batch cannery, ensuring that we can enjoy the harvest, even in the coldest months of winter.
We have created this model with the belief that it can, and should, be replicated at every hospital throughout the U.S.
So, the next time you're feeling a bit under the weather, stop—think of us and Hippocrates' words of wisdom. Maybe you'll then look to the garden for a cure, instead of the medicine cabinet.
YOU ALSO MIGHT LIKE
9 Ways to Use the 'Swiss Army Knife' of Essential Oils
Why You Should Drink Organic Coffee
Glyphosate, the main ingredient in Monsanto's widely used herbicide Roundup, will be added July 7 to California's list of chemicals known to the state to cause cancer, according to a Reuters report Tuesday. This news comes after the company's unsuccessful attempt to block the listing in trial court and requests for stay were denied by a state appellate court and California's Supreme Court.
California's Office of Environmental Health Hazard Assessment (OEHHA) announced the designation on Monday under the Safe Drinking Water and Toxic Enforcement Act of 1986, or Proposition 65.
Keep reading...
Show less
www.facebook.com
Keep reading...
Show less
Researchers from the Marine Animal Response Society examine one of the dead right whales. Marine Animal Response Society
Canadian government officials and marine biologists are investigating the mysterious deaths of six North American right whales. The endangered animals all turned up dead between June 6 and June 23 in the Gulf of St. Lawrence, off Canada's southeastern coast.
North Atlantic right whales are the rarest of all large whale species and among the rarest of all marine mammal species, with only about 450 right whales in the North Atlantic.
Keep reading...
Show less
Scott Pruitt testifies during his Senate confirmation hearing for EPA administrator, January 2017.
The U.S. Environmental Protection Agency's (EPA) chief of staff pressured the leader of its Board of Scientific Counselors to change her congressional testimony to downplay the impact of the agency's mass dismissal of scientists from the board, the New York Times reports.
Keep reading...
Show less
By Jason Mark
Sequoiadendron giganteum. That's the scientific name for the giant sequoia: the mammoth trees found in California's Sierra Nevada that are the largest organisms on Earth, and among the longest-lived. Biologists estimate that about half of all sequoias live in Giant Sequoia National Monument, a 328,000-acre preserve in the Southern Sierra Nevada established by President Clinton in 2000.
Now that national monument is in jeopardy.
Keep reading...
Show less
By Andy Rowell
Donald Trump this week is launching an "energy week," pushing the argument that the U.S. will become a net exporter of oil and gas.
The president and his cronies are talking about a new era of "U.S. energy dominance," which could stretch for decades to come. However, no one believes the president anymore.
Keep reading...
Show less
UN
By Colleen Curry
The United Nations has designated 23 new sites around the world to its World Network of Biosphere reserves—stunning natural landscapes that balance environmental and human concerns and strive for sustainability.
The forests, beaches and waterways were added to the list this year at the International Coordinating Council of the Man and the Biosphere Programme meeting in Paris earlier this month.
Keep reading...
Show less
Jun. 26, 2017 01:48PM EST
www.elysee.fr
By Andy Rowell
There is a growing feeling within European capitals that a quiet, but deeply positive, revolution is happening under Emmanuel Macron in France.
Macron's opinion poll rating is high, especially boosted in how the young French president has reacted to Donald Trump on the international stage.
Keep reading...
Show less
Jun. 26, 2017 12:32PM EST
www.facebook.com
Keep reading...
Show less