This website uses cookies to ensure you get the best experience while browsing it. By clicking 'Got It' you're accepting these terms.
Food as Medicine: How One Hospital Is Using Organic Produce to Help Heal Patients
Aug. 22, 2014 07:41AM EST
In 431 B.C. Hippocrates said, "Let food be thy medicine and medicine be thy food"
More than 2500 years later, we are inundated with advertisements boasting the latest, greatest cure-all super drug. From a young age, we learn that it doesn't matter how or what we eat, there is a quick fix around the corner for whatever ails us—whether we're obese, have high blood pressure or bad cholesterol—just to name a few of the issues plaguing our society.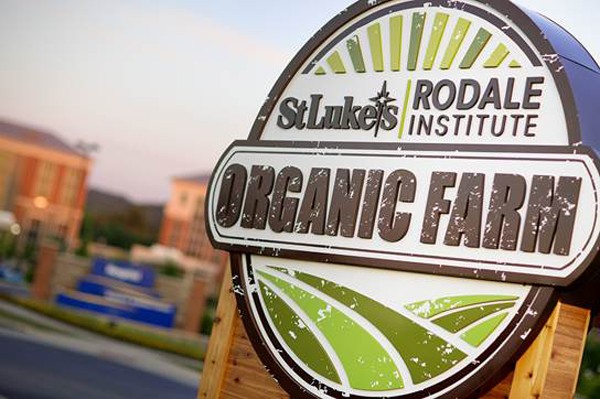 A sign directs visitors and patients to the St. Luke's Rodale Institute Organic Farm, adjacent to the hospital. Photo credit: Bill Noll
It now seems almost revolutionary to think that we can change our health by changing the food we eat.
But, one hospital in Pennsylvania thought just that.
In 2014, Rodale Institute, in partnership with St. Luke's University Health Network, launched a true farm to hospital food program.
The Anderson Campus at St. Luke's has more than 300 acres of farmland, much of which had historically been farmed conventionally with crops like corn and soy. The hospital administration recognized the impact that providing fresh, local organic produce could have on patient health and approached Rodale Institute to transition the land to organic and farm vegetables to be used in patient meals as well as in the cafeteria.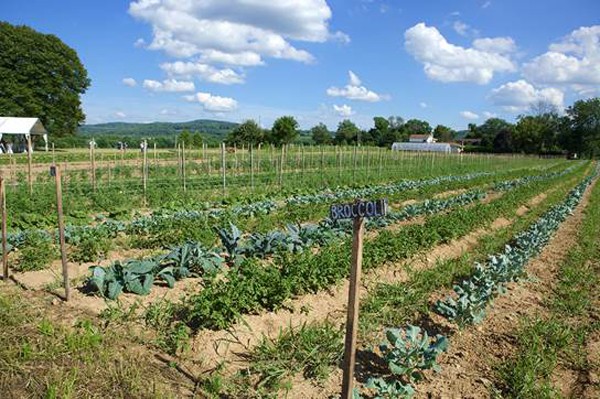 The five acre farm at the St. Luke's Anderson campus in Bethlehem, PA. Photo credit: Bill Noll
Lynn Trizna, or Farmer Lynn, as she's known around St. Luke's, provides food to all six hospitals within the network. This year, she is growing five acres of vegetables with plans to expand to ten acres in 2015. She estimates about 44,000 lbs of produce from her farm will be served in the hospital, just this season. She is paid a salary through Rodale Institute and has employed three staff members, all aspiring farmers.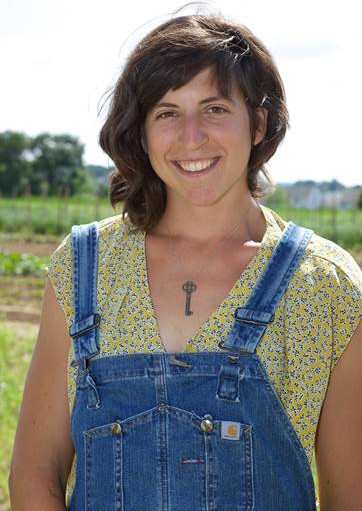 Farmer Lynn Trizna. Photo credit: Bill Noll
With a three-year plan in place, Rodale Institute and St. Luke's see the potential for expansion. We envision growing the program to include fifteen to twenty farmers—supporting new farmers who don't have access to land; greenhouses that allow for year round production of produce; and a small batch cannery, ensuring that we can enjoy the harvest, even in the coldest months of winter.
We have created this model with the belief that it can, and should, be replicated at every hospital throughout the U.S.
So, the next time you're feeling a bit under the weather, stop—think of us and Hippocrates' words of wisdom. Maybe you'll then look to the garden for a cure, instead of the medicine cabinet.
YOU ALSO MIGHT LIKE
9 Ways to Use the 'Swiss Army Knife' of Essential Oils
Why You Should Drink Organic Coffee
Plus, learn if there's one that's best for your health.
Catherine Falls Commercial / Moment / Getty Images
An invasive Amynthas worm, also known as a crazy snake worm, Asian jumping worm and Alabama jumper Tom Potterfield / Flickr
By Jason Bittel
My wife and I built a house two years ago on a few acres of woodland outside of Pittsburgh. The backyard is full of maples, poplars, briars and common spicebush. Two-lined salamanders and grumpy-looking crayfish wade among the rocks in the small stream that runs down the edge of the property. Deer, raccoon and opossum tracks appear regularly in the snow and mud. Sometimes, my trail-cam even catches a pair of gray foxes as they slink through the night.
AleksandarNakic / Getty Images
By Kate Murphy
No matter the time of year, there's always a point in each season when my skin decides to cause me issues. While these skin issues can vary, I find the most common issues to be dryness, acne and redness.

David Woodfall / The Image Bank / Getty Images
By Sam Nickerson
The U.S. Environmental Protection Agency (EPA) in April 2018 proposed relaxing standards related to how it assesses the effects of exposure to low levels of toxic chemicals on public health.
Now, correspondence obtained by the LA Times revealed just how deeply involved industry lobbyists and a controversial, industry-funded toxicologist were in drafting the federal agency's proposal to scrap its current, protective approach to regulating toxin exposure.
Steve Irwin poses with a three foot long alligator at the San Francisco Zoo on June 26, 2002. Justin Sullivan / Getty Images
February 22 is the birthday of conservationist and beloved TV personality "Crocodile Hunter" Steve Irwin, who would have been 57 years old today.
Irwin's life was tragically cut short when the barb from a stingray went through his chest while he was filming in 2006, but his legacy of loving and protecting wildlife lives on, most recently in a Google Doodle today honoring his birthday.