This website uses cookies to ensure you get the best experience while browsing it. By clicking 'Got It' you're accepting these terms.
Follow the Money: Republican Attorneys General Attack on the Clean Power Plan
Jun. 03, 2016 09:06AM EST
Climate
By Americans United for Change
Marking the anniversary of the U.S. Environmental Protection Agency's (EPA) 2014 proposal of the Clean Power Plan, Americans United for Change released a new report Thursday. The report exposes behind the scenes coordination and details the depths of donations from polluters and energy interests who have funded a lawsuit against the EPA's plan using Republican Attorneys General from around the country as their high-priced legal team.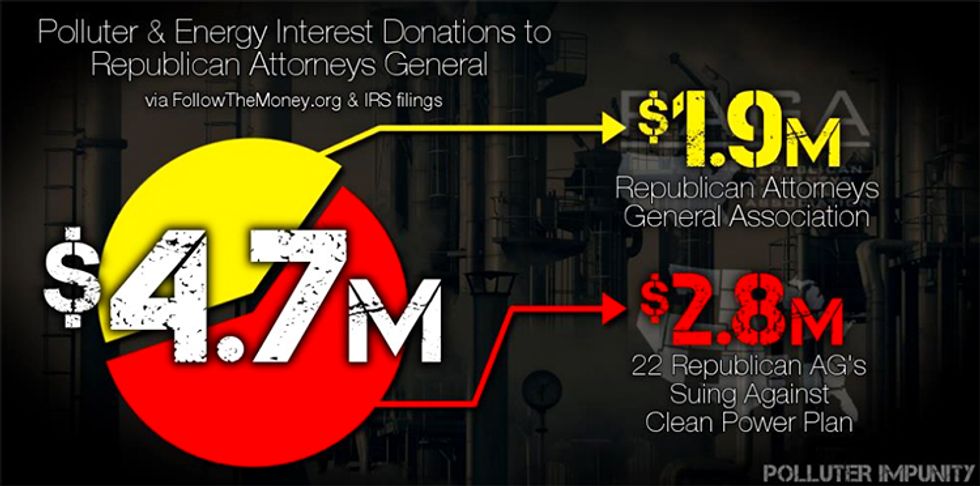 The report, Polluter Impunity, is part of Americans United for Change's Polluters Over People campaign and shows how deeply tied Republican Attorneys General are to industries like coal and oil. A December 2014 New York Times exposé revealed an "unprecedented, secretive alliance" and coordination between Big Oil and Republican Attorneys General against environmental safeguards, including one Attorney General literally copying and pasting a letter drafted by energy lobbyists and sending it to the EPA on official letterhead.
The report shows that Republican Attorneys General pockets have been lined by the dirty energy interests for whom they've advocated. Since 2014, the dirty energy sector and big polluters have donated nearly $2 million to the Republican Attorneys General Association as well as $2.8 million dollars to the campaigns of individual Republican Attorneys General leading the charge on the lawsuit and blocking climate action. The report also shows new evidence of behind the scenes coordination between dirty energy interests and the offices of Republican Attorneys General acquired through Freedom of Information Act requests.
The EPA's plan would cut heat-trapping carbon dioxide pollution by 32 percent from 2005 levels by 2030, save the average American $200 a year on their energy bills, bring down health costs associated with asthma attacks, lung cancer and other air pollution-related illnesses and pave the way for 250,000 new jobs when fully implemented.
Yet even considering the Clean Power Plan's long list of benefits, the position of these Republican Attorneys General on the payroll for polluters becomes more indefensible when you consider how strongly at odds it puts them with the will of their own constituents who know that addressing climate change is no longer up for debate. Poll after poll has shown that voters support measures to address climate change, as well as elected officials willing to take action. In fact, in the home states of the Attorneys General bringing the lawsuit against the EPA, 61 percent of the public supports the Clean Power Plan.
But while they've already lost in the court of public opinion, big polluters and their allies in the Republican Attorneys General Association think they can use the courts to stop the Clean Power Plan despite its strong basis in existing law and the fact that the U.S. Supreme Court has upheld the EPA's authority to take action to limit carbon pollution three times. Even George W. Bush's former EPA head Christine Todd Whitman testified that the "EPA does have the authority" to go forward with a policy she called the "most flexible thing" the agency has ever done.
The key findings of the report include:
Republican Attorneys General and their national organizing arm, the Republican Attorneys General Association, have received a sum total of more than $4.7 Million from polluters and energy interests.
The Republican Attorneys General Association has taken $1.9 Million from polluter and energy interests.
Individual Republican Attorneys General have received a total of $2.8 Million from polluter and energy interests.
Louisiana Attorney General's office close ties behind the scenes with Koch lobbyists Hunton & Williams.
Wisconsin Attorney General's office coordinating with the Koch-funded Heartland Institute to publish an anti-Clean Power Plan oped.
North Dakota Attorney General's office holding "confidential" conference calls with coal the North American Coal Corporation as well as coal industry interests to discuss the Clean Power Plan.
Colorado Attorney General's office seeking out anti-Clean Power Plan interests from lobbyists.
Ohio Attorney General Mike DeWine speaking about the Clean Power Plan at an Ohio Coal Association "closed press event" to allow him to "speak freely" as well as receiving anti-Clean Power Plan emails at a personal email address, which he forwarded to senior members of his staff at their government email address.
YOU MIGHT ALSO LIKE
Sanders Touts Fracking Ban as Clinton Pushes Renewables Plan Just Days Before California Primary
Stephen Hawking: One Thing Threatens Us More Than Donald Trump … Climate Change
New York State Assembly Passes Nation's Most Ambitious Climate Bill
Feds Find Offshore Fracking in the Pacific Would Have No 'Significant' Environmental Impact
EcoWatch Daily Newsletter
Heavy industry on the lower Mississippi helps to create dead zones.
AJ Wallace on Unsplash.
Cutting out coal-burning and other sources of nitrogen oxides (NOx) from heavy industry, electricity production and traffic will reduce the size of the world's dead zones along coasts where all fish life is vanishing because of a lack of oxygen.
Despite the ongoing coronavirus pandemic, which has restricted the ability to gather in peaceful assembly, a Canadian company has moved forward with construction of the controversial Keystone XL pipeline, according to the AP.
A gas flare from the Shell Chemical LP petroleum refinery illuminates the sky on August 21, 2019 in Norco, Louisiana. Drew Angerer / Getty Images.
Methane levels in the atmosphere experienced a dramatic rise in 2019, preliminary data released Sunday shows.
A retired West Virginia miner suffering from black lung visits a doctor for tests. Andrew Lichtenstein / Corbis via Getty Images
In some states like West Virginia, coal mines have been classified as essential services and are staying open during the COVID-19 pandemic, even though the close quarters miners work in and the known risks to respiratory health put miners in harm's way during the spread of the coronavirus.
Solar panel installations and a wind turbine at the Phu Lac wind farm in southern Vietnam's Binh Thuan province on April 23, 2019. MANAN VATSYAYANA / AFP via Getty Images