This website uses cookies to ensure you get the best experience while browsing it. By clicking 'Got It' you're accepting these terms.


The best of EcoWatch, right in your inbox. Sign up for our email newsletter!
Follow the Fracking Money All the Way to Keystone XL Conflicts of Interest
Aug. 07, 2013 09:54AM EST
Climate
By Steve Horn
Most don't think of hydraulic fracturing, also known as fracking, when pondering the future of TransCanada's Keystone XL tar sands export pipeline—but they should. 
There are numerous ties between key members of the fracking industry and groups pushing for approval of the Keystone XL pipeline. And these threads all lead back, one way or another, to Environmental Resources Management, Inc. (ERM).
ERM did the official U.S. State Department's environmental review for Keystone XL pipeline. The review, published in March 2013, determined the pipeline will have negligible climate change impacts. The review dealt with the northern segment of the pipeline as the southern half, now known as the "Gulf Coast Pipeline," received an expedited Executive Order permit by President Barack Obama in March 2012.
ERM is also a paying member of the American Petroleum Institute (API), which has spent over $22 million lobbying on Keystone XL since June 2008. 
In its bid to provide the environmental review for the Keystone XL pipeline, ERM overtly lied on its conflict-of-interest form, saying it has no current business ties to TransCanada. ERM has an ongoing consulting relationship with the company responsible for the Alaska South Central LNG Project, also known as Alaska Gas Pipeline Project. The company, South Central LNG, is co-owned by TransCanada.
On top of lying about its current business ties, ERM stated on the conflict-of-interest form it had no "direct or indirect relationship (financial, organizational, contractual or otherwise) with any business entity that could be affected in any way by the proposed work." In so doing, ERM may have broken federal law—18 USC § 1001—by making a false claim on a federal contract.
The State Department's Office of Inspector General has officially launched an inquiry into how and why State overlooked ERM's omission, allowing ERM to potentially commit a crime. 
In addition to potentially fraudulent claims about its connection to TransCanada, ERM also has significant ties to major gas industry groups and major players supporting the fracking boom in the U.S.
The details will follow below, but for starters, here are the connections in a nutshell: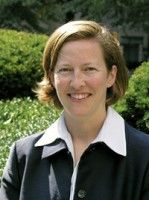 Exhibit A: Kathryn "Katie" Klaber (pictured left), departing head of the Marcellus Shale Coalition, one of the most powerful gas industry lobby groups in the U.S.
Prior to serving as Executive Director of the lobbying powerhouse, Klaber began her career at Environmental Resources Management, Inc. (ERM Group). ERM is a former dues-paying member of the Marcellus Shale Coalition. 
Exhibit B: ICF International, an additional firm contracted by the State Department to perform the environmental review.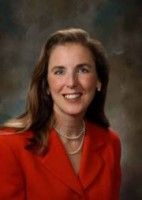 ICF maintains important ties to the industry-funded Center for Sustainable Shale Development and to U.S. Secretary of Energy, Ernest Moniz, an outspoken fracking proponent.
Former ICF Vice President Karl Hausker is the husband of Kathleen "Katie" McGinty (pictured right), former head of President Clinton's Department of Environmental Quality, environmental aide to Vice President Al Gore and 2014 Democratic Party candidate for Governor in Pennsylvania.
Exhibit C: One of the key functions of Keystone XL's northern half—referred to by TransCanada as the "Bakken Marketlink" pipeline—is to bring fracked Bakken Shale oil to market.
The ties that bind raise even more questions about the legitimacy of the State Department's contracted out environmental review. Below follows the thorough treatment.
A: Marcellus Shale/ERM Group Ties That Bind
ERM paid $15,000 a year for a Marcellus Shale Coaliton membership, the shale gas industry's lobbying tour de force, until October 2011.
Its headquarters are located near Philadelphia, PA, the state at the epicenter of the fracking boom. ERM also networked with the gas industry, provided speakers and sponsored a booth at Marcellus Shale Coalition's "Shale Gas Insight" conference in 2012, which took place in Philadelphia.  
Beyond fiscal ties, Katie Klaber—Marcellus Shale Coalition's first president—is a former ERM higher-up.
"Through the 1990s, Kathryn Klaber worked for the international environmental, health and safety consulting firm, Environmental Resources Management, Inc. (ERM), first ... in Philadelphia, then in her native Pittsburgh," explains a biographical sketch. "She supervised multinational projects, primarily for Fortune 1000 companies, involving staff from across the company's 130 offices."

"During her last three years with the firm, Ms. Klaber managed the Pittsburgh regional office, responsible for all aspects of the practice including business development, product delivery, staffing and financial management." 
ERM also works with production companies to secure ample water supplies for fracking. Around 2010, ERM conducted a "water resource study for each of six U.S. States crossed by the Marcellus Shale," according to its website, to aid companies looking to develop shale gas deposits in the area.
Ed Hinchey is another key figure operating between ERM and the Marcellus Shale Coalition. Hinchey is a Principle Partner and Marcellus Program Director at ERM and a biography lists him as an active member of the Marcellus Shale Coalition.
In November 2012, Hinchey debated against Cornell University's Robert Howarth, co-author of the May 2011 study showing shale gas development is worse for the climate than coal development when both are measured over their entire lifecycles.  
At that debate, when asked if he would change his mind if science proved fracking's perils, Hinchey responded, "The beauty of science is that it is never settled," uttering a familiar stock phrase from the "Tobacco Playbook." ERM formerly had close ties to the tobacco industry.
In addition to Klaber and Hinchey, ERM hosts numerous other fracking advocates.
John Alexander, current CEO of ERM Group, is also on the record stating, "The chance that a major drinking water source will be contaminated by natural gas drilling operations is fairly slim."
ERM Foundation also has a fracking tie through board member Paul Woodruff, former CEO and Founder of the foundation in 1994.
Woodruff is now the founder, president, CEO and majority shareholder of Sustainable Resources Group, a spin-off of ECOR Solutions as of May 2011. ECOR Solutions spun off of ERM C&O Services Inc. in 2001, a former subsidiary of ERM.
Sustainable Resources Group is also a former dues-paying member of the Marcellus Shale Coalition, which it joined in Feb. 2012.
ERM Group also does "environmental services" for the Independent Oil and Gas Association of New York, another shale gas industry lobbying powerhouse. 
B: Center for Sustainable Shale Development/ICF International Ties That Bind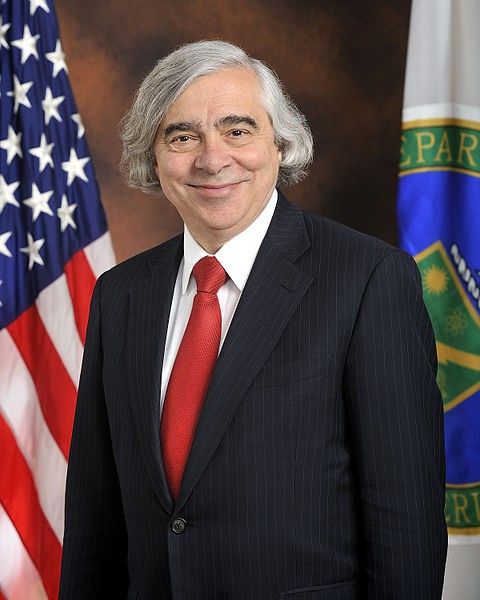 ICF International, the other contractor the State Department hired to perform the environmental review, is also tightly tied to the shale gas industry—and to the Obama Administration itself. Ernest Moniz (right), Obama's new Secretary of Energy, formerly sat on ICF's Board, where he earned $305,000 for a two year term.
ICF recently wrote a report on behalf of American Petroleum Institute making the case for U.S. shale gas exports and also has a client relationship with America's Natural Gas Alliance, a gas industry sponsored lobby group. It's the Department of Energy, with Moniz at the helm, that has the final say over the future of fracked gas exports.
In March 2013, five environmental groups and four shale gas corporations teamed up to create the Center for Sustainable Shale Development, referred to as the "Big Green Fracking Machine" by the Public Accountability Initiative, a watchdog group, in a recent report. The report found the Center for Sustainable Shale Development has numerous ties to the natural gas industry.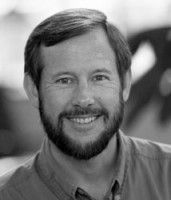 One of the environmental groups making of the "fracking machine" is the Pennsylvania Environmental Council, was previously run by Karl Hausker (left), former VP of ICF International and husband of Katie McGinty.
McGinty gave Hausker's Pennsylvania Environmental Council over $2.8 million in grants while heading Democratic Governor Ed Rendell's Department of Environmental Conservation and was reprimanded by the state's ethics board for doing so. She's now a business partner of Rendell's at Element Partners, which provides investment capital to shale gas industry start-ups.
Other featured Center for Sustainable Shale Development environmental groups include both the Clean Air Task Force and Environmental Defense Fund, both of which also had representatives sitting on the industry-stacked Department of Energy Fracking Subcommittee that Katie McGinty also sat on, formed in May 2011. Another represented group was World Resources Institute, where Hausker currently sits as a Senior Fellow. 
That subcommittee drew up the loophole-ridden fracking chemical disclosure standards embraced by ExxonMobil and passed as a model bill, first by the Council of State Governments and then by the American Legislative Exchange Council (ALEC), both in late 2011. In May 2013, those same standards—at this point state law in many places—became the Bureau of Land Management's chemical disclosure standards for fracking on public lands.
FracFocus—a front group for PR corporation Brothers and Company, whose clients include America's Natural Gas Alliance, Chesapeake Energy and Chesapeake front group Clean Skies Foundation—is the industry-chosen entity tasked to oversee fracking chemical disclosure.
"The [Center for Sustainable Shale Development] bills itself as a 'Leadership in Energy and Environmental Design' (LEED) for the gas industry, putting forward 15 standards for fracking and certifying drillers that voluntarily comply with those standards," Public Accountability Initiative explained in the report.
For $30,000, frackers can obtain LEED-style certifications and those certifications will be doled out by—you guessed it—ICF International.
ICF also runs the "Gas Market Model," which "provides clients with analysis and forecasts of regional gas markets throughout North America," according to its website.
Coming full circle, "Market Model" was utilized in its study funded by America's Clean Skies Foundation and is titled "The Future of Natural Gas," co-authored by then Massachusetts of Technology professor and ICF International Board Member, Ernest Moniz. The MIT study was one of the first major examples of "frackademia."
Furthermore, ICF is a major donor to MIT's Energy Intiative, giving $125,000 per year in endowments for the Initiative starting in 2011, the same year Moniz was named to sit on ICF's Board. 
C: Bakken Shale Connection to ERM and Philly
Investors refer to Keystone XL's northern half as the "Bakken Marketlink" pipeline.
That's because one of the main goals of the pipeline's northern half—other than pulling Alberta's tar sands to Gulf Coast export markets—is to carry North Dakota's Bakken Shale fracked oil to market via pipeline. Right now, due to lack of pipeline infrastructure, rail serves as the chief way to get fracked Bakken Oil to market.
In June 2013, ERM said a Bakken fracked oil and tar sands refinery made the air "cleaner" in Delaware City in a study funded by the owner of the refinery itself. The fracked oil and tar sands bitumen gets to that refinery via freight rail owned by Norfolk Southern. 
And tying it all back to where the tale began in Philadelphia, the unconventional oil industry is gearing up to carry upwards of 400,000 barrels of Bakken fracked oil via freight rail to the city's refineries.
Industry publication Rig Zone said this could make Philadelphia a prospective "Cushing East," referring to Cushing, OK, the "pipeline crossroads of the world." Philly may soon also become a shale gas export hub.
It was in Cushing that President Obama—standing in front of the pipe pieces that would soon make up the 95-percent complete Keystone XL's southern half —made a speech in March 2012 promoting expedited building of the "Cushing Marketlink" that will pump 700,000 barrels of tar sands per day to Gulf Coast refineries by the end of the year.
Visit EcoWatch's KEYSTONE XL and FRACKING pages for more related news on this topic.
——–

EcoWatch Daily Newsletter
Tim P. Whitby / 21st Century Fox / Getty Images
The beauty products we put on our skin can have important consequences for our health. Just this March, the U.S. Food and Drug Administration (FDA) warned that some Claire's cosmetics had tested positive for asbestos. But the FDA could only issue a warning, not a recall, because current law does not empower the agency to do so.
Michelle Pfeiffer wants to change that.
The actress and Environmental Working Group (EWG) board member was spotted on Capitol Hill Thursday lobbying lawmakers on behalf of a bill that would increase oversight of the cosmetics industry, The Washington Post reported.
By Collin Rees
We know that people power can stop dangerous fossil fuel projects like the proposed Line 3 tar sands oil pipeline in Minnesota, because we've proved it over and over again — and recently we've had two more big wins.

Scientists released a study showing that a million species are at risk for extinction, but it was largely ignored by the corporate news media. Danny Perez Photography / Flickr / CC
By Julia Conley
Scientists at the United Nations' intergovernmental body focusing on biodiversity sounded alarms earlier this month with its report on the looming potential extinction of one million species — but few heard their calls, according to a German newspaper report.
DoneGood
By Cullen Schwarz
Ethical shopping is a somewhat new phenomenon. We're far more familiar with the "tried and tested" methods of doing good, like donating our money or time.
Pixabay
Summer is fast approaching, which means it's time to stock up on sunscreen to ward off the harmful effects of sun exposure. Not all sunscreens are created equally, however.
Mark Wallheiser / Getty Images
The climate crisis is a major concern for American voters with nearly 40 percent reporting the issue will help determine how they cast their ballots in the upcoming 2020 presidential election, according to a report compiled by the Yale Program on Climate Change Communication.
Of more than 1,000 registered voters surveyed on global warming, climate and energy policies, as well as personal and collective action, 38 percent said that a candidate's position on climate change is "very important" when it comes to determining who will win their vote. Overall, democratic candidates are under more pressure to provide green solutions as part of their campaign promises with 64 percent of Democrat voters saying they prioritize the issue compared with just 34 percent of Independents and 12 percent of Republicans.
Flooding in Winfield, Missouri this month. Jonathan Rehg / Getty Images
President Donald Trump has agreed to sign a $19.1 billion disaster relief bill that will help Americans still recovering from the flooding, hurricanes and wildfires that have devastated parts of the country in the past two years. Senate Republicans said they struck a deal with the president to approve the measure, despite the fact that it did not include the funding he wanted for the U.S.-Mexican border, CNN reported.
"The U.S. Senate has just approved a 19 Billion Dollar Disaster Relief Bill, with my total approval. Great!" the president tweeted Thursday.
Reed Hoffmann / Getty Images
Violent tornadoes tore through Missouri Wednesday night, killing three and causing "extensive damage" to the state's capital of Jefferson City, The New York Times reported.
"There was a lot of devastation throughout the state," Governor Mike Parson said at a Thursday morning press conference, as NPR reported. "We were very fortunate last night that we didn't have more injuries than what we had, and we didn't have more fatalities across the state. But three is too many."