Follow Live: 6 Greenpeace Activists Aboard Arctic-Bound Shell Oil Rig
Apr. 08, 2015 09:59AM EST
Climate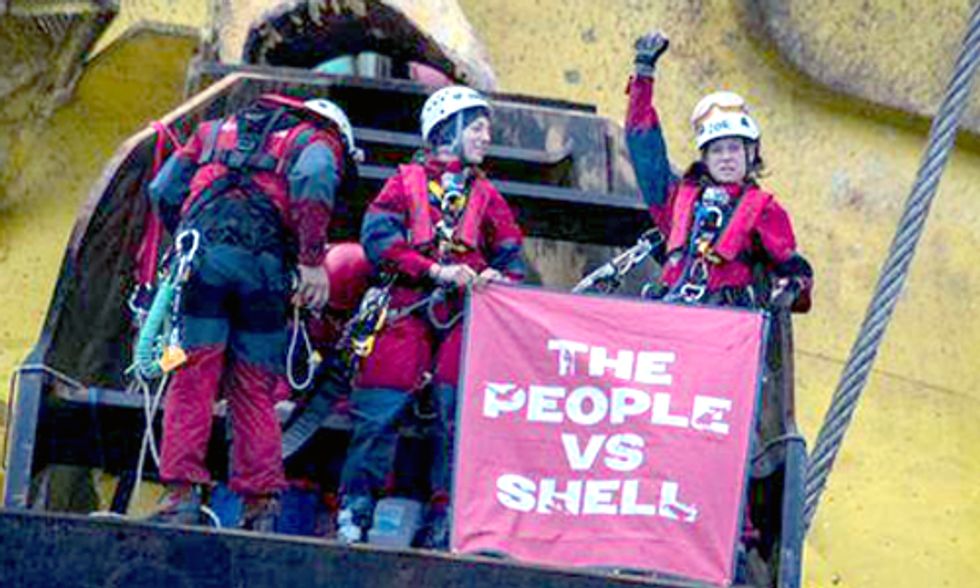 Two days ago, six activists from the Greenpeace ship Esperanza climbed aboard an Arctic-bound Shell oil rig, the Polar Pioneer, in the middle of the Pacific Ocean, 750 miles northwest of Hawaii.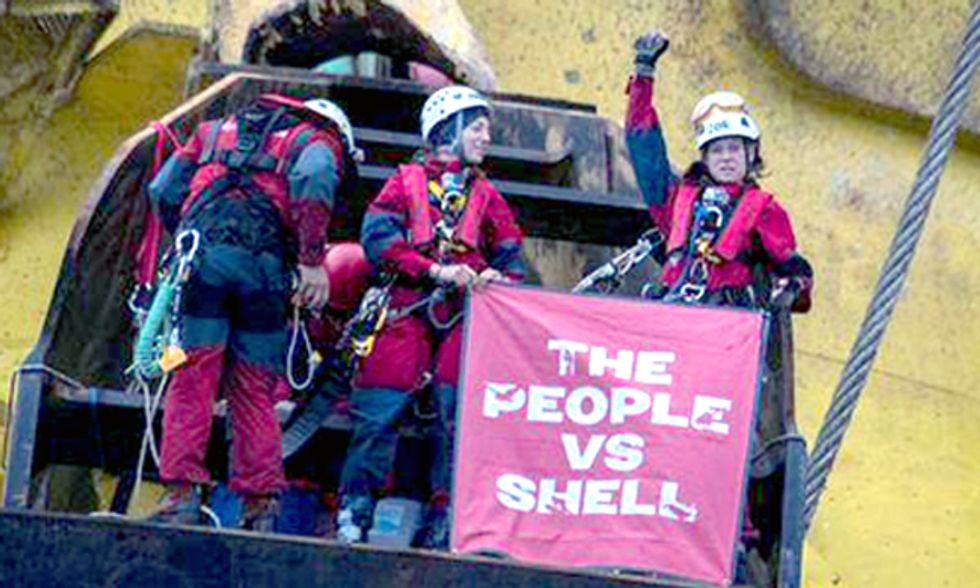 The six volunteers set up camp on the underside of the Polar Pioneer's main deck because last week the U.S. Department of the Interior approved Shell's drilling lease in the Alaskan Arctic.
"We're here to highlight that in less than 100 days Shell is going to the Arctic to drill for oil," said 32-year-old Johno Smith, one of the six to board Shell's Blue Marlin ship.
"Shell's actions are exploiting the melting ice to increase a man-made disaster. Climate change is real," Smith added.
Yesterday, Royal Dutch Shell filed a complaint in federal court in Alaska seeking an order to remove the Greenpeace activists.
The six Greenpeace climbers are equipped with technology which allows them to communication with supporters around the world in real-time, despite being hundreds of miles from land.
Read these tweets to get a sense of what it would be like to be in the middle of the Pacific Ocean aboard an oil rig. For more tweets follow #TheCrossing.
"Shell seeks to remove Greenpeace activists from oil rig" http://t.co/rMvoIFrSPJ via @MailOnline #thecrossing pic.twitter.com/3NzdrYBW5i

— Greenpeace NZ (@GreenpeaceNZ) April 8, 2015
"They're just trying to make their presence known." http://t.co/DjSqTp3FBx #TheCrossing pic.twitter.com/DFcIUxCDe5 — Greenpeace USA (@greenpeaceusa) April 7, 2015
Just received a resupply from @gp_espy. Extra safety equipment, food & water for #TheCrossing https://t.co/OY83Nb3CZt pic.twitter.com/CJSrtt4zQX — Jens (@jens4762) April 7, 2015
It feels like there are a whole lot more of us than the people hanging off this rig #TheCrossing pic.twitter.com/CQjQhpqWd6 — Aliyah Field (@aliyahfield) April 6, 2015
And, watch this segment from the Rachel Maddow show:
YOU MIGHT ALSO LIKE
6 Greenpeace Activists Scale Shell's Oil Rig to Protest Arctic Drilling
Shell's Arctic Drilling Plans Approved by Department of Interior
EcoWatch Daily Newsletter