This website uses cookies to ensure you get the best experience while browsing it. By clicking 'Got It' you're accepting these terms.
Florida State Students Question University's Integrity Amid Koch Contributions and President's Departure
Apr. 09, 2014 01:00PM EST
Students at Florida State University are telling Charles Koch to stop compromising academic integrity with multimillion dollar grants that come with strings attached.
You may recall: Back in 2011, two FSU professors revealed that the Charles Koch Foundation was given inappropriate control over the professor hiring process in the economics department, where millions of dollars were granted from the Kansas billionaire. Three years later, the case still isn't closed on this corporate manipulation of university functions.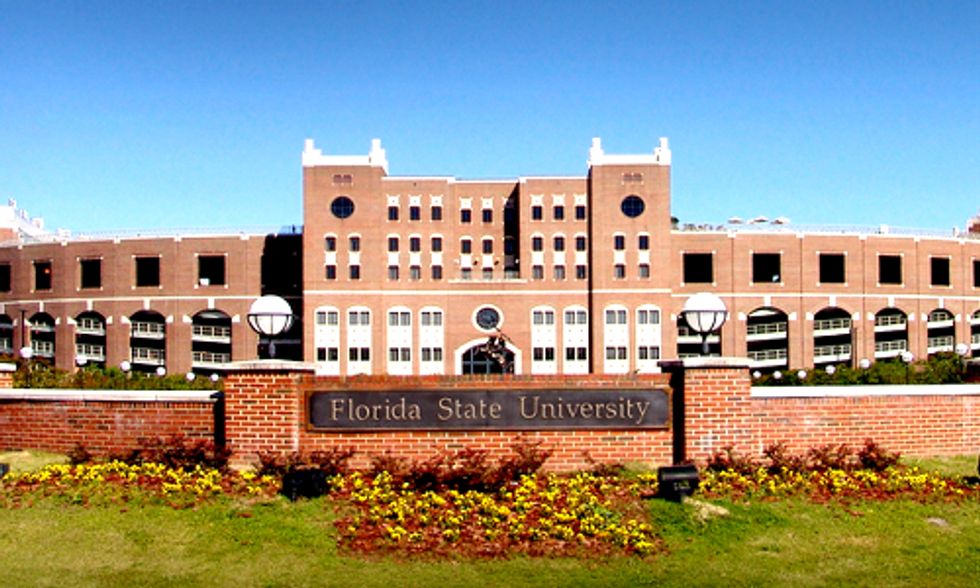 The FSU students write:
Our university's academic integrity has already been compromised from the influence of high-dollar donors like Koch, who managed to assume inappropriate control over our economics department's curriculum and hiring process per an agreement signed in 2008. Three years have passed since FSU professors exposed Koch's financial grip over our school and a committee of faculty senators formally rejected several stipulations of the agreement. Yet, it is clear that the administration refuses to act to appropriately limit outside influence on FSU's educational operations.

A new agreement with Koch, signed by both ex-President Barron and current Interim President Garnett Stokes, still contains many provisions from the original agreement that were explicitly rejected by the faculty senators who reviewed it. Barron himself stated that the initial agreement "did provide the opportunity for outside influence" from Koch. This leads us to question whether the new agreement leaves that influence intact.
The op-ed focuses on the departure of Eric Barron, who is transitioning into the president's office at Penn State University after serving as president of FSU.
Mr. Barron is being celebrated for his expertise in climate science as he cycles into his new position at Penn State (which also gets money from Charles Koch).
Why does this matter? What's the relevance of president Eric Barron's climate change credentials?
Let's start with FSU's economics department. FSU's economics department has received much of the $3,898,657 itemized to FSU in the Charles Koch Foundation's tax filings from 2009 to 2012.
Beyond the well-documented concerns highlighted by FSU students and professors alike, FSU's Koch-funded economics department appears to host professors who are misrepresenting climate science, a field well outside of their credentialed expertise.
Ph.D economist Yoram Bauman has twice reviewed and ranked economics textbooks for how accurately they portray climate change science. Citing top climate science institutions like the Intergovernmental Panel on Climate Change (IPCC) and the U.S. National Academy of Sciences, Dr. Bauman has repeatedly given a failing grade to a widely-used textbook authored by professors from several of the top Koch-funded schools across the country, including FSU. Three of these four authors have direct ties to FSU: One primary author is a current economics professor, one formerly taught in the FSU economics department, and one obtained his economics Ph.D at FSU.
These same four professors, who aren't climate scientists yet authored the worst economics textbooks in regard to climate science misinformation, are affiliated with numerous Koch-funded climate denial organizations. Such affiliations include the Tallahassee-based James Madison Institute, The Heartland Institute, the Property and Environment Research Center (PERC) and the Association for Private Enterprise Education (APEE). These professors are closely affiliated with groups created and directly overseen by the Koch brothers, like the Cato Institute in Washington, DC and the Mercatus Center at George Mason University.
All of these climate denial front groups are affiliated through a Koch-funded umbrella called the State Policy Network. Koch Industries' executives are well-known for dumping tens of millions of dollars into organizations that deny the science or the solutions to global climate change. Now it appears that Koch-funded professors may be an extension of the same political campaign.
FSU students and faculty alike have good reason to ask hard questions about Charles Koch's grants to FSU. Whether or not the Koch money caused or simply encourages such manipulated teaching doesn't matter–lying to students about science is wrong and its one of the key controversial things that KochWorld has a habit of funding.
It is directly contrary to the principles of academic freedom for Koch to walk in and fund departments that then impose a curriculum reflecting Charles Koch's business interests and political strategies. FSU explicitly honors the principles of academic freedom in Koch's crosshairs. FSU students Jerry Funt, Gladys Nobriga, Lissa Reed and Ralph Wilson conclude their opinion piece emphatically:
As students striving to live by the FSU seal of Vires, Artes, and Mores—strength, skill, and character—we'd rather not surrender our character just to serve Charles Koch. Our impartiality is more valuable than his money.
With FSU's outgoing president Eric Barron taking the helm at Penn State University, a good first step would be to ensure that Charles Koch's grants to Penn State aren't affecting the presentation of climate science or other critical topics to the student body.
As a climate scientist, Mr. Barron must know how much is at stake when conversations regarding climate change are polluted executives at companies like Koch Industries, which profit from oil and gas operations.
——–
YOU ALSO MIGHT LIKE
Groundbreaking UN Report Warns Climate Change a Threat to Global Security and Mankind
Supreme Court Chooses Dark Money Billionaires Over Environment in Historic McCutcheon v. FEC Ruling
Florida Congressman Says Climate All-Nighter Was 'Crass' and 'Strange'
Koch Brothers Continue State-by-State Attempts to Stifle Growth of Renewable Energy
——– 
EcoWatch Daily Newsletter
A new report spotlights a U.N. estimate that at least 275 million people rely on healthy coral reefs. A sea turtle near the Heron Island in the Great Barrier Reef is seen above. THE OCEAN AGENCY / XL CATLIN SEAVIEW SURVEY
In a new report about how the world's coral reefs face "the combined threats of climate change, pollution, and overfishing" — endangering the future of marine biodiversity — a London-based nonprofit calls for greater global efforts to end the climate crisis and ensure the survival of these vital underwater ecosystems.
Half of the extracted resources used were sand, clay, gravel and cement, seen above, for building, along with the other minerals that produce fertilizer. Cavan Images / Cavan / Getty Images
The world is using up more and more resources and global recycling is falling. That's the grim takeaway from a new report by the Circle Economy think tank, which found that the world used up more than 110 billion tons, or 100.6 billion metric tons, of natural resources, as Agence France-Presse (AFP) reported.
By Gero Rueter
Heating with coal, oil and natural gas accounts for around a quarter of global greenhouse gas emissions. But that's something we can change, says Wolfgang Feist, founder of the Passive House Institute in the western German city of Darmstadt.

By George Citroner
Recent research finds that official government figures may be underestimating drug deaths by half.
Researchers estimate that 142,000 people died due to drug use in 2016.
Drug use decreases life expectancy after age 15 by 1.4 years for men and by just under 1 year for women, on average.
Government records may be severely underreporting how many Americans die from drug use, according to a new study by researchers from the University of Pennsylvania and Georgetown University.
Water coolers in front of shut-off water fountains at Center School in Stow, MA on Sept. 4, 2019 after elevated levels of PFAS were found in the water. David L. Ryan / The Boston Globe via Getty Images
In a new nationwide assessment of drinking water systems, the Environmental Working Group found that toxic fluorinated chemicals known as PFAS are far more prevalent than previously thought.