Flood Tide for the Climate Movement: How India and California Are Leading the Way
Jan. 10, 2015 11:50AM EST
Climate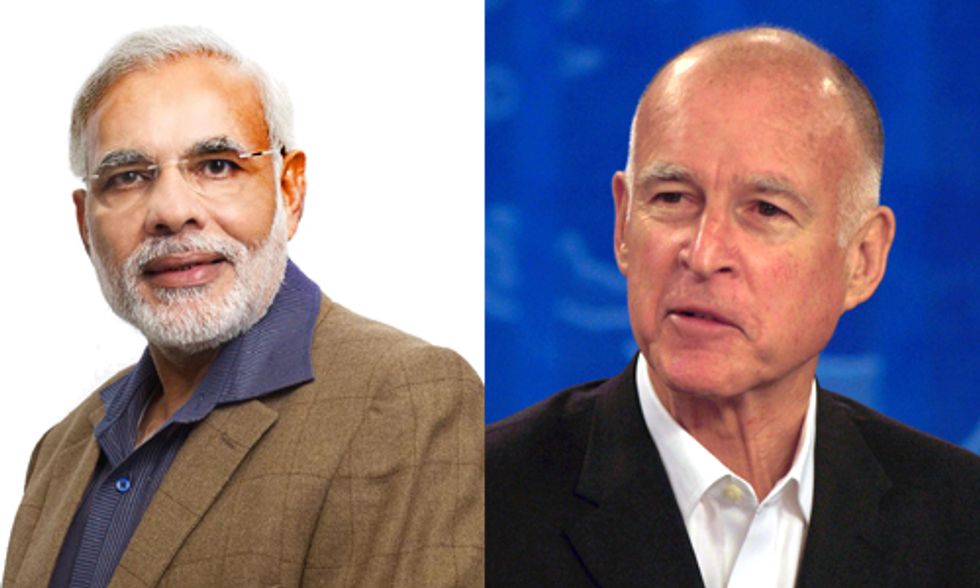 There is a tide in the affairs of men, which taken at the flood leads on to fortune.

Omitted, all the voyage of their life

Is bound in shallows and in miseries.

On such a full sea are we now afloat,

And we must take the current when it serves,

Or lose our ventures.
—Shakespeare, Julius Caesar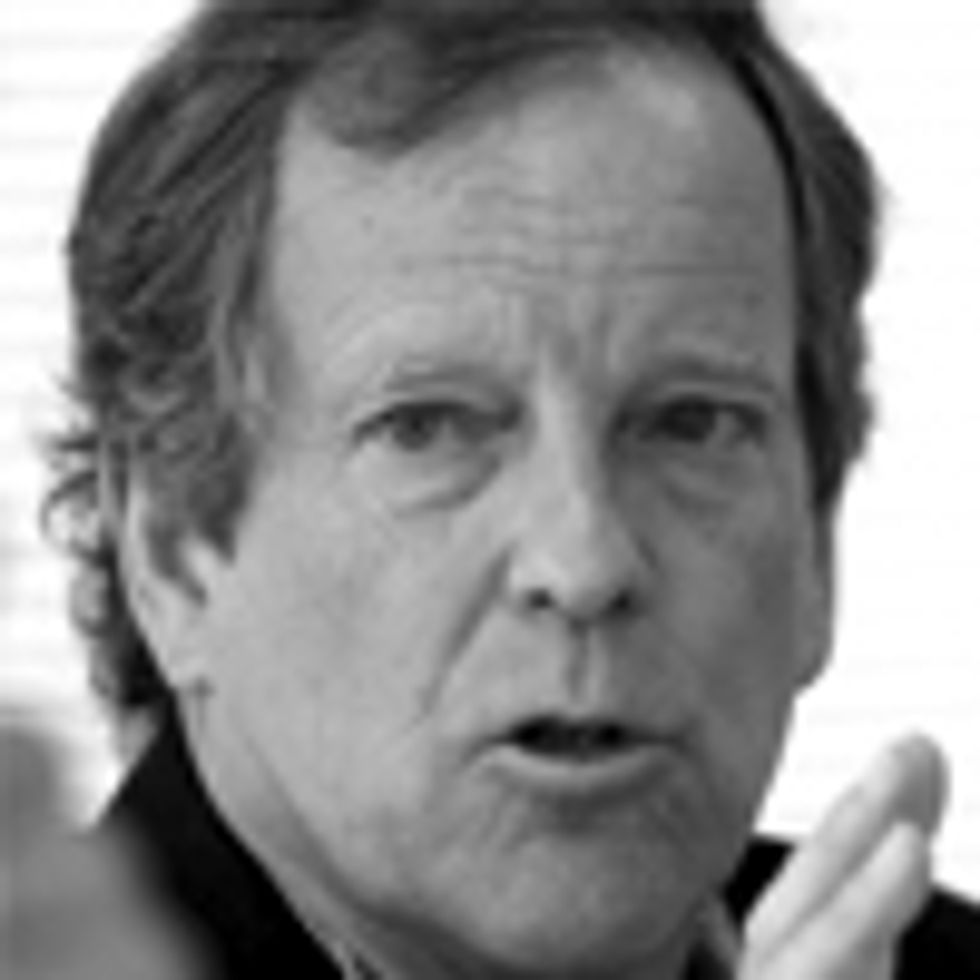 Washington headlines bickering about the Keystone XL pipeline, and acrimonious Republican sniping at the U.S. Environmental Protection Agency's (EPA) proposed initiatives to clean up U.S. power plant carbon pollution shouldn't obscure the exhilarating new reality: the climate battle has moved to a new phase, one in which the scale of the solutions being debated is, for the first time, approaching the scale of the problem.
Look at two events 12,000 miles and two days apart. On Jan. 3, Indian Prime Minister Narendra Modi, who had already pledged rooftop solar for 40 million off-grid houses in five years, and quintupled India's renewable energy program, tripled those goals again. By 2022 India intends to construct 100 GW of solar generating capacity, the largest fleet in the world.
Two days later, here in Sacramento, California Governor Jerry Brown committed the world's seventh largest economy to the world's boldest clean energy goals yet: going from 25 precent to 50 percent renewable electricity by 2030, and—stunningly in the state which birthed the freeway culture—cutting oil consumption by 50 percent by the same date.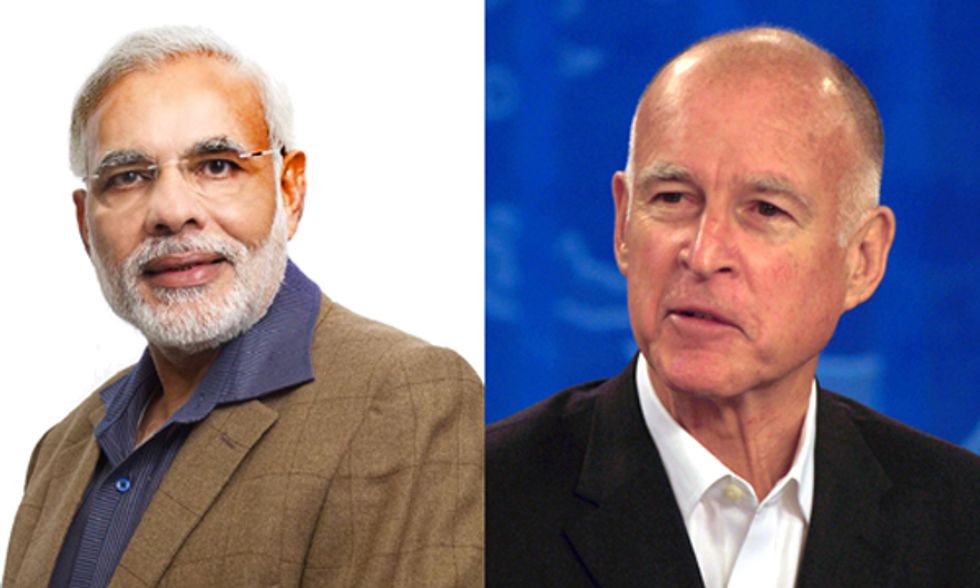 So shocked was the oil industry that all they commented was that they would work with the governor for "solutions that will sustain today's energy and economic realities while protecting both our environment and future energy needs." (Don't hold your breath.)
Brown's and Modi's electricity goals are bold, ambitious and exciting. They will be attacked as expensive and unwise. But they cannot be dismissed as impossible—California has already reached 25 percent renewable electricity, India is producing the world's cheapest solar power, and other countries like Portugal and Denmark have demonstrated that renewable electricity is ready to carry more than half of their power load.
California's oil target is breathtaking. It is what is needed—the latest report on the how much oil we can afford to burn and stay on a 2 degree pathway says that a third of existing global oil reserves must remain underground, including all of such unconventional sources as the deep oceans, the Arctic and tar sands. It is consistent with goals articulated by climate advocates and organizations.
But California—and the world—are starting almost from scratch in seeking fuel diversity in the transportation sector—oil powers more than 90 percent of the world's transport. Both India and the U.S. have enacted tough fuel efficiency standards to reduce petroleum waste. But California State's low-carbon fuel standard and ZEV mandates are only beginning to kick in, and transportation fuels have just been placed under the state's AB32 cap. (Oregon joined California a few days after Brown's speech putting in place requirements the fuels sold in the state have 10 percent less carbon by 2020). Ramping up to a 50 percent reduction in petroleum use by 2030 will require a massive replacement of the state's existing vehicle fleets, engine technologies, transportation infrastructure and fuel networks.
But if California can realize this vision, the odds that the rest of the world moves beyond oil dependency go up staggeringly. Big oil gets this. Houston, Wichita, Calgary and Riyadh have no doubt seen dozens of meetings in the last week about how to crush Brown's vision before the public realizes just how practical it is.
"Mission Impossible" will be the war-cry. "They're going to take your car away" the Koch Brother ads and sound bites will babble. "Renewable power isn't reliable" the coal companies will croak.
The reality is they are losing. Their campaign strategy—which worked for decades—was to mire the public debate down in climate science and risk, and thereby keep action on climate solutions at the "too small to really matter" scale. But they got greedy, and allowed the price of oil and coal to steadily soar. That opened up a market for clean energy that wasn't based on climate protection, although climate security is its most important benefit.  No, Tesla and Solar City – and their Indian counterparts—are powered by the fact that they offered better energy products with cheaper fuels.
Renewable energy investment demonstrated this again in 2014. Even as coal, oil and natural gas prices fell, global investment in renewable energy jumped by 16 percent, and with steadily dropping costs for renewable energy, the volume of new clean energy increased by more than 25 percent.
Now that clean energy technologies have moved to a scale that anyone whose eyes are open can see that we don't necessarily need fossil fuels for much longer, leaders like Modi and Brown—and others around the world—can offer programs that both capture the popular imagination and confront the scale of the energy revolution we need. And as these technologies get bigger, they get cheaper—unlike coal and oil for whom demand growth means ever higher and higher costs.
And things are going badly with on Big Carbon's delaying strategy. The President has announced he will veto a bill that jams Keystone down his throat.  The delay in approving pipelines has forced oil producers to use railroads—and that in turn has slowed the delivery by rail  of coal for power plants reducing coal's market share, and pitting coal and oil producers against each other for rail access. Duke and Dominion Power tried to slow the growth of clean electricity in North Carolina by weakening the requirement that they pay full value for such electrons—the Utility Commission rejected their appeal. China has reduced not only imports of coal, but total consumption. India's biggest private coal developers, including Tata, Adani and Jindal, all refused to bid on two new government mega-imported coal plants, forcing India to cancel the bidding process. Clearly the companies were worried that the economics of importing coal to India no longer work. (Meanwhile Modi is paying for much of his solar initiative with the carbon tax India has levied on coal).
All this means the politics is changing—in both India and the U.S.—Big Carbon rhetoric notwithstanding. For decades the Southern Company—by some measures the biggest U.S. utility—generated 70 percent of its power from coal, ensuring that the politics of Georgia, Florida, Alabama and Mississippi tilted strongly pro-coal. Now, thanks to EPA pollution clean up requirements, Southern is getting only 38 percent of its power from coal, and struggling to keep that level. And American Electric Power, the other biggest coal dinosaur, is considering selling its Ohio coal plants because they no longer make money. As clean power grows, and fossils shrink, the political calculus tilts green.
But when the tide comes, Shakespeare is right—you must seize it. This is time for boldness, a time for vision, and a time above all to concentrate our strength and effort where we can move big ideas and game changing projects. Slow and steady won't win this race.
YOU MIGHT ALSO LIKE
5 Countries Leading the Way Toward 100% Renewable Energy
Caribbean Island Says Goodbye Fossil Fuels, Hello 100% Renewable Electricity
California Governor Calls for 50 Percent Renewable Energy by 2030
Google Earth's latest feature allows you to watch the climate change in four dimensions.
EcoWatch Daily Newsletter
Researchers say there's a growing epidemic of tap water distrust and disuse in the U.S. Teresa Short / Moment Open / Getty Images
By Asher Rosinger
Imagine seeing a news report about lead contamination in drinking water in a community that looks like yours. It might make you think twice about whether to drink your tap water or serve it to your kids – especially if you also have experienced tap water problems in the past.
Why tap wins every time.
Asher Rosinger is an assistant professor of biobehavioral health, anthropology, and demography and director of the Water, Health, and Nutrition Laboratory at Penn State University.

Disclosure statement: Asher Rosinger receives funding from the National Science Foundation on an unrelated project. This work was supported by the Ann Atherton Hertzler Early Career Professorship funds, and the Penn State Population Research Institute (NICHD P2CHD041025). The funders had no role in the research or interpretation of results.
Reposted with permission from The Conversation.
A new report urges immediate climate action to control global warming. John W Banagan / Getty Images
A new report promoting urgent climate action in Australia has stirred debate for claiming that global temperatures will rise past 1.5 degrees Celsius in the next decade.
Winegrowers check vines during the burning of anti-frost candles in the Luneau-Papin wine vineyard in Le Landreau, near Nantes, western France, on April 12, 2021. SEBASTIEN SALOM-GOMIS / AFP via Getty Images
French winemakers are facing devastating grape loss from the worst frost in decades, preceded by unusually warm temperatures, highlighting the dangers to the sector posed by climate change.
"An important share of the harvest has been lost. It's too early to give a percentage estimate, but in any case it's a tragedy for the winegrowers who have been hit," said Christophe Chateau, director of communications at the Bordeaux Wine Council, told CNN.
Climate change, caused by the extraction and combustion of fossil fuels, has pushed winegrowing seasons earlier, putting crops at higher risk of cold — and wildfires supercharged by climate change also threaten American vignerons and farmworkers as well.
"I think it's good for people to understand that this is nature, climate change is real, and to be conscious of the effort that goes into making wine and the heartbreak that is the loss of a crop," Jeremy Seysses of Domaine Dujac in Burgundy's Côte de Nuits told Wine Enthusiast.
As reported by Wine Enthusiast:
Last week, images of candlelit French vineyards flooded social media. Across the country, winemakers installed bougies, or large wax-filled metal pots, among the vines to prevent cold air from settling in during an especially late frost.

With temperatures in early April as low as 22°F, and following an unseasonably warm March, this year's frost damage may be the worst in history for French winegrowers. Every corner of France reports considerable losses, from Champagne to Provence, and Côtes de Gascogne to Alsace. As a result, there will likely be very little French wine from the 2021 vintage reaching U.S. shores.
For a deeper dive:

CNN, Wine Enthusiast, France24, Eater
For more climate change and clean energy news, you can follow Climate Nexus on Twitter and Facebook, sign up for daily Hot News, and visit their news site, Nexus Media News.
From Your Site Articles
Related Articles Around the Web
A recent study focused on regions in Ethiopia, Africa's largest coffee-producing nation. Edwin Remsberg / Getty Images
Climate change could make it harder to find a good cup of coffee, new research finds. A changing climate might shrink suitable areas for specialty coffee production without adaptation, making coffee taste blander and impacting the livelihoods of small farms in the Global South.