This website uses cookies to ensure you get the best experience while browsing it. By clicking 'Got It' you're accepting these terms.
Fixing the Perfect Storm on the Colorado River
Feb. 01, 2012 07:53PM EST
Insights + Opinion

"Fix your eyes on perfection and you can make almost everything speed towards it." -- William Ellery Channing
Over five trillion gallons—that's how much water is drained out of the Colorado River every year leaving it bone stinkin' dry.
I know, I was there.
A couple months ago I stood in the sand about 75 miles south of Mexicali, Mexico and scanned the horizon—sand and barren dirt as far as the eye could see. It's a startling sight, not so much for what you see, but for what you don't. Many decades ago that scene was one of the largest wetlands in North America, nearly two million acres of water and grass and one of the largest desert migratory bird oases on the planet.
We humans, busy as beavers, have dammed, diverted, and drained the Colorado River until there ain't nothing left. The river starts high in the mountains of Colorado and Wyoming, but just feet away from its headwaters also starts the dams and diversions. Of the five trillion gallons, cities and farms in the U.S. take the vast majority of it. A small portion, 10 percent, still flows into Mexico, but then is quickly diverted for cities and farms south of the border.
Please look at this photo. It's real. That's what the majestic Colorado River looks like right now, today, where it used to meet the Gulf of California.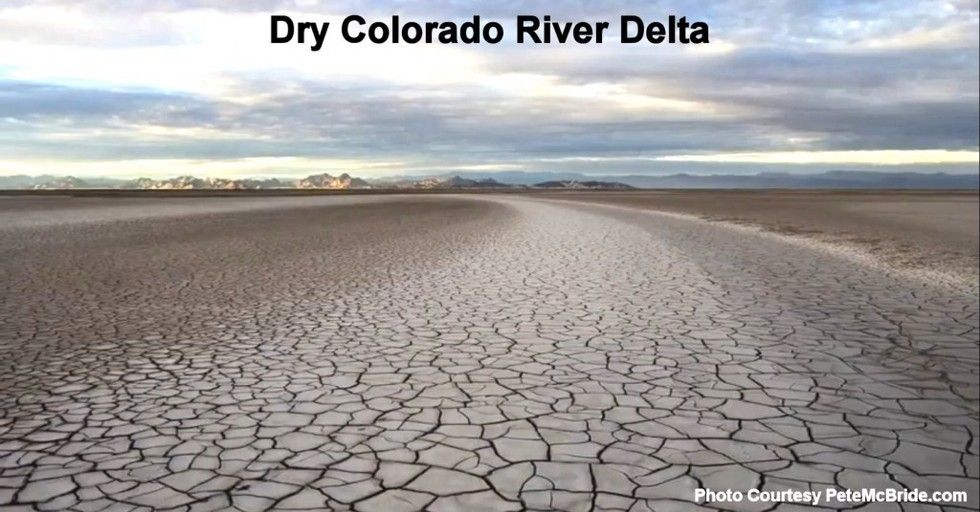 Okay, enough of the doom and gloom, now what can we do about it?
Good news: We can begin to fix this massive ecological problem and your voice will make a difference.
Over the next few months, the United States and Mexico are negotiating a shared agreement so that a very small amount of Colorado River water may once again reach the Gulf of California and help restore the wildlife and economy of this important region. This agreement will respect the rights of all water users, respect the heritage of U.S.-Mexico border relations, and create an extraordinary opportunity to restore the ecology of the Colorado River Delta.
The agreement between the U.S. and Mexico is being negotiated by the International Boundary Waters Commission (which is under the U.S. State Department) and will be administered by the U.S. Department of Interior. Therefore, Secretary Hillary Clinton (State Department) and Secretary Ken Salazar (Interior Department) need to hear from you soon.
I have been working with 25 regional, national, and international conservation organizations up and down the Colorado River basin and put together an online petition we have all signed on to where the public can take action. The petition, hosted by Change.org is here. Please read and sign it today by clicking here.
The bone dry river is real. The potential agreement between the U.S. and Mexico is also real. And the petition will really make a difference -- I have been in contact with the International Boundary Waters Commission, they are aware of the petition, and we will deliver the petition signatures to the commission and respectfully request that they also take action.
With your help, we may all soon be able to stand in the sand 75 miles south of Mexicali and see something different -- a thin line of water, alive and real, racing towards the sea with perfection in its eyes.
Let's begin to fix it. Please sign the petition today -- Click Here.
The following conservation organizations ask for your signature and support: Save the Colorado River, Sierra Club - Rocky Mountain Chapter, Biodiversity Conservation Alliance, Living Rivers: Colorado Riverkeeper, The Environmental Group, Western Rivers Institute, Alexandra Cousteau: Blue Legacy, The Ocean Foundation, Clean Water Fund, San Diego Coastkeeper, Save the Poudre: Poudre Waterkeeper, American Whitewater, Waterkeeper Alliance, Food and Water Watch,Colorado Ocean Coalition, Glen Canyon Institute, Save the Colorado River Delta: Sonoran Institute,Sheep Mountain Alliance, Grand Canyon Trust, American Rivers, Citizens for Dixie's Future, Great Basin Water Network, Redford Center: Red River Film, Planning and Conservation League of California, and Defenders of Wildlife.
--------
Gary Wockner, Ph.D., is the campaign coordinator for the Save the Colorado River campaign. Contact: gary@savethecolorado.org.
EcoWatch Daily Newsletter
Artist's conception of solar islands in the open ocean. PNAS
Millions of solar panels clustered together to form an island could convert carbon dioxide in seawater into methanol, which can fuel airplanes and trucks, according to new research from Norway and Switzerland and published in the Proceedings of the National Academy of Sciences journal, PNAS, as NBC News reported. The floating islands could drastically reduce greenhouse gas emissions and dependence on fossil fuels.
Marcos Alves / Moment Open / Getty Images
More than 40 percent of insects could go extinct globally in the next few decades. So why did the U.S. Environmental Protection Agency (EPA) last week OK the 'emergency' use of the bee-killing pesticide sulfoxaflor on 13.9 million acres?
EcoWatch teamed up with Center for Biological Diversity via EcoWatch Live on Facebook to find out why. Environmental Health Director and Senior Attorney Lori Ann Burd explained how there is a loophole in the The Federal Insecticide, Fungicide, and Rodenticide Act under section 18, "that allows for entities and states to request emergency exemptions to spraying pesticides where they otherwise wouldn't be allowed to spray."
Simple swaps that cut down on kitchen trash.
Sponsored
By Kayla Robbins
Along with the bathroom, the kitchen is one of the most daunting areas to try and make zero waste.
View of downtown Miami, Florida from Hobie Island on Feb. 2, 2019.
Michael Muraz / Flickr
The Democratic candidates for president descended upon Miami for a two-night debate on Wednesday and Thursday. Any candidate hoping to carry the state will have to make the climate crisis central to their campaign, as The New York Times reported.
By Sharon Kelly
On Monday, the Wall Street Journal featured a profile of Scott Sheffield, CEO of Pioneer Natural Resources, whose company is known among investors for its emphasis on drawing oil and gas from the Permian basin in Texas using horizontal drilling and hydraulic fracturing, or fracking.
Pexels
By Craig K. Chandler
The federal government has available to it, should it choose to use them, a wide range of potential climate change management tools, going well beyond the traditional pollution control regulatory options. And, in some cases (not all), without new legislative authorization.
Denis Poroy / Getty Images
By Dan Gray
Processed foods, in their many delicious forms, are an American favorite.
But new research shows that despite increasing evidence on just how unhealthy processed foods are, Americans have continued to eat the products at the same rate.
By Sarah Steffen
With a profound understanding of their environmental surroundings, indigenous communities around the world are often cited as being pivotal to tackling climate change.