This website uses cookies to ensure you get the best experience while browsing it. By clicking 'Got It' you're accepting these terms.
Five Types of Birds Your Grandchildren May Never See But Wish They Could
Aug. 16, 2013 02:53PM EST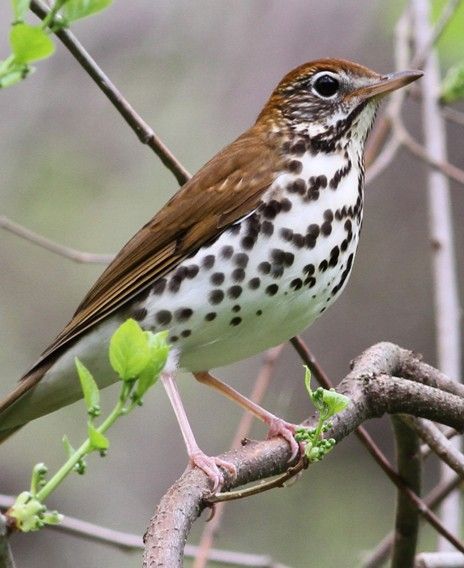 Scientists who have spent decades trying to reverse the broad decline of migratory birds in the Americas will converge by the hundreds later this month in Snowbird, UT, to seek solutions to the threats migratory birds are facing at northern breeding grounds, southern wintering grounds and numerous migration stopovers.
The pivotal Aug. 25–28 meeting of the bird conservation partnership, Partners in Flight (PIF), will look at progress in the struggle to conserve critical habitats, launch new conservation efforts and form new alliances to conserve birds throughout the Americas. The meeting includes members of more than 100 organizations from 16 countries across North, Central and South America.
George Fenwick, president of American Bird Conservancy, says the upcoming meeting could affect the fate of several of the most rapidly declining migratory bird species found in the Western Hemisphere. "The stakes are quite high," said Fenwick. "Many migratory birds are far less common than they were in the early 1990s, when the effort to reverse these broad declines was launched. This is true in part because the details surrounding the migration of many of these birds has been a mystery until recently—and that have made it difficult to take corrective actions."
Fenwick says a number of new conservation measures could be launched or developed at the PIF meeting. If they aren't, Fenwick said, the outlook for migratory bird species will darken, such as for these five that face significant challenges to long-term survival:
1. Cerulean Warbler: A blue and white bird so dazzling that it has been called a "flying piece of sky." It is also the most rapidly declining warbler in the Americas. Breeding bird surveys say that the number of Ceruleans fell by 70 percent from 1966 to 1996. In the Appalachian Mountains, long a breeding stronghold of the species, large amounts of prime Cerulean habitat have been destroyed or fragmented. Unfortunately, Cerulean habitat in mountain forests has been heavily logged and converted to agriculture.
2. Wood Thrush: A bird best known for what the writer Henry David Thoreau described as its "ethereal" song. Since the 1960s, the Wood Thrush population is estimated to have fallen by 62 percent, from 13 million to about 5 million. This bird faces threats to its forest habitat on both its breeding grounds in eastern North America and on wintering grounds in Mexico and Central America.
3. Long-billed Curlew: A large, loud, iconic shorebird that once ranged from west of the Rocky Mountains to the Atlantic Ocean. In the late 1800s, market hunters all but wiped them out. This species is most threatened by rapid loss of grasslands on both its breeding and wintering grounds. For example, in Chihuahua, Mexico, where many of these birds winter, over a million acres of grasslands have been replaced by irrigated farms since 2005.
4. Upland Sandpiper: A foot-tall grassland bird that announces its arrival at its northern breeding grounds with a call said to resemble a "wolf whistle." Stories have been told of flocks so large during the late 1800s that it could take an hour for a single group of "Uppies" to pass overhead. But commercial hunters killed them by the trainload in the late 1800s and early 1900s. In addition, the continental population of Upland Sandpipers never recovered due to habitat loss from the widespread conversion of grasslands into overly grazed ranches and large farms.
5. Kirtland's Warbler: A species that was down to only 167 singing males as recently as 1987. Today, this bird's population has grown 15-fold, and there is hope that the species will avoid extinction. Kirtland's Warblers breed only in specialized habitat of young jack pines. Once these trees grow too big, the warblers leave in search of another stand of young jack pines, which grow in the wake of a forest fire. Breeding Kirtland's Warblers are only found in Michigan in the northern Lower Peninsula and in small numbers in the Upper Peninsula—one of the smallest breeding ranges of any North American bird species. The species winters mostly in the Bahamas. Keeping the Kirtland's Warbler population recovery going will depend on the continuing success of current programs to create young jack pine forests and reduce nest-raiding by Brown-headed Cowbirds.
"The most important aspect of the Partners in Flight meeting will be our focus on the full annual life-cycle of these long-distance travelers," said Ken Rosenberg, a conservation scientist at Cornell Lab of Ornithology and a leader in the PIF initiative. "The actions proposed at the international gathering will affect habitats on these species' tropical wintering grounds as well as their breeding habitats in North America." He added that meeting participants will develop conservation strategies focusing on eight geographically based work sessions.
Terrell D. Rich, Partners in Flight National Coordinator, says that effective bird conservation has got to involve more than just the scientific community. "It's critical that scientists find a way to mobilize the many millions of people who watch and feed birds to become active in bird conservation. We really, really need their help."
"Many of these species need us to take action, now, but the simple truth is that people need them just as much, and probably much more. They are our guardians. Without them, we are lost," said Tom Will, wildlife biologist and PIF coordinator for the Midwest Region of the U.S. Fish and Wildlife Service.
Visit EcoWatch's BIODIVERSITY page for more related news on this topic.
——–
EcoWatch Daily Newsletter
Sen. Michael Bennet (D-CO) speaks during the North American Building Trades Unions Conference at the Washington Hilton April 10, 2019 in Washington, DC. Zach Gibson / Getty Images
Colorado senator and 2020 hopeful Michael Bennet introduced his plan to combat climate change Monday, in the first major policy rollout of his campaign. Bennet's plan calls for the establishment of a "Climate Bank," using $1 trillion in federal spending to "catalyze" $10 trillion in private spending for the U.S. to transition entirely to net-zero emissions by 2050.
When Trump's Environmental Protection Agency (EPA) announced its replacement for the Obama-era Clean Power Plan in August 2018, its own estimates said the reduced regulations could lead to 1,400 early deaths a year from air pollution by 2030.
Now, the EPA wants to change the way it calculates the risks posed by particulate matter pollution, using a model that would lower the death toll from the new plan, The New York Times reported Monday. Five current or former EPA officials familiar with the plan told The Times that the new method would assume there is no significant health gain by lowering air pollution levels below the legal limit. However, many public health experts say that there is no safe level of particulate matter exposure, which has long been linked to heart and lung disease.
A crate carrying one of the 33 lions rescued from circuses in Peru and Columbia is lifted onto the back of a lorry before being transported to a private reserve on April 30, 2016 in Johannesburg, South Africa. Dan Kitwood / Getty Images
By Andrea Germanos
Animal welfare advocates are praising soon-to-be introduced legislation in the U.S. that would ban the use of wild animals in traveling circuses.
A tornado Monday in Union City, Oklahoma.
TicToc by Bloomberg / YouTube screenshot
A woman walks in front of her water-logged home in Sriwulan village, Sayung sub-district of Demak regency, Central Java, Indonesia on Feb. 2, 2018. Siswono Toyudho / Anadolu Agency /Getty Images
Matt Cardy / Stringer / Getty Images
The Guardian is changing the way it writes about environmental issues.
Blueberry yogurt bark. SEE D JAN / iStock / Getty Images Plus
Having nutritious snacks to eat during the workday can help you stay energized and productive.

A 2017 flood in Elk Grove, California. Florence Low / California Department of Water Resources
By Tara Lohan
It's been the wettest 12 months on record in the continental United States. Parts of the High Plains and Midwest are still reeling from deadly, destructive and expensive spring floods — some of which have lasted for three months.
Mounting bills from natural disasters like these have prompted renewed calls to reform the National Flood Insurance Program, which is managed by Federal Emergency Management Agency and is now $20 billion in debt.