Five Reasons Climate Deniers Are Dead Wrong
Here are five common refrains you'll hear from climate naysayers... and why they're dead wrong.
Myth #1: It's only a few degrees
What the naysayers claim: "A few degrees of extra warming? How bad could that be? We shouldn't bother with reducing greenhouse gas emissions."
The reality: Even a global temperature rise of 2 degrees Celsius will disrupt our lives and threaten our economies.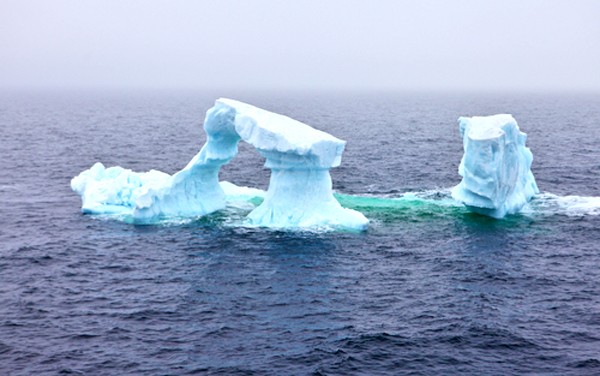 Photo credit: Shutterstock
The world has warmed about 1.5 degrees Fahrenheit since 1880 (that's 0.8 degrees Celsius). That may not sound like much, but only a few degrees is all that has separated us from the unfavorably cold global conditions that the Earth experienced during the last ice age thousands of years ago. Now that we're changing things in the opposite direction, we're already starting to see what a warmer world could have in store for us, For example, California's record drought, which is consistent with scientific studies showing increasingly drier and hotter conditions in the American Southwest, has cost the state's agricultural sector about $1.5 billion and up to 17,100 jobs. And as the saying goes, "No farms, no food." Struggling farmers have already begun adapting by switching production away from water-intensive crops like oranges and almonds, which means more costly and less available produce for the rest of us.
Around the world, intense rainstorms, severe droughts and heat waves are becoming more frequent. Rising seas are damaging homes near the water. Some populations of animals are starting to die out. And that's just 1.5 degrees!
Now consider what could happen if we do nothing to limit the pollution that's causing global warming. The best available estimates say the Earth will warm another 3 to 7 degrees Fahrenheit by 2100 (roughly 2 to 4 degrees Celsius). In other words, the more we pollute, the worse things will get.
Myth 2: It's freaking cold today
What they say: "Did you hear about the record cold snap? It's not even warm out, so let's not waste time and resources on climate change."
Reality: Even with climate change, it still gets cold sometimes. But hot days are happening more often, and the consequences are serious.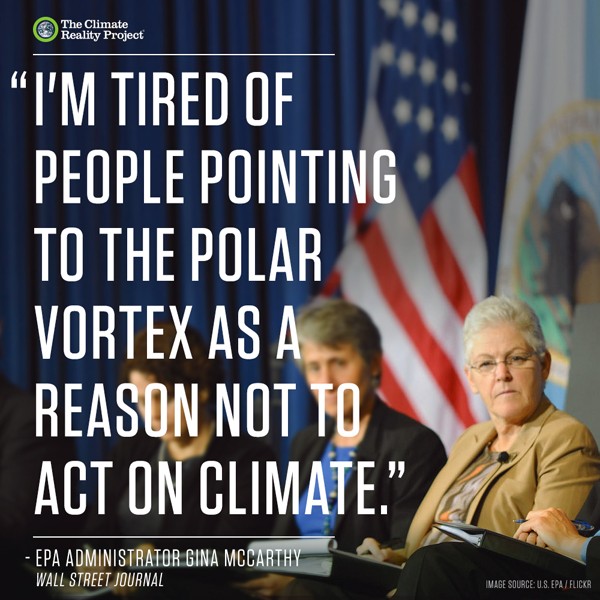 Since 1950, hot days have become more common and cold days have become less common around the world. In the U.S., we're seeing record-high temperatures set more than twice as often as record-cold temperatures. But the bottom line is this: "Less cold" never means "never cold." Cold days will happen less often as the world warms, but they won't go away.
Myth 3: Carbon limits will harm the economy
What naysayers claim: "Cutting carbon emissions will cut growth, cut the GDP and destroy our modern civilization." 
Reality: The worst thing we can do for our economy is sit back and do nothing about climate change.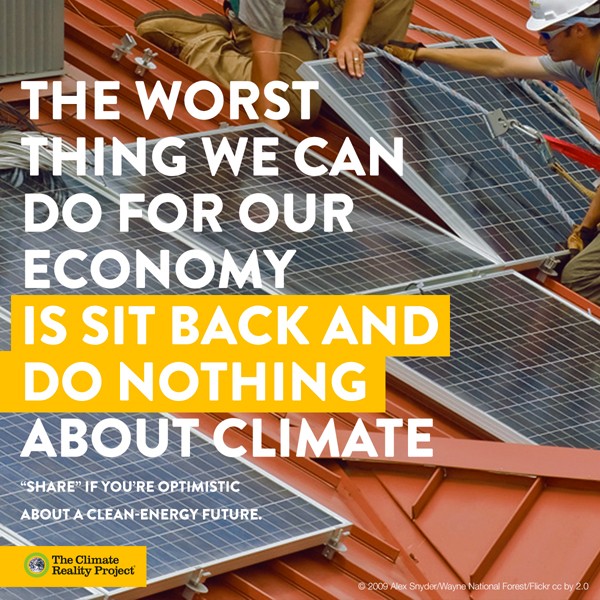 If we don't do anything about climate change, we'll have serious economic problems on our hands. Top economist, Nicolas Stern, estimated that each ton of carbon pollution we put in the air costs society at least $85. Seeing as humans put about 35 billion tons of carbon pollution into the atmosphere every year, the math is pretty simple—and it doesn't look good.
Here's the good news: A shift to a low-carbon economy could add $2.5 trillion to the world economy annually. A recent study showed that in Australia, the solar industry was creating jobs while at the same time reducing electricity costs.
The world is already making the transition. That's why we need to stop with all the arguing, and start pressuring world leaders to make strong commitments to reducing carbon pollution and other greenhouse gas emissions.. The momentum's already building—we just need to act before it's too late.
Myth 4: It's too late
What they say: "Even if we stopped burning coal and oil today, the world would continue to warm. It's too late to do anything about it. Why bother?"
Reality: Climate change is already happening today. How much the climate warms in the future is up to us.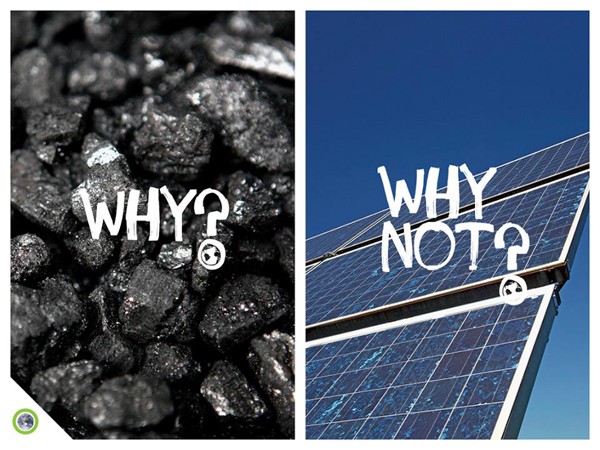 We're already feeling the effects of climate change. But that's precisely why we need to both prepare for the climate change impacts we can't avoid and act quickly to curb the carbon pollution and other greenhouse gases that are causing the problem in the first place. It's not an "either/or" decision—we need to do both. The longer we wait to make the transition to clean energy, the worse this problem will get for our children and future generations. It's our choice.
If you're a young adult today, this is a choice with real consequences for your future. Challenge world leaders to act at AskWhyWhyNot.org.
Myth 5: It's too hard to shift to clean energy.
What they say: "Shifting over to clean energy would require changing our way of life and shutting down our economy, and it wouldn't even solve the problem."
Reality: Is it too hard to go to the moon, eradicate smallpox or end apartheid? Is it too hard to build a computer that fits in your pocket? No? Then it's not too hard to build a clean-energy future, either.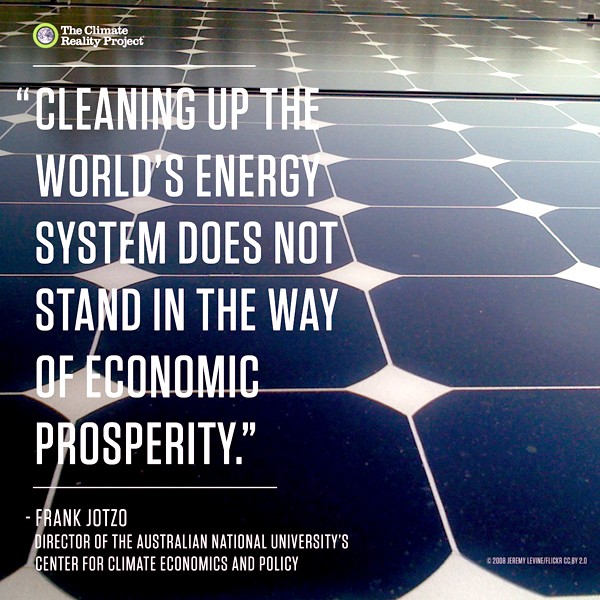 When was the last time we accepted "It's too hard" as an excuse? Is that what they said in the U.S. when President John Kennedy wanted to go to the moon? Is that what they said before the Iron Curtain fell in Eastern Europe? Or before smallpox was eradicated from the face of the earth?
No.
In just the same way, we can't accept "it's too hard" as a reason not to tackle the climate crisis. And the fact is, the solutions are here, right in front of our eyes. Between 2007—2012, electricity generation from both wind and solar grew by over 300 percent in the U.S, and are set to continue growing rapidly over the next two decades. China is already the world's biggest investor in low-carbon energy, already has the most renewable energy installed capacity in the world and is expected to invest an additional $294 billion through 2015, to counter climate change. Further, the country recently announced it will ban coal use in the dense, smoggy capital of Beijing by 2020.
The transition to clean energy won't happen overnight, but it will happen sooner than we think.
If you're in the U.S., you can help accelerate this transition, right here in America the Beautiful. Send the U.S. EPA a message to show your support for its Clean Power Plan.
What's Next?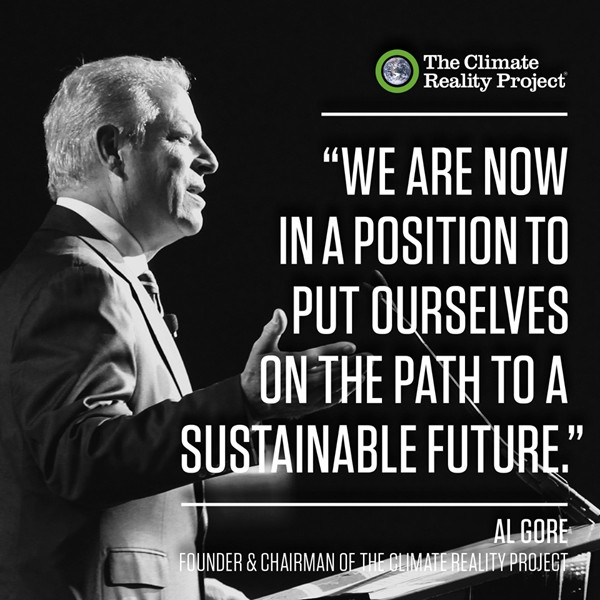 Look, there will always be naysayers. But we can't let them force the rest of us to give up hope. Doing so would prevent the entire world from making progress.
We're on the right track, and if we act soon, we can still achieve a sustainable future where our prosperity is powered by clean energy.
What we do today matters more than ever, so it's your choice: will you give up on solving the most pressing issue of our time? Or will you help us create a better tomorrow for generations to come.
You Might Also Like
Global Warming Deniers Become More Desperate By the Day
The Right to Breathe Fresh Air, Drink Clean Water and Eat Healthy Food
Laurie Woolever
By James O'Hare
There are 20 million people in the world facing famine in South Sudan, Somalia, Nigeria and Yemen. In developed nations, too, people go hungry. Venezuela, for instance, is enduring food insecurity on a national level as a result of economic crisis and political corruption. In the U.S., the land of supposed excess, 12.7 percent of households were food insecure in 2015, meaning they didn't know where their next meal would come from.
Keep reading...
Show less
Melwater, Greenland ice sheet. Diane Tuft
Artists are taking the climate crisis into frame and the results are emotional, beautiful and stirring.
So you've seen the best climate change cartoons and shared them with your friends. You've showed your family the infographics on climate change and health, infographics on how the grid works and infographics about clean, renewable energy. You've even forwarded these official National Oceanic and Atmospheric Administration graphs that explain the 10 clear indicators of climate change to your colleagues at the office.
Keep reading...
Show less
May. 27, 2017 01:11PM EST
As the Trump administration moves full speed ahead on boosting the oil and fossil fuel industry, opposition to increased pipeline construction is cropping up in different communities around the country.
Keep reading...
Show less
May. 27, 2017 01:02PM EST
Minke whale stranding near Havergate Island in Suffolk. MCGA.
By Simon Evans
Last Saturday, two dead whales washed up on the coast of Suffolk, in eastern England, and a third was spotted floating at sea.
What happened next illustrates how news can spread and evolve into misinformation, when reported by journalists rushing to publish before confirming basic facts or sourcing their own quotes.
Keep reading...
Show less
May. 27, 2017 01:22PM EST
By Monica Amarelo and Paul Pestano
Sun safety is a crucial part of any outdoor activity for kids, and sunscreen can help protect children's skin from harmful ultraviolet rays. Kids often get sunburned when they're outside unprotected for longer than expected. Parents need to plan ahead and keep sun protection handy in their cars or bags.
Keep reading...
Show less
May. 27, 2017 01:02PM EST
By Joe McCarthy
A lot of people take part in community clean-up efforts—spending a Saturday morning picking up litter in a park, mowing an overgrown field or painting a fence.
Keep reading...
Show less
May. 26, 2017 03:22PM EST
Rink Glacier in western Greenland, with a meltwater lake visible center. NASA/OIB
Scientists have had their eyes on Greenland as its iconic glaciers have begun disappearing due to a warming climate. But, what they didn't expect to see was a whole new type of melting.
Keep reading...
Show less
May. 26, 2017 03:40PM EST
A coalition of conservation groups and others announced Thursday that a historic number of comments and petitions of support have been submitted to the U.S. Department of the Interior in support of Bears Ears National Monument. Despite the entirely inadequate 15-day comment period ending on May 26, more than 685,000 comments in support of Bears Ears National Monument have been collected.
Keep reading...
Show less


Get EcoWatch in your inbox