This website uses cookies to ensure you get the best experience while browsing it. By clicking 'Got It' you're accepting these terms.
Five Reasons a 'Global Cattle Drive' to China Is a Bad Idea
Apr. 30, 2012 12:55PM EST
GMO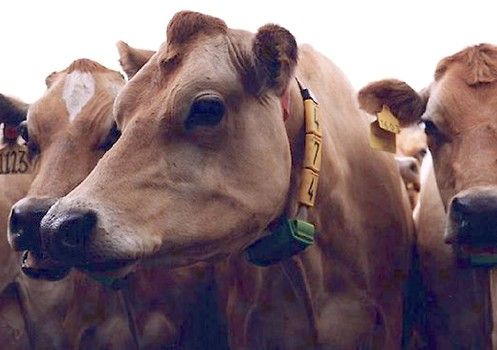 By Wenonah Hauter
The Wall Street Journal reports that China is importing 100,000 heifers—25 ships' worth—to boost domestic dairy production in the wake of melamine and other milk-powder scandals that have decimated China's relatively small dairy industry since 2008.
Where to begin? There are so many problems with this scenario, but here are just five reasons why this is a terribly bad idea:
1) The cows are destined for factory farms. China may be importing the cattle from Uruguay, Australia and New Zealand, but they are importing the model for factory farming from the U.S. The animals' long nightmare starts on a harrowing journey overseas in ships, where they are confined tightly and face multiple health issues that may result in death. Those buried at sea might be the luckiest cattle, because once the animals get through the 45-day quarantine, they will continue their confinement in "football-field-size sheds" that resemble electronics factories more than farms and are milked three times a day on "bovine merry-go-rounds," according to Wall Street Journal reporter Alex Frangos.
The Chinese government has created tax incentives and other policies that favor investors in big dairies. These facilities will widgetize animals in the same model that China has used for electronics and other manufacturing sectors that have made the country an export powerhouse. But the factory farm model has been a failure for public health, the environment and animal welfare in the U.S., just like it will be in China. The only people who will benefit are the investors who aim to concentrate Chinese dairy production. 
2) It's bad for Chinese farmers and relies on genetically modified feed. Policies that favor factory farms and the economic concentration of food production in the hands of a few small producers is bad for Chinese farmers and consumers who want local, farm-raised food. The U.S. factory farm model has already been exported to Europe, thanks to the EU's Common Agricultural Policy (CAP) that has made it very difficult for small farms to thrive. They're even forced to import genetically engineered soy feed because there are no more local feed markets that can compete with these cheap yet dangerous imports.
3) Essential resources are being traded away for profit. A New Zealand farmer was quoted in the Wall Street Journal as saying that selling the country's strong milk producers is like "selling the family silver, you can only do it once." Farmers like Roma Britnell in Australia are selling to Chinese buyers because of the good price and income, which helped her pay down the debt on her farm. Like so-called land grabs, where fertile land is sold out from under farmers and peasants by foreign interests, this is a resource grab that New Zealand's dairy farmers may come to regret if China is successful in becoming a dairy powerhouse.
4) It's already affecting farmers elsewhere. The Wall Street Journal reports that the price of alfalfa, the preferred feedstock for dairy cows, has gone through the roof. Since China doesn't produce it, it needs to import it from the U.S., where the price has doubled in the past year thanks to increased Chinese demand. This is an extra expense for U.S. dairy farmers who are already squeezed thanks to low dairy prices and industry consolidation that favors the biggest producers.
5) This does nothing to address real food safety problems in China. The effort to create a booming domestic dairy industry is a nice PR effort, but by favoring factory farms it won't make the Chinese food system any safer. Further consolidating the food system is a sure-fire way to increase the chance that a problem in one facility can make it halfway around the world before a problem is even detected.
Polices like these that import heifers from around the globe to fuel China's factory farms are just further proof that globalization and the industrialized food system have gone too far.
For more information, click here.
EcoWatch Daily Newsletter
Vegan rice and garbanzo beans meals.
Ella Olsson /
Pexels
One common concern about vegan diets is whether they provide your body with all the vitamins and minerals it needs.
Many claim that a whole-food, plant-based diet easily meets all the daily nutrient requirements.
The Centers for Disease Control (CDC) released new numbers that show vaping-related lung illnesses are continuing to grow across the country, as the number of fatalities has climbed to 33 and hospitalizations have reached 1,479 cases, according to a CDC update.
During the summer, the Arctic tundra is usually a thriving habitat for mammals such as the Arctic fox. Education Images / Universal Images Group via Getty Images
Reports of extreme snowfall in the Arctic might seem encouraging, given that the region is rapidly warming due to human-driven climate change. According to a new study, however, the snow could actually pose a major threat to the normal reproductive cycles of Arctic wildlife.
A fracking well looms over a residential area of Liberty, Colorado on Aug. 19.
WildEarth Guardians / Flickr
Pope Francis flanked by representatives of the Amazon Rainforest's ethnic groups and catholic prelates march in procession during the opening of the Special Assembly of the Synod of Bishops for the Pan-Amazon Region at The Vatican on Oct. 07 in Vatican City, Vatican. Alessandra Benedetti / Corbis News / Getty Images
The Catholic Church "hears the cry" of the Amazon and its peoples. That's the message Pope Francis hopes to send at the Synod of the Amazon, a three-week meeting at the Vatican that ends Oct. 27.
The crowd appears to attack a protestor in a video shared on Twitter by ITV journalist Mahatir Pasha.
VOA News /
Youtube screenshot
Some London commuters had a violent reaction Thursday morning when Extinction Rebellion protestors attempted to disrupt train service during rush hour.
Some fruit drinks may appear to be healthier, but many can have high levels of added sugars. d3sign / Moment / Getty Images
By Kristen Fischer
Though the science has shown sugary drinks are not healthy for children, fruit drinks and similar beverages accounted for more than half of all children's drink sales in 2018, according to a new report.

Donald Trump attends the opening of Red Tiger Golf Course at Trump National Doral on Jan. 12, 2015 in Doral, Florida. Johnny Louis / FilmMagic
Acting White House Chief of Staff Mick Mulvaney made two controversial announcements about the 2020 Group of Seven (G7) summit: it will be hosted at one of President Donald Trump's golf resorts in Miami and it won't feature any discussion of the climate crisis.