Five Facts and One Big Lie: A Closer Look at the Oil Lobby's Keystone XL Jobs Claims
Jan. 13, 2012 12:36PM EST
Energy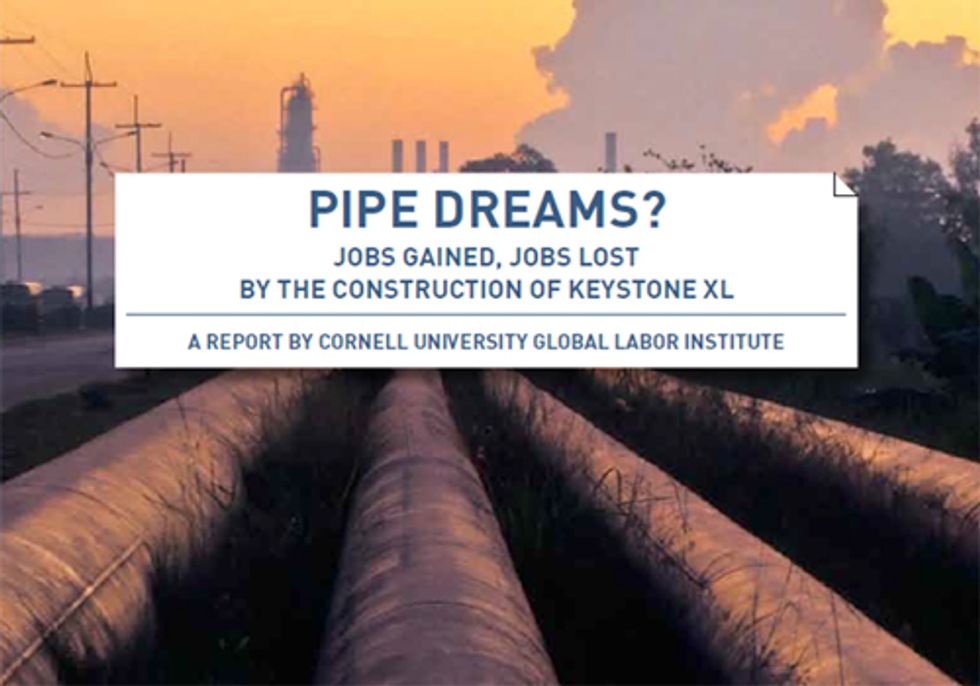 With the 2012 presidential election rapidly approaching, the oil lobby is pushing harder than ever to frame the Keystone XL Pipeline (KXL) as a "job creator." However, TransCanada (the Canadian company behind the pipeline), the American Petroleum Institute (API) and the U.S. Chamber of Commerce have used massively inflated statistics. In fact, KXL would create few permanent jobs.
BIG LIE: KXL Will Create 20,000-465,000 Jobs
U.S. Chamber Of Commerce: KXL Will Create "Up To 250,000" Jobs. In a Jan. 12, 2012, speech, Thomas J. Donohue, President of the U.S Chamber of Commerce, said: "Labor unions and the business community alike are urging President Obama to act in the best interests of our national security and our workers and approve the pipeline. We can put 20,000 Americans to work right away and up to 250,000 over the life of the project." [Donohue Remarks, 1/12/11, via USChamber.com]
American Petroleum Institute: KXL Will Enable "More Than A Half A Million New U.S. Jobs By 2035." In a Jan. 4, 2012, speech API President Jack Gerard said: "We've seen it in the continued delay of the Keystone XL pipeline - the largest shovel-ready project promising 20,000 construction-related jobs over the next two years, enabling more than half a million new U.S. jobs by 2035." [Gerard Remarks, 1/4/12, via API.org]
TransCanada: KXL Will Create 20,000 Jobs In Construction And Manufacturing And 465,000 Jobs Throughout the U.S Economy. In a Jan. 10, 2012, press release, TransCanada claimed: "The $7 billion oil pipeline is the largest infrastructure project on the books in the U.S. right now. It would create 20,000 jobs: 13,000 in construction, 7,000 in manufacturing. [...] As Keystone XL supports oil sands development, the impact on jobs in America becomes even more pronounced. The Canadian Energy Research Institute (CERI) predicts a $521 billion increase in the U.S. gross domestic product and the creation of 465,000 U.S. jobs." [TransCanada, 1/10/12]
FACT 1: Experts Say Those Numbers Are "Meaningless" And "Dead Wrong"
Energy Expert: The Analysis Supporting TransCanada's Claims Is "Dead Wrong." On Oct. 27, 2011, the Council on Foreign Relations' Michael Levi wrote: "The 'economic impact study' [on which the claim of 250,000 permanent jobs is based] in question appears to be a widely cited report by The Perryman Group. ... The Perryman report has been criticized for the claim of 20,000 jobs along the pipeline route. I've seen less criticism of the far more impressive 250,000 number. ... That's a shame, since while the number is being invoked prominently, the analysis upon which it's based is dead wrong. [Council on Foreign Relations, 10/27/11]
Environmental Economist: "These Gross Employment Figures Are Meaningless." On Sept. 9, 2011, environmental economist Andrew Leach wrote: "Sorry, TransCanada—the number which matters and on which decisions should be made is not how many people will be employed building the pipeline and supplying all of the services associated with building it, or the employment tied to the use of the oil transported. These gross employment figures are meaningless. As with GHG's, only net impacts relative to the most likely alternative matter." [Andrew Leach's blog, 9/9/11, emphasis added]
Cornell University Global Labor Institute: TransCanada's Estimate Is "So Opaque As To Make Meaningful Review Impossible." A September 2011 analysis by the Cornell University Global Labor Institute states:
Perryman states that he received this data from TransCanada, but nowhere in the report does he provide the TransCanada input data (for construction expenditures and sourcing of inputs). Perryman does not even present summary detail as to the essentials regarding inputs (such as a breakdown of expenditures into major categories and assumptions regarding whether major inputs such as steel pipe are imported or sourced domestically or imported). Nor does the Perryman report provide adequate detail as to the nature of the job impacts estimated (such as a breakdown between direct, indirect, and induced). In fact, the lack of adequate data and detail render the report so opaque as to make meaningful review impossible. [Cornell University Global Labor Institute, September 2011, emphasis added]
FACT 2: Independent Assessment Found That KXL Jobs Would Create As Few As 50 Permanent Jobs
Cornell University Global Labor Institute: Based On TransCanada's Numbers, "The Project Will Create No More Than 2,500-4,600 Temporary Direct Construction Jobs." From Cornell University Global Labor Institute's report: "A calculation of the direct jobs that might be created by KXL can begin with an examination of the jobs on-site to build and inspect the pipeline. The project will create no more than 2,500-4,650 temporary direct construction jobs for two years, according to TransCanada's own data supplied to the State Department." [Cornell University Global Labor Institute, September 2011]
Cornell: "Almost All" KXL Jobs Will Be Temporary - Permanent U.S. Jobs Could Be "As Few As 50." From Cornell University Global Labor Institute's report: "[I]t is also important to consider that almost all of the jobs (direct, indirect and induced) associated with Keystone XL will, of course, also be temporary. The operating costs for KXL are very minimal, and based on the figures provided by TransCanada for the Canadian section of the pipeline, the new permanent US pipeline jobs in the US number as few as 50. The other operating expenditures (for materials, supplies, services, electric power, property taxes, etc.) would comprise the bulk of operating expenses and would also have some job impacts. So considering a broad range of spin-offs, operating expenditures would have job impacts in the order of around 1,000 per year." [Cornell University Global Labor Institute, September 2011, internal citations removed]
ThinkProgress Graphic Compares TransCanada's Stats With Independent Figures: The following chart from ThinkProgress compares the high-end estimate of Cornell Global Labor Institute's report and the TransCanada-commissioned Perryman Group's estimate: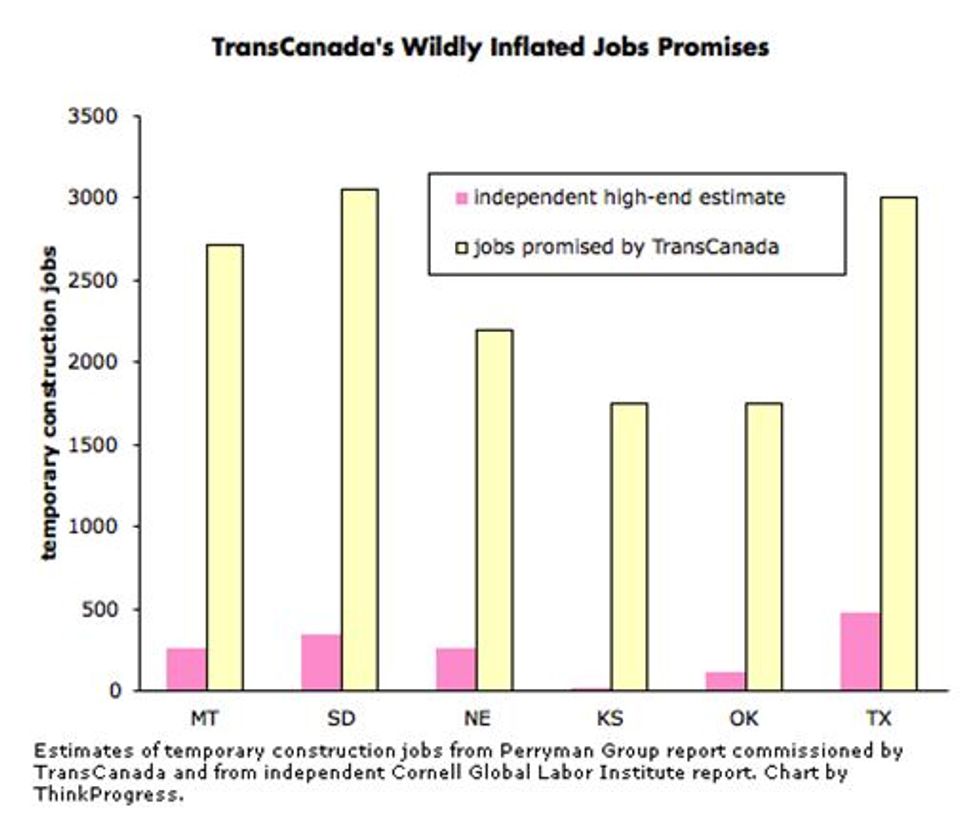 FACT 3: TransCanada's Estimates Include Jobs In Other Countries
CNN: TransCanada's Estimates "Include Jobs In Canada." From a December 14 CNNMoney article:
TransCanada numbers count each job on a yearly basis. If the pipeline employs 10,000 people working for two years, that's 20,000 jobs by the company's count.

The estimates also include jobs in Canada, where about a third of the $7 billion pipeline would be constructed. [CNNMoney,12/14/11]
FACT 4: Even TransCanada Acknowledges That Each Construction Job Will Only Last "One Year."
TransCanada's CEO Acknowledges That Each Job Will Only Last "One Year." According to the Washington Post: "[TransCanada chief executive Russ] Girling that the 13,000 figure was "one person, one year," meaning that if the construction jobs lasted two years, the number of people employed in each of the two years would be 6,500." [Washington Post, 11/5/11]
TransCanada VP: Permanent Jobs "In The Hundreds." On the Nov. 11 edition of CNN's The Situation Room, TransCanada Vice President Robert Jones stated: "We will have an integrated operation with the existing pipeline, so, you know, the numbers are literally technicians and such up and down the line. So you're probably looking in the field from Montana to Houston in the hundreds, certainly not in the thousands, because those are construction jobs." [CNN, The Situation Room, 11/11/11]
FACT 5: TransCanada Admitted They Already Purchased Much Of The Equipment
TransCanada CEO Admitted That $1.9 Million Worth Of Pipe And Equipment Has Already Been Manufactured—And Is Sitting In A Warehouse. According to the Washington Post:
TransCanada chief executive Russ Girling said Friday that the three-year review process has already imposed costs on his company, including $1.9 billion on pipe and other equipment stored in warehouses. [...]

As for the 7,000 indirect supply chain jobs, the $1.9 billion already spent by TransCanada would reduce the number of jobs that would be created in the future. The Brixton Group, a firm working with opponents of the project, has argued that many of the indirect supply jobs would be outside the United States because about $1.7 billion worth of steel will be purchased from a Russian-owned mill in Canada. [Washington Post, 11/5/11]
Cornell Analysis: "About 25 percent Of The KXL Budget Has Already Been Expended." From Cornell University Global Labor Institute's report:
Construction has not yet started on KXL, but there have already been several years of activities preparing for possible construction. According to TransCanada's interim financial statement released on July 28, 2011, the capital cost of the larger Keystone project (made up of the segments already completed and KXL) is $13 billion. Of this $13 billion, $7.9 billion had already been invested by June 30, 2011. Of the $7.9 already invested, U.S. $1.7 billion is related to KXL. So prior to any actual construction, about 25 percent of the KXL budget has already been expended for activities including design, permitting, and materials procurement. [...]

Money already spent in the past few years, plus money budgeted for the Canadian part of KXL, should not be presented as though it were part of future U.S.-related spending pending the approval of the project. The money is gone and the work has been done (or soon will be). This spending will lead to few if any new jobs in the US. Likewise, some (and possibly all) of the money committed, but not yet spent, will be spent even if KXL is not built and should therefore not be considered in the analysis of the incremental spending that will occur should the project be approved. [Cornell University Global Labor Institute, September 2011, emphasis added, internal citations removed]

This piece is reposted with permission from PoliticalCorrection.org.
EcoWatch Daily Newsletter
Related Articles from EcoWatch
Recent Stories from EcoWatch