First Self-Driving, 3D-Printed Smart Bus Hits the Streets of Washington, DC
Public transportation users in Washington, DC, can now hitch a ride on a self-driving, 3D-printed bus.
Olli, created by Arizona-based Local Motors, officially hit the streets of the nation's capital Thursday. Using an app similar to Uber or Lyft, ride-seekers can order the bus to pick them up and drop them off at their destinations of choice.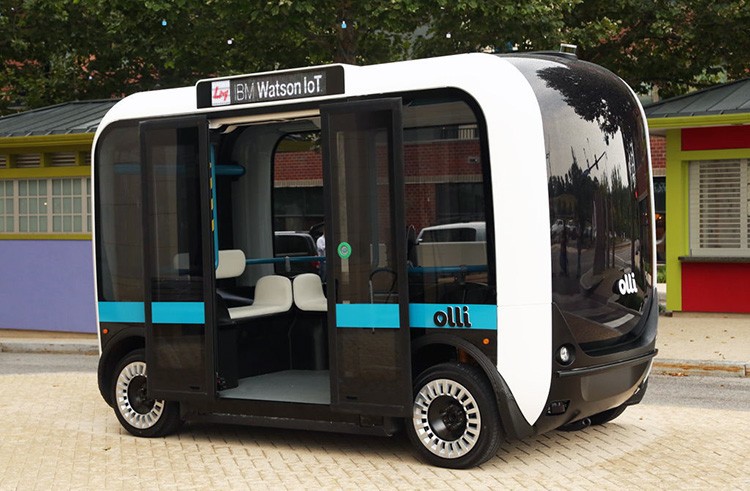 Photo credit: Local Motors
And it gets better. Olli is electric-powered and 3D-printed, reducing the vehicles footprint before and after it hits the road, Local Motors wrote in a release. The bus can even talk to riders.
"Olli offers a smart, safe and sustainable transportation solution that is long overdue," John B. Rogers Jr., Local Motors CEO and co-founder, said.
Local Motors teamed up with IBM Watson Internet of Things, making Olli the first vehicle to have the capability to analyze and learn from transportation data. The self-driving bus is equipped with 30 sensors that collect the data, allowing it to make quick decisions, according to Local Motors. Sensors will be added and adjusted to fit passengers' needs and local preferences.
"Olli with Watson acts as our entry into the world of self-driving vehicles, something we've been quietly working on with our co-creative community for the past year," Rogers said.
Using IBM Watson technology, the bus will be able to answer questions about how it works, where it is going and how it makes decisions, Local Motors said. Passengers will also be able to ask Olli about destinations, such as "Olli, can you take me downtown?"
Local Motors claims Olli can even answer questions about recommendations of local destinations and historical sites.
"Cognitive computing provides incredible opportunities to create unparalleled, customized experiences for customers, taking advantage of the massive amounts of streaming data from all devices connected to the Internet of Things, including an automobile's myriad sensors and systems," Harriet Green, general manager of commerce and education for IBM Watson Internet of Things, said.
Olli has a unique assembly process. Parts of the self-driving bus are created at local 3D printing shops, Inhabitat reported. The parts will be assembled at Local Motors sites.
"We hope to be able to print this vehicle in about 10 hours and assemble it in another hour," Rogers said.
Local Motor's long-term plan is to establish hundreds of micro-factories across the globe, which will produce Ollies designed for local needs. The company has micro-factories—which uses less space, energy and materials—in Berlin, Germany; Chandler, Arizona; Knoxville, Tennessee; and a new one in National Harbor, Maryland.
Despite being just officially introduced, Local Motors is working with dozens of cities in at least 50 countries who are interested in the technology, according to Inhabitat.
The original Olli will stay at Local Motors' Maryland facility for the summer. Interested members of the public can interact with the vehicle at select times throughout the season.
Additional Ollies will be built at the company's headquarters near Phoenix.
Watch Local Motors' video about Olli:
YOU MIGHT ALSO LIKE:
Nation's Largest Residential Solar Storage Project to Launch This Summer
Volkswagen Bets on Electric Cars After Dieselgate
David Suzuki: Feed-In Tariffs Accelerate the Renewable Energy Revolution
Apple Is Generating So Much Renewable Energy It Plans to Start Selling It
www.facebook.com
Keep reading...
Show less
Scott Pruitt testifies during his Senate confirmation hearing for EPA administrator, January 2017.
The U.S. Environmental Protection Agency's (EPA) chief of staff pressured the leader of its Board of Scientific Counselors to change her congressional testimony to downplay the impact of the agency's mass dismissal of scientists from the board, the New York Times reports.
Keep reading...
Show less
By Jason Mark
Sequoiadendron giganteum. That's the scientific name for the giant sequoia: the mammoth trees found in California's Sierra Nevada that are the largest organisms on Earth, and among the longest-lived. Biologists estimate that about half of all sequoias live in Giant Sequoia National Monument, a 328,000-acre preserve in the Southern Sierra Nevada established by President Clinton in 2000.
Now that national monument is in jeopardy.
Keep reading...
Show less
By Andy Rowell
Donald Trump this week is launching an "energy week," pushing the argument that the U.S. will become a net exporter of oil and gas.
The president and his cronies are talking about a new era of "U.S. energy dominance," which could stretch for decades to come. However, no one believes the president anymore.
Keep reading...
Show less
UN
By Colleen Curry
The United Nations has designated 23 new sites around the world to its World Network of Biosphere reserves—stunning natural landscapes that balance environmental and human concerns and strive for sustainability.
The forests, beaches and waterways were added to the list this year at the International Coordinating Council of the Man and the Biosphere Programme meeting in Paris earlier this month.
Keep reading...
Show less
Jun. 26, 2017 01:48PM EST
www.elysee.fr
By Andy Rowell
There is a growing feeling within European capitals that a quiet, but deeply positive, revolution is happening under Emmanuel Macron in France.
Macron's opinion poll rating is high, especially boosted in how the young French president has reacted to Donald Trump on the international stage.
Keep reading...
Show less
Jun. 26, 2017 12:32PM EST
www.facebook.com
Keep reading...
Show less
Jun. 26, 2017 02:46PM EST
Keep reading...
Show less
Jun. 26, 2017 03:34PM EST
www.youtube.com
According to Bloomberg, "SeaWorld Entertainment Inc. received a subpoena earlier this month from regulators investigating disclosures and public statements by executives, including comments about the Blackfish documentary that caused a public backlash against the confinement of orcas.
Keep reading...
Show less


Get EcoWatch in your inbox