This website uses cookies to ensure you get the best experience while browsing it. By clicking 'Got It' you're accepting these terms.


The best of EcoWatch, right in your inbox. Sign up for our email newsletter!
First Self-Driving, 3D-Printed Smart Bus Hits the Streets of Washington, DC
Jun. 19, 2016 10:13AM EST
Popular
Public transportation users in Washington, DC, can now hitch a ride on a self-driving, 3D-printed bus.
Olli, created by Arizona-based Local Motors, officially hit the streets of the nation's capital Thursday. Using an app similar to Uber or Lyft, ride-seekers can order the bus to pick them up and drop them off at their destinations of choice.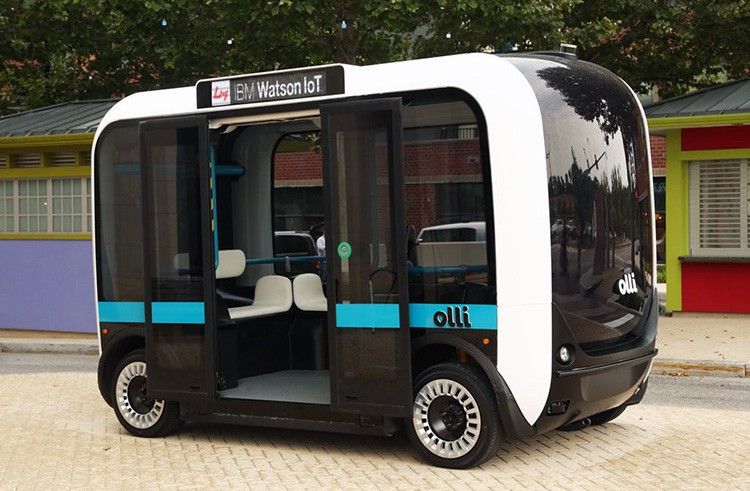 Photo credit: Local Motors
And it gets better. Olli is electric-powered and 3D-printed, reducing the vehicles footprint before and after it hits the road, Local Motors wrote in a release. The bus can even talk to riders.
"Olli offers a smart, safe and sustainable transportation solution that is long overdue," John B. Rogers Jr., Local Motors CEO and co-founder, said.
Local Motors teamed up with IBM Watson Internet of Things, making Olli the first vehicle to have the capability to analyze and learn from transportation data. The self-driving bus is equipped with 30 sensors that collect the data, allowing it to make quick decisions, according to Local Motors. Sensors will be added and adjusted to fit passengers' needs and local preferences.
"Olli with Watson acts as our entry into the world of self-driving vehicles, something we've been quietly working on with our co-creative community for the past year," Rogers said.
Using IBM Watson technology, the bus will be able to answer questions about how it works, where it is going and how it makes decisions, Local Motors said. Passengers will also be able to ask Olli about destinations, such as "Olli, can you take me downtown?"
Local Motors claims Olli can even answer questions about recommendations of local destinations and historical sites.
"Cognitive computing provides incredible opportunities to create unparalleled, customized experiences for customers, taking advantage of the massive amounts of streaming data from all devices connected to the Internet of Things, including an automobile's myriad sensors and systems," Harriet Green, general manager of commerce and education for IBM Watson Internet of Things, said.
Olli has a unique assembly process. Parts of the self-driving bus are created at local 3D printing shops, Inhabitat reported. The parts will be assembled at Local Motors sites.
"We hope to be able to print this vehicle in about 10 hours and assemble it in another hour," Rogers said.
Local Motor's long-term plan is to establish hundreds of micro-factories across the globe, which will produce Ollies designed for local needs. The company has micro-factories—which uses less space, energy and materials—in Berlin, Germany; Chandler, Arizona; Knoxville, Tennessee; and a new one in National Harbor, Maryland.
Despite being just officially introduced, Local Motors is working with dozens of cities in at least 50 countries who are interested in the technology, according to Inhabitat.
The original Olli will stay at Local Motors' Maryland facility for the summer. Interested members of the public can interact with the vehicle at select times throughout the season.
Additional Ollies will be built at the company's headquarters near Phoenix.
Watch Local Motors' video about Olli:
YOU MIGHT ALSO LIKE:
Nation's Largest Residential Solar Storage Project to Launch This Summer
Volkswagen Bets on Electric Cars After Dieselgate
David Suzuki: Feed-In Tariffs Accelerate the Renewable Energy Revolution
Apple Is Generating So Much Renewable Energy It Plans to Start Selling It
EcoWatch Daily Newsletter
Geneva Vanderzeil, A Pair & A Spare / Flickr / CC BY 2.0
Is your closet filled with clothes you don't wear (and probably don't like anymore)? Are you buying cheap and trendy clothing you only wear once or twice? What's up with all the excess? Shifting to a more Earth-conscious wardrobe can help simplify your life, as well as curb fast fashion's toll on people and the planet.
Christine Zenino / Wikimedia Commons / CC BY 2.0

The 18th century St. Catherine of Alexandria church is seen after its bell tower was destroyed following a 6.3 magnitude earthquake that struck the town of Porac, pampanga province on April 23. TED ALJIBE / AFP / Getty Images
At least 16 people have died, 81 are injured and 14 are still missing after an earthquake struck Luzon island in the Philippines Monday, according to the latest figures from the National Disaster Risk Reduction and Management Council, as the Philippine Star tweeted Tuesday.
Climate change activists gather in front of the stage at the Extinction Rebellion group's environmental protest camp at Marble Arch in London on April 22, on the eighth day of the group's protest calling for political change to combat climate change. TOLGA AKMEN / AFP / Getty Images
Pexels
By Alina Petre, MS, RD (CA)
Veganism refers to a way of living that attempts to minimize animal exploitation and cruelty. For this reason, vegans aim to exclude all foods containing meat, poultry, fish, eggs, dairy and honey from their diet (1).
American farmers use chlorpyrifos, a pesticide tied to brain and nervous system issues, on crops such as apples, broccoli, corn and strawberries. Stephanie Chapman / Flickr / CC BY 2.0
By Jessica Corbett
In a ruling welcomed by public health advocates, a federal court on Friday ordered the Trump administration to stop stalling a potential ban on a pesticide linked to brain damage in children, giving regulators until mid-July to make a final decision.
fstop123 / iStock / Getty Images Plus
At EcoWatch, our team knows that changing personal habits and taking actions that contribute to a better planet is an ongoing journey. Earth Day, happening on April 22, is a great reminder for all of us to learn more about the environmental costs of our behaviors like food waste or fast fashion.
To offer readers some inspiration this Earth Day, our team rounded up their top picks for films to watch. So, sit back and take in one of these documentary films this Earth Day. Maybe it will spark a small change you can make in your own life.
NASA
By Shuchi Talati
Solar geoengineering describes a set of approaches that would reflect sunlight to cool the planet. The most prevalent of these approaches entails mimicking volcanic eruptions by releasing aerosols (tiny particles) into the upper atmosphere to reduce global temperatures — a method that comes with immense uncertainty and risk. We don't yet know how it will affect regional weather patterns, and in turn its geopolitical consequences. One way we can attempt to understand potential outcomes is through models.