This website uses cookies to ensure you get the best experience while browsing it. By clicking 'Got It' you're accepting these terms.
First Self-Driving, 3D-Printed Smart Bus Hits the Streets of Washington, DC
Jun. 19, 2016 10:13AM EST
Public transportation users in Washington, DC, can now hitch a ride on a self-driving, 3D-printed bus.
Olli, created by Arizona-based Local Motors, officially hit the streets of the nation's capital Thursday. Using an app similar to Uber or Lyft, ride-seekers can order the bus to pick them up and drop them off at their destinations of choice.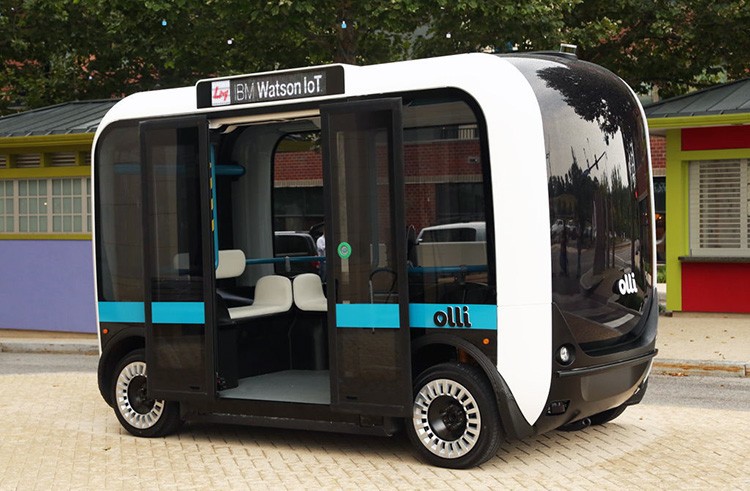 Photo credit: Local Motors
And it gets better. Olli is electric-powered and 3D-printed, reducing the vehicles footprint before and after it hits the road, Local Motors wrote in a release. The bus can even talk to riders.
"Olli offers a smart, safe and sustainable transportation solution that is long overdue," John B. Rogers Jr., Local Motors CEO and co-founder, said.
Local Motors teamed up with IBM Watson Internet of Things, making Olli the first vehicle to have the capability to analyze and learn from transportation data. The self-driving bus is equipped with 30 sensors that collect the data, allowing it to make quick decisions, according to Local Motors. Sensors will be added and adjusted to fit passengers' needs and local preferences.
"Olli with Watson acts as our entry into the world of self-driving vehicles, something we've been quietly working on with our co-creative community for the past year," Rogers said.
Using IBM Watson technology, the bus will be able to answer questions about how it works, where it is going and how it makes decisions, Local Motors said. Passengers will also be able to ask Olli about destinations, such as "Olli, can you take me downtown?"
Local Motors claims Olli can even answer questions about recommendations of local destinations and historical sites.
"Cognitive computing provides incredible opportunities to create unparalleled, customized experiences for customers, taking advantage of the massive amounts of streaming data from all devices connected to the Internet of Things, including an automobile's myriad sensors and systems," Harriet Green, general manager of commerce and education for IBM Watson Internet of Things, said.
Olli has a unique assembly process. Parts of the self-driving bus are created at local 3D printing shops, Inhabitat reported. The parts will be assembled at Local Motors sites.
"We hope to be able to print this vehicle in about 10 hours and assemble it in another hour," Rogers said.
Local Motor's long-term plan is to establish hundreds of micro-factories across the globe, which will produce Ollies designed for local needs. The company has micro-factories—which uses less space, energy and materials—in Berlin, Germany; Chandler, Arizona; Knoxville, Tennessee; and a new one in National Harbor, Maryland.
Despite being just officially introduced, Local Motors is working with dozens of cities in at least 50 countries who are interested in the technology, according to Inhabitat.
The original Olli will stay at Local Motors' Maryland facility for the summer. Interested members of the public can interact with the vehicle at select times throughout the season.
Additional Ollies will be built at the company's headquarters near Phoenix.
Watch Local Motors' video about Olli:
YOU MIGHT ALSO LIKE:
Nation's Largest Residential Solar Storage Project to Launch This Summer
Volkswagen Bets on Electric Cars After Dieselgate
David Suzuki: Feed-In Tariffs Accelerate the Renewable Energy Revolution
Apple Is Generating So Much Renewable Energy It Plans to Start Selling It
Plus, learn if there's one that's best for your health.
Catherine Falls Commercial / Moment / Getty Images
An invasive Amynthas worm, also known as a crazy snake worm, Asian jumping worm and Alabama jumper Tom Potterfield / Flickr
By Jason Bittel
My wife and I built a house two years ago on a few acres of woodland outside of Pittsburgh. The backyard is full of maples, poplars, briars and common spicebush. Two-lined salamanders and grumpy-looking crayfish wade among the rocks in the small stream that runs down the edge of the property. Deer, raccoon and opossum tracks appear regularly in the snow and mud. Sometimes, my trail-cam even catches a pair of gray foxes as they slink through the night.
AleksandarNakic / Getty Images
By Kate Murphy
No matter the time of year, there's always a point in each season when my skin decides to cause me issues. While these skin issues can vary, I find the most common issues to be dryness, acne and redness.

David Woodfall / The Image Bank / Getty Images
By Sam Nickerson
The U.S. Environmental Protection Agency (EPA) in April 2018 proposed relaxing standards related to how it assesses the effects of exposure to low levels of toxic chemicals on public health.
Now, correspondence obtained by the LA Times revealed just how deeply involved industry lobbyists and a controversial, industry-funded toxicologist were in drafting the federal agency's proposal to scrap its current, protective approach to regulating toxin exposure.
Steve Irwin poses with a three foot long alligator at the San Francisco Zoo on June 26, 2002. Justin Sullivan / Getty Images
February 22 is the birthday of conservationist and beloved TV personality "Crocodile Hunter" Steve Irwin, who would have been 57 years old today.
Irwin's life was tragically cut short when the barb from a stingray went through his chest while he was filming in 2006, but his legacy of loving and protecting wildlife lives on, most recently in a Google Doodle today honoring his birthday.