This website uses cookies to ensure you get the best experience while browsing it. By clicking 'Got It' you're accepting these terms.
First-of-its-Kind Map Details Extent of Plastic in Five Ocean Gyres
Jul. 16, 2014 04:24PM EST
Oceans
When a research team set sail on a nine-month, worldwide expedition in 2010 to study the impact of global warming on Earth's oceans, one of their projects was to locate the accumulations of plastic.
They found plenty. They explored the five huge gyres, which collectively contain tens of thousands of tons of plastic. The result was the creation of a compelling, first-of-its-kind map of this debris.

But in the process, they realized that the plastic in the gyres didn't begin to account for the enormous amount of plastic that's been manufactured since the mass production of plastic began in the mid 1940s.
In a National Geographic report, marine biologist Andres Cozar Cabañas, who was part of the Malaspina expedition led by the Spanish National Research Council, said:
"Our observations show that large loads of plastic fragments, with sizes from microns to some millimeters, are unaccounted for in the surface loads. But we don't know what this plastic is doing. The plastic is somewhere—in the ocean life, in the depths or broken down into fine particles undetectable by nets."
While there's been considerable alarm raised about these gyres of floating plastic, the missing plastic could be having negative impacts we don't yet know about. As National Geographic reports, the study of marine plastic debris is new, dating back only to 2004, when British marine biologist Richard Thompson concluded that most ocean debris is, in fact, plastic.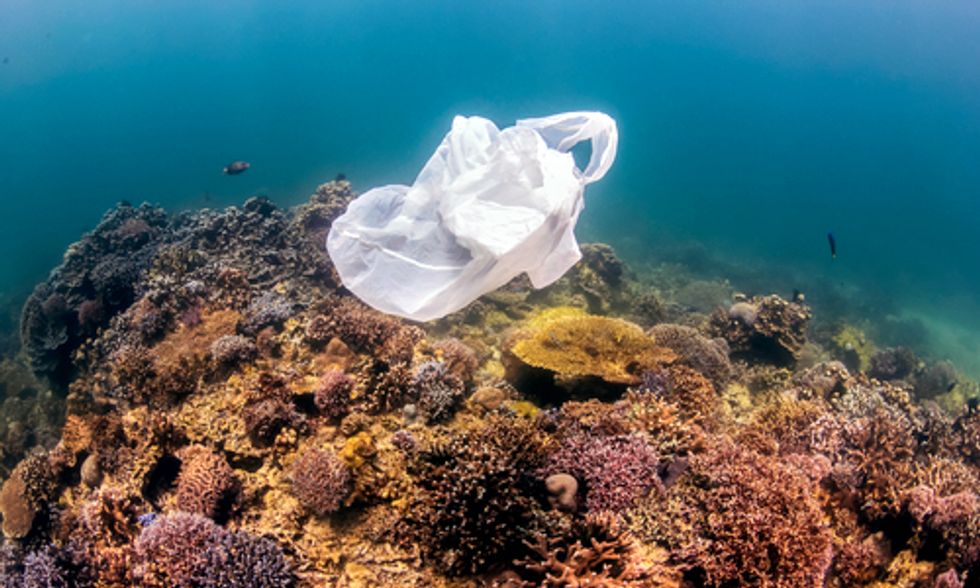 Photo credit: Shutterstock
The discovery of the missing plastic raises a host of questions. Oceanographer Kara Lavender Law of the Cape Cod-based Sea Education Association, part of a team currently researching issues surrounding marine debris, told National Geographic:
"We are at the very early stages of understanding the accounting. If we think ten or a hundred times more plastic is entering the ocean than we can account for, then where is it? We still haven't answered that question. And if we don't know where it is or how it is impacting organisms, we can't tell the person on the street how big the problem is."
Among the possibilities: it's being consumed by small fish that are eaten by larger fish caught for human consumption, such as tuna and swordfish, and ending up in the human food system. Or it could be finding its way into the ecosystem of the world's least explored region, the deep ocean.
"Sadly, the accumulation of plastic in the deep ocean would be modifying this enigmatic ecosystem before we can really know it," said Cozar.
EcoWatch Daily Newsletter
Doctors report that only 1 in 4 children are getting the recommended 60 minutes of physical activity per day. Ronnie Kaufman / DigitalVision / Getty Images
By Dan Gray
Pediatricians are being urged to start writing "exercise prescriptions" for the children they see in their office.
A First Nations protester walks in front of a train blockade in Tyendinaga, near Belleville, Ontario, Canada on Feb. 21, 2020. LARS HAGBERG / AFP via Getty Images
An indigenous rail blockade that snarled train travel in Canada for more than two weeks came to an end Monday when police moved in to clear protesters acting in solidarity with another indigenous community in British Columbia (B.C.), which is fighting to keep a natural gas pipeline off its land.
A rainbow snake, a rare reptile spotted in a Florida county for the first time in more than 50 years, seen here on July 5, 2013.
Kevin Enge / FWC Fish and Wildlife Research Institute / Flickr
A Florida hiker recently stumbled across a slithering surprise — a rare snake that hadn't been spotted in the area for more than 50 years.
We need our government to do everything it can to stop PFAS contamination and exposure from wreaking havoc in communities across the country. LuAnn Hun /
Unsplash
By Genna Reed
The EPA announced last week that it is issuing a preliminary regulatory determination for public comment to set an enforceable drinking water standard to two of the most common and well-studied PFAS, PFOA and PFOS.
This decision is based on three criteria:
PFOA and PFOS have an adverse effect on public health
PFOA and PFOS occur in drinking water often enough and at levels of public health concern;
regulation of PFOA and PFOS is a meaningful opportunity for reducing the health risk to those served by public water systems.
Charging EVs in Stockholm: But where does a dead battery go? Ranjithsiji / Wikimedia Commons
By Kieran Cooke
Driving an electric-powered vehicle (EV) rather than one reliant on fossil fuels is a key way to tackle climate change and improve air quality — but it does leave the old batteries behind as a nasty residue.