This website uses cookies to ensure you get the best experience while browsing it. By clicking 'Got It' you're accepting these terms.
First-of-it-Kind Supermarket Sells Expired Food, And It's a Hit
Mar. 06, 2016 12:28PM EST
Food
In an effort to stamp down on food waste, Denmark has opened a supermarket that exclusively sells food that's usually meant for the dumpster.
WeFood, in Amager, Copenhagen, sells bread, fruits, vegetables, dairy, meats, frozen goods and dry foods that are past its official expiration date as well as household goods with slight imperfections or damaged packaging, according to The Local Denmark. Prices at the store are 30 to 50 percent cheaper compared to any other supermarket in the city.
The new venture came out of successful crowdfunding as well as partnerships with large and small Danish grocers and manufacturers who help stock WeFood's shelves with their perfectly edible but rejected food.
"WeFood is the first supermarket of its kind in Denmark and perhaps the world as it is not just aimed at low-income shoppers but anyone who is concerned about the amount of food waste produced in this country," Per Bjerre from DanChurch Aid, the NGO behind the market, said at the store's Feb. 22 grand opening.
"Many people see this as a positive and politically correct way to approach the issue."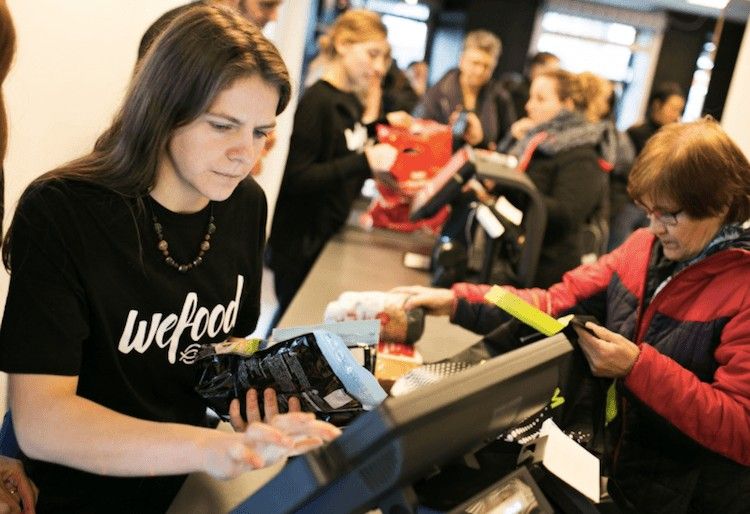 Customers of all socio-economic backgrounds have filed into WeFood since its grand opening last month. Photo credit: WeFood
The supermarket is run by volunteers and profits will go to the charity's projects in developing countries such as South Sudan and Bangladesh, the Huffington Post reported.
The store has been a hit, as NPR reported, with folks lining the store's sidewalk since doors opened.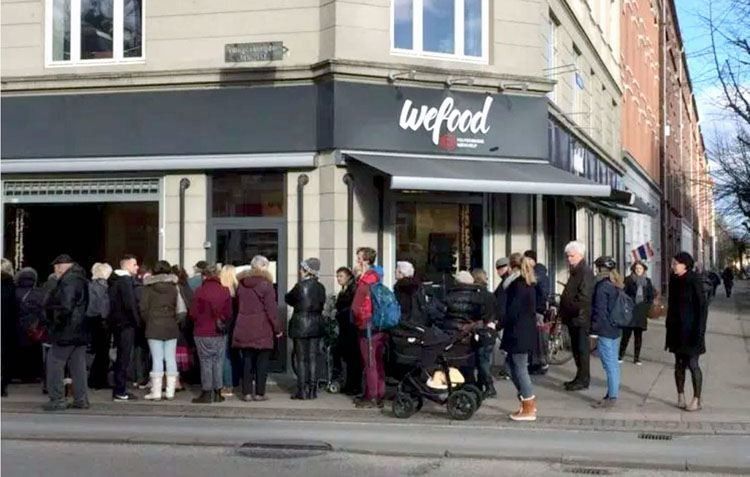 Bjerre explained to NPR that while some of WeFood's customers are low-income people looking for a deal, most customers frequent the store for more political reasons. It so happens that Danes are in the midst of a country-wide anti-food waste movement and shop for surplus food like a national pastime, as NPR noted in a separate report.
Denmark's own Princess Marie and food and environment minister Eva Kjer Hansen also helped inaugurate WeFood's launch.
"It's ridiculous that food is just thrown out or goes to waste. It is bad for the environment and it is money spent on absolutely nothing. A supermarket like WeFood makes so much sense and is an important step in the battle to combat food waste," Hansen said at the store's opening.
Denmark has already made impressive strides in cutting food waste, reducing its volume by 25 percent over the past five years. For comparison's sake, the average Danish person throws out 104 pounds of food per year whereas the average American throws out more than double the amount at 273 pounds per year.
Still, an estimated 700,000 tonnes of food is thrown out in Denmark every year costing the country 11.6 billion kroner (roughly $1.7 billion) per year, WeFood points out on its website.
"The new supermarket with surplus food is a good start in the fight against food and resource waste. But there are still barriers and rules that do nothing for food safety but make it difficult to give surplus food away," Hansen said, adding that she plans to have further discussions about European Union food rules with her European colleagues.
Quartz reported that it "took a fair amount of legislative wrangling" to set up the store.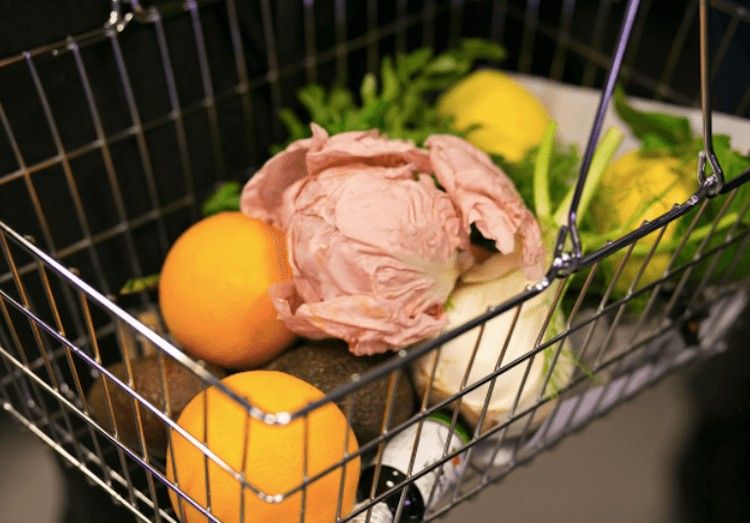 WeFood sells perfectly edible fruit and vegetables with slight imperfections at prices 30 to 50 percent cheaper than conventional supermarkets in the city. Photo credit: WeFood
Food waste is not only absurd in a world where there are 793 million people who are undernourished globally, according to the FAO, it's also a major environmental problem. As EcoWatch Insights writer Dr. David Suzuki pointed out:
Every year a staggering one-third—1.3 billion tons—of the world's food is wasted after it has been harvested: 45 percent of fruit and vegetables, 35 percent of fish and seafood, 30 percent of cereals, 20 percent of dairy products and 20 percent of meat. Food waste ends up in landfills, increasing methane emissions and contributing significantly to climate change. A recent study found Americans waste close to $200 billion on uneaten food while Canadians throw away $31 billion.
These figures only account for 29 percent of the full cost of waste. They don't include factors such as labor, fuel to transport goods to global markets, inefficiency losses from feed choices used to produce meat and fish or food left unharvested.
The United Nations Environment Programme estimated that food waste is responsible for adding 3.3 billion tonnes of greenhouse gases to the planet's atmosphere.
In the U.S., consumers are often faced with a bewildering date labeling system that's meant to guarantee food safety but is actually a major driver of unnecessary food waste. According to a survey by the Food Marketing Institute, confusion about date labels leads 9 out of 10 Americans to needlessly throw away food.
Another chunk of the food waste pie belongs to the tons of fruits and vegetables that are discarded en route to the market simply because they have a few blemishes, scrapes or come in unusual shapes.
Every year some 2.9 trillion pounds of food—about a third of all that the world produces—never get consumed, according to the World Economic Forum. The Conversation explains:
Thanks to global abundance and international trade, supermarkets can now be more selective. Much of the food deemed ugly is damaged on long boat trips—literally a fruitless journey—while ugly produce grown closer to home is also rejected, imposing harsh conditions on farmers.
Why is a perfectly edible and nutritious produce getting thrown out? As the World Economic Forum pointed out, "the argument goes that as consumers we demand perfectly sized and shaped food," adding that accepting imperfect fruits and veggies are an important part of a much-needed change in habits and attitudes in order to combat food waste.
European countries are clamping down on this wasteful and expensive problem. The EU and its member states have a target to halve per capita food waste at the retail and consumer level by 2030, and reduce food losses along the food production and supply chains.
Several countries and grocers have already taken efforts to slash food waste. Upscale British retailer Marks & Spencer has pledged to cut food waste from its stores by a fifth by 2020, and is donating surplus food to local charities and food banks. Last month, France banned its supermarkets from throwing away or spoiling unsold food, and required the stores to donate unwanted food to charities and food banks. In 2014, Intermarché—France's third largest supermarket chain—decided to feature so-called "ugly" fruits and vegetables in their stores in an effort to reduce food waste.
Bjerre told NPR if all goes well, Danes can expect more WeFoods to open around the country.
YOU MIGHT ALSO LIKE
8 Processed Foods You Can Easily Make at Home From Scratch
No, GMO Labeling Won't Increase Food Prices
Nation's First Vegan-Certified Farm Is Booming in Philly
EcoWatch Daily Newsletter
Sen. Michael Bennet (D-CO) speaks during the North American Building Trades Unions Conference at the Washington Hilton April 10, 2019 in Washington, DC. Zach Gibson / Getty Images
Colorado senator and 2020 hopeful Michael Bennet introduced his plan to combat climate change Monday, in the first major policy rollout of his campaign. Bennet's plan calls for the establishment of a "Climate Bank," using $1 trillion in federal spending to "catalyze" $10 trillion in private spending for the U.S. to transition entirely to net-zero emissions by 2050.
When Trump's Environmental Protection Agency (EPA) announced its replacement for the Obama-era Clean Power Plan in August 2018, its own estimates said the reduced regulations could lead to 1,400 early deaths a year from air pollution by 2030.
Now, the EPA wants to change the way it calculates the risks posed by particulate matter pollution, using a model that would lower the death toll from the new plan, The New York Times reported Monday. Five current or former EPA officials familiar with the plan told The Times that the new method would assume there is no significant health gain by lowering air pollution levels below the legal limit. However, many public health experts say that there is no safe level of particulate matter exposure, which has long been linked to heart and lung disease.
A crate carrying one of the 33 lions rescued from circuses in Peru and Columbia is lifted onto the back of a lorry before being transported to a private reserve on April 30, 2016 in Johannesburg, South Africa. Dan Kitwood / Getty Images
By Andrea Germanos
Animal welfare advocates are praising soon-to-be introduced legislation in the U.S. that would ban the use of wild animals in traveling circuses.
A tornado Monday in Union City, Oklahoma.
TicToc by Bloomberg / YouTube screenshot
A woman walks in front of her water-logged home in Sriwulan village, Sayung sub-district of Demak regency, Central Java, Indonesia on Feb. 2, 2018. Siswono Toyudho / Anadolu Agency /Getty Images
Matt Cardy / Stringer / Getty Images
The Guardian is changing the way it writes about environmental issues.
Blueberry yogurt bark. SEE D JAN / iStock / Getty Images Plus
Having nutritious snacks to eat during the workday can help you stay energized and productive.

A 2017 flood in Elk Grove, California. Florence Low / California Department of Water Resources
By Tara Lohan
It's been the wettest 12 months on record in the continental United States. Parts of the High Plains and Midwest are still reeling from deadly, destructive and expensive spring floods — some of which have lasted for three months.
Mounting bills from natural disasters like these have prompted renewed calls to reform the National Flood Insurance Program, which is managed by Federal Emergency Management Agency and is now $20 billion in debt.