This website uses cookies to ensure you get the best experience while browsing it. By clicking 'Got It' you're accepting these terms.
First-of-it-Kind Supermarket Sells Expired Food, And It's a Hit
Mar. 06, 2016 12:28PM EST
Food
In an effort to stamp down on food waste, Denmark has opened a supermarket that exclusively sells food that's usually meant for the dumpster.
WeFood, in Amager, Copenhagen, sells bread, fruits, vegetables, dairy, meats, frozen goods and dry foods that are past its official expiration date as well as household goods with slight imperfections or damaged packaging, according to The Local Denmark. Prices at the store are 30 to 50 percent cheaper compared to any other supermarket in the city.
The new venture came out of successful crowdfunding as well as partnerships with large and small Danish grocers and manufacturers who help stock WeFood's shelves with their perfectly edible but rejected food.
"WeFood is the first supermarket of its kind in Denmark and perhaps the world as it is not just aimed at low-income shoppers but anyone who is concerned about the amount of food waste produced in this country," Per Bjerre from DanChurch Aid, the NGO behind the market, said at the store's Feb. 22 grand opening.
"Many people see this as a positive and politically correct way to approach the issue."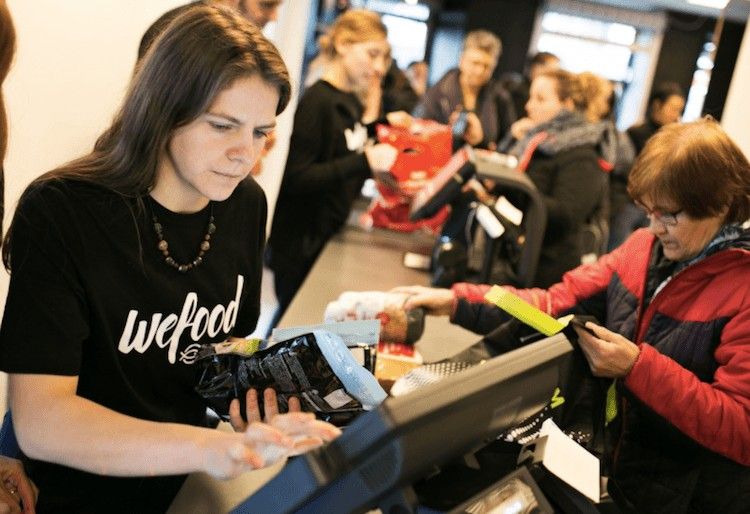 Customers of all socio-economic backgrounds have filed into WeFood since its grand opening last month. Photo credit: WeFood
The supermarket is run by volunteers and profits will go to the charity's projects in developing countries such as South Sudan and Bangladesh, the Huffington Post reported.
The store has been a hit, as NPR reported, with folks lining the store's sidewalk since doors opened.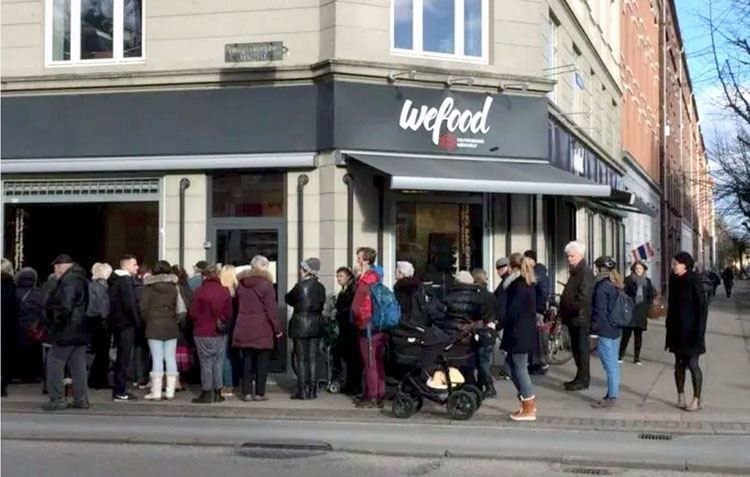 Bjerre explained to NPR that while some of WeFood's customers are low-income people looking for a deal, most customers frequent the store for more political reasons. It so happens that Danes are in the midst of a country-wide anti-food waste movement and shop for surplus food like a national pastime, as NPR noted in a separate report.
Denmark's own Princess Marie and food and environment minister Eva Kjer Hansen also helped inaugurate WeFood's launch.
"It's ridiculous that food is just thrown out or goes to waste. It is bad for the environment and it is money spent on absolutely nothing. A supermarket like WeFood makes so much sense and is an important step in the battle to combat food waste," Hansen said at the store's opening.
Denmark has already made impressive strides in cutting food waste, reducing its volume by 25 percent over the past five years. For comparison's sake, the average Danish person throws out 104 pounds of food per year whereas the average American throws out more than double the amount at 273 pounds per year.
Still, an estimated 700,000 tonnes of food is thrown out in Denmark every year costing the country 11.6 billion kroner (roughly $1.7 billion) per year, WeFood points out on its website.
"The new supermarket with surplus food is a good start in the fight against food and resource waste. But there are still barriers and rules that do nothing for food safety but make it difficult to give surplus food away," Hansen said, adding that she plans to have further discussions about European Union food rules with her European colleagues.
Quartz reported that it "took a fair amount of legislative wrangling" to set up the store.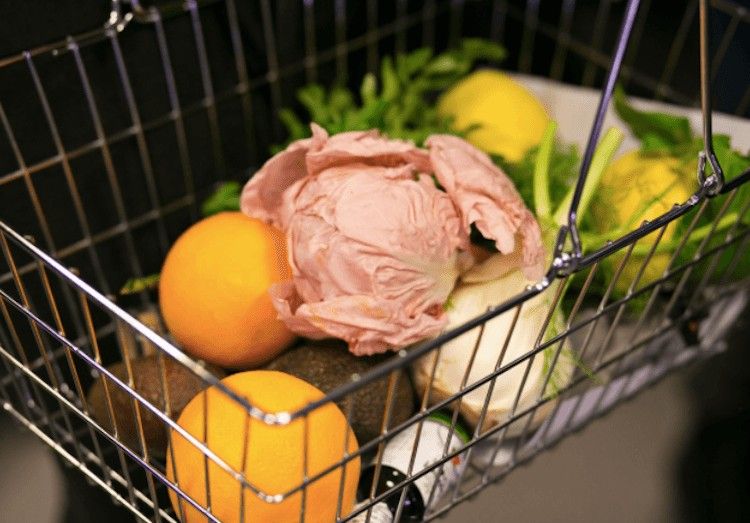 WeFood sells perfectly edible fruit and vegetables with slight imperfections at prices 30 to 50 percent cheaper than conventional supermarkets in the city. Photo credit: WeFood
Food waste is not only absurd in a world where there are 793 million people who are undernourished globally, according to the FAO, it's also a major environmental problem. As EcoWatch Insights writer Dr. David Suzuki pointed out:
Every year a staggering one-third—1.3 billion tons—of the world's food is wasted after it has been harvested: 45 percent of fruit and vegetables, 35 percent of fish and seafood, 30 percent of cereals, 20 percent of dairy products and 20 percent of meat. Food waste ends up in landfills, increasing methane emissions and contributing significantly to climate change. A recent study found Americans waste close to $200 billion on uneaten food while Canadians throw away $31 billion.
These figures only account for 29 percent of the full cost of waste. They don't include factors such as labor, fuel to transport goods to global markets, inefficiency losses from feed choices used to produce meat and fish or food left unharvested.
The United Nations Environment Programme estimated that food waste is responsible for adding 3.3 billion tonnes of greenhouse gases to the planet's atmosphere.
In the U.S., consumers are often faced with a bewildering date labeling system that's meant to guarantee food safety but is actually a major driver of unnecessary food waste. According to a survey by the Food Marketing Institute, confusion about date labels leads 9 out of 10 Americans to needlessly throw away food.
Another chunk of the food waste pie belongs to the tons of fruits and vegetables that are discarded en route to the market simply because they have a few blemishes, scrapes or come in unusual shapes.
Every year some 2.9 trillion pounds of food—about a third of all that the world produces—never get consumed, according to the World Economic Forum. The Conversation explains:
Thanks to global abundance and international trade, supermarkets can now be more selective. Much of the food deemed ugly is damaged on long boat trips—literally a fruitless journey—while ugly produce grown closer to home is also rejected, imposing harsh conditions on farmers.
Why is a perfectly edible and nutritious produce getting thrown out? As the World Economic Forum pointed out, "the argument goes that as consumers we demand perfectly sized and shaped food," adding that accepting imperfect fruits and veggies are an important part of a much-needed change in habits and attitudes in order to combat food waste.
European countries are clamping down on this wasteful and expensive problem. The EU and its member states have a target to halve per capita food waste at the retail and consumer level by 2030, and reduce food losses along the food production and supply chains.
Several countries and grocers have already taken efforts to slash food waste. Upscale British retailer Marks & Spencer has pledged to cut food waste from its stores by a fifth by 2020, and is donating surplus food to local charities and food banks. Last month, France banned its supermarkets from throwing away or spoiling unsold food, and required the stores to donate unwanted food to charities and food banks. In 2014, Intermarché—France's third largest supermarket chain—decided to feature so-called "ugly" fruits and vegetables in their stores in an effort to reduce food waste.
Bjerre told NPR if all goes well, Danes can expect more WeFoods to open around the country.
YOU MIGHT ALSO LIKE
8 Processed Foods You Can Easily Make at Home From Scratch
No, GMO Labeling Won't Increase Food Prices
Nation's First Vegan-Certified Farm Is Booming in Philly
EcoWatch Daily Newsletter
California Condor at soaring at the Grand Canyon. Pavliha / iStock / Getty Images
North America's largest bird passed an important milestone this spring when the 1,000th California condor chick hatched since recovery efforts began, NPR reported Sunday.
The Roloway monkey has been pushed closer to extinction. Sonja Wolters / WAPCA / IUCN
The statistics around threatened species are looking grim. A new report by the International Union for Conservation of Nature (IUCN) has added more than 9,000 new additions to its Red List of threatened species, pushing the total number of species on the list to more than 105,000 for the first time, according to the Guardian.
Golde Wallingford submitted this photo of "Pure Joy" to EcoWatch's first photo contest. Golde Wallingford
EcoWatch is pleased to announce our third photo contest!

BRENDAN SMIALOWSKI / AFP / Getty Images
The campaign to re-elect President Donald Trump has found a new way to troll liberals and sea turtles.
Night long exposure photograph of wildifires in Santa Clarita, California. FrozenShutter / E+ / Getty Images
By Kristy Dahl
Last week, UCS released Killer Heat, a report analyzing how the frequency of days with a dangerously hot heat index — the combination of temperature and humidity the National Weather Service calls the "feels like" temperature — will change in response to the global emissions choices we make in the coming decades.
Green is the new black at Zara.
The Spanish fast fashion behemoth has made a bold move to steer its industry to a more environmentally friendly future for textiles. Inditex, Zara's parent company, announced that all the polyester, cotton and linen it uses will be sustainably produced by 2025, as CNN reported.
Text from the plaque that will mark the site where Ok glacier once was. Rice University
By Andrea Germanos
A climate change victim in Iceland is set to be memorialized with a monument that underscores the urgent crisis.