This website uses cookies to ensure you get the best experience while browsing it. By clicking 'Got It' you're accepting these terms.
First Nations Unite to Oppose Crude Oil Pipeline and Tanker Expansion
Dec. 05, 2011 09:55AM EST
Energy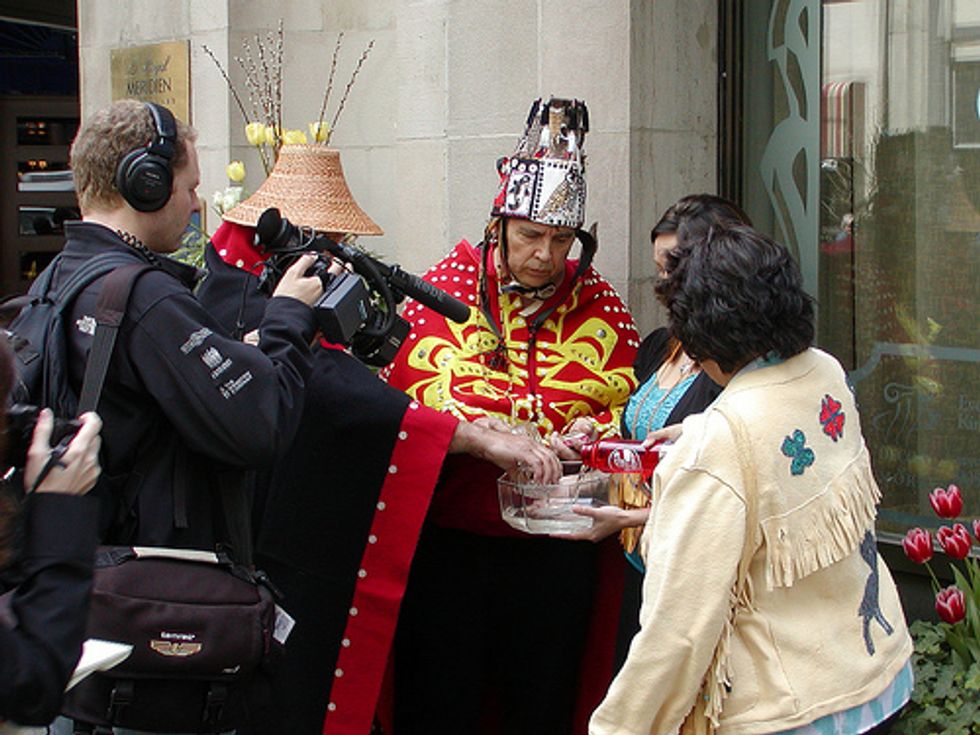 First Nations, whose unceded territory encompasses the entire coastline of British Columbia (B.C.), have formed a united front, banning all exports of tar sands crude oil through their territories, and effectively all of B.C.—whether by Enbridge in the north or Kinder-Morgan in the south.
Several new First Nations signed the Save the Fraser Declaration in a Vancouver, B.C. ceremony, expanding First Nations opposition in western Canada to more than 130 Nations. These First Nations form an unbroken wall of opposition from the U.S. border to the Arctic Ocean. This is the first time that First Nations have come together publicly to declare a ban on oil tankers and pipelines on both the north and south coasts.
"North or south, it makes no difference. First Nations from every corner of B.C. are saying absolutely no tar sands pipelines or tankers in our territories," said Chief Jackie Thomas of Saik'uz First Nation, a member of the Yinka Dene Alliance. "We have banned oil pipelines and tankers using our laws, and we will defend our decision using all the means at our disposal."
It is impossible for oil pipelines to go around opposed First Nations, and their consent to pipelines and tankers in their territories is required by international law. The announcement—on the first anniversary of the Save the Fraser Declaration—comes in response to recent calls from the Harper government and oil executives to push through pipeline and tanker projects against the wishes of British Columbians and First Nations.
"The government can talk all it wants about pushing tar sands oil pipelines and tankers through B.C. There is no way our Nations will allow it," says Chief Art Adolph, representing the St'at'imc Nation. "If they are serious about respecting our rights, the government of Canada must stop pushing the oil companies' line that this is in the public interest, and the government of B.C. should step up to the plate too and begin protecting our rivers and coastlines from further environmental damages that violate our basic human rights. Especially now, when Canada is a global embarrassment for failing to address climate change and systemically ignoring Indigenous rights."
The Save the Fraser Declaration, signed by more than 61 First Nations, bans tar sands oil pipelines throughout the Fraser River watershed. It also prohibits tar sands crude oil tankers in the ocean migration routes of Fraser River salmon. Until now, the declaration has been used to fight Enbridge's northern pipeline plans. Now it's being recognized by First Nations as effectively banning tar sands crude oil exports on the whole coast, including the south. Adding to the chorus last week, the Union of B.C. Indian Chiefs—representing most First Nations in B.C.—passed a resolution endorsing the Save the Fraser Declaration and the Coastal First Nations Declaration, and expressly recognizing that they prohibit the transportation of tar sands crude by pipeline and tanker anywhere in B.C.
The Coastal First Nations declared a ban on crude oil tanker traffic on the north coast of B.C. in 2010. Harold Yeltatzie, president of the Coastal First Nations, stated, "The Coastal First Nations support the First Nations communities along the Fraser, Bulkley and Skeena rivers in their fight to ban crude oil pipelines in their territories." Yeltatzie added that the ban on crude oil tankers on B.C.'s coast must be maintained, saying, "The consequences of a catastrophic oil spill on our people and our culture cannot be calculated or compensated."
"We won't let government and industry play First Nations off one another with their usual divide and conquer strategies. We are drawing the line in B.C. and First Nations are more united than ever before to stop the threat of oil spills," said Chief Na'Moks, on behalf of the Wet'suwet'en hereditary chiefs, who signed the Declaration Dec. 1 on behalf of his people (who are not members of the Yinka Dene Alliance). "We have stood against tar sands pipelines from day one and we join with our brothers and sisters today in a shared commitment to put a stop to them."
For more information, click here.
EcoWatch Daily Newsletter
U.S. President Donald Trump listens as Anthony Fauci, Director of the National Institute of Allergy and Infectious Diseases speaks in the Rose Garden for the daily coronavirus briefing at the White House on March 29 in Washington, DC. Tasos Katopodis / Getty Images
By Jake Johnson
Just over a month after proclaiming that the number of coronavirus cases in the U.S. would soon "be down to close to zero," President Donald Trump said during a press briefing on the White House lawn Sunday that limiting U.S. deaths from the pandemic to between 100,000 and 200,000 people would mean his administration and the country as a whole did "a very good job."
Dicamba is having a devastating impact in Arkansas and neighboring states. A farmer in Mississippi County, Arkansas looks at rows of soybean plants affected by dicamba. The Washington Post / Getty Images
Documents unearthed in a lawsuit brought by a Missouri farmer who claimed that Monsanto and German chemical maker BASF's dicamba herbicide ruined his peach orchard revealed that the two companies knew their new agricultural seed and chemical system would likely damage many U.S. farms, according to documents seen by The Guardian.
Washington State Governor Jay Inslee and other leaders speak to the press on March 28, 2020 in Seattle. Karen Ducey / Getty Images
A bushfire burns outside the Perth Cricket Stadium in Perth, Australia on Dec. 13, 2019. PETER PARKS / AFP via Getty Images

By Albert Van Dijk, Luigi Renzullo, Marta Yebra and Shoshana Rapley
2019 was the year Australians confronted the fact that a healthy environment is more than just a pretty waterfall in a national park; a nice extra we can do without. We do not survive without air to breathe, water to drink, soil to grow food and weather we can cope with.
By Fino Menezes
Everyone adores dolphins. Intelligent, inquisitive and playful, these special creatures have captivated humans since the dawn of time. But dolphins didn't get to where they are by accident — they needed to develop some pretty amazing superpowers to cope with their environment.