This website uses cookies to ensure you get the best experience while browsing it. By clicking 'Got It' you're accepting these terms.
First Nations Unite to Oppose Crude Oil Pipeline and Tanker Expansion
Dec. 05, 2011 09:55AM EST
Energy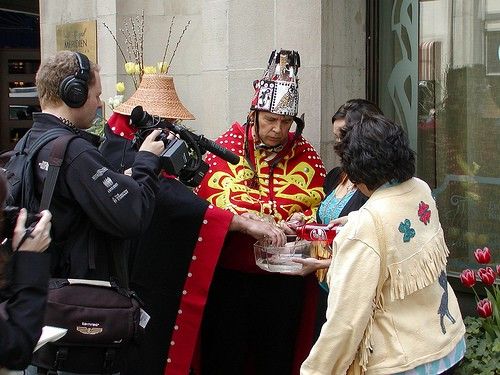 First Nations, whose unceded territory encompasses the entire coastline of British Columbia (B.C.), have formed a united front, banning all exports of tar sands crude oil through their territories, and effectively all of B.C.—whether by Enbridge in the north or Kinder-Morgan in the south.
Several new First Nations signed the Save the Fraser Declaration in a Vancouver, B.C. ceremony, expanding First Nations opposition in western Canada to more than 130 Nations. These First Nations form an unbroken wall of opposition from the U.S. border to the Arctic Ocean. This is the first time that First Nations have come together publicly to declare a ban on oil tankers and pipelines on both the north and south coasts.
"North or south, it makes no difference. First Nations from every corner of B.C. are saying absolutely no tar sands pipelines or tankers in our territories," said Chief Jackie Thomas of Saik'uz First Nation, a member of the Yinka Dene Alliance. "We have banned oil pipelines and tankers using our laws, and we will defend our decision using all the means at our disposal."
It is impossible for oil pipelines to go around opposed First Nations, and their consent to pipelines and tankers in their territories is required by international law. The announcement—on the first anniversary of the Save the Fraser Declaration—comes in response to recent calls from the Harper government and oil executives to push through pipeline and tanker projects against the wishes of British Columbians and First Nations.
"The government can talk all it wants about pushing tar sands oil pipelines and tankers through B.C. There is no way our Nations will allow it," says Chief Art Adolph, representing the St'at'imc Nation. "If they are serious about respecting our rights, the government of Canada must stop pushing the oil companies' line that this is in the public interest, and the government of B.C. should step up to the plate too and begin protecting our rivers and coastlines from further environmental damages that violate our basic human rights. Especially now, when Canada is a global embarrassment for failing to address climate change and systemically ignoring Indigenous rights."
The Save the Fraser Declaration, signed by more than 61 First Nations, bans tar sands oil pipelines throughout the Fraser River watershed. It also prohibits tar sands crude oil tankers in the ocean migration routes of Fraser River salmon. Until now, the declaration has been used to fight Enbridge's northern pipeline plans. Now it's being recognized by First Nations as effectively banning tar sands crude oil exports on the whole coast, including the south. Adding to the chorus last week, the Union of B.C. Indian Chiefs—representing most First Nations in B.C.—passed a resolution endorsing the Save the Fraser Declaration and the Coastal First Nations Declaration, and expressly recognizing that they prohibit the transportation of tar sands crude by pipeline and tanker anywhere in B.C.
The Coastal First Nations declared a ban on crude oil tanker traffic on the north coast of B.C. in 2010. Harold Yeltatzie, president of the Coastal First Nations, stated, "The Coastal First Nations support the First Nations communities along the Fraser, Bulkley and Skeena rivers in their fight to ban crude oil pipelines in their territories." Yeltatzie added that the ban on crude oil tankers on B.C.'s coast must be maintained, saying, "The consequences of a catastrophic oil spill on our people and our culture cannot be calculated or compensated."
"We won't let government and industry play First Nations off one another with their usual divide and conquer strategies. We are drawing the line in B.C. and First Nations are more united than ever before to stop the threat of oil spills," said Chief Na'Moks, on behalf of the Wet'suwet'en hereditary chiefs, who signed the Declaration Dec. 1 on behalf of his people (who are not members of the Yinka Dene Alliance). "We have stood against tar sands pipelines from day one and we join with our brothers and sisters today in a shared commitment to put a stop to them."
For more information, click here.
EcoWatch Daily Newsletter
Artist's conception of solar islands in the open ocean. PNAS
Millions of solar panels clustered together to form an island could convert carbon dioxide in seawater into methanol, which can fuel airplanes and trucks, according to new research from Norway and Switzerland and published in the Proceedings of the National Academy of Sciences journal, PNAS, as NBC News reported. The floating islands could drastically reduce greenhouse gas emissions and dependence on fossil fuels.
Marcos Alves / Moment Open / Getty Images
More than 40 percent of insects could go extinct globally in the next few decades. So why did the U.S. Environmental Protection Agency (EPA) last week OK the 'emergency' use of the bee-killing pesticide sulfoxaflor on 13.9 million acres?
EcoWatch teamed up with Center for Biological Diversity via EcoWatch Live on Facebook to find out why. Environmental Health Director and Senior Attorney Lori Ann Burd explained how there is a loophole in the The Federal Insecticide, Fungicide, and Rodenticide Act under section 18, "that allows for entities and states to request emergency exemptions to spraying pesticides where they otherwise wouldn't be allowed to spray."
Simple swaps that cut down on kitchen trash.
Sponsored
By Kayla Robbins
Along with the bathroom, the kitchen is one of the most daunting areas to try and make zero waste.
View of downtown Miami, Florida from Hobie Island on Feb. 2, 2019.
Michael Muraz / Flickr
The Democratic candidates for president descended upon Miami for a two-night debate on Wednesday and Thursday. Any candidate hoping to carry the state will have to make the climate crisis central to their campaign, as The New York Times reported.
By Sharon Kelly
On Monday, the Wall Street Journal featured a profile of Scott Sheffield, CEO of Pioneer Natural Resources, whose company is known among investors for its emphasis on drawing oil and gas from the Permian basin in Texas using horizontal drilling and hydraulic fracturing, or fracking.
Pexels
By Craig K. Chandler
The federal government has available to it, should it choose to use them, a wide range of potential climate change management tools, going well beyond the traditional pollution control regulatory options. And, in some cases (not all), without new legislative authorization.
Denis Poroy / Getty Images
By Dan Gray
Processed foods, in their many delicious forms, are an American favorite.
But new research shows that despite increasing evidence on just how unhealthy processed foods are, Americans have continued to eat the products at the same rate.
By Sarah Steffen
With a profound understanding of their environmental surroundings, indigenous communities around the world are often cited as being pivotal to tackling climate change.