This website uses cookies to ensure you get the best experience while browsing it. By clicking 'Got It' you're accepting these terms.
First Mammal Goes Extinct Due to Human-Caused Climate Change
Jun. 14, 2016 09:27AM EST
Climate
The Bramble Cay melomys—a rodent found only on Australia's Great Barrier Reef—has been declared extinct, according to a new study from researchers at the Queensland's Department of Environment and Heritage Protection and the University of Queensland.
Alarmingly, this could be the first mammal species wiped out due to human-induced climate change.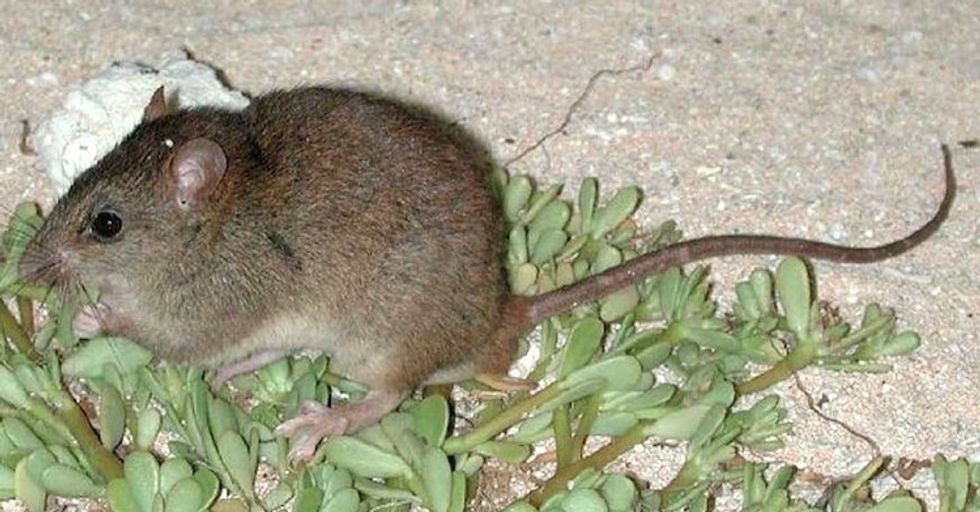 The Bramble Cay melomys have vanished from its 350m-long cay home in the Torres Strait due to sea-level rise and weather events. Photo credit: Queensland Government
The researchers came to the conclusion after failing to find a single specimen of the melomys, also called the mosaic-tailed rat, from its only known habitat.
"A thorough survey effort involving 900 small mammal trap-nights, 60 camera trap-nights and two hours of active daytime searches produced no records of the species, confirming that the only known population of this rodent is now extinct," the study states.
Sea-level rise and weather events in the Torres Strait region, which lies between Australia and the Melanesian island of New Guinea, was determined as the root cause of the loss. The scientists said that the events destroyed the animals' sole habitat on Bramble Cay, a small vegetated coral cay in northern Australia. Research showed that Bramble Cay had reduced dramatically in size from approximately 2.2 ha in 2004 to only 0.065 ha, equivalent to a 97 percent loss in the span of 10 years.
"The key factor responsible for the extirpation of this population was almost certainly ocean inundation of the low-lying cay, very likely on multiple occasions, during the last decade, causing dramatic habitat loss and perhaps also direct mortality of individuals," the study states.
"Significantly, this probably represents the first recorded mammalian extinction due to anthropogenic climate change," the team concluded. Anthropogenic means caused or influenced by humans.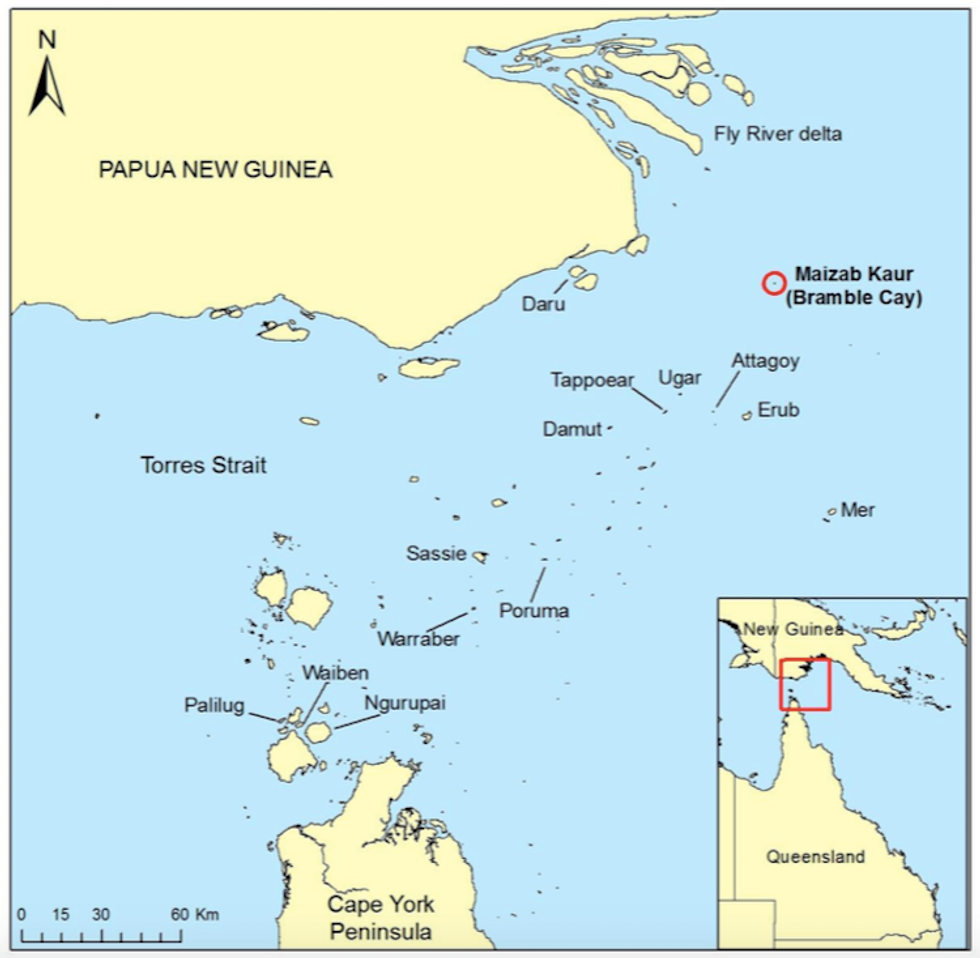 The location of Bramble Cay. Photo credit: Queensland Government
The Melomys rubicola was first discovered by Europeans in April 1845, when Lieutenant Yule, commander of the HMS Bramble, and his crew shot the "large rats" for sport. Anecdotal information obtained from a professional fisherman indicated that the last known sighting of the Bramble Cay melomys was in late 2009.
The 2015 IUCN Red List of Threatened Species indicates that climate change could have led to the extinction of the Little Swan Island hutia, a rodent previously found on the Honduras. However, the Queensland scientists pointed out that its demise was actually due to a cat that was introduced to the island.
In a sign of hope for the melomys, the study pointed out there could be another population of the species in neighboring Papua New Guinea.
"Consequently, at this stage, it may be premature to declare the Bramble Cay melomys extinct on a global scale," the report said.
The Center for Biological Diversity said there's an "extinction crisis" underway that threatens our planet's biodiversity.
"Our planet is now in the midst of its sixth mass extinction of plants and animals—the sixth wave of extinctions in the past half-billion years," the organization noted. "We're currently experiencing the worst spate of species die-offs since the loss of the dinosaurs 65 million years ago. Although extinction is a natural phenomenon, it occurs at a natural 'background' rate of about one to five species per year. Scientists estimate we're now losing species at 1,000 to 10,000 times the background rate, with literally dozens going extinct every day. It could be a scary future indeed, with as many as 30 to 50 percent of all species possibly heading toward extinction by mid-century."
Human activities such as climate change, deforestation and wildlife trafficking could drive species off the planet.
"Unlike past mass extinctions, caused by events like asteroid strikes, volcanic eruptions and natural climate shifts, the current crisis is almost entirely caused by us—humans," Center for Biological Diversity added. "In fact, 99 percent of currently threatened species are at risk from human activities, primarily those driving habitat loss, introduction of exotic species and global warming."
YOU MIGHT ALSO LIKE
May Shatters Yet Another Monthly Heat Record as CO2 Levels Soar
Chile's Salmon Industry Using Record Levels of Antibiotics to Combat Bacterial Outbreak
Noam Chomsky: The Doomsday Clock Is Nearing Midnight
Is it Too Soon to Consider Removing Giant Pandas From the Endangered Species List?
EcoWatch Daily Newsletter
Blue whale (Balaenoptera musculus) surfacing, showing the remains of a blow and its mottled appearance near South Georgia Island in the Polar Regions. Mick Baines & Maren / Getty Images
The largest animal on Earth is proving that wildlife protections work.
More than 300 people were forced to evacuate and 46 were sent to the hospital after a gas pipeline ruptured in Mississippi Saturday.

Pexels
By Tim Lydon
Climate-related disasters are on the rise, and carbon emissions are soaring. Parents today face the unprecedented challenge of raising children somehow prepared for a planetary emergency that may last their lifetimes. Few guidebooks are on the shelves for this one, yet, but experts do have advice. And in a bit of happy news, it includes strategies already widely recognized as good for kids.
Pexels
Be it Nina Simone and James Brown for civil rights, Joni Mitchell and Marvin Gaye for the environment, or Jackson Browne and Buffalo Springfield for nuclear disarmament, musicians have long helped push social movements into the limelight.
Yulia Lisitsa / iStock / Getty Images Plus
Collagen is the most abundant protein in your body.
It is the major component of connective tissues that make up several body parts, including tendons, ligaments, skin, and muscles.