First-Ever World Wildlife Day Focuses Attention on Illegal Poaching and Trafficking
Mar. 03, 2014 11:25AM EST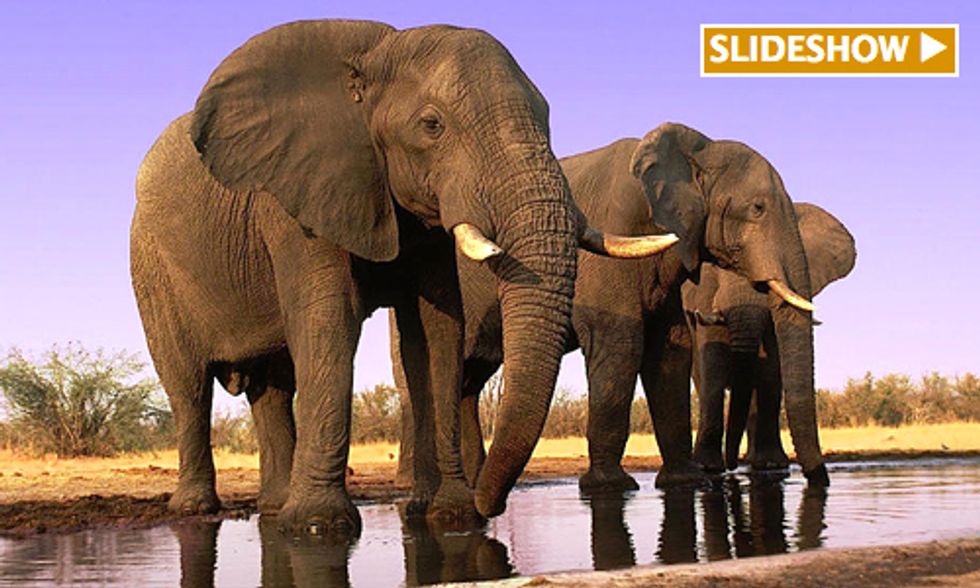 The United Nations' inaugural World Wildlife Day kicks off today with events around the world, as global attention turns to a $19 billion USD illicit trade—the fourth largest in the world—that includes elephant poaching, great ape theft and the illegal transport of timber.
The third of March was also the day of adoption of the Convention on International Trade in Endangered Species of Wild Fauna and Flora (CITES) in 1973.
"The United Nations' first World Wildlife Day coincides with renewed attention being paid to the escalating crisis of wildlife poaching," said UN Under-Secretary-General and UN Environment Programme (UNEP) Executive Director Achim Steiner. "While providing us with an opportunity to celebrate the fantastic diversity of life on earth it also reminds us of the urgency and responsibility to care for and protect it."
"While governments have a key role to play, we as citizens of countries across the globe have a vital role to play in shutting down the markets that sustain this illegal trade which threatens the survival of iconic species such as elephants and rhinos, but also of other threatened animal and plant species.
For the past four decades UNEP has worked to support nations to establish legislation at both the national and the global level to combat poaching and the illegal trade in wildlife. This has helped countries to more effectively protect our wildlife heritage. Environmental crime continues to undermine these efforts. World Wildlife Day is an opportunity for all of us to reconnect to this vital and urgent cause," Steiner added.
In its resolution designating World Wildlife Day, the General Assembly requested the CITES Secretariat, in collaboration with relevant organizations of the UN system, to facilitate the implementation of the day.
Among other things, the resolution recognized the intrinsic value of wildlife and its many contributions to human well-being and sustainable development, including ecological, genetic, social, economic, scientific, educational and cultural.
Estimated by the World Wildlife Fund (WWF) at $19 billion USD, the illicit trade in wildlife denies humanity of these essential services, and contributes to the rapid decrease in the numbers of thousands of species worldwide. It is estimated that current trends of species extinctions are between 100 and 1,000 times higher than the naturally expected levels.
"Wildlife is cherished in its own right and for the contribution it makes to our personal well-being—from food to medicine—from culture to recreation," said CITES Secretary-General John Scanlon.
"Our wildlife is suffering from illegal trade. Let's do all we can, as citizens and consumers, to bring illegal wildlife trade to an end. In doing so we will secure the future for wild plants and animals, as well as for ourselves," Scanlon said.
In addition to the illegal trade, climate change—which is linked with the burning of fossil fuels—is also impacting many animals and plants and in myriads of ways.
Polar bears in the Arctic are threatened by thinning ice, baleen whales must make longer journeys between their feeding grounds, and many migratory birds that rely on wetlands and lakes for food are increasingly facing water shortages. These changes could spell decline and even extinction for some species without an urgent transition of our economies and our lifestyles towards a low carbon economy.
Meanwhile, wildlife crime continues to threaten the lives of rangers in their fight to stem the illegal tide. It is also often linked with the exploitation of disadvantaged communities, human rights abuses and other challenges to inclusive, sustainable development—including by jeopardizing livelihoods around the world.
Such theft of natural resources is rapidly emerging as a new challenge to poverty eradication, sustainable development and a transition towards an inclusive Green Economy.
The illegal trade in wildlife—considered the fourth largest in the world after narcotics, counterfeiting and human trafficking—also has major implications for international peace and security. Wildlife is now trafficked internationally much like drugs or weapons, with criminals operating largely with impunity and little fear of prosecution.
A recent INTERPOL report reveals that large-scale ivory seizures—which reached an all-time global high in 2013, with 18 seizures accounting for some 41.6 tons of ivory—typically indicate the participation of organized crime, with trafficking syndicates operating in multiple countries simultaneously. In recent years, international action to combat the illegal trafficking in wildlife has accelerated rapidly.
In Dec. 2013, a French-government-hosted Summit for Peace and Security in Africa highlighted that the establishment of terrorist and criminal networks—including poachers and traffickers in endangered species—were a direct threat to peace and security in Africa and worldwide.
Most recently, the UN Security Council has, in two separate and unanimously adopted resolutions, recognized the direct link between the illegal exploitation of wildlife and ongoing conflicts in central Africa. It noted specifically that the illegal exploitation of natural resources—including poaching and the trafficking of wildlife—was linked to the proliferation of weapons and was one of the "major factors fueling and exacerbating conflicts" in the Great Lakes region of Africa.
In 2010, the CITES Secretariat, INTERPOL, the UN Office on Drugs and Crime, the World Bank and the World Customs Organization joined forces to create the International Consortium on Combating Wildlife Crime (ICCWC), which works to ensure that perpetrators of serious wildlife crimes face a formidable and coordinated response.
In 2012, Project Leaf (Law Enforcement Assistance for Forests)—a consortium of forest and climate initiatives that aims to combat illegal logging and organized forest crime—was established.
In January 2014, the European Parliament approved a motion on a Resolution on Wildlife Crime—which called for measures that would place it on the same level as human and drug trafficking—and which called for the establishment of an EU plan of action against illegal wildlife trade.
In Feb. 2014 the U.S. government took a decision to work to "protect iconic species like elephants and rhinos by prohibiting the import, export, or resale within the U.S. of elephant ivory" as part of a National Strategy for Combating Wildlife Trafficking.
Also in Feb. 2014, at the London Conference on Illegal Wildlife Trade, 46 countries agreed on a declaration containing a series of commitments, including addressing corruption, adopting legislation for tougher penalties against poachers, and recruiting more law enforcement officers.
These moves have been echoed around the world as countries from France to Chad to China have destroyed national ivory stockpiles in a symbolic show of solidarity with the anti-poaching movement.
However, it is widely acknowledged that more action is urgently needed. Fast-track measures should be implemented to address the current poaching crisis, taking into account the diverse socio-economic, legal and market dynamics across range, transit and consumer states. Such measures must include strengthening law enforcement, building adequate human and financial capacity, raising public awareness, and fighting collusive corruption, as well as supporting national legislation and curbing demand for wildlife products that are illegally sourced or unsustainably harvested.
In addition, longer-term considerations need to be given to natural resource management and sustainable economic development, based on sovereign priorities and choices. Implementing nationally and internationally agreed biodiversity strategies and targets must be at the heart of such action.
Finally, for such mechanisms to become truly effective, adequate political and appropriate financial support is needed.
Elephants in the Dust
According to a recent study by UNEP and partners, Elephants in the Dust, the number of elephants killed illegally in Africa has doubled, while the ivory trade has tripled, over the past decade. Increasing poaching levels, as well as loss of habitat, are threatening the survival of African elephant populations in Central Africa as well as previously secure populations in West, Southern and Eastern Africa.
Demand for illegal ivory remains highest in the rapidly growing economies of Asia, particularly China. Large-scale seizures of ivory destined for Asia doubled between 2009 and 2013. Weak governance in source, transit and destination countries is also contributing to the problem.
Data from the CITES monitoring program "Monitoring the Illegal Killing of Elephants" showed that 17,000 elephants were illegally killed in 2011, in areas home to around 40 percent of African elephants, meaning that the true findings may well be even higher. The number of African elephants illegally killed in 2012 is estimated at 22,000, and preliminary indications show that the number may be even higher for 2013.
Besides illegal killings, elephants are also threatened by the increasing loss of habitat in around 29 percent of their range areas—primarily as a result of human population growth and agricultural expansion. According to Elephants in the Dust, this figure could rise to 63 percent by 2050, posing a major threat to the long-term survival of the species.
A new mini-documentary, On Elephants and Ivory Poaching, featuring the renowned Chinese actress and UNEP Goodwill Ambassador Li BingBing,will be launched at UN Headquarters in Nairobi today. View On Elephants and Ivory Poaching, which was filmed in Kenya, below:
Rhinos Facing Extinction
CITES estimates that the number of rhinoceroses poached in South Africa rose from 13 in 2007 to 448 in 2011, with a demand that continues to grow. Such demand comes principally from Asia, with the major destination appearing to be Viet Nam. According to CITES, increasing levels of demand have been fueled by rumors of rhino horn being a cure for cancer. The horn is also used as a recreational drug in the form of "rhino wine," which is rumored to improve male sexual performance, and to clean the body of toxins. None of these uses of rhino horn are recognized in traditional medicine.
There are five specifies of rhino. The Javan, Sumatran and Indian rhinos are found in Asia; the first two are considered critically endangered and Indian rhinos are considered vulnerable by the IUCN's Red List. The Javan subspecies of rhino in Viet Nam was declared extinct by the WWF in Oct. 2011. In Africa as of 2012, the number of black rhinos in the wild is estimated at 5,000 individuals and that of white rhinos at 20,000. The western black rhino was also declared extinct in Nov. 2011.
Stolen Apes
A UNEP study showed that almost 3,000 live great apes are being taken from the forests of Africa and Southeast Asia each year, with main markets including the tourist entertainment industry, disreputable zoos and individuals who wish to buy great apes as exotic pets.
According to the report, Stolen Apes: The Illicit Trade in Chimpanzees, Gorillas, Bonobos and Orangutans—which was produced by UNEP through the Great Apes Survival Partnership—a minimum of 22,218 great apes have been lost from the wild since 2005, either sold, killed during the hunt, or dying in captivity. Chimpanzees comprise about 64 percent of that number.
The report also estimates that, over the past seven years, a minimum of 643 chimpanzees, 48 bonobos, 98 gorillas and 1,019 orangutans are documented to have been captured from the wild for illegal trade. These figures are just the tip of the iceberg, and extrapolating from this research the report estimates that at least 2,972 great apes are lost from the wild each year.
Illegal Logging
Research by UNEP and INTERPOL estimates that between 50 and 90 percent of logging in key tropical countries of the Amazon basin, Central Africa and South East Africa is being carried out through organized crime, threatening efforts to combat climate change, deforestation, conserve wildlife and eradicate poverty.
Globally, illegal logging—worth between $30 - $100 billion USD annually—accounts for between 15 and 30 percent of the overall global trade, according to a recent report released by UNEP and INTERPOL.
The transnational nature of illegal logging raises difficulties for law enforcement and regulators, who are often limited in their ability to work outside of their jurisdiction
Visit EcoWatch's BIODIVERSITY page for more related news on this topic.

EcoWatch Daily Newsletter
Related Articles from EcoWatch