First-Ever Footage of Aging Tar Sands Pipelines Beneath Great Lakes
By Beth Wallace
This past July, National Wildlife Federation (NWF) conducted a diving expedition to obtain footage of aging oil pipelines strung across one of the most sensitive locations in the Great Lakes, and possibly the world: the Straits of Mackinac. Footage of these pipelines has never been released to the public until now.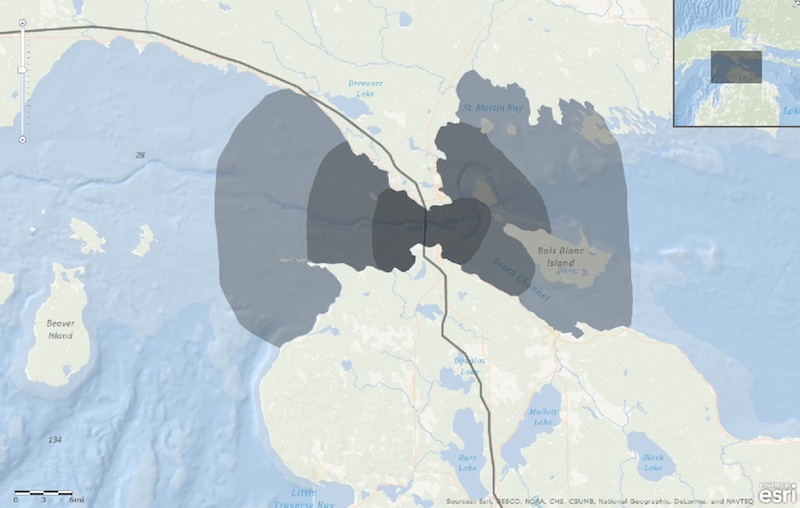 The Straits of Mackinac pipelines, owned by Enbridge Energy, are 60-years-old and considered one of the greatest threats to the Great Lakes because of their age, location and the hazardous products they transport—including tar sands derived oil.
For nearly two years, NWF has been pressing pipeline regulators and Enbridge to release information about the integrity of these pipelines, including inspection videos showing how the pipelines cross the Straits of Mackinac. These requests have gone largely unanswered from both Enbridge and the Pipeline Hazards Safety Administration (PHMSA), who regulates pipeline operations. Because Enbridge hastily moved forward with plans to increase pressure on the aging pipelines, and has bypassed critical environmental permitting for changes in operation, NWF decided we needed to obtain our own:
The footage shows pipelines suspended over the lakebed, some original supports broken away—indicating the presence of corrosion—and some sections of the suspended pipelines covered in large piles of unknown debris. This visual is evidence that our decision makers need to step in and demand a release of information from Enbridge and PHMSA.
Heightening our concern around this pipeline and the company that owns it: despite having cleared our dive work with the U.S. Coast Guard, several Congressional members and Homeland Security, our staff and the dive crew had uncomfortable interactions with Enbridge representatives. As soon as our team set out on the water, we were quickly accompanied by an Enbridge crew that monitored our every move. This monitoring did not stop at the surface: Enbridge also placed a Remote Operated Vehicle (ROV) into the water to watch our team.
These actions and our video have raised our level of concern for the general operational behavior of this company and their overall safety culture—including the way they treat the concerned public living near their pipelines. If these aging pipelines rupture, the resulting oil slick would cause irreversible damage to fish and wildlife, drinking water, Lake Michigan beaches, Mackinac Island and our economy.
To make matters worse, the recent shutdown of our federal government has left communities and wildlife with an increased risk of oil spills and failed response because pipeline safety and responding agencies have been scaled back or closed all together. The recent oil spill in North Dakota, of approximately 800,000 gallons, is living proof.
This article was originally published on National Wildlife Federation's Wildlife Promise.  

Glyphosate, the main ingredient in Monsanto's widely used herbicide Roundup, will be added July 7 to California's list of chemicals known to the state to cause cancer, according to a Reuters report Tuesday. This news comes after the company's unsuccessful attempt to block the listing in trial court and requests for stay were denied by a state appellate court and California's Supreme Court.
California's Office of Environmental Health Hazard Assessment (OEHHA) announced the designation on Monday under the Safe Drinking Water and Toxic Enforcement Act of 1986, or Proposition 65.
Keep reading...
Show less
www.facebook.com
Keep reading...
Show less
Researchers from the Marine Animal Response Society examine one of the dead right whales. Marine Animal Response Society
Canadian government officials and marine biologists are investigating the mysterious deaths of six North American right whales. The endangered animals all turned up dead between June 6 and June 23 in the Gulf of St. Lawrence, off Canada's southeastern coast.
North Atlantic right whales are the rarest of all large whale species and among the rarest of all marine mammal species, with only about 450 right whales in the North Atlantic.
Keep reading...
Show less
Scott Pruitt testifies during his Senate confirmation hearing for EPA administrator, January 2017.
The U.S. Environmental Protection Agency's (EPA) chief of staff pressured the leader of its Board of Scientific Counselors to change her congressional testimony to downplay the impact of the agency's mass dismissal of scientists from the board, the New York Times reports.
Keep reading...
Show less
By Jason Mark
Sequoiadendron giganteum. That's the scientific name for the giant sequoia: the mammoth trees found in California's Sierra Nevada that are the largest organisms on Earth, and among the longest-lived. Biologists estimate that about half of all sequoias live in Giant Sequoia National Monument, a 328,000-acre preserve in the Southern Sierra Nevada established by President Clinton in 2000.
Now that national monument is in jeopardy.
Keep reading...
Show less
By Andy Rowell
Donald Trump this week is launching an "energy week," pushing the argument that the U.S. will become a net exporter of oil and gas.
The president and his cronies are talking about a new era of "U.S. energy dominance," which could stretch for decades to come. However, no one believes the president anymore.
Keep reading...
Show less
UN
By Colleen Curry
The United Nations has designated 23 new sites around the world to its World Network of Biosphere reserves—stunning natural landscapes that balance environmental and human concerns and strive for sustainability.
The forests, beaches and waterways were added to the list this year at the International Coordinating Council of the Man and the Biosphere Programme meeting in Paris earlier this month.
Keep reading...
Show less
Jun. 26, 2017 01:48PM EST
www.elysee.fr
By Andy Rowell
There is a growing feeling within European capitals that a quiet, but deeply positive, revolution is happening under Emmanuel Macron in France.
Macron's opinion poll rating is high, especially boosted in how the young French president has reacted to Donald Trump on the international stage.
Keep reading...
Show less
Jun. 26, 2017 12:32PM EST
www.facebook.com
Keep reading...
Show less