This website uses cookies to ensure you get the best experience while browsing it. By clicking 'Got It' you're accepting these terms.
First-Ever Footage of Aging Tar Sands Pipelines Beneath Great Lakes
Oct. 15, 2013 09:42AM EST
By Beth Wallace
This past July, National Wildlife Federation (NWF) conducted a diving expedition to obtain footage of aging oil pipelines strung across one of the most sensitive locations in the Great Lakes, and possibly the world: the Straits of Mackinac. Footage of these pipelines has never been released to the public until now.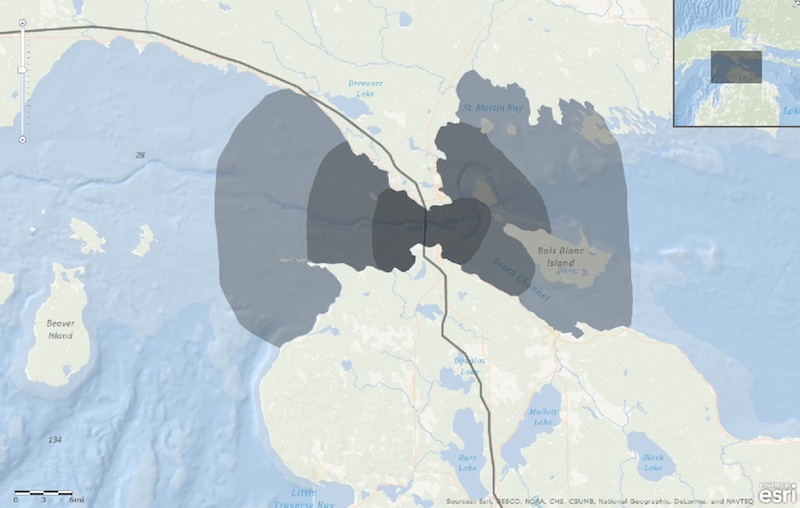 The Straits of Mackinac pipelines, owned by Enbridge Energy, are 60-years-old and considered one of the greatest threats to the Great Lakes because of their age, location and the hazardous products they transport—including tar sands derived oil.
For nearly two years, NWF has been pressing pipeline regulators and Enbridge to release information about the integrity of these pipelines, including inspection videos showing how the pipelines cross the Straits of Mackinac. These requests have gone largely unanswered from both Enbridge and the Pipeline Hazards Safety Administration (PHMSA), who regulates pipeline operations. Because Enbridge hastily moved forward with plans to increase pressure on the aging pipelines, and has bypassed critical environmental permitting for changes in operation, NWF decided we needed to obtain our own:
The footage shows pipelines suspended over the lakebed, some original supports broken away—indicating the presence of corrosion—and some sections of the suspended pipelines covered in large piles of unknown debris. This visual is evidence that our decision makers need to step in and demand a release of information from Enbridge and PHMSA.
Heightening our concern around this pipeline and the company that owns it: despite having cleared our dive work with the U.S. Coast Guard, several Congressional members and Homeland Security, our staff and the dive crew had uncomfortable interactions with Enbridge representatives. As soon as our team set out on the water, we were quickly accompanied by an Enbridge crew that monitored our every move. This monitoring did not stop at the surface: Enbridge also placed a Remote Operated Vehicle (ROV) into the water to watch our team.
These actions and our video have raised our level of concern for the general operational behavior of this company and their overall safety culture—including the way they treat the concerned public living near their pipelines. If these aging pipelines rupture, the resulting oil slick would cause irreversible damage to fish and wildlife, drinking water, Lake Michigan beaches, Mackinac Island and our economy.
To make matters worse, the recent shutdown of our federal government has left communities and wildlife with an increased risk of oil spills and failed response because pipeline safety and responding agencies have been scaled back or closed all together. The recent oil spill in North Dakota, of approximately 800,000 gallons, is living proof.
This article was originally published on National Wildlife Federation's Wildlife Promise.  

Plus, learn if there's one that's best for your health.
Catherine Falls Commercial / Moment / Getty Images
An invasive Amynthas worm, also known as a crazy snake worm, Asian jumping worm and Alabama jumper Tom Potterfield / Flickr
By Jason Bittel
My wife and I built a house two years ago on a few acres of woodland outside of Pittsburgh. The backyard is full of maples, poplars, briars and common spicebush. Two-lined salamanders and grumpy-looking crayfish wade among the rocks in the small stream that runs down the edge of the property. Deer, raccoon and opossum tracks appear regularly in the snow and mud. Sometimes, my trail-cam even catches a pair of gray foxes as they slink through the night.
AleksandarNakic / Getty Images
By Kate Murphy
No matter the time of year, there's always a point in each season when my skin decides to cause me issues. While these skin issues can vary, I find the most common issues to be dryness, acne and redness.

David Woodfall / The Image Bank / Getty Images
By Sam Nickerson
The U.S. Environmental Protection Agency (EPA) in April 2018 proposed relaxing standards related to how it assesses the effects of exposure to low levels of toxic chemicals on public health.
Now, correspondence obtained by the LA Times revealed just how deeply involved industry lobbyists and a controversial, industry-funded toxicologist were in drafting the federal agency's proposal to scrap its current, protective approach to regulating toxin exposure.
Steve Irwin poses with a three foot long alligator at the San Francisco Zoo on June 26, 2002. Justin Sullivan / Getty Images
February 22 is the birthday of conservationist and beloved TV personality "Crocodile Hunter" Steve Irwin, who would have been 57 years old today.
Irwin's life was tragically cut short when the barb from a stingray went through his chest while he was filming in 2006, but his legacy of loving and protecting wildlife lives on, most recently in a Google Doodle today honoring his birthday.