This website uses cookies to ensure you get the best experience while browsing it. By clicking 'Got It' you're accepting these terms.
Fire and Ice: What I Did On My Summer Vacation
Aug. 06, 2014 03:06PM EST
Climate

I did my best to get away from work last week while my family and I were on vacation visiting friends who live in Kalispell, the gateway to Montana's Glacier National Park. But it wasn't quite possible. You see, I'm a climate scientist. And the spectre of climate change stares you in the face as you tour the park.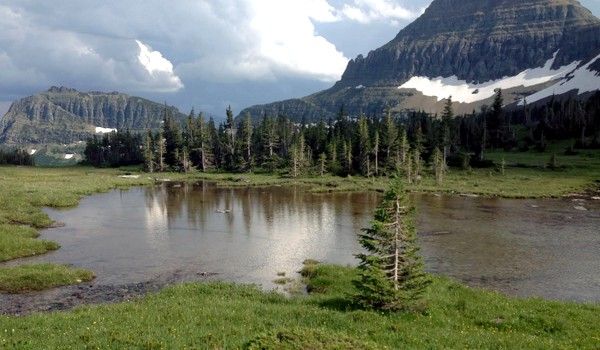 The once great mountain glaciers that gave the park its name have retreated dramatically in recent decades. Of the roughly 150 glaciers that existed in the park when it was established in 1910, only 25 remain today. You can't help but notice their tenuous appearance as you approach the continental divide heading up Going-to-the-Sun road toward Logan Pass, and as you hike the nearby trails watching Pika nervously scurry about as if they somehow sense a looming threat. Climate model projections indicate that Glacier National Park might lose all of its glaciers by 2030 as human-caused global warming proceeds. Perhaps it will be renamed "The Park formerly known as Glacier."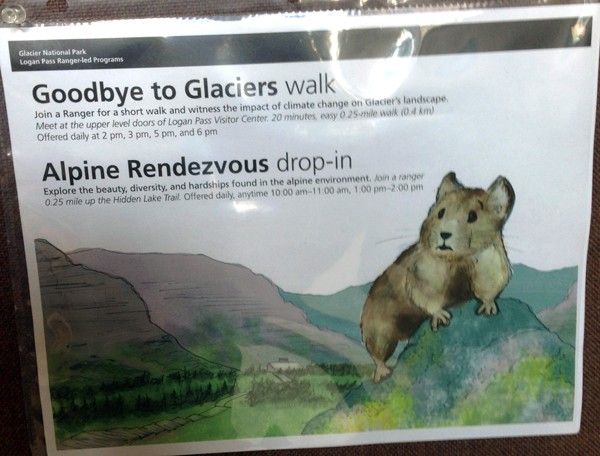 But that's just one of climate change impacts you see and feel. As you enter the park, you're warned that the current fire threat is "high." Fuel load is at peak levels due to pine forests weakened by warmth-loving pests such as "Pine Bark Beetle" that have moved as far north as northern Montana in recent years. The high fuel load has combined with extreme heat and drought in recent years to pose a wildfire triple threat, a threat that can be linked to climate change.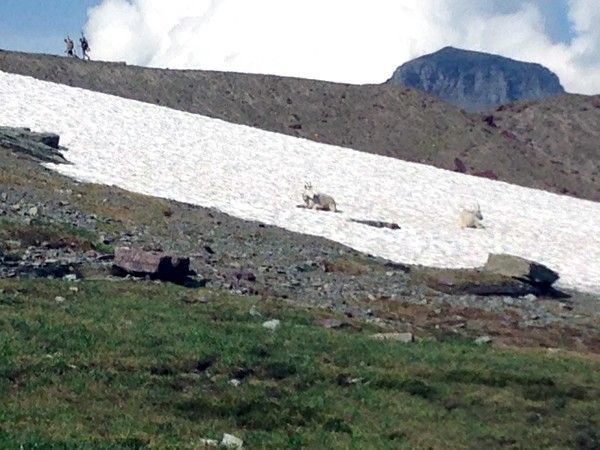 There were no active wildfires in the park that I was aware of during my visit. But according to The Hill, there are roughly 30 major wildfires raging across three West Coast states with California battling over a dozen large fires during the worst drought in the state's history, forcing Gov. Jerry Brown to declare a state of emergency last weekend. The smoke plume from the west coast wildfires is so massive that smoke is being transported all the way to Montana. This smoke was visible as we explored Glacier National Park, obscuring our view of some of the more distant peaks. Another reminder, as if we needed one, that climate change is already having a very intimate impact on our world.
Almost as if to comment on my experience, the White House released a video yesterday linking America's increasingly more frequent and widespread wildfires to climate change. 
"Climate change has been making the fire season in the U.S. longer and on average more intense," President Obama's Science Advisor Dr. John Holdren says in the video. He explains that wildfires have "increased several-fold in the last decade" and the eight worst years on record for "area burned" by wildfires "have all occurred since 2000."
"The influence of climate change on the wildfire regime comes not just from the higher summer temperatures and reduced summer soil moisture that go with global warming, but climate change is also bringing us more dead trees—kindling in effect—killed by a combination of heat stress, water stress and attacks by pests and pathogens that multiply faster in a warmer world," Holdren added.
He warns, "Longer, hotter, dryer summers are projected to continue to increase the frequency and intensity of large wildfires in the United States."
You Might Also Like
White House Senior Science Advisor: Wildfires Are Linked to Climate Change
Global Warming Deniers Become More Desperate By the Day
EcoWatch Daily Newsletter
Ice-rich permafrost has been exposed due to coastal erosion, National Petroleum Reserve, Alaska. Brandt Meixell / USGS
By Jake Johnson
An alarming study released Tuesday found that melting Arctic permafrost could add nearly $70 trillion to the global cost of climate change unless immediate action is taken to slash carbon emissions.
According to the new research, published in the journal Nature Communications, melting permafrost caused by accelerating Arctic warming would add close to $70 trillion to the overall economic impact of climate change if the planet warms by 3°C by 2100.
Jeff Reed / NYC Council
The New York City Council on Thursday overwhelmingly passed one of the most ambitious and innovative legislative packages ever considered by any major city to combat the existential threat of climate change.

Ghazipur is a neighborhood in East Delhi. It has been one of the largest dumping site for Delhi. India is one of many countries where global warming has dragged down economic growth. Frédéric Soltan / Corbis / Getty Images
Global inequality is worse today because of climate change, finds a new study published Monday by Stanford University professors Noah Diffenbaugh and Marshall Burke in the Proceedings of the National Academy of Sciences.
A child playing with a ball from planet earth during Extinction Rebellion rally on April 18 in London, England. Brais G. Rouco / Barcroft Media / Getty Images
Earth Day 2019 just passed, but planning has already begun for Earth Day 2020, and it's going to be a big deal.
Geneva Vanderzeil, A Pair & A Spare / Flickr / CC BY 2.0
Is your closet filled with clothes you don't wear (and probably don't like anymore)? Are you buying cheap and trendy clothing you only wear once or twice? What's up with all the excess? Shifting to a more Earth-conscious wardrobe can help simplify your life, as well as curb fast fashion's toll on people and the planet.
Christine Zenino / Wikimedia Commons / CC BY 2.0

The 18th century St. Catherine of Alexandria church is seen after its bell tower was destroyed following a 6.3 magnitude earthquake that struck the town of Porac, pampanga province on April 23. TED ALJIBE / AFP / Getty Images
At least 16 people have died, 81 are injured and 14 are still missing after an earthquake struck Luzon island in the Philippines Monday, according to the latest figures from the National Disaster Risk Reduction and Management Council, as the Philippine Star tweeted Tuesday.
Climate change activists gather in front of the stage at the Extinction Rebellion group's environmental protest camp at Marble Arch in London on April 22, on the eighth day of the group's protest calling for political change to combat climate change. TOLGA AKMEN / AFP / Getty Images