This website uses cookies to ensure you get the best experience while browsing it. By clicking 'Got It' you're accepting these terms.
Finding Real Solutions to #TakeOn Climate Change
Apr. 20, 2015 07:55AM EST
Climate
During the Global Citizen 2015 Earth Day event on the Washington Monument Grounds in Washington, DC on Saturday, Connect4Climate and Earth Day Network organized a roundtable to engage world leaders and influencers in a candid conversation on climate communication. The discussion provided new approaches to messaging and framing climate science and solutions to increase awareness and catalyze action on climate change.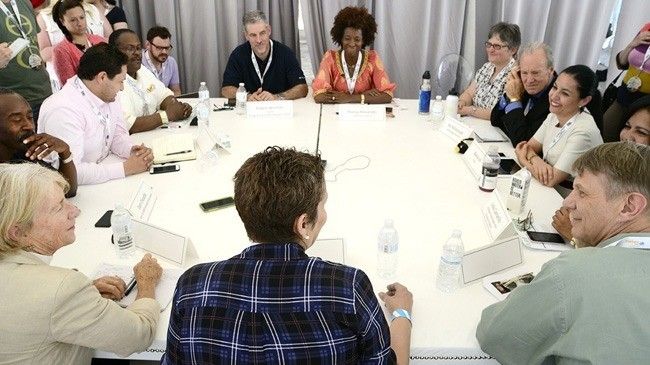 The roundtable brought together a diverse group of business and nonprofit leaders, including:
Bianca Alexander, creative director and host of Conscious Living TV, and moderator of the roundtable

Lucia Grenna, program manager at Connect4Climate at the World Bank Group

Denis Hayes, board chair at Earth Day Network and CEO of The Bullitt Foundation

Blanca Juti, chief brand officer at Rovio, the makers of Angry Birds

Lydia Camarillo, vice president of Southwest Voter Registration Education Project

Gregory Moore, executive director at NAACP National Voter Fund

Ahmad Ashkar, founder and CEO of the Hult Prize Foundation

Piers Sellers, deputy director of the Sciences and Exploration Directorate and acting director of the Earth Sciences Division at NASA

Don Cheadle, actor, activist and United Nations Goodwill Ambassador

William McDonough, chief executive of McDonough Innovation

Reverend Sally Bingham, founder and president of The Regeneration Project

Robert Wimmer, director of Energy & Environment Research Group and Technical & Regulatory Affairs at Toyota Motor North America

Dr. Catherine Thomasson, executive director of Physicians for Social Responsibility
The roundtable discussed the following questions:
How has your organization worked to reach new and broader audiences? Who is still missing from the conversation?

How do we craft messaging to move people from awareness to action?

How can athletes, artists and celebrities and other major social influencers best activate their large followings? What are the pitfalls?

What is the role of social and technological innovation in communicating climate change?

Where are the opportunities to build leadership in the movement? How can climate communications support climate leadership development?

How will you and your organization sustain involvement in the movement beyond large-scale actions, such as Global Citizen 2015 Earth Day, People's Climate March or COP 21 in Paris?

Moving forward from this conversation and looking towards Paris, how do you plan to advance climate action?
Lydia Camarillo of Southwest Voter Registration Education Project began the conversation talking about how their efforts have registered more than 2.6 million Latinos. But about 15 years ago her organization realized they can't just fight for civil rights but also need to fight for our planet and make sure Latinos understand the impacts that climate change has on their communities.
She said, "What difference does it make if we fight to have an empowered community if we don't have a planet."
In the discussion on crafting the climate change message, Connect4Climate's Lucia Grenna said, "The greatest revolution of social media is not that we can communicate to millions of people, but rather millions of people can communicate to us. We hear stories from around the world and understand that climate change is not a scientific issue, it's very very real and it's about walking two extra hours to get water in Somalia or the floods in Bangladesh or drought in Sub-Saharan Africa."
Rev. Bingham of The Regeneration Project shared her thoughts. "Every social movement in this country has had the backing and the foundation of religious leaders ... We have people within the faith community that are calling climate change a civil rights movement, that it is the next civil rights movement that everybody is entitled to clean air and clean water."
Don Cheadle, an award-winning actor who participated in many of the days activities, visited the Alcantara Magic Garden-Connect4Climate pavilion, which was powered 100 percent by solar energy thanks to Building Energy. It was the first solar array ever installed on DC's National Mall.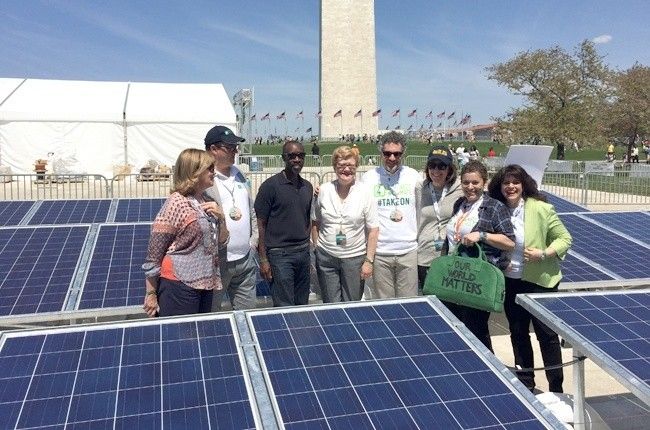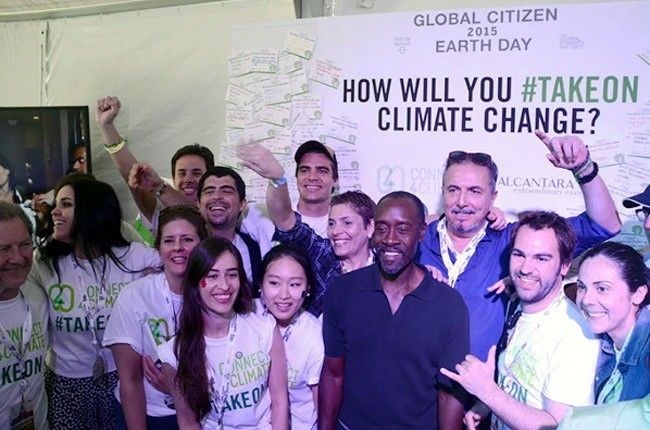 "I think we are all in agreement that what we are dealing with is real and we need to make moves to address it," said Cheadle during the roundtable. "But if we can't bring everyone under the big tent, if we can't find ways to get the message out to those who are not in our camp, I think we're losing, we're missing. I'm interested in all the issues, but really I'm interested in how to communicate those issues more effectively. When we start to drill down and get out of policy and start getting into people, we start getting more nodding heads instead of folded arms."
YOU MIGHT ALSO LIKE
World Premiere of Chloe & Theo and Its Extraordinary Behind-the-Scenes Story
Funny or Die Video: How to Diagnose Climate Change Denial Disorder
EcoWatch Daily Newsletter
Artist's conception of solar islands in the open ocean. PNAS
Millions of solar panels clustered together to form an island could convert carbon dioxide in seawater into methanol, which can fuel airplanes and trucks, according to new research from Norway and Switzerland and published in the Proceedings of the National Academy of Sciences journal, PNAS, as NBC News reported. The floating islands could drastically reduce greenhouse gas emissions and dependence on fossil fuels.
Marcos Alves / Moment Open / Getty Images
More than 40 percent of insects could go extinct globally in the next few decades. So why did the U.S. Environmental Protection Agency (EPA) last week OK the 'emergency' use of the bee-killing pesticide sulfoxaflor on 13.9 million acres?
EcoWatch teamed up with Center for Biological Diversity via EcoWatch Live on Facebook to find out why. Environmental Health Director and Senior Attorney Lori Ann Burd explained how there is a loophole in the The Federal Insecticide, Fungicide, and Rodenticide Act under section 18, "that allows for entities and states to request emergency exemptions to spraying pesticides where they otherwise wouldn't be allowed to spray."
Simple swaps that cut down on kitchen trash.
Sponsored
By Kayla Robbins
Along with the bathroom, the kitchen is one of the most daunting areas to try and make zero waste.
View of downtown Miami, Florida from Hobie Island on Feb. 2, 2019.
Michael Muraz / Flickr
The Democratic candidates for president descended upon Miami for a two-night debate on Wednesday and Thursday. Any candidate hoping to carry the state will have to make the climate crisis central to their campaign, as The New York Times reported.
By Sharon Kelly
On Monday, the Wall Street Journal featured a profile of Scott Sheffield, CEO of Pioneer Natural Resources, whose company is known among investors for its emphasis on drawing oil and gas from the Permian basin in Texas using horizontal drilling and hydraulic fracturing, or fracking.
Pexels
By Craig K. Chandler
The federal government has available to it, should it choose to use them, a wide range of potential climate change management tools, going well beyond the traditional pollution control regulatory options. And, in some cases (not all), without new legislative authorization.
Denis Poroy / Getty Images
By Dan Gray
Processed foods, in their many delicious forms, are an American favorite.
But new research shows that despite increasing evidence on just how unhealthy processed foods are, Americans have continued to eat the products at the same rate.
By Sarah Steffen
With a profound understanding of their environmental surroundings, indigenous communities around the world are often cited as being pivotal to tackling climate change.