Find Out Why Multi-Millionaire CEO of Zappos Lives in a Trailer Park
Aug. 24, 2015 12:25PM EST
Business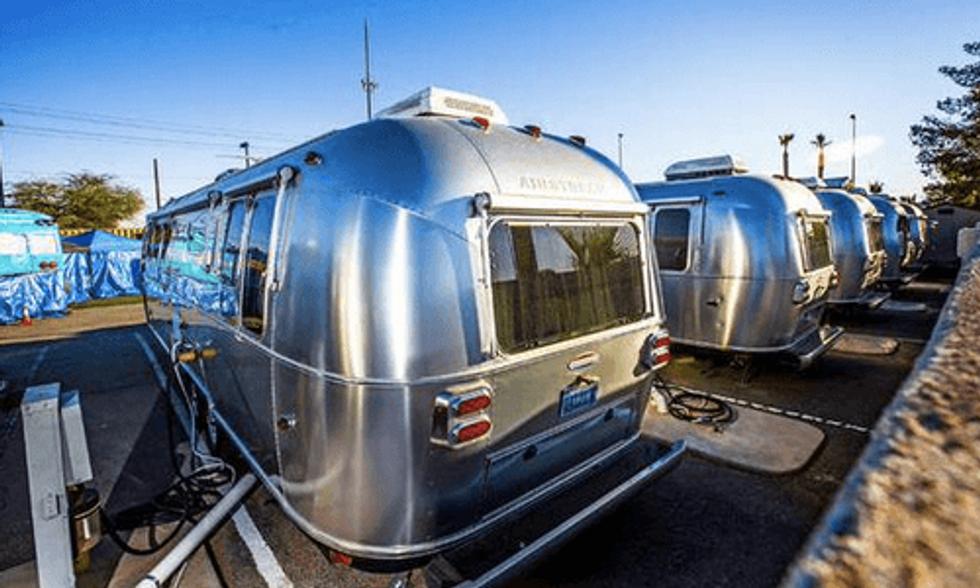 Tony Hsieh is proof that bigger isn't always better. The CEO of online shoe company Zappos lives the simple life in a Las Vegas trailer park with his pet chickens and an alpaca named Marley.
Tony Hsieh tinkers with 'urban camping' in Airstream trailers http://t.co/w7N9DjaKOY #DowntownProject #DTLV #Vegas pic.twitter.com/GSedQ2tiCq

— Las Vegas Locally (@LasVegasLocally) January 4, 2015
Despite a reported net worth of $820 million, he calls a 240 square foot Airstream trailer home.
"It's definitely a unique experience," he told Las Vegas Weekly about his small space. "It allows me to be more creative, in a way, because it helps me concentrate on what's important."
Even though he could pick from any number of shoes on his website, Hsieh only owns four pairs: flip-flops, slippers for the home and a pair of Donald Pliner's for when he's not wearing sneakers, he told ABC News.
Sure, he lives in a trailer park but one wouldn't say that Hsieh's living standards are all too shabby. According to Las Vegas Weekly, the Airstreams (which retail for around $48,000) are tricked out with wood paneling, stainless-steel appliances, a Bluetooth stereo and two TVs.
Hsieh also owns the entire East Fremont lot he lives in, which is home to 20 other Airstream trailers and 10 tiny Tumbleweed houses for friends, family, colleagues and visitors. Rent goes for about $950 a month.
Tony Hsieh has $820 mil net worth but lives in an #Airstream in a trailer park w/ an alpaca! http://t.co/1bPFyg1BHx pic.twitter.com/iji5A7XsXl

— Susie Blackmon (@SusieBlackmon) July 20, 2015
The tiny living community, affectionately known as Llamalopolis, was designed to foster "communal nature and randomness" and was inspired by the Burning Man festival, according to Las Vegas Weekly. There's a bonfire and a movie projected on a blow-up screen every night, as well as a shared kitchen, living room and other common areas to encourage interactions.
"We want people to contribute more than they take," the eccentric boss told Las Vegas Weekly. "For some people, it might be cooking for everyone. For others it might be playing music."
"I see my neighbors a lot more now than I did when living in a house in the suburbs or living in an apartment building," Hsieh told the Las Vegas Review Journal.
The internet entrepreneur lived in 10 places, including a luxury 23rd-floor condominium, before moving into the trailer, which he considers his favorite so far.
"I care more about experiences than stuff," he says in the video below.
Ever the unconventional chief exec, Hsieh works for just $36,000 a year in exchange for the autonomy to run his company (which was acquired by Amazon for $850 million in 2009) how he wants, according to the New York Times.
Zappos, which makes regular appearances on Forbes' annual Best Companies to Work For list, eschews traditional hierarchy for a self-management system called "Holacracy" in which its 1,500 employees define their own jobs, salaries and have a say in how the company runs.
The son of Taiwanese immigrants and Harvard-educated, Hsieh sold his first company, LinkExchange, to Microsoft for $265 million, the Times reported.
He is also the founder of the Downtown Project, a (somewhat controversial) effort to revitalize Las Vegas' historic downtown. He invested $350 million to help rebuild the district, including a $50 million investment in local businesses to help spur the neighborhood and make the area more walkable, Hsieh told ABC News.
YOU MIGHT ALSO LIKE
America's First Hemp House Pulls CO2 From the Air
Tiny House Festival Expected to Be Huge
EcoWatch Daily Newsletter