This website uses cookies to ensure you get the best experience while browsing it. By clicking 'Got It' you're accepting these terms.
Find Out Which U.S. City Shames You Into Composting
Jan. 29, 2015 12:22PM EST
Seattle joins other progressive cities like San Francisco, Portland, Vancouver and New York to have composting mandates. Last September, the Seattle City Council passed an ordinance prohibiting food from the city's residential and commercial garbage The ban went into effect on Jan. 1, but fines won't be issued until July. In the meantime, the city has an interesting way to make people compost: shame.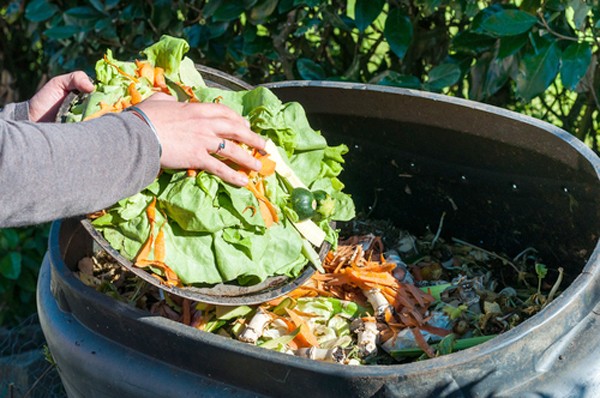 Photo credit: Shutterstock
Any establishment—businesses, single family homes, apartments, you name it—with more than 10 percent food or compostable paper in its garbage earns a scarlet letter—in the form of a bright red tag—on their garbage bin. The goal of this public shaming is to warn residents about impending fines and, hopefully, create an even stronger culture of composting in which it is simply the norm. All establishments will have to subscribe to a composting service offered by the city for a fee (just like garbage and recycling), compost their food waste themselves or take the food waste to a processing facility, according to Seattle Public Utilities (SPU).
Why the hard line on composting? SPU estimates that "Seattle sends approximately 100,000 tons of food waste 300 miles to a landfill in Eastern Oregon each year, resulting in higher costs and greenhouse gas emissions."According to the Environmental Protection Agency, organic materials continue to be the largest source of municipal solid waste—more than plastic, paper, metal or glass. SPU believes the food waste law will "divert 38,000 tons of food scraps from the landfill via composting, thus helping the city achieve its goal of recycling and composting 60 percent of its waste by 2015."
Seattle has long been a leader in the U.S. for its recycling and composting programs. Seattle has had curbside food waste collection since 2005. In 2007, the city adopted a zero waste resolution with the goal of diverting 70 percent of its waste to recycling and composting by 2030. Then, in 2009, Seattle required all residential properties to subscribe to food and yard waste collection or participate in backyard composting. Seattle businesses where customers discard single use packaging have been required to provide recycling and composting bins since 2009, as well. Multi-family buildings have been required to provide compost collection service for their residents since 2011. The city has also prohibited recyclables in the garbage since 2005, but now, instead of just leaving the garbage on the curb as collectors have done for the last decade, the city will be issuing fines.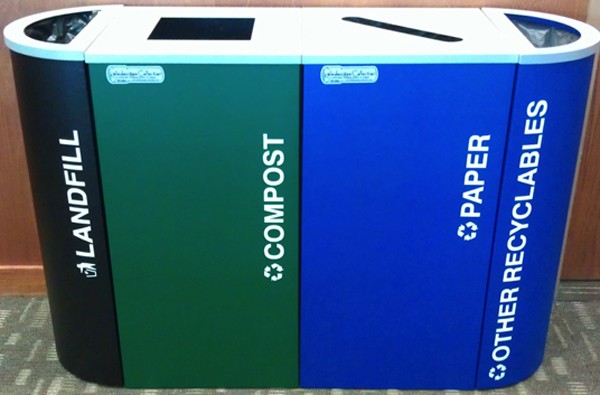 So the new mandate is not some giant leap. Recycling and composting have been a city-wide practice for years. But there has been no way to really regulate whether recyclable and compostable items are being properly sorted until now. Beginning in July, non-compliant, single-family residences will receive a $1 fine on their bi-monthly garbage bill. Multi-family and commercial properties will receive a warning notice. After the third notice, they will receive a $50 fine.
Maybe you're wondering: Why the need for tags and fines? With some of the strictest recycling and composting laws in the country and some of the most environmentally-minded citizens too, Seattle residents are probably on top of this recycling and composting thing, right?
"Right now, I'm tagging probably every fifth can," Rodney Watkins, a waste contractor for the city, told NPR. "I don't know if that's just the holidays, or the fact that I'm actually paying a lot more attention." Either way, the city wants to achieve its goal of diverting 60 percent of its waste by 2015. It's currently at 56 percent, so city officials are hoping this measure will get them there by the end of the year. According to SPU, citizens are on board, too: 74 percent supported it and only 11 percent were opposed. And the food waste the city collects? It's turned into compost for local parks and gardens.
YOU MIGHT ALSO LIKE
How to Achieve Ambitious Sustainability Goals at the City Level
Bill Nye Says 'Give a F**k' About Climate Change and Forget 'Deflategate'
'Just Eat It': Documentary Explores Food Waste From Farm to Fridge
Climate activist Greta Thunberg addresses the European Commission on Feb. 21 in Brussels, Belgium. Sylvain Lefevre / Getty Images
By Julia Conley
Sixteen-year-old climate action leader Greta Thunberg stood alongside European Commission President Jean-Claude Juncker Thursday in Brussels as he indicated—after weeks of climate strikes around the world inspired by the Swedish teenager—that the European Union has heard the demands of young people and pledged more than $1 trillion over the next seven years to address the crisis of a rapidly heating planet.

In the financial period beginning in 2021, Juncker said, the EU will devote a quarter of its budget to solving the crisis.
A new study reveals the health risks posed by the making, use and disposal of plastics. Jeffrey Phelps / Getty Images
With eight million metric tons of plastic entering the world's oceans every year, there is growing concern about the proliferation of plastics in the environment. Despite this, surprisingly little is known about the full impact of plastic pollution on human health.
But a first-of-its-kind study released Tuesday sets out to change that. The study, Plastic & Health: The Hidden Costs of a Plastic Planet, is especially groundbreaking because it looks at the health impacts of every stage in the life cycle of plastics, from the extraction of the fossil fuels that make them to their permanence in the environment. While previous studies have focused on particular products, manufacturing processes or moments in the creation and use of plastics, this study shows that plastics pose serious health risks at every stage in their production, use and disposal.
IKEA is working on a specially-designed, air-purifying curtain called the GUNRID. IKEA
Air pollution within the home causes 3.8 million deaths a year, according to the World Health Organization. A recent University of Colorado in Boulder study reported by The Guardian found that cooking a full Thanksgiving meal could raise levels of particulate matter 2.5 in the house higher than the levels averaged in New Delhi, the world's sixth most polluted city.
But soon, you will be able to shop for a solution in the same place you buy your budget roasting pans. IKEA is working on a specially-designed, air-purifying curtain called the GUNRID.
The first member of the giant tortoise species Chelonoidis phantasticus to be seen in more than 100 years. RODRIGO BUENDIA / AFP / Getty Images
A rare species of giant tortoise, feared extinct for more than 100 years, was sighted on the Galápagos island of Fernandina Sunday, the Ecuadorian government announced.