Find Out Which State Wants to Include Burning Tires in Its Definition of 'Renewable Energy'
Dec. 05, 2014 12:46PM EST
Energy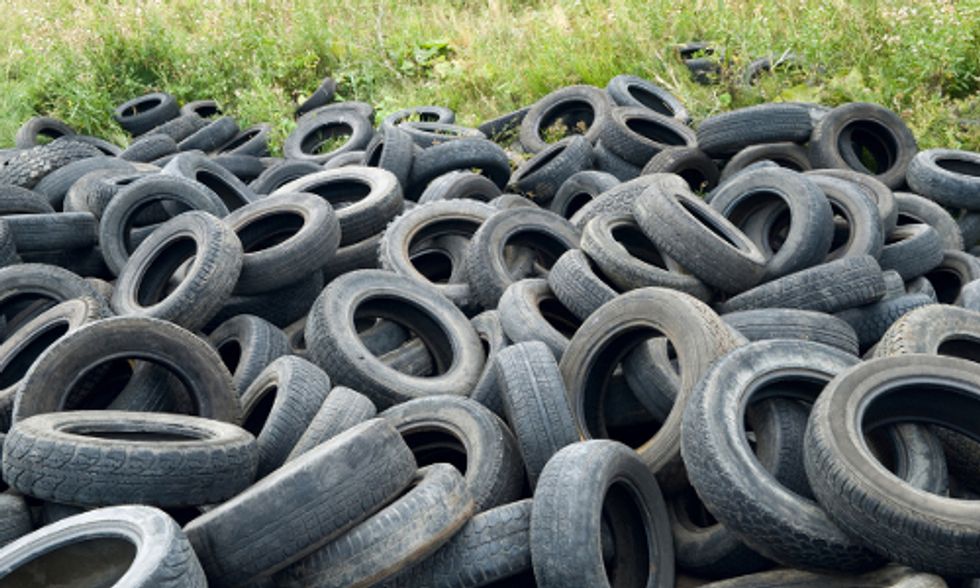 Renewable energy standards, which fueled the growth of clean energy technologies like wind and solar, are under attack, as fossil fuel interests fight to protect their greenhouse gas-emitting, climate change-fueling turf. Ohio has frozen its renewable energy standards, but in Michigan, legislators have come up with a whole new angle: renewable dirty energy.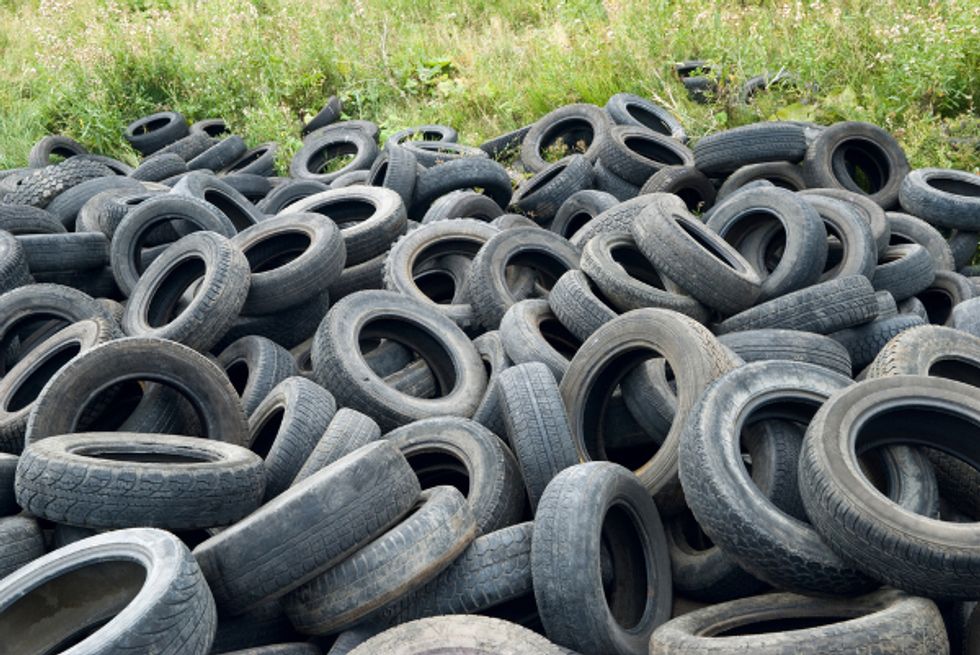 Photo credit: Shutterstock
Yesterday, in the process of considering the extension of the state's renewable energy standards which expire next year, the Michigan House of Representatives passed HB 5205. It amends the state's Clean, Renewable and Efficient Energy Act to include—burning tires? You bet! Or as the bill summary blandly puts it, "remove unnecessary burdens on the appropriate use of solid waste as a clean energy source."
The bill would "allow fuel manufactured from municipal solid waste, among other waste sources, to be a 'renewable energy resource' and revise the definition of the term, allow for the use of pyrolysis technologies [a method of making biofuels from a variety of waste products] in the generation of renewable energy, consider an advanced waste-to-energy facility to be a renewable energy system and remove the prohibition on granting a renewable energy credit for energy generated from municipal solid waste incinerators by exceeding the incinerator's nameplate capacity."
What does it mean when it says "revise the definition" of a "renewable energy resource"?  It would delete the current definition—"a resource that naturally replenishes over a human, not a geological, time frame and that is ultimately derived from solar power, water power or wind power. Renewable energy resource does not include petroleum, nuclear, natural gas or coal. A renewable energy resource comes from the sun or from thermal inertia of the earth and minimizes the output of toxic material in the conversion of the energy." And it would add fuel manufactured from waste of any type, including hazardous industrial waste, railroad ties and tires. The bill is supported by Dow Industries and the Michigan Chemical Council.
According to bill sponsor Aric Nesbitt, chair of the House Energy and Technology Committee, new technologies approved in the bill would allow non-recyclable plastics and other materials to be converted to energy with low emissions.
Lisa Wozniak, executive director of the Michigan League of Conservation Voters, disagrees with Nesbitt's contention that burning these wastes can be done in an environmentally friendly way.
"The House should be focused on expanding true clean, renewable energy, not allowing polluters to burn tires and call it 'renewable energy,'" she said. "House Bill 5205 is nothing more than a dangerous plan to pollute our air, land and water. It sets a dangerous precedent by changing the scientific definition of renewable energy."
"Michiganders from both sides of the aisle want more clean, renewable energy and we should be taking steps to reduce pollution, not encourage more of it," said Wibke Heymach, Midwest regional manager for Moms Clean Air Force. "Encouraging the burning of hazardous waste will create more pollution and more health problems for Michigan kids, families and seniors."
Nesbitt responded with attacks on groups like Wozniak's and Heymach's.
"Whether it's tires or other things, that's already happening, and the environmentalists, these extreme environmental groups will stop at nothing to prevent our progress toward an all-of-the-above energy policy," he said.
And Nesbitt's fellow Republican legislator Ed McBroom said, "There are piles of tires out of the middle of nowhere ... let's do something with them."
YOU MIGHT ALSO LIKE
Ohio Gov. John Kasich Signs Nation's First Renewable Energy Freeze
Interactive Map: Find Out How Your State Ranks on Renewable Energy
How 76 State Representatives Crushed an ALEC-Funded Attack on Renewables
EcoWatch Daily Newsletter
Related Articles from EcoWatch
Recent Stories from EcoWatch