This website uses cookies to ensure you get the best experience while browsing it. By clicking 'Got It' you're accepting these terms.
Find Out Which State Just Passed a Ban on Banning Plastic Bags
Apr. 07, 2015 08:09AM EST
Good news, environmentalists: Arizona has passed a plastic bag ban. Wait, scratch that. It turns out they've actually passed a ban on plastic bag bans. Thank goodness state legislators are working hard to make sure that people are free to waste as many non-decomposable items as they see fit.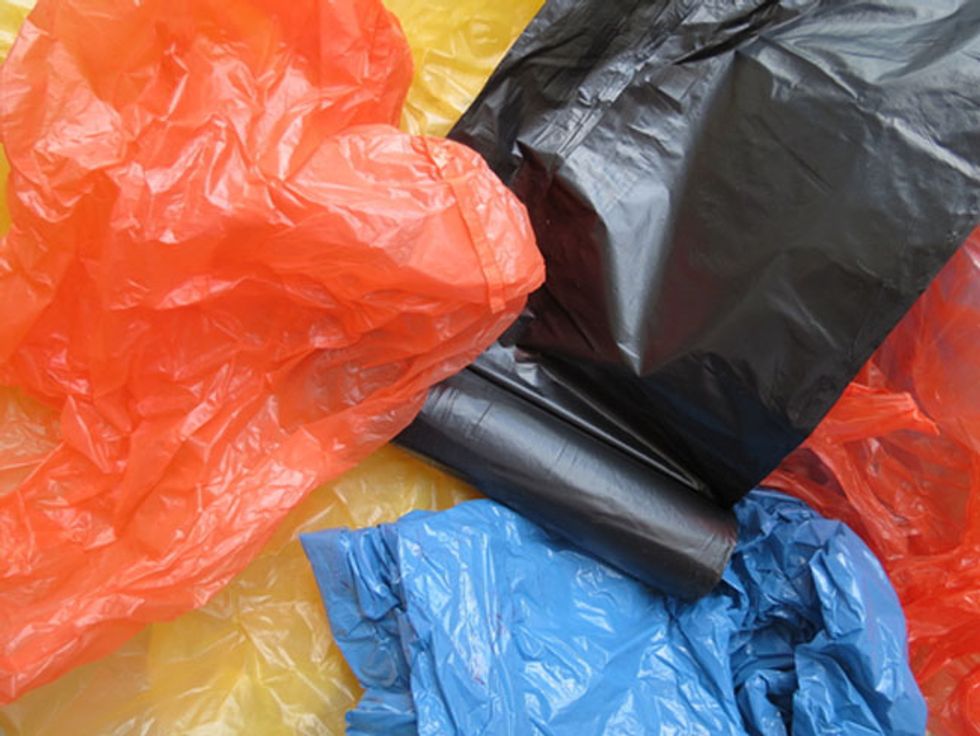 Photo credit: Shutterstock
The bill is the handiwork of Republican State Sen. Nancy Barto, who is concerned that future "excessive regulation" on bags and other disposable containers could stifle economic growth. Therefore, she drafted legislation to preemptively block any no-good hippies from trying to impose a little social responsibility on the free market. With the help of conservative majorities in both the state House and Senate, the bill passed and now awaits the governor's signature.
The ban on bans doesn't stop at just bags, either. The law also will stop local governments from putting any restrictions on bottles, cans and boxes. State Republicans argue that any attempt to say how stores or customers can carry items would unnecessarily burden state businesses.
"I'm extremely concerned about economic freedom in this state," said State Rep. Warren Petersen, who helped introduce the bill. "For me, I support individual rights and people making their own decisions."
Alas, Arizona consumers aren't making smart decisions when it comes to plastic bags. Few shoppers bring reusable bags with them when they shop, and less than five percent of the state's single use bags are recycled. Those that are recycled cause problems—Phoenix reports $1 million in damage to recycling machinery annually due to bags. Tempe, alone, is estimated to go through 50 million single-use plastic bags in a year, and that's just counting the damage coming from the eighth most populated city in the state.
At what point does protecting Arizonans from their own environmental destruction take precedent over slightly inconveniencing them? Future generations aren't likely to be so thankful that politicians chose "individual rights" over environmental responsibility.
From the state's aggressive action on this issue, you might assume that several local governments had already implemented bag bans of their own. On the contrary, just one town in the state had previously passed a bag ban: Bisbee, Ariz. Hopefully Bisbee's 5,500 residents will exercise their newfound "individual rights" and continue to forego single use bags in favor of the reusable variety.
Considering that bag restrictions weren't even popular in Arizona, the ban on bans is clearly more of a reaction to other states' successful transitions to a greener way of shopping. Places that have already passed such bans have slashed the need for hundreds of millions of bags, reduced local litter and found that customers largely aren't inconvenienced by the switch, especially after they get used to it.
Simply put, conservative Arizonans don't want to admit that the environment should be a concern, so they're preemptively putting up a blockade for when most of the country is going bag-free. Like so many issues, though, Arizona is going to be on the wrong side of history with the bag ban ban. Sure they can do what they can to spite liberals and environmentalists in the meantime, but the green movement is coming!
YOU MIGHT ALSO LIKE
Must-See Video Shows Reality of California's Historic Drought
Jay Z is Wrong, Water Service Is Not Free
California's Historic Drought Threatens the Future of Orca Whales
EcoWatch Daily Newsletter
Bill Bader, owner of Bader Farms, and his wife Denise pose in front of the Rush Hudson Limbaugh Sr. United States Courthouse in Cape Girardeau, Missouri on Jan. 27, 2020.
Johnathan Hettinger /
Midwest Center for Investigative Reporting
A jury in Missouri awarded a farmer $265 million in a lawsuit that claimed Bayer and BASF's weedkiller destroyed his peach orchard, as Reuters reported.
Earthjustice says Louisiana has violated the Clean Water Act and given Formosa Plastics Group the "greenlight to double toxic air pollution in St. James" (seen above).
Louisiana Bucket Brigade
A coalition of local and national groups on Friday launched a legal challenge to a Louisiana state agency's decision to approve air permits for a $9.4 billion petrochemical complex that Taiwan-based Formosa Plastics Group plans to build in the region nationally known as "Cancer Alley."
Bears Ears National Monument in Utah. Bob Wick / BLM / onEarth
Well, he told us he would do it. And now he's actually doing it — or at least trying to. Late last week, President Trump, via the U.S. Department of the Interior's Bureau of Land Management, announced that he was formalizing his plan to develop lands that once belonged within the Bears Ears and Grand Staircase-Escalante National Monuments in southern Utah. The former is a stunningly beautiful, ecologically fragile landscape that has played a crucial role in Native American culture in the Southwest for thousands of years; the latter, just as beautiful, is one of the richest and most important paleontological sites in North America.
Smoke pours from the exhaust pipes on a truck on Nov. 5, 2019 in Miami, Florida. According to a 2017 EPA study the largest source of greenhouse gas emissions in the U.S. is from the transportation sector. Joe Raedle / Getty Images
Hundreds of thousands of green-lipped mussels (like those pictured) were found dead on a New Zealand beach.
DianesPhotographicDesigns
/ iStock / Getty Images
Hundreds of thousands of mussels that cooked to death off the New Zealand coast are likely casualties of the climate crisis.