This website uses cookies to ensure you get the best experience while browsing it. By clicking 'Got It' you're accepting these terms.
Find out Which Businesses, Cities and Universities Use 100 Percent Green Energy
Nov. 05, 2013 10:33AM EST
Business
More and more businesses, municipalities and universities are promoting themselves as efficient, but only a select few can honestly say they use 100 percent clean energy.
The U.S. Environmental Protection Agency (EPA) celebrated those green energy consumers yesterday by releasing its 100% Green Power Users list. The list is comprised of organizations in the agency's Green Power Partnership (GPP), which includes more than 1,500 organizations that collectively use more than 28 billion kilowatt hours (kWh) of green power each year. The GPP includes some of the cities Americans live in, stores where they shop, governmental entities they rely on and colleges they might send their children to.
The 966 partners that made the 100% Green Power Users list account for 11.5 billion kWh, according to the EPA. Since all of the users power their structures with 100 percent renewable energy—some exceed that mark through a combination of renewable energy certificates (RECs) and on-site installations—they are only ranked by annual usage.
Here are the top 10 power users: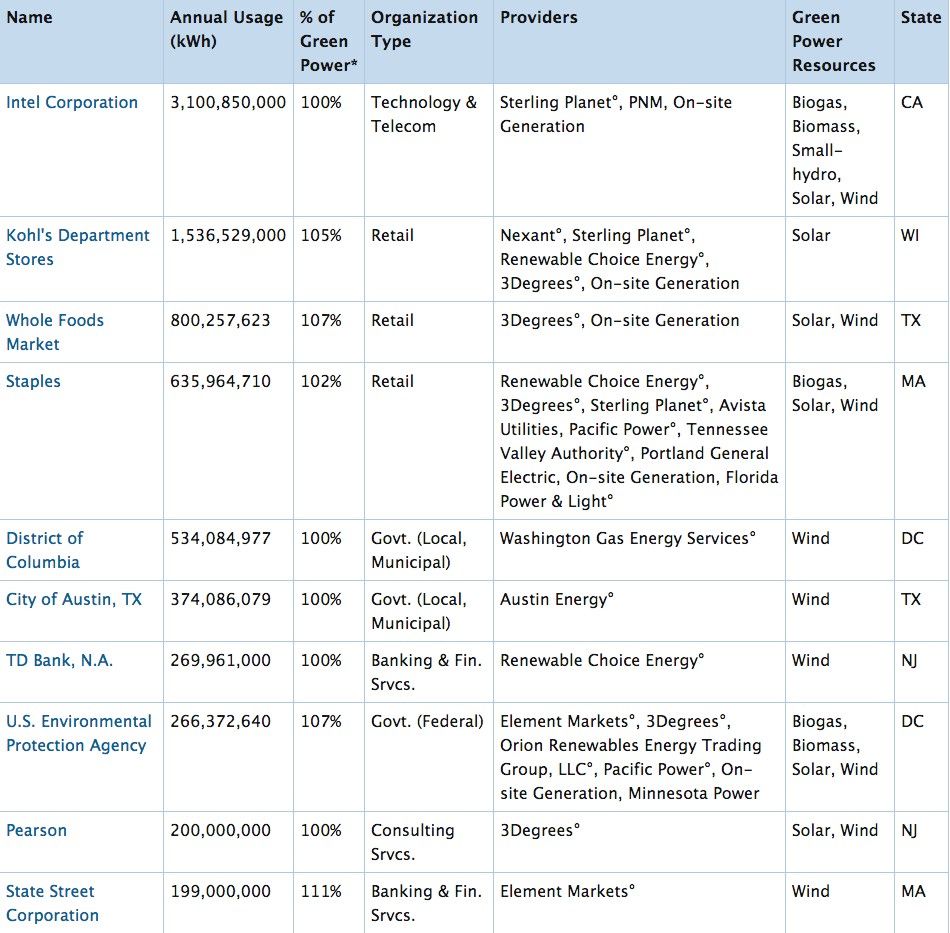 Intel Corp. has 7,000 kilowatts of installed solar capacity. The company's green power purchasing has the equivalent environmental impact of taking more than 455,000 passenger cars off the road each year or avoiding the amount of electricity it would take to power more than 327,000 average U.S. homes each year, according to the EPA.
"Our renewable purchase is just one part of a multi-faceted approach to protect the environment, and one that we hope spurs additional development and demand for renewable energy," said Marty Sedler, Intel's director of global utilities and infrastructure.
The EPA yesterday also issued its ranking of the top 30 on-site generators of green power. Usage figures are based on annualized GPP member contract amounts in kilowatts, not calendar year totals. The rankings are updated each quarter.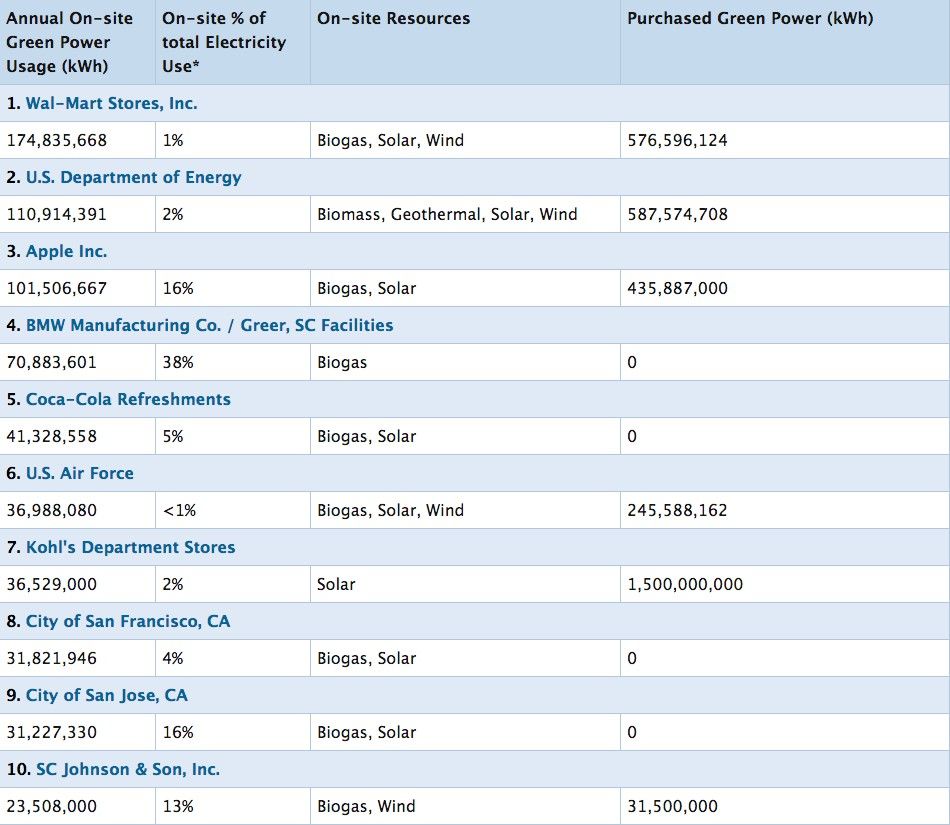 Combined, the partners' on-site green power consumption totals nearly 860 million kWh of clean energy per year—an amount the EPA says is equivalent to evading the carbon dioxide emissions from the electricity use of more than 91,000 average U.S. homes each year.
Energy users can meet GPP requirements using any combination of three criteria: RECs, on-site generation and utility green power products.
Visit EcoWatch's RENEWABLES page for more related news on this topic.

EcoWatch Daily Newsletter
By Anita Desikan
The Trump administration is routinely undermining your ability — and mine, and everyone else's in this country — to exercise our democratic rights to provide input on the administration's proposed actions through the public comment process. Public comments are just what they sound like: an opportunity for anyone in the public, both individuals and organizations, to submit a comment on a proposed rule that federal agencies are required by law to read and take into account. Public comments can raise the profile of an issue, can help amplify the voices of affected communities, and can show policymakers whether a proposal has broad support or is wildly unpopular.
Alena Gamm / EyeEm / Getty Images
Picture this: a world where chocolate is as rare as gold. No more five-dollar bags of candy on Halloween. No more boxes of truffles on Valentine's day. No more roasting s'mores by the campfire. No more hot chocolate on a cold winter's day.
Who wants to live in a world like that?
Fabian Krause / EyeEm / Getty Images
Water protectors of all persuasions gathered in talking circles at Borderland Ranch in Pe'Sla, the heart of the sacred Black Hills, during the first Sovereign Sisters Gathering. At the center are Cheryl Angel in red and white and on her left, Lyla June. Tracy Barnett
By Tracy L. Barnett
Sources reviewed this article for accuracy.
For Sicangu Lakota water protector Cheryl Angel, Standing Rock helped her define what she stands against: an economy rooted in extraction of resources and exploitation of people and planet. It wasn't until she'd had some distance that the vision of what she stands for came into focus.
Hedges, 2019 © Hugh Hayden. All photos courtesy of Lisson Gallery
By Patrick Rogers
"I'm really into trees," said the sculptor Hugh Hayden. "I'm drawn to plants."
BruceBlock / iStock / Getty Images
Thanks to their high concentration of powerful plant compounds, foods with a natural purple hue offer a wide array of health benefits.