This website uses cookies to ensure you get the best experience while browsing it. By clicking 'Got It' you're accepting these terms.
Find Out Which Brands Still Use Toxic BPA-Lined Cans (And Which Don't)
Jun. 04, 2015 08:46AM EST
Food
In a survey of more than 250 brands of canned food, researchers found that more than 44 percent use bisphenol-A (BPA) lined cans for some or all of their products.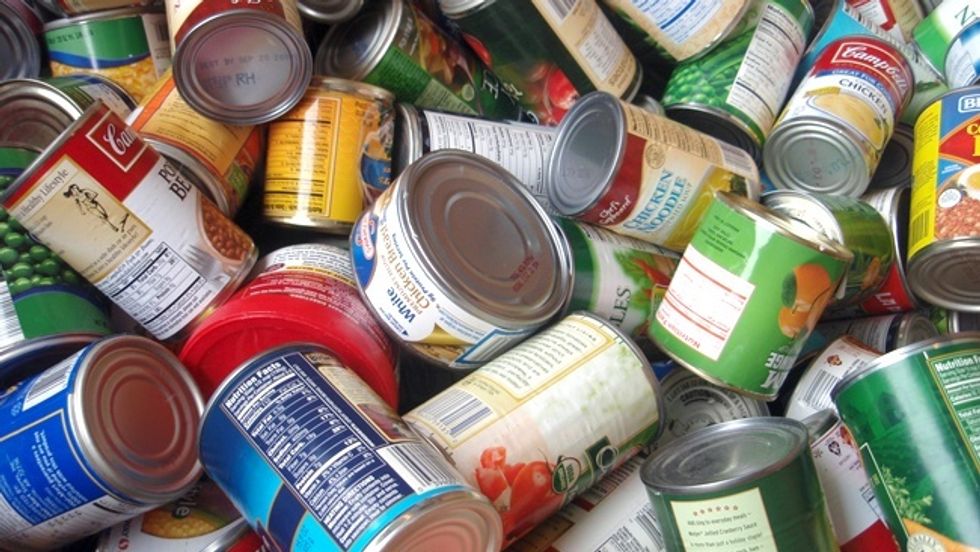 With 109 brands not responding or providing enough information, that number could be a lot higher.
The survey, released yesterday by Environmental Working Group (EWG), found that 78 brands use BPA-lined cans for all of their products, 34 brands use BPA-lined cans for some of their products and 31 use BPA-free cans for all of their products. The survey was conducted between January and August of 2014.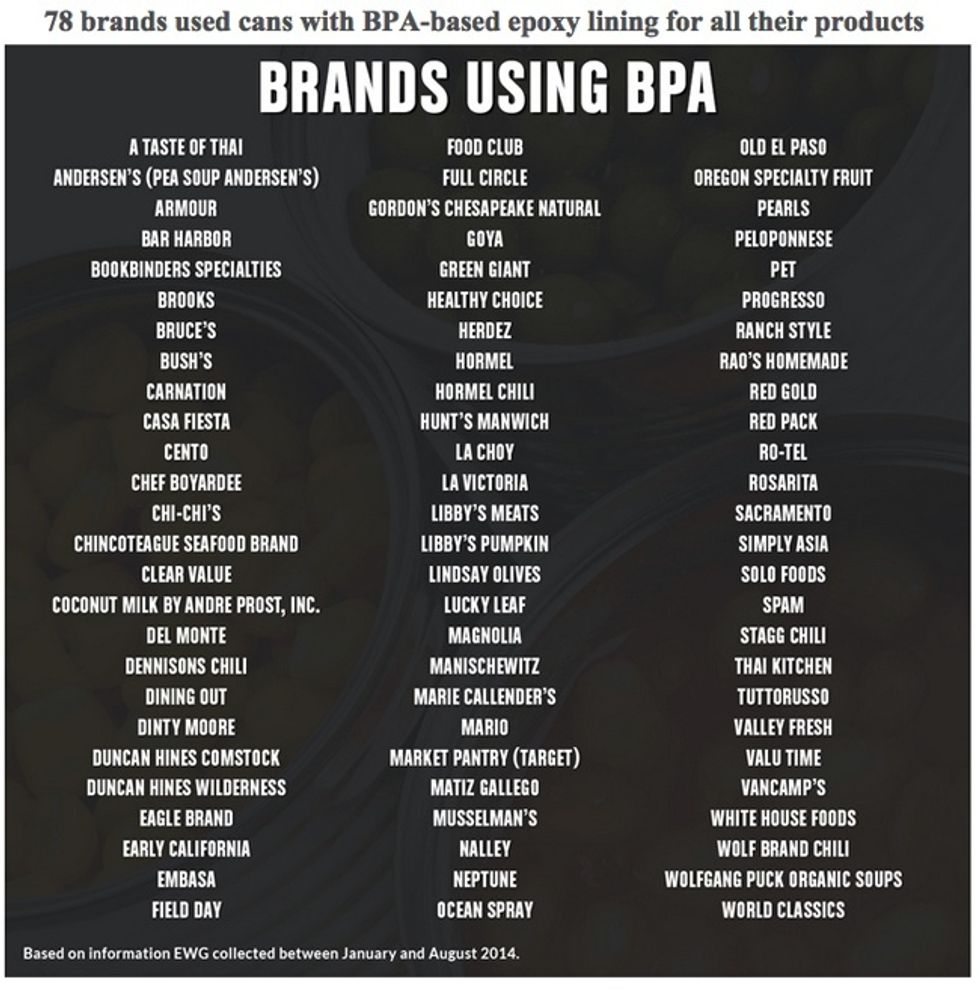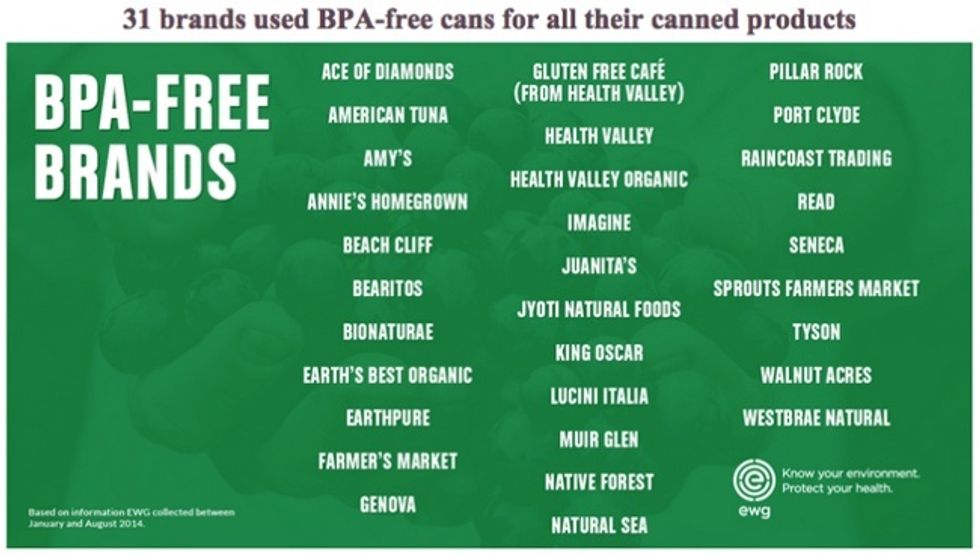 BPA is used to make polycarbonate plastics and is found in some canned foods and beverages, paper receipts and dental sealants. Studies show that just about everyone has traces of the chemical in their body, and researchers believe diet is the major exposure route. The compound can leach out of can linings and into the food.
Read page 1
Last week Environmental Health News reported on new research that found even after people metabolize BPA, the resulting compound may still spur obesity. Exposure is a concern as BPA has been linked to a host of health impacts including reproductive and developmental problems, obesity, cardiovascular disease and cancer. The compound mimics estrogen hormones and can disrupt people's endocrine systems.
Some of the more popular brands that EWG found to be completely BPA-free were Amy's Kitchen, Annie's Homegrown and Sprouts Farmers Market, while BPA users included Target's Market Pantry, Bush's, Carnation, Dinty Moore and Eagle Brand.
See the full report here.
Federal regulations do not require canned goods to disclose BPA-based linings. EWG researchers had to rely on data from LabelINSIGHT, a company that gathers U.S. supermarket information.
"The biggest problem is that people have no reliable way of knowing whether they are buying food that is laced with this toxic chemical," said Samara Geller, an EWG database analyst, in a statement. "By releasing this analysis, we hope to arm people with the critical information they need to avoid BPA and make smarter shopping decisions."
According to the report, "companies that said they had eliminated BPA or were in the process of doing so did not disclose the substitutes they were using," so it's unclear if the BPA-free products were using compounds similar to BPA, such as bisphenol-S, which has been shown to exhibit similar health impacts to BPA.
Researchers, however, have mostly found BPS in receipt paper.
BPA is no longer used in baby bottles and sippy cups in the U.S., but the federal Food and Drug Administration has maintained the levels that may leach from canned goods into food do not pose a risk to human health.
EWG's director of research, Renee Sharp, said a national standard is necessary to protect people's health.
"Many people on tight budgets or with little access to fresh food rely on canned food as a source of nutrients," Sharp said in a statement. "That's why we need to get this right. We need a clear national standard that limits the use of BPA in canned food and improves transparency so that people can know when and if they are ingesting this harmful chemical."
YOU MIGHT ALSO LIKE
Avian Flu Epidemic Prompts CDC Warning of 'Potential for Human Infection'
What's the Verdict on Olive Oil: Is it Good or Bad for You?
90% of Americans Could Be Fed by Food Grown or Raised Within 100 Miles of Their Homes
EcoWatch Daily Newsletter
A harbour seal on an ice floe in Glacier Bay, Alaska. A new study shows that the climate crisis has warmed waters, changing ecosystems and crippling sea ice growth. Janette Hill / robertharding / Getty Images Plus
Doctors report that only 1 in 4 children are getting the recommended 60 minutes of physical activity per day. Ronnie Kaufman / DigitalVision / Getty Images
By Dan Gray
Pediatricians are being urged to start writing "exercise prescriptions" for the children they see in their office.
A First Nations protester walks in front of a train blockade in Tyendinaga, near Belleville, Ontario, Canada on Feb. 21, 2020. LARS HAGBERG / AFP via Getty Images
An indigenous rail blockade that snarled train travel in Canada for more than two weeks came to an end Monday when police moved in to clear protesters acting in solidarity with another indigenous community in British Columbia (B.C.), which is fighting to keep a natural gas pipeline off its land.
A rainbow snake, a rare reptile spotted in a Florida county for the first time in more than 50 years, seen here on July 5, 2013.
Kevin Enge / FWC Fish and Wildlife Research Institute / Flickr
A Florida hiker recently stumbled across a slithering surprise — a rare snake that hadn't been spotted in the area for more than 50 years.
We need our government to do everything it can to stop PFAS contamination and exposure from wreaking havoc in communities across the country. LuAnn Hun /
Unsplash
By Genna Reed
The EPA announced last week that it is issuing a preliminary regulatory determination for public comment to set an enforceable drinking water standard to two of the most common and well-studied PFAS, PFOA and PFOS.
This decision is based on three criteria:
PFOA and PFOS have an adverse effect on public health
PFOA and PFOS occur in drinking water often enough and at levels of public health concern;
regulation of PFOA and PFOS is a meaningful opportunity for reducing the health risk to those served by public water systems.