This website uses cookies to ensure you get the best experience while browsing it. By clicking 'Got It' you're accepting these terms.
Find Out How Close Your City Is to Going 100% Clean Energy
Jan. 22, 2016 09:00AM EST
Business
Santa Monica, California announced this week that it is signing a contract to power its municipal operations with 100 percent clean energy—making it the latest in a string of cities across the U.S. striving for a goal of 100 percent clean and renewable energy. Fifteen U.S. cities so far have even gone a step further to set goals that cover all electricity use in their community—from San Diego to Aspen to Burlington, Vermont, and beyond: local leaders are seeing the "power" of choosing clean energy.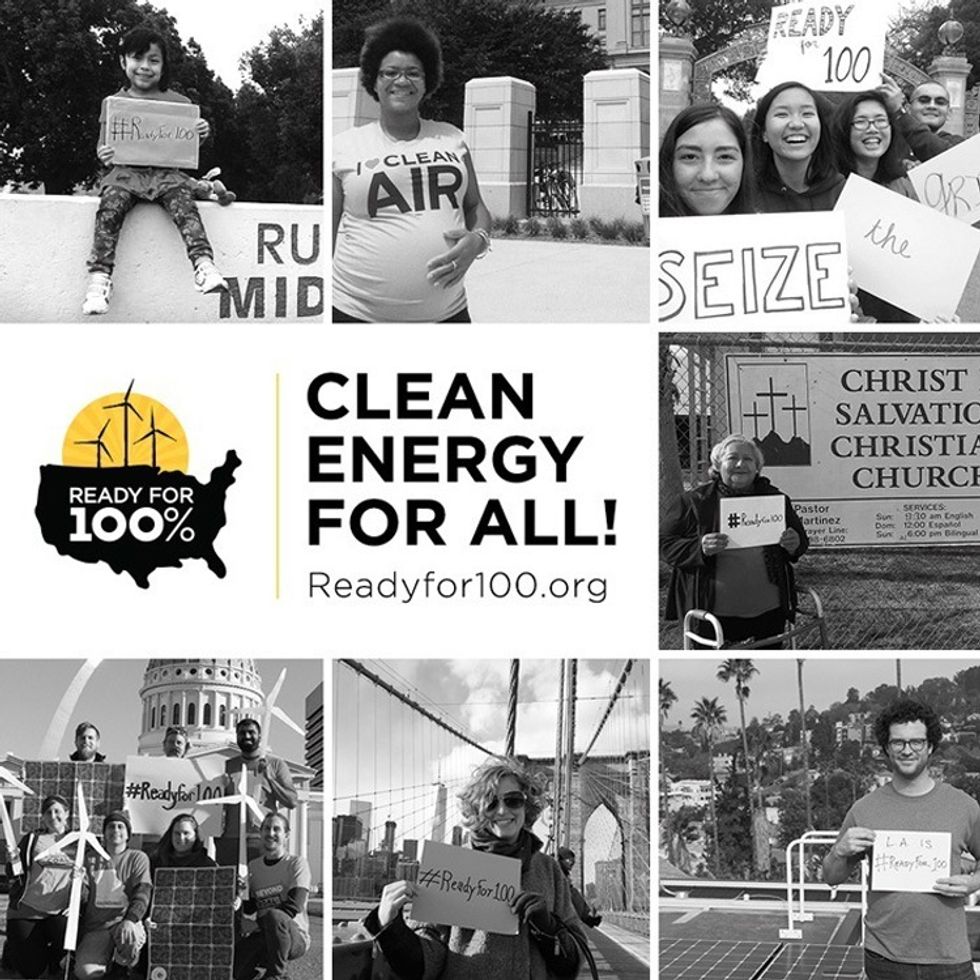 It's not a fluke! Poll after poll shows that a majority of Americans support clean energy. Eighty-three percent of respondents to a national online survey of American adults conducted by Global Strategy Group in August 2015 supported a goal of 100 percent clean and renewable energy for the U.S. We now need to see an ambitious response to this widespread public demand in the form of action from our leaders, so that our cities, businesses, and institutions are powered by clean energy.
That's why the Sierra Club is happy to announce the launch of our "Ready For 100" campaign, which calls for 100 percent clean energy across the U.S. With 2.4 million members and supporters, the Sierra Club will harness its massive grassroots power to lift up clean energy supporters and urge 100 cities across the U.S. to follow the lead of San Diego, Paris, Sydney, Vancouver and others that have already committed to 100 percent clean energy.
We know dirty energy is hurting our health, our water and our climate. At the same time, we see the power of clean energy. It's not only better for our climate and environment, but it also creates jobs, boosts our economy and saves money!
We also know that it is 100 percent possible. Stanford scientists say the transition to 100 percent clean energy will save the average family more than $200 dollars per year in energy costs and another $1,500 per year in health care costs. Solar prices have fallen 80 percent in recent years and wind prices have fallen 60 percent. Clean energy is now cheaper than coal and gas in many places.
The solar industry already employs more than 200,000 people, nearly twice as many people as the coal mining industry. Solar jobs grew 12 times faster than the overall economy this year.
The American people are demanding progress for their communities, for their health, for their children and for the environment. And all Americans deserve access to good jobs, healthy communities and affordable clean energy choices. We can accelerate 100 percent clean, renewable energy while ensuring that the communities hurt worst by climate change and fossil fuel pollution benefit most from the transition, and we can fight for an economy that puts workers and families first. It's within reach, and it's time for action.
This moment in history—our moment—is a critical turning point. We must accelerate the transition from dirty fuels like coal and gas to clean energy sources like solar and wind to ensure climate recovery and fully realize the benefits of economic transition. Just as we switched from horses to cars, telegrams to telephones, typewriters to computers and postal mail to email, we must now commit to switch from dirty fuels to clean energy.
It will require the voices of people all across the country to declare that we are #ReadyFor100—will you join us?
YOU MIGHT ALSO LIKE
Renewable Energy Soars Amid Plummeting Fossil Fuel Prices
Denmark Just Set Yet Another World Record for Wind Power
Solar Energy Fight Heats Up in Nevada
Renewables Saw More Money Invested and More Capacity Added in 2015 Than Ever Before
EcoWatch Daily Newsletter
Doctors report that only 1 in 4 children are getting the recommended 60 minutes of physical activity per day. Ronnie Kaufman / DigitalVision / Getty Images
By Dan Gray
Pediatricians are being urged to start writing "exercise prescriptions" for the children they see in their office.
A First Nations protester walks in front of a train blockade in Tyendinaga, near Belleville, Ontario, Canada on Feb. 21, 2020. LARS HAGBERG / AFP via Getty Images
An indigenous rail blockade that snarled train travel in Canada for more than two weeks came to an end Monday when police moved in to clear protesters acting in solidarity with another indigenous community in British Columbia (B.C.), which is fighting to keep a natural gas pipeline off its land.
A rainbow snake, a rare reptile spotted in a Florida county for the first time in more than 50 years, seen here on July 5, 2013.
Kevin Enge / FWC Fish and Wildlife Research Institute / Flickr
A Florida hiker recently stumbled across a slithering surprise — a rare snake that hadn't been spotted in the area for more than 50 years.
We need our government to do everything it can to stop PFAS contamination and exposure from wreaking havoc in communities across the country. LuAnn Hun /
Unsplash
By Genna Reed
The EPA announced last week that it is issuing a preliminary regulatory determination for public comment to set an enforceable drinking water standard to two of the most common and well-studied PFAS, PFOA and PFOS.
This decision is based on three criteria:
PFOA and PFOS have an adverse effect on public health
PFOA and PFOS occur in drinking water often enough and at levels of public health concern;
regulation of PFOA and PFOS is a meaningful opportunity for reducing the health risk to those served by public water systems.
Charging EVs in Stockholm: But where does a dead battery go? Ranjithsiji / Wikimedia Commons
By Kieran Cooke
Driving an electric-powered vehicle (EV) rather than one reliant on fossil fuels is a key way to tackle climate change and improve air quality — but it does leave the old batteries behind as a nasty residue.