This website uses cookies to ensure you get the best experience while browsing it. By clicking 'Got It' you're accepting these terms.
Filmmakers Uncover the Truth About Gulf Oil Spill in The Big Fix
Nov. 30, 2011 07:47PM EST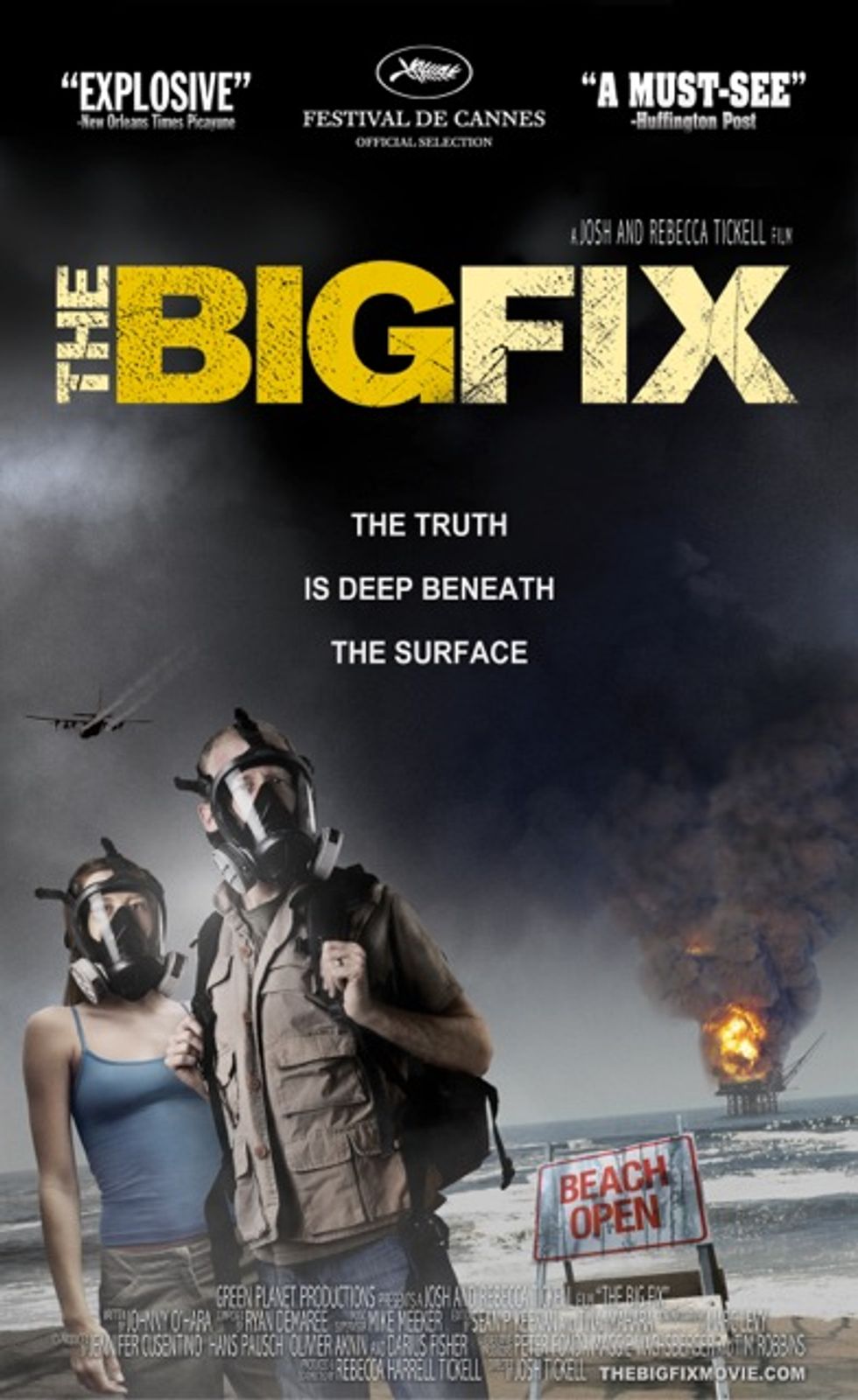 The LA Weekly calls The Big Fix "Mandatory viewing." The new documentary film mixes daring journalism with archival investigation. The result is a true-­life eco-­horror story. Opening theatrically in New York City on Dec. 2 through Dec. 8, exclusively at the AMC Loews Village 7 at 66 3rd Ave. at East 11th St., from Green Planet Productions, The Big Fix features Peter Fonda and received critical acclaim earlier this year as the only Official Selection documentary of the Cannes Film Festival.
The Big Fix is the new movie from the filmmakers of the award winning Sundance documentary Fuel, husband and wife directing/producing team Josh and Rebecca Tickell. The film is executive produced by Academy Award winning actor Tim Robbins, Peter Fonda and Maggie Wachsberger. Through interviews with scientists, government officials, journalists (including Rolling Stone's Jeff Goodell who examined the Gulf spill in his article The Poisoning), attorneys (including New Orleans Toxic Tort attorney Stuart Smith) and Gulf States natives, The Big Fix recounts the events surrounding the sinking of the Deepwater Horizon drilling platform in the Gulf of Mexico and paints a disturbing picture of the aftermath of the largest oil spill in America's history.
"We never intended to make this movie," Josh Tickell said. "It was only after going home to my native Louisiana, and realizing that the sheer level of destruction was being totally downplayed, that we began filming." The Big Fix reveals the powerful political and corporate system that put profits over the health and long-term sustainability of people and the environment. No matter what the petroleum and government officials say, the oil is still coming ashore, the seafood industry is wiped out and many people of the locals are sick.
"We've got shrimp with no eyes, fish with tumors, fish with oil in their guts—this disaster is happening right now," said Dean Blanchard, once the largest processor of brown shrimp in the U.S. Despite claims from the Louisiana Department of Fisheries and Wildlife that the fish are safe to eat, Blanchard's liability insurance was recently cancelled. "I've been in business 25 years; I grew up on a shrimp dock, I never had a problem getting insurance, now nobody will insure us," Blanchard said.
Up to 30 percent of the nation's seafood in a given year comes from Louisiana. Toxicologists studying the fish from Louisiana waters are finding heightened levels of cancer-­causing carcinogens. The Big Fix also explores the complicit behavior of the U.S. government in the long-­term use of the chemical dispersant, Corexit 9527, a known hemolytic (blood thinner).
In an unexpected twist of fate, Co-­Director/Producer Rebecca Harrell Tickell became severely ill after being exposed to the oil and Corexit mixture while filming. Her health struggle is cataloged in the film. "Making this movie and living with the consequences," said Harrell Tickell, "changed everything I thought I knew about America. The Big Fix will host 7 Nights of Awareness Dec. 2 through Dec. 8 at the 6 p.m. screenings with some of today's leaders in environmental advocacy. Each night of awareness will feature a post-­screening Q & A with filmmakers Josh & Rebecca Tickell along with notable environmental advocates from New York and around the country.
The 7 Nights of Awareness is organized in collaboration with Paul McGinniss of the The New York Green Advocate.
For more information, click here.
EcoWatch Daily Newsletter
chuchart duangdaw / Moment / Getty Images
By Tim Radford
The year is less than four weeks old, but scientists already know that carbon dioxide emissions will continue to head upwards — as they have every year since measurements began — leading to a continuation of the Earth's rising heat.
Lucy Lambriex / DigitalVision / Getty Images
By Katey Davidson
Each year, an estimated 600 million people worldwide experience a foodborne illness.
While there are many causes, a major and preventable one is cross-contamination.
picture alliance / dpa / F. Rumpenhorst
By Arthur Sullivan
When was the last time you traveled by plane? Various researchers say as little as between 5 and 10 percent of the global population fly in a given year.
A Starbucks barista prepares a drink at a Starbucks Coffee Shop location in New York. Ramin Talaie / Corbis via Getty Images
By Cathy Cassata
Are you getting your fill of Starbucks' new Almondmilk Honey Flat White, Oatmilk Honey Latte, and Coconutmilk Latte, but wondering just how healthy they are?
By Sharon Kelly
Back in April last year, the Trump administration's Environmental Protection Agency decided it was "not necessary" to update the rules for toxic waste from oil and gas wells. Torrents of wastewater flow daily from the nation's 1.5 million active oil and gas wells and the agency's own research has warned it may pose risks to the country's drinking water supplies.