This website uses cookies to ensure you get the best experience while browsing it. By clicking 'Got It' you're accepting these terms.
Film4Climate: Are You Ready to Tell a Story That May Change the World?
Jun. 25, 2016 11:08AM EST
Climate
Lucia Grenna heads the unit specializing in Communication for Climate Change at the World Bank operational communication division, where she has been working since 1999.
While to many the climate debate may seem remote from daily life, the small decisions that we all can make—how much water we use, the products we buy, how we vote—are personal and possible. And they become easier the more we are aware of the consequences.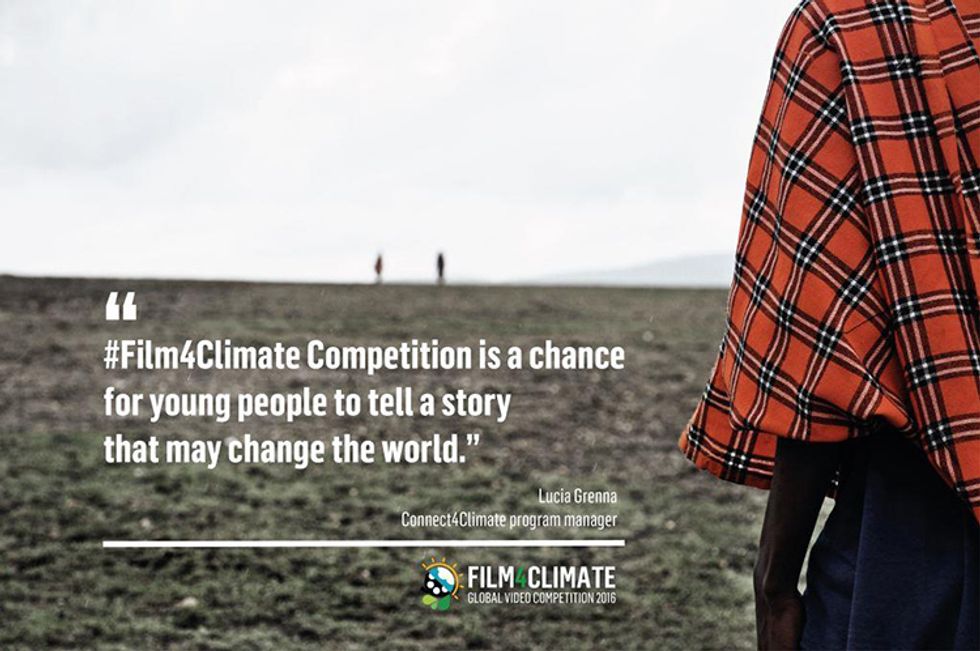 Already much of society is choosing to engage in a climate-friendly economy, to invest in renewables, conserve energy and promote climate-smart agriculture and resource conservation. Cities and the private sector are shifting their behavior, building resilience to climate impacts and putting a price on carbon pollution.But the poorest in the world do not even have the luxury of choice. For them, climate change is an immediate, life-threatening danger. Striking images and personal stories help us understand the need for immediate action—by all of us, at all levels.
The World Bank Group's Connect4Climate program, with the direct support of Vulcan Productions, the Italian energy company Enel and The Global Brain, is offering filmmakers the chance to tell these stories and to create messaging that will impact us all and spur action. Partnering with the United Nations and the government of the Kingdom of Morocco, the climate solutions and actions depicted in these films will be celebrated at the United Nations COP22 Climate Summit in Marrakesh in November.
The Film4Climate Global Video Competition is open to all, between the ages of 14-35, to submit a short film up to 5 minutes in length or a public service advertisement up to 60 seconds long anytime between June 20 and Sept. 15. Submissions are accepted through film4climate.net or through Connect4Climate's Facebook page.
"Climate change is a real and global threat affecting people's wellbeing, livelihoods, the environment and economies," Sheila Redzepi, vice president of external and corporate relations for the World Bank Group, said. "Communication is a powerful tool in furthering understanding of its impact and inspiring action to tackle it."
An elite panel of film industry producers, directors and writers chaired by Bernardo Bertolucci will choose the winning entries. They will be distributed globally as examples of how society is embracing the climate challenge and taking actions to transition to a low-carbon resilient future.
Renowned film director Fernando Meirelles will again join the jury for this competition. "Climate change is the biggest challenge humankind will face in the next century and what has to be done to mitigate the effects of climate change must start with us, from bottom to top," Meirelles remarked.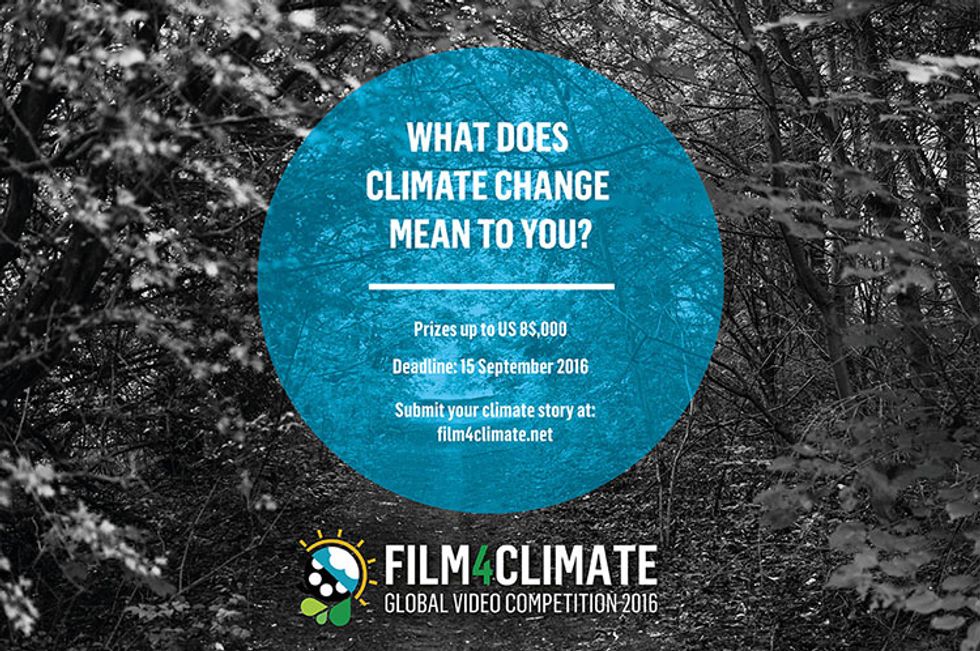 Throughout history when young people have finally had enough of excuses and failure from the older generation, they have gathered together or voted together to demand change. It is often said that this generation is the first to end poverty and the last to tackle climate change. The Film4Climate Global Video Competition aims to show how that change will take place.
The competition is a chance for young filmmakers to let their voices be heard in an impactful way. To vividly illustrate the type of actions that need to be taken immediately and to show us the sort of world they want to be living in and to leave for their children.
"So often youth are sidelined or silenced or made into photo-ops," Connect4Climate youth leader and filmmaker Slater Jewell-Kemker said. "It is important to remember that we are more than just the smiling, happy youth of tomorrow. We are the inheritors of this planet and we need to be listened to."
The limiting factor of the climate decision-making process is not necessarily the unwillingness of policy makers, rather the lack of political and social capital. Leaders need to feel supported and empowered by citizens and the younger generation in order to make the right, bold climate decisions.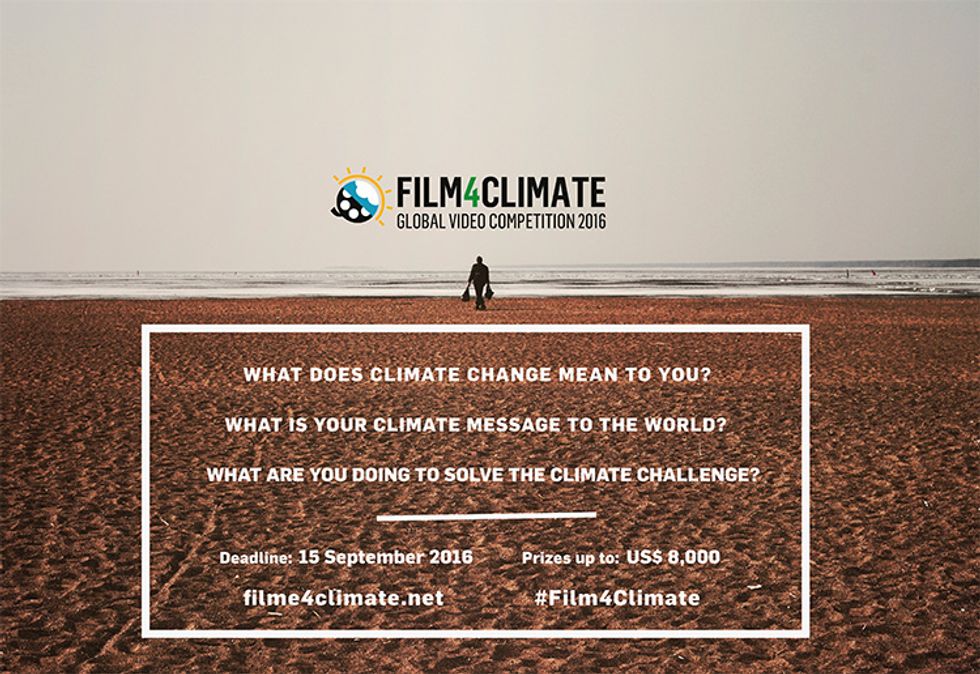 Youth have the ability to see beyond boundaries and into the heart of the matter, which is that we are all human, connected and only together will we make the climate crisis into the greatest opportunity for this generation.
Films have the power to inspire. Young people have the energy. The Film4Climate competition aims to bring together these two vital ingredients to build the socio-political capital for climate action and highlight climate solutions around the world.
To find our more about the competition and download flyers and the social media kit see this article on the Connect4Climate site.
Watch here for more information:
YOU MIGHT ALSO LIKE
The Link Between Climate Change and Drought
GOP Blocks Pentagon Climate Plan
7,100 Cities From 119 Countries Join Together in Historic Collaboration to Accelerate Climate Action
185 Environmental Activists Across 16 Countries Were Killed in 2015
EcoWatch Daily Newsletter
Pexels
Vitamin C is a very important nutrient that's abundant in many fruits and vegetables.
BLM drill seeders work to restore native grasses after wildfire on the Bowden Hills Wilderness Study Area in southeast Oregon, Dec. 14, 2018. Marcus Johnson / BLM / CC BY 2.0
By Tara Lohan
In 2017 the Thomas fire raged through 281,893 acres in Ventura and Santa Barbara counties, California, leaving in its wake a blackened expanse of land, burned vegetation, and more than 1,000 destroyed buildings.
Brogues Cozens-Mcneelance / EyeEm / Getty Images
Fruit juice is generally perceived as healthy and far superior to sugary soda.
Pexels
By Danielle Nierenberg and Katherine Walla
As the holiday season ramps up for many across the world, Food Tank is highlighting 15 children's books that will introduce young eaters, growers and innovators to the world of food and agriculture. Authors and organizations are working to show children the importance — and fun — of eating healthy, nutritious and delicious food, growing their own produce, and giving food to others in need.
Pixabay
Purple cabbage, also referred to as red cabbage, belongs to the Brassica genus of plants. This group includes nutrient-dense vegetables, such as broccoli, Brussels sprouts, and kale.