This website uses cookies to ensure you get the best experience while browsing it. By clicking 'Got It' you're accepting these terms.
Fighting for Air—Groups Launch Campaign to Support U.S. EPA's Life-Saving Standards
Feb. 08, 2012 08:35AM EST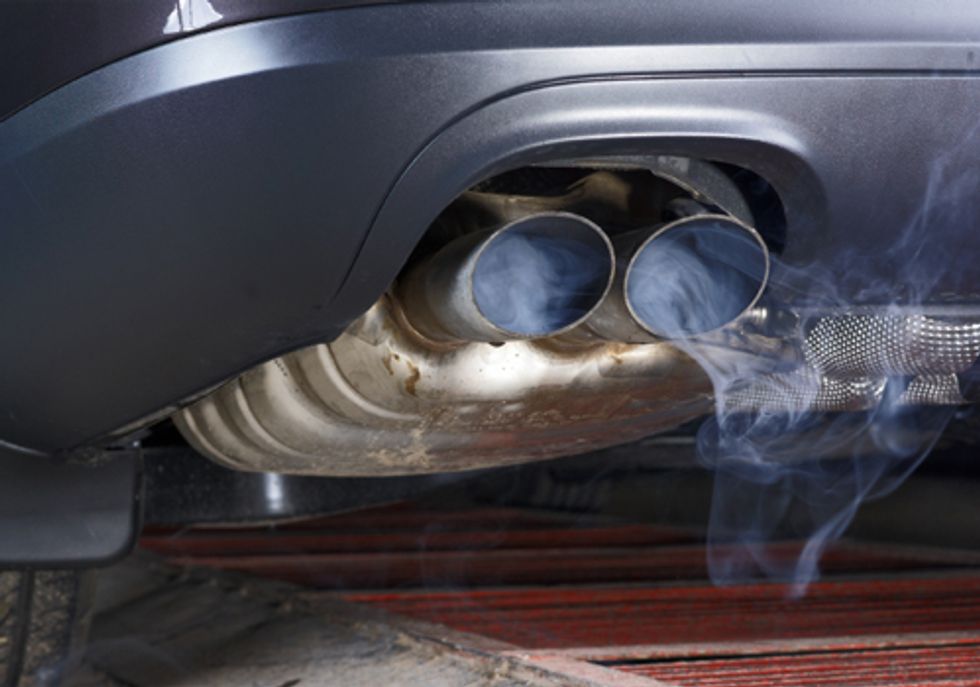 Two national environmental protection groups have launched a six-figure online advertising campaign applauding the U.S. Environmental Protection Agency (EPA) and President Obama for proposing life-saving standards aimed at reducing dangerous air pollution caused by auto emissions and dirty power plants.
The ads, sponsored by Natural Resources Defense Council (NRDC) and Environment America, are running on high impact local news sites and in social media outlets like Facebook in key markets in four states—Michigan, Ohio, Pennsylvania and Virginia.
"Mercury is a potent neurotoxin that damages developing brains in children and fetuses. According to the Environmental Protection Agency, coal-fired power plants are the single largest source of industrial mercury pollution and these new standards target those sources," said Frances Beinecke, president of NRDC.
"The standards will save tens of thousands of American lives, prevent hundreds of thousands of cases of childhood asthma symptoms, and avoid tens of thousands of heart attacks, according to the EPA. These health benefits are expected to generate up to billions of dollars of savings. The magnitude of these health benefits could make this rule one of the biggest public health and environmental accomplishments of the Obama administration," she said.
"The EPA and President Obama have taken important steps to crack down on the harmful pollution that contaminates our air and water and contributes to devastating health challenges like asthma attacks, heart attacks and even premature deaths," said Margie Alt, executive director of Environment America. "New standards for more fuel efficient cars, proposed in November, will curb dangerous carbon emissions, reduce dangers to public health, and wean America off its oil dependence."
The Obama administration's proposed fuel efficiency and global warming pollution standards for new cars and light trucks in model years 2017-2025 would ensure that new cars and trucks meet the equivalent of a 54.5 miles-per-gallon fleet-wide average by 2025. They have the support of 13 major automakers and the United Auto Workers, as well as numerous environmental and consumer groups. The mercury and air toxics standard will save as many as 11,000 lives, prevent as many as 130,000 asthma attacks among children, and prevent as many as 4,700 heart attacks each year, according to the EPA.
NRDC is sponsoring the ads applauding the president for the mercury standards. The NRDC ads feature families that have volunteered to share their stories of asthma and how air pollution affects them, holding "thank you" cards addressed to the president. Environment America is sponsoring the ads asking people to show support for EPA's auto emissions standard. Ads will be running on Wednesday, Feb. 8 on www.philly.com; www.post-gazette.com; www.cleveland.com; and www.mlive.com. On Thursday, Feb. 9, see the ads on www.philly.com and www.cleveland.com. For more about the families featured in the NRDC ads, click here.
For more information, click here.
EcoWatch Daily Newsletter
California Gov. Gavin Newsom speaking with attendees at the 2019 California Democratic Party State Convention at the George R. Moscone Convention Center in San Francisco.
Gage Skidmore
/ Flickr /
CC BY-SA 2.0
California Gov. Gavin Newsom imposed new restrictions on oil exploration in his state yesterday by putting a moratorium on hundreds hydraulic fracturing permits until the projects are reviewed by independent scientists, as the AP reported.
The endangered Houston toad. Courtesy of U.S. Fish and Wildlife Service
While the planet continues to heat up, almost every single one of the 459 species listed as endangered in the U.S. will struggle as the climate crisis intensifies, according to new research published in the journal Nature Climate Change.
"This singular scientific achievement was accomplished at Heliogen's commercial facility in Lancaster, California."
Heliogen
A startup backed by Bill Gates unveiled a breakthrough solar technology Tuesday that could free heavy industry from fossil fuels.
Rhodiola rosea is an adaptogenic herb that can help with chronic fatigue and stress-related burnout. Tero Laakso / Flickr
By Gavin Van De Walle, MS, RD
While everyone has specific life stressors, factors related to job pressure, money, health, and relationships tend to be the most common.
Stress can be acute or chronic and lead to fatigue, headaches, upset stomach, nervousness, and irritability or anger.
A video shows a woman rescuing a koala from Australia's wildfires.
VOA News / YouTube screenshot
More than 350 koalas may have died in the wildfires raging near the Australian town of Port Macquarie in New South Wales, but one got a chance at survival after a woman risked her life to carry him to safety.