This website uses cookies to ensure you get the best experience while browsing it. By clicking 'Got It' you're accepting these terms.
Fighting for Air—Groups Launch Campaign to Support U.S. EPA's Life-Saving Standards
Feb. 08, 2012 08:35AM EST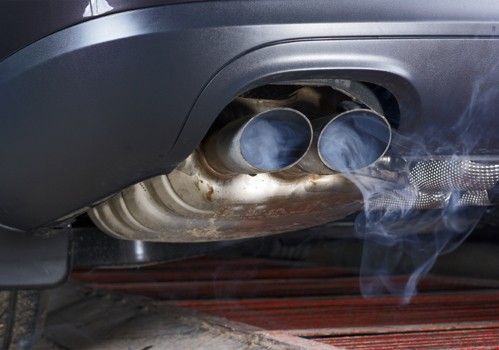 Two national environmental protection groups have launched a six-figure online advertising campaign applauding the U.S. Environmental Protection Agency (EPA) and President Obama for proposing life-saving standards aimed at reducing dangerous air pollution caused by auto emissions and dirty power plants.
The ads, sponsored by Natural Resources Defense Council (NRDC) and Environment America, are running on high impact local news sites and in social media outlets like Facebook in key markets in four states—Michigan, Ohio, Pennsylvania and Virginia.
"Mercury is a potent neurotoxin that damages developing brains in children and fetuses. According to the Environmental Protection Agency, coal-fired power plants are the single largest source of industrial mercury pollution and these new standards target those sources," said Frances Beinecke, president of NRDC.
"The standards will save tens of thousands of American lives, prevent hundreds of thousands of cases of childhood asthma symptoms, and avoid tens of thousands of heart attacks, according to the EPA. These health benefits are expected to generate up to billions of dollars of savings. The magnitude of these health benefits could make this rule one of the biggest public health and environmental accomplishments of the Obama administration," she said.
"The EPA and President Obama have taken important steps to crack down on the harmful pollution that contaminates our air and water and contributes to devastating health challenges like asthma attacks, heart attacks and even premature deaths," said Margie Alt, executive director of Environment America. "New standards for more fuel efficient cars, proposed in November, will curb dangerous carbon emissions, reduce dangers to public health, and wean America off its oil dependence."
The Obama administration's proposed fuel efficiency and global warming pollution standards for new cars and light trucks in model years 2017-2025 would ensure that new cars and trucks meet the equivalent of a 54.5 miles-per-gallon fleet-wide average by 2025. They have the support of 13 major automakers and the United Auto Workers, as well as numerous environmental and consumer groups. The mercury and air toxics standard will save as many as 11,000 lives, prevent as many as 130,000 asthma attacks among children, and prevent as many as 4,700 heart attacks each year, according to the EPA.
NRDC is sponsoring the ads applauding the president for the mercury standards. The NRDC ads feature families that have volunteered to share their stories of asthma and how air pollution affects them, holding "thank you" cards addressed to the president. Environment America is sponsoring the ads asking people to show support for EPA's auto emissions standard. Ads will be running on Wednesday, Feb. 8 on www.philly.com; www.post-gazette.com; www.cleveland.com; and www.mlive.com. On Thursday, Feb. 9, see the ads on www.philly.com and www.cleveland.com. For more about the families featured in the NRDC ads, click here.
For more information, click here.
EcoWatch Daily Newsletter
Smog over Los Angeles. Westend61 / Getty Images
After four decades of improving air quality, the U.S. has started to take a step backwards, as the number of polluted days has ticked upwards over the last two years, the Associated Press reported.
Photobos / iStock / Getty Images
Governors in Vermont and Maine signed bills on Monday that will ban plastic bags in their states next year, The Hill reported.
The Maine ban will go into effect next Earth Day, April 22, 2020. The Vermont ban, which extends beyond plastic bags and is the most comprehensive plastics ban so far, will go into effect in July 2020. The wait time is designed to give businesses time to adjust to the ban.
picture-alliance / AP Images / D. Goldman
By Daniel Moattar
Eastern Kentucky's hills are interrupted by jarring flats of bare rock: the aftermath of mountaintop removal mining, which uses explosives to destroy and harvest coal-rich peaks.
By Molly Taft
Lisa Marshall isn't your typical activist. For one thing, she's not into crowds. "I don't really like rallies," Marshall, a mom of three from upstate New York, said. "They're a little stressful — not my favorite thing."

An oil drilling site in a residential area of Los Angeles, California on July 16, 2014.
Faces of Fracking / Flickr
By Jake Johnson
A comprehensive analysis of nearly 1,500 scientific studies, government reports, and media stories on the consequences of fracking released Wednesday found that the evidence overwhelmingly shows the drilling method poses a profound threat to public health and the climate.

sonsam / iStock / Getty Images
By Grace Francese
A new Environmental Working Group (EWG) study published in Environmental Research found that nitrate, one of the most common contaminants of drinking water, may cause up to 12,594 cases of cancer per year, but that's not its only danger: It can pose unique health risks to children.
Melt water from Everest's Khumbu glacier. Ed Giles / Getty Images
EPA Administrator Andrew Wheeler signs his replacement for the Clean Power Plan. Win McNamee / Getty Images